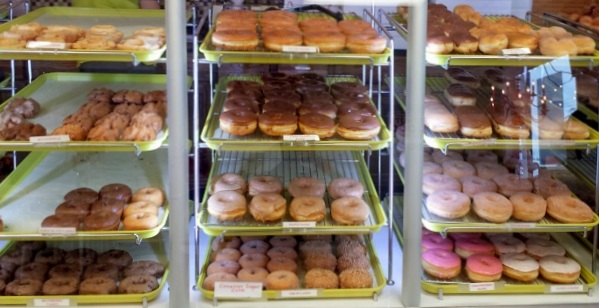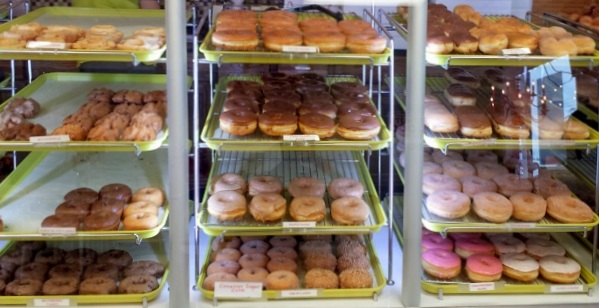 Cary, NC — This is a sweet guide to donuts in Cary – because why not?
A Great Time to Eat Donuts
I eat donuts very rarely – so, when I do eat them, they're an indulgence. I thought now would be the perfect time to compile a Guide to Donuts in Cary for several reasons:
I love donuts and wanted an excuse to eat them.
Two new donut shops opened in Cary in the past year.
Fall is the best time of the year to eat donuts (that's just my opinion).
I've found some great donut shops in Cary – whether you like the denser, more cake-like donuts, gourmet donuts (think crème brûlée) or plain old light, flaky glazed donuts (like me), there's something for everyone. Now, you have an excuse to try all of these. You're welcome.
Guide to Donuts in Cary
Enjoy this list and let me know if I missed any of your favorites.
Baker's Dozen Donut Shop
1307 Buck Jones Road, Raleigh
Hours: Open Daily, 6 am-7 pm
919-377-1221
Baker's Dozen is located in the South Hills shopping center on Buck Jones Road. Even though this shop has a Raleigh mailing address, it's literally seconds from Cary. If you're like me, you've driven past Baker's Dozen many times without even knowing it.
The sign facing Buck Jones just reads "Donuts."
Inside, though, Baker's Dozen is a whimsically-decorated, family-owned donut shop. All the donuts are freshly made in the shop each morning. You'll find classic favorites like glazed, chocolate glazed, raspberry-filled, cream-filled, old-fashioned and more.
The shop also has blueberry cake donuts and, right now, pumpkin spice donuts. The donuts are deliciously doughy but still lightweight – this is probably my favorite place for donuts in Cary.
The store is bright and colorful with coffee available and plenty of seating. If you are craving donuts at night in Cary, this is the place to go – Baker's Dozen is open until 7 pm.
RISE Biscuits & Donuts
1110 Market Center Drive, Morrisville
Hours: Open Daily 7 am-2 pm
919-377-0385
This franchise is the newest place to find donuts in Cary. You'll see the big, orange sign near the Chapel Hill Road/Cary Parkway intersection in Park West Village.
This is the place to go for funky, "gourmet" donuts – RISE has donut flavors like PB&J, maple bacon, oreo, chocolate chip cookie dough, salted caramel (with Cap'n Crunch cereal) and more. My favorite is the crème brûlée donut – I highly recommend trying it!
This is very much a "grab and go" shop, but a few bar stools are available for people who want to eat in. "If there's a line," an employee told me, "you can go ahead and grab a cup of coffee while you wait." This place is popular, but the line moves fast.
If you want some protein to accompany your donut, RISE also has great breakfast biscuits with atypical topping choices like eggplant bacon and pimento cheese with potato cakes as sides.
Duck Donuts
100 Wrenn Drive, Suite 101, Cary
Hours: Sunday-Tuesday 6 am-3 pm, Wednesday-Saturday 6 am-7 pm
919-468-8722
We wrote about Duck Donuts when they opened last year near the post office – this shop is unique in that donuts are warm and made-to-order for each customer.
When you order, you choose the glazes and toppings you want on each donut – some glaze options include cinnamon sugar, powdered sugar, classic glaze, vanilla or chocolate icing, lemon icing, peanut butter icing, maple icing and strawberry icing.
Topping choices include shredded coconut, chocolate sprinkles, rainbow sprinkles, chopped peanuts and bacon. After you create your personalized donut, you can watch the "base donuts" move down the line as staff top them with the combinations you ordred.
You can get breakfast sandwiches, regular coffee and espresso drinks like lattes at Duck Donuts, too. There's a fair amount of seating in the shop for people who want to eat in.
If you're a donut fan, you'll know what I mean when I say that Duck Donuts' donuts are good but "heavier" than the donuts I talked about above. I could only eat two of them as opposed to the lightweight donuts that practically melt in your mouth (like Krispy Kreme).
Other Great Places for Donuts
Dunkin' Donuts – several locations across Cary and Morrisville
Krispy Kreme in Downtown Raleigh – watching them make donuts never gets old
Doughnut or Donut?
According to Grammarist, the dictionary approved spelling for these sweet treats is doughnut. The shorter version, donut, became popular in the late 20th century when Dunkin' Donuts made popular. Donut is used fairly often though – even by Dunkin' Donuts competitors (and by every donut shop listed in this story for that matter).
Which spelling do you prefer? What's your favorite place for donuts?
Comment below and let me know.
————————————————————————————————————————————
Story and photos by Jessica Patrick.
https://carycitizenarchive.com/wp-content/uploads/2015/10/20150925_111748.jpg
308
599
Jessica Patrick
https://carycitizenarchive.com/wp-content/uploads/2020/03/cc-archive-logo-450-v3.png
Jessica Patrick
2015-10-09 10:45:52
2015-12-01 14:58:11
Guide to Donuts in Cary