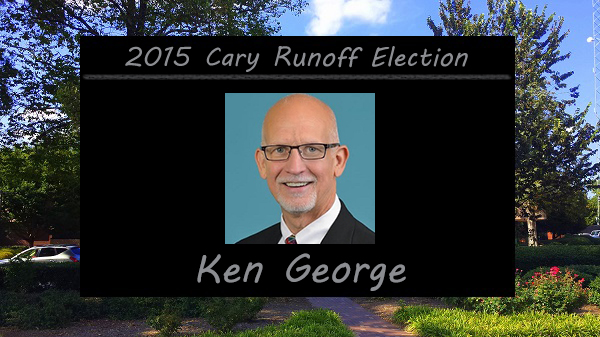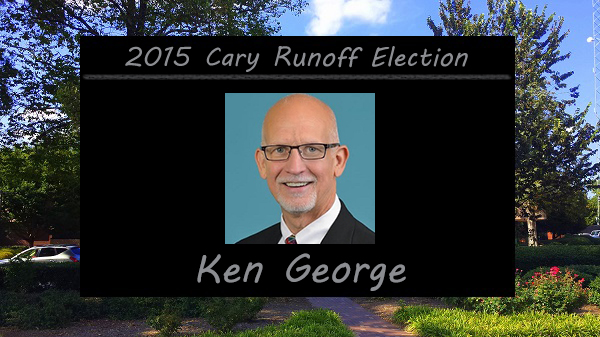 Cary, NC — Ken George is one of the two candidates you can vote for on Tuesday, November 3, 2015 in the runoff election for District D. In light of the runoff election, we've republished his answers to the three questions we asked in our Candidate Questionnaire.

A Runoff Election
On October 6, 2015, three incumbents returned to Cary Town Council, but the seat representing District D was left unfilled. In the competitive race of four candidates, Ken George received the most votes (42.23%), and Maria Cervania followed him with 28% of the votes.
Since neither candidate held the majority (50% of votes or greater), a runoff election will occur in Cary on Tuesday, November 3, 2015 for Cary residents who live in District D.
See our previous story to learn which district you're in and to find your polling place.
Candidate Questionnaire
As we have done in previous election cycles, we sent a list of three short questions to all the candidates for office in Cary. We did not edit the answers but provided a forum for the candidates to speak to our readers in their own words.
We encourage all District D citizens to go to the polls in Cary on Tuesday, November 3, 2015.
Ken George
Q1 – Why are you running?
I believe Cary's best days are ahead, not behind. Having virtually my whole life here, from attending Cary Elementary School through graduating from Cary High, and now having a grandchild at Cary Elementary, I understand where we've come from and have a vision of where we can go.
I believe I'm the best candidate in the race, not just for having that perspective, but also because I've built a one-man consulting firm into a thriving dozen person technology company in the last 20 years, weathering two major recessions. My vast business experience of meeting payroll and navigating business climate changes, uniquely qualifies me to bring expertise to the council that is currently not present.
But these are simply reasons WHY I am qualified. It's my LOVE of Cary, my PRIDE in Cary, from having represented Cary beginning when I was only 14 years old that is driving me to run in this race. I was a member of the Cary High School Marching Band in the 70's, representing Cary in Texas, California, Florida and even Switzerland. It's hard to put into words the pride of wearing the uniform bearing those four letters: C  A  R  Y, and knowing that there is no substitute for excellence in everything we did.
We were ambassadors for Cary, North Carolina. I want to continue in a formal way, to be that ambassador, taking the message of "Cary's Excellence" to those considering investing or moving here and to the surrounding communities, to maintain the quality of living in all of Wake County.
Q2 – What are your top three priorities and how will you accomplish them?
I want to continue to look at our development plans and redevelopment plans, not to pattern ourselves after other over-crowded urban areas, but to bring fresh approaches to growth that will maintain our quality of living. I want to review with the council the plans that they have in mind for growth and bring my enthusiasm and perspective for moving Cary in the right direction for my children and grandchildren. Public input from my district will ALWAYS be welcome. I want to follow up with every citizen's input and help find answers to their questions.
Customer service by town staff is JOB ONE for the town. The staff is employed to make sure that they are SERVING the citizens. I believe they are doing a GREAT job, but I also know that we are the LEANEST town in the county, perhaps the state, with only 8.1 employees per 1,000 residents. Is that "lean" or do we risk "under serving" our people? Due to the deep recession, we've got positions unfilled. As we recover, we need to analyze and evaluate our staffing needs, adding people where needed, in order to properly serve the town. Just as we'll never get I-40 wide enough to avoid slow-downs at rush hour, we'll never have enough employees for instant access for citizens at all times, nor should we. I want to bring a smart approach to evaluating our staffing needs going forward.  This also includes smart planning with the police department, knowing that a large number of retirements will be happening in the next 7 years. We must plan for the holes that this will create.
District D has not been represented on the council since last December. I want to balance the needs of some of the older neighborhoods with the new in our district. Most of the homes and developments in District D are not new.  Established neighborhoods, such as my own in Scottish Hills, are over 40 years old. Making sure that roads, water and sewer lines and other infrastructure are maintained and updated is an important job moving forward.  We don't want older developments to be neglected at the expense of newer ones. Having seen paving and water lines replaced in my neighborhood all summer, has helped me appreciate the issue even more.
Q3 – Give us a brief bio and tell us about your relevant experience.
I grew up here, attending Cary Elementary, Cary Junior High and Cary High School. My roots run deep in Cary.  Remembering my trip to Switzerland with the Cary High School Band, with then Mayor Fred Bond, seeing him receive the key to cities and swell with pride in the Cary Band, I was determined to move to Cary so that we could raise our children here.
As soon as I moved within the city limits in 1988 with my wife and six children, I got involved by applying and being appointed by the town council to the Cary Sister Cities Commission. With those Sister City relationships, I have worked closely with the town council for nearly 20 of the last 26 years. Having spent nearly 2 years abroad in the Dominican Republic with my wife as full-time missionaries, with all six of our children graduated from Cary High, all with degrees from UNC System Universities, and now that we have 8 grandchildren, Karen and I have settled in to the community again and want to give back.
When I graduated from Cary High School in 1976, I began attending NCSU that fall. Due to circumstances beyond my control, I withdrew from NC State after having completed 4 semesters and pursued a career in Sales and Marketing, eventually founding NetSmart, Inc. here in Cary in 1995. It was during my sophomore year in high school that my mother died. Because she was worried that I would pursue a career in photography and not go to college, I made her a promise just weeks before she died that I would go to college.
In 2010, after returning from full-time mission work in the Dominican Republic, my promise began to haunt me. I re-enrolled in NCSU, carrying a heavy course load for two semesters and graduated in 2011 Cum Laude. Keeping my promises and honoring my commitments are paramount in my character. I want to bring the work ethic and integrity that my parents instilled in me to the office of the Cary Town Council.
Candidate Information
Website: electkennyg.com
Facebook: Ken George
———————————————————————————————————————————–
Story from staff reports. Photo by Jessica Patrick.
https://carycitizenarchive.com/wp-content/uploads/2015/10/Ken2.jpg
337
600
Staff
https://carycitizenarchive.com/wp-content/uploads/2020/03/cc-archive-logo-450-v3.png
Staff
2015-10-23 10:02:56
2016-08-25 13:04:27
2015 Cary Runoff Election: Ken George