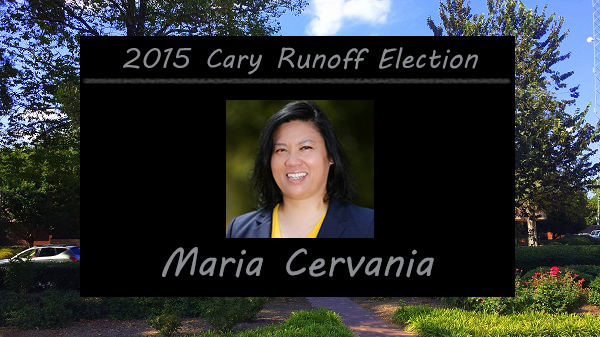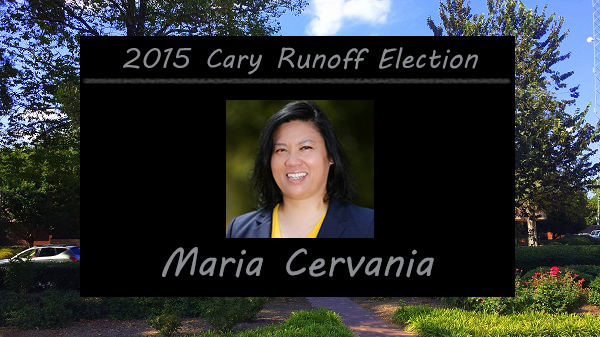 Cary, NC — Maria Cervania is one of the two candidates you can vote for on Tuesday, November 3, 2015 in the runoff election for District D. In light of the runoff election, we've republished her answers to the three questions we asked in our Candidate Questionnaire.

A Runoff Election
On October 6, 2015, three incumbents returned to Cary Town Council, but the seat representing District D was left unfilled. In the competitive race of four candidates, Ken George received the most votes (42.23%), and Maria Cervania followed him with 28% of the votes.
Since neither candidate held the majority (50% of votes or greater), a runoff election will occur in Cary on Tuesday, November 3, 2015 for Cary residents who live in District D.
See our previous story to learn which district you're in and to find your polling place.
Candidate Questionnaire
As we have done in previous election cycles, we sent a list of three short questions to all the candidates for office in Cary. We did not edit the answers but provided a forum for the candidates to speak to our readers in their own words.
We encourage all District D citizens to go to the polls in Cary on Tuesday, November 3, 2015.
Maria Cervania
Q1 – Why are you running?
Cary needs a representative who will both complement the experience that has made our town great and provide a fresh perspective for its future. We need a new energy to engage our citizens who built Cary, and, at the same time, a voice for the people have recently moved here from outside North Carolina, the South, and even, the United States.
I will work hard everyday to ensure that our town council works for all of Cary. I will take care of what we value, be open about our work, seek collaboration, and be responsive in this dynamic, evolving environment. Ultimately, our most important goal will be in the forefront: a better Cary.
Q2 – What are your top three priorities and how will you accomplish them?
Intelligent Growth: I believe in a holistic, coordinated approach to growth. Decisions made by the Cary Town Council about growth affects our schools, neighborhoods and roads. The outcomes should be focused on preserving our quality of life and building a sustainable future.
We need to do our part to avert any negative impact on our schools, teachers and students. It is also essential to maintain a strong relationship with our State-level decision makers and the Wake County School System. We must clearly communicate the needs of our children to ensure their best possible education.
The work done by the Cary Town Council and the Town of Cary staff impacts ourneighborhoods We must care for our town's vital services so that Cary may continue to be one of the best towns in America and the world.
It is increasingly difficult to safely drive and bike on our roads. We have to make ourselves and all responsible entities accountable towards solutions.
Flourishing Local Economy: Let's have a vibrant Cary by building a flourishing local economy.  Supporting our local businesses invests in our neighbors and shows that we believe in them. Plus, it puts money back into our community.
Lasting Community Engagement: Beyond asking for input, it is important to have ongoing, permanent relationships with citizens in the community so that we may identify issues, agree on solutions, evaluate success and share results. Through community engagement, we can collaborate on what is truly best for Cary.
Q3 – Give us a brief bio and tell us about your relevant experience.
Born in the Silicon Valley and proud daughter of a United States Navy Veteran
Graduate of the University of California at Berkeley
Master's degree candidate at the University of Illinois – School of Public Health
Wife of over 10 years to husband, Jon
Church affiliation: Roman Catholic
Medic at a free clinic and Coordinator at a YMCA
Former President of the American Public Health Association Student Caucus and Editorial Board Member of the American Journal of Public Health
12 years of public service receiving a Department of Family and Protective Services Commissioner's Vision Award and a graduate of the Department of Assistive and Rehabilitative Services Leadership Institute
Project Manager, Business Improvement Specialist, Performance Management Analyst and Statistician
Community Organizer, Neighborhood Team Leader and co-Precinct Leader of Wake County Precinct 20-10
Vice-Chair of the Wake County Asian American/Pacific Islander Caucus
Founder, Cal (Berkeley) Alumni of the Triangle
Board Member, Berkeley Homeowners Association
Candidate Information
Email: Maria@MariaCervania.com
Website: www.MariaCervania.com
Facebook: CervaniaForCary
Twitter: @mcervania
————————————————————————————————————————————
Story from staff reports. Photo by Jessica Patrick.
https://carycitizenarchive.com/wp-content/uploads/2015/10/Maria2.jpg
337
600
Staff
https://carycitizenarchive.com/wp-content/uploads/2020/03/cc-archive-logo-450-v3.png
Staff
2015-10-23 09:02:53
2019-12-08 10:24:21
2015 Cary Runoff Election: Maria Cervania