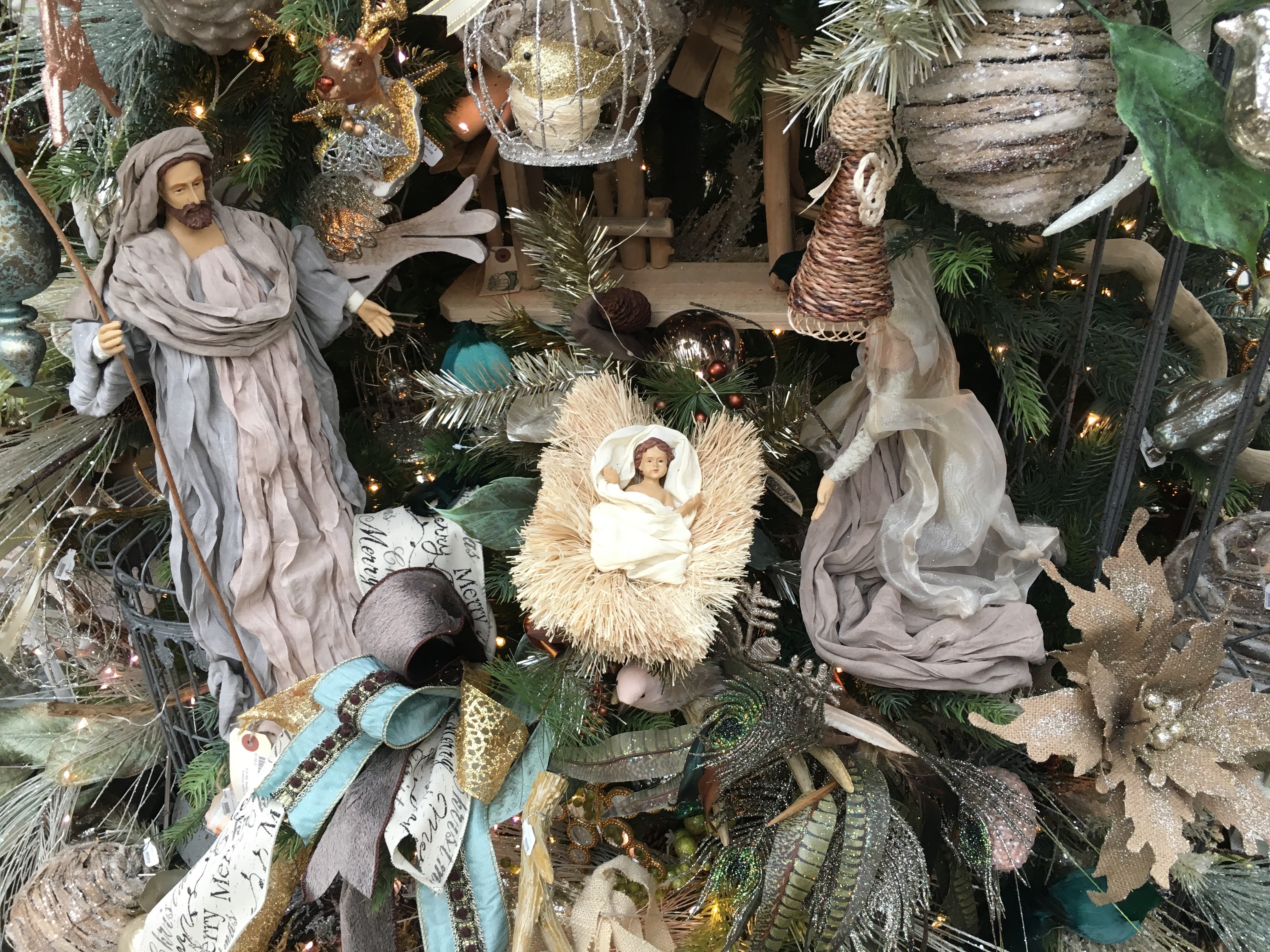 Cary, NC — Many of us groan when we see Christmas decorations in stores before we have even purchased our Halloween pumpkins. But wait until you see what they do at Garden Supply – it just might make you anticipate the season in a whole new way.
It's Christmas at Garden Supply
Garden Supply Company has been wowing their visitors for 18 years with holiday decorations and over-the-top Christmas trees that they install each year in mid-September. I stopped by this week to check out their eye-popping trends.
Deborah Ramsey owns Garden Supply Company with her husband, Keith. For 18 years now, they've created a Christmas wonderland inside their store complete with seven trees that include decorations such as full-sized sleds, snowmen, and, this year, an electric fireplace.
Trend-Spotting at the Mart
Each season starts with a visit to the Atlanta Gift Mart.
Deborah always spends the first day scanning the vendors to get a feel for what she likes before she goes back to purchase her favorites. While there, she puts together her interpretation of market trends with the special Garden Supply twist. For instance, at the Mart, there was a big influence from the Fifty Shades of Grey movie.
She saw trees and decorations done completely in shades of grey. She knew her Cary customers would not go for that, so, instead, she chose to integrate some greys within her own black, white and red tree which she dubbed, "It's the Most Wonderful Time of the Year."
This upbeat tree has snowmen, big red accents, flocked branches, chalkboard ornaments and accents of charcoal grey flowers and black and white gingham.
The Trends
Seven trees are spaced around the store, and each have a distinct theme and an original approach to Christmas. Every year, Deborah works with Trevor Bay to take the hundreds of boxes which start arriving after market and interpret all that they've seen into cohesive stories.
Navy Accents
For the traditionalist, they created a tree called "Tally Ho" with rich velvet, houndstooth and feather accents paired with traditional reds, greens and gold.
Newest to this mix are touches of navy to anchor the palette, which are used in ribbons and in some ornaments to give the traditional colors some deeper contrast.
This tree had some fun french horns reminiscent of fox hunting.
Menswear in the Mix
While burlap continues to be a very big fabric and texture, another added element, often printed on burlap, is menswear. This mixed well in several of the themes.
In browns, it looked great mixed with the aqua green. In black and white it looked sharp combined with red. In softer more rustic patterns it looked great in outdoorsy themes. Try updating your bows with a menswear ribbon like that pictured above for an eye-catching update.
Gardening
Deborah always does a tree that harks back to the fact they are a garden store, and this year she calls it "Frozen Winter Garden." There's a mix of plants – green ferns and cream magnolias mix with red poinsettia and berries. Many of the picks and accents have the look of ice and frost, which work really well with the reflections from the twinkle lights.
There were even charcoal grey watering cans spaced throughout.
Blue-Green with Brown
A blue-green aqua color was seen a bit last year.
This year, Deborah was inspired to use that color mixed with browns and burlap in a tree that also holds her selection of religious-themed decorations. She has a fabulous pair of metal angel wings in aqua that anchor the display, and she used accents of glass birds and feathers with a crèche and angels and other religious figurines.
The result is a serene, soft, pretty and very different color theme for the holidays.
Green on Green
All different shades of greens with small accents of red in the form of cardinal birds makes up the "Carolina on My Mind" tree. There's even some small buildings and steeples tucked amid the branches which light up for accents of white.
Deborah always has beautiful ribbons that add to the mood – here, a ribbon with holly and cardinals provides contrast and echoes the Carolina theme.
Critters
At market, Deborah said she saw all kinds of "critters." Animals have always been popular at the store for several years now, especially owls. This year, woodland creatures were everywhere. Look for hedgehogs, reindeer, pheasants, owls, all types of birds and more. Mixed with this are decorations that use felt and wool. In the store, this "Cabin in the Woods" tree sits next to a cozy wing chair piled high with animals. Tucked low inside the tree is a working electric fireplace!
This rustic theme is sure to please folks that like ornaments with a home-made feel.
Santa, of Course
Who doesn't have room for more Santa's? This Santa-themed tree welcomes visitors with a mailbox to post their letters to Santa as well as many versions of the jolly old elf and his helpers. This traditional theme includes plenty of red and white and accents of the recently popular lime green. Candy canes and snowmen look right at home, too.
Pick Your Favorites
No one has to slavishly follow any one particular trend, but picking out one or two items can give what you already have an updated look.
Add some navy to your red and green. Mix a touch of menswear with red and white. Change out the pine green for some lime and, suddenly, your holiday decor will look fresh again.
Feeling overwhelmed? Deborah and her staff can come to you and help you get your house ready for the holidays or "that big party." They can work with what you already own or add newness from what they have in stock.
————————————————————————————————————————————
Story and photos by Lindsey Chester.
————————————————————————————————————————————
CaryCitizen is sponsored in-part by Garden Supply Company on Old Apex Road in Cary.
https://carycitizenarchive.com/wp-content/uploads/2015/10/IMG_0036.jpg
3024
4032
Lindsey Chester
https://carycitizenarchive.com/wp-content/uploads/2020/03/cc-archive-logo-450-v3.png
Lindsey Chester
2015-10-23 14:42:32
2019-12-08 10:24:30
2015 Holiday Decorating Trends