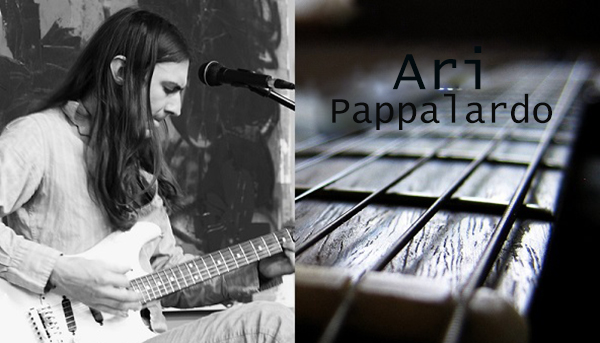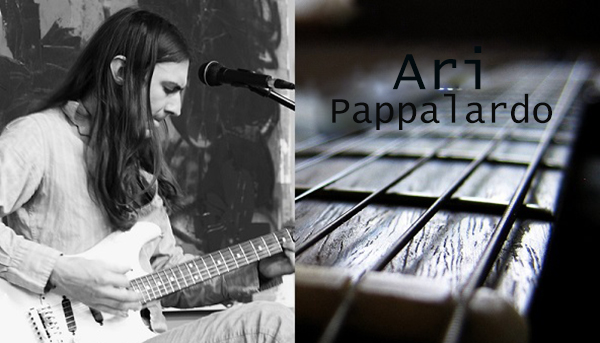 Cary, NC — I had coffee with Ari Pappalardo, a singer/songwriter who was born in Cary.
Ari Pappalardo
I met Ari Pappalardo, a Cary singer/songwriter, at Caribou Coffee on a Friday afternoon. "I want caffeine," he told me right away. Ari would leave in two days for a month-long trip across the country, and he'd spent the whole week preparing for it. "I've been in and out of recording sessions, and, after this, I'm going to review pictures from my recent photo shoot," he said.
As exhausted as Ari was, he jumped right into telling me about his music. His passion for performing was obvious. Between that, and the five espresso shots in his drink, I learned a lot.
Born in Cary
Ari, who is now 26, was born in Cary. "Even as a little kid, I loved performing," he told me. "In school, when all the other kids brought poster board fold-out projects to school, I'd bring a song I'd written." By high school, Ari had taken guitar lessons and started his first band.
"I took a chorus class during my senior year at Cary High and realized just how much I loved singing and writing lyrics," he explained. "Since then, I've filled a lot of notebooks. The greater things get turned into songs. Everything has been a necessary step towards who I am today."
Ari Across America
Today, Ari is both an independent musician and a loyal member of his band, Absent Boundaries. He teaches guitar and piano lessons and is working to get his image – and his band's – out there. Recently, he's played some pretty big venues, like SparkCon's MusicSpark and the Durham Bulls VIP sky box. It's possible that you've seen him in Cary, too. Absent Boundaries plays frequently at The Corner Tavern & Grill, Abbey Road and other Cary watering holes.
Two days after our interview, Ari left for a month-long trip. He's traveling across the country to bring his music to places like NYC, Denver, D.C. and L.A.
Music is in my lymph nodes, and I'm not getting rid of it. That's why I'm taking this trip. I decided I need to get out there and play my guitar and sing. I'm always the guy strumming and singing, but I want to do more. It becomes too comfortable. I want to show up to new places and introduce myself. I want to get more gigs for the band.
Ari is only a week into his trip, but he's already stopped in several different cities to perform. Some of the gigs were planned, and some were impromptu. "I'll play anywhere, anytime," he told me. "I call my best days ever the days I'm double-booked. I love days where I start playing early in the afternoon for one gig and then late into the night for another."
Absent Boundaries
Ari and I had a lot of fun talking about his band and the four other guys in it.
Absent Boundaries, a progressive rock band with jazz, rock and pop influence, has been around for more than two years now. Ari started the band with his friend David Mills, who he grew up with in the same Cary neighborhood. In fact, Ari told me that many of his other band mates, and his friends that help the band – like photographers and graphic artists – are all "Cary people" too.
Ari's friends, Steven and Michael Tietgen, take all the band's photos, and another friend, Jack Snyder, just made a lyric video for Solidarity, one of Absent Boundaries' songs. "These guys are all local," Ari said. "They're my friends and people I've spent a lot of personal time with."
These are the guys of Absent Boundaries. Bryan Hickman plays bass, Donovan Cheatham plays the drums and Hank Close is a rhythm guitarist. Ari is the lead vocalist, and David plays guitar and bass. "We always say that we're each other's biggest fans," Ari told me.
Become a Fan
You can follow Absent Boundaries on Facebook to stay up-to-date on their upcoming Cary shows, and check out their photos and music on the band website.
———————————————————————————————————————————-
Interview by Jessica Patrick. Lead photo of Ari by Mary Shannon Marshall. Guitar strings photo by Mattia Belletti. Band photo by Stephen and Michael Tietgen.
https://carycitizenarchive.com/wp-content/uploads/2015/11/Ari4.jpg
343
600
Jessica Patrick
https://carycitizenarchive.com/wp-content/uploads/2020/03/cc-archive-logo-450-v3.png
Jessica Patrick
2015-11-10 14:02:42
2019-12-08 10:24:34
Profile: Ari Pappalardo