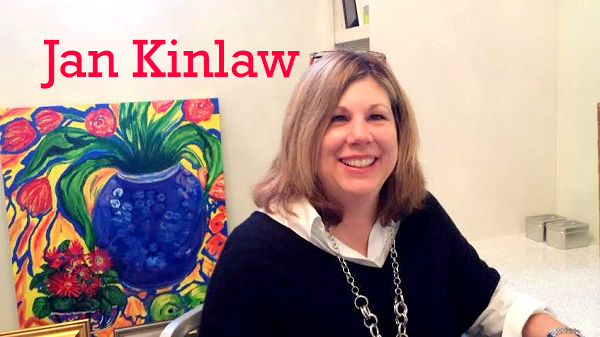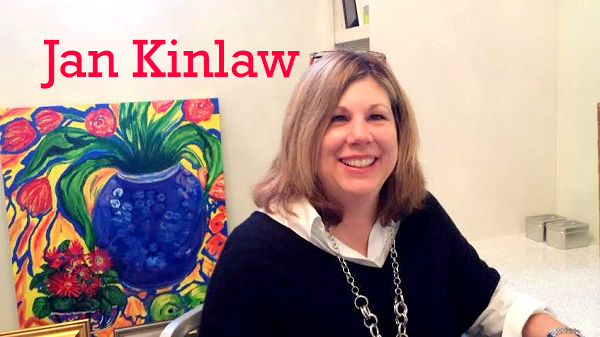 Cary, NC — Jan Kinlaw paints colorful, whimsical canvases out of her home studio and exhibits her work in the Cary Gallery of Artists. But there's so much more to her art than that.
Jan Kinlaw
Jan invited me to her home studio to talk art and see her paintings. "I'm an acrylic painter, but I'm learning oils right now," she told me as she showed me several of her colorful paintings. "I've discovered that I'm very good at oils, so I probably need to stick with it," she laughed.
Jan is an exhibiting artist at the Cary Gallery of Artists in Downtown Cary, and she loves painting in her studio. Jan is always painting something different, but many of her works are still-life scenes, landscapes and animals. She showed me a close-up of two chickens painted on a canvas. "This is a work-in-progress, but I love to paint from pictures," she said.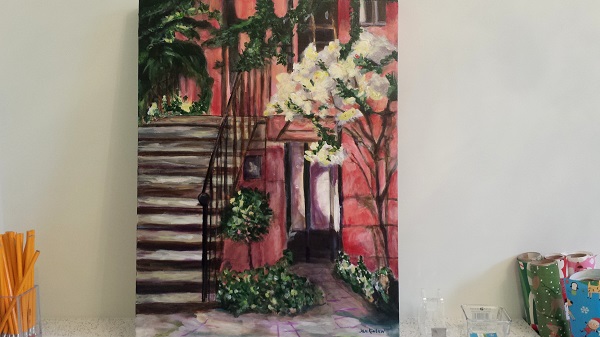 "A friend showed me this picture, and the chickens made me happy and made me laugh, so I decided to paint them. I used the picture as a reference to start the painting but threw it away soon after." This is how Jan's paintings take form – she likes the creative challenge of painting without always having something to look at. As a result, her work is realistic yet whimsical.
Always an Artist
"I actually started out as a pen and ink artist, though." Jan told me. "It's quite the story."
One day, when she was 13, her father came home from work with a pen and ink set and a photo. He gave the supplies to Jan and said, "Here you go, I want you to draw me this picture. I don't care what it looks like, but I'm going to enter it in the state fair."
"I didn't take him seriously," Jan said, "because I'd never used pen and ink before. But he was always pushing me to try new and different things."
Jan completed the picture – her first pen and ink drawing. True to his word, her dad entered it into the state fair. "He took me to the fair later," she said. "They don't call the winners, but, when we walked by my picture, we saw that it'd won third place. Dad hung it up downstairs, and, anytime he had friends over to the house, he'd show the picture to them.
It was when Jan's kids were small that she started really focusing on painting. Once, while she was shopping at the Cary Gallery of Artists, she started talking with some artists who were there. "I showed them my work, and they said I should apply to be a member," Jan told me. "Now, I've been here a little over a year. It's fun, and I've learned a lot about how a gallery works."
Art's a Blessing
Jan doesn't look at her art as a way to make money. Instead, she hopes it will help others.
"I pray before and while I paint," she said. "I ask for special blessings for everyone who sees my work." Jan laughed and told me that she never wears a name tag when she works in the Cary Gallery of Artists, because she likes to hear customers' honest opinions of her work.
"The other day," she said, "a woman walked up to one of my paintings and said, 'I really like this. It makes me feel good, but I don't know why.' It's not my intent to sell a lot of my work, it's the blessings they get from looking at it that matter to me."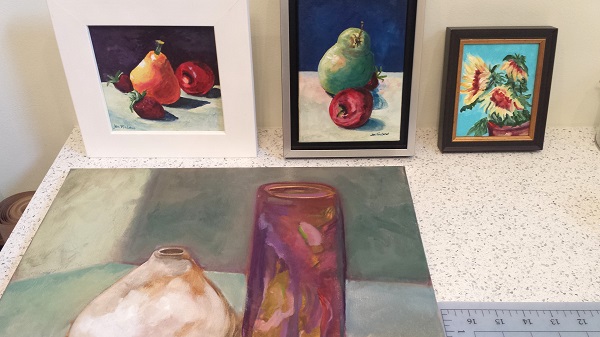 Every month, Jan teaches an art class at Brighton Gardens of Raleigh, an assisted living facility where her mom is a resident. "I used to license all the continuing care retirement communities for the State of North Carolina," she told me. "I love seniors. I took care of them for so long."
Soon after her mom moved into Brighton Gardens, Jan started volunteering her time to paint with the residents. It can be hard to get folks to come out of their rooms to take the class, though, and Jan takes it upon herself to change that.
"I take one of my paintings and walk around to all the dining tables where the residents are eating lunch and have a conversation about the art," she said. "I always introduce myself as the 'art teacher' and tell them that I'd love to have them in my class."
"Many times," she said, "It's the people who won't come out of their rooms who have all the interesting stories. And so many of them are artistic in some way."
See More
Want to see more of Jan's work?
Visit her page on the Cary Gallery of Artists website or stop by the gallery in Downtown Cary's Ashworth Village, 200 S. Academy Street, to see her artwork in person.
———————————————————————————————————————————
Story and photos by Jessica Patrick. Read about more Cary artists.
———————————————————————————————————————————
Arts coverage on CaryCitizen is sponsored in part by Elegant Stitches in Waverly Place.
https://carycitizenarchive.com/wp-content/uploads/2015/11/Jan1.jpg
337
600
Jessica Patrick
https://carycitizenarchive.com/wp-content/uploads/2020/03/cc-archive-logo-450-v3.png
Jessica Patrick
2015-11-12 14:15:36
2019-12-08 10:24:34
Cary Artist: Jan Kinlaw