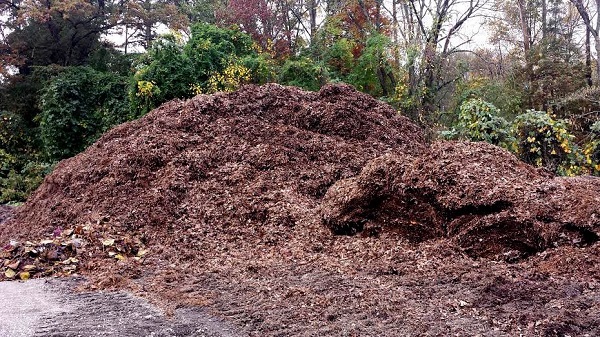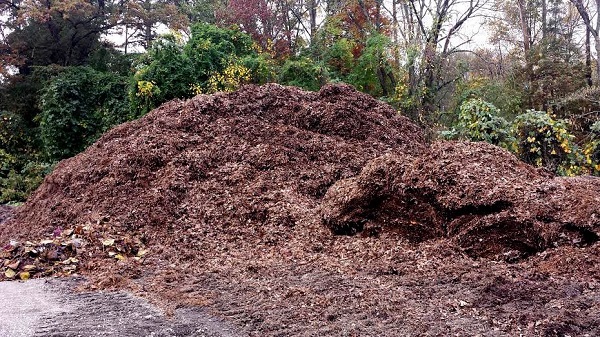 Cary, NC — On Monday, November 9, 2015, the Town of Cary started collecting the many piles of leaves you'll see alongside the streets, in neighborhoods and in front of Cary homes. As part of my trash series, I found out how the leaves are collected and where they go.
The Trash Series
This article is the fourth in a series of articles about trash. Yes, trash.
In Cary, we're lucky to have resources like curbside trash pick-up, co-mingled recycling and yard waste collection. But where does it all go? To answer this question and more, I teamed up with Bob Holden, Town of Cary's Solid Waste Division Manager, to learn more about our trash.
Last week, with Bob's help, I learned how a leaf truck works, where the leaves go and what we, as residents, should know about the leaf collection service.
It's Leaf Season
Yard waste is picked up from the yards of Cary homes year-round – all you have to do is leave it out with your trash on your normal trash collection day. But, starting in November, mountains of leaves begin to fall, and I learned from leaf collectors that these leaf piles can be up to 30-40 feet long and five feet high. It's just too much for trash collectors to pick-up.
For this reason, Cary deploys special leaf-collecting equipment and hires seasonal help to collect leaves three months out of the year. Town of Cary staff members pitch in, too, to help collect the leaves. Last week, Bob told me – and showed me – how all this works.
Find Your Dates
The Town of Cary has already started collecting leaves from Cary neighborhoods, and the seasonal service will continue until Sunday, January 24, 2015. During this three month period, leaves from each street in town will be collected three times. You can see when leaves will be collected from your neighborhood on this schedule.
Interactive Leaf Map
Or, you can also use this interactive map. Simply enter your home address in the top right corner and, then, click on your house to view all three of your collection times.
Kick Your Leaves to the Curb
The Town of Cary suggests these four guidelines to make leaf-collecting a breeze:
Put leaves out no later than 7 am on the day of collection.
Try to keep leaves out of the road and away from storm drains, water meters, fire hydrants and mailboxes. You can leave them at the edge of your grass, near the curb, or neatly on the curb. Don't worry about making a perfect pile – just try to get them in one area.
Ensure leaves are free of garbage, brush, branches, large twigs or stones.
Consider parking your car at a distance from the leaves.
Have Too Many Leaves?
Citizens can request additional loose leaf collection from their home now through January 2016 for a fee of $100 by calling 919-469-4090. Leaves can be placed curbside in reusable containers or paper bags during regular yard waste collection anytime during the year for no charge.
Leaf Collection – The Process
The trucks used to collect leaves are the same trucks that the town sends out to plow heavy snow in the winter. The parts are interchangeable, so these giants can be used year-round. In the fall, though, a wide tube is connected to the back of the truck.
Inside it is a vacuum that sucks up leaves with incredible force and pushes them into the truck. As the leaves enter the truck, a fan chops them up into smaller pieces.
I learned that it can take anywhere from 30 minutes to an hour to fill a leaf truck, which holds approximately 20 cubic yards of leaves.
There are nine trucks and 18 leaf collectors total. While someone slowly drives the truck down the street, two collectors follow behind with the leaf hook-up. One moves the hose back and forth to collect the leaves, and the other helps by raking the leaves closer to the vacuum.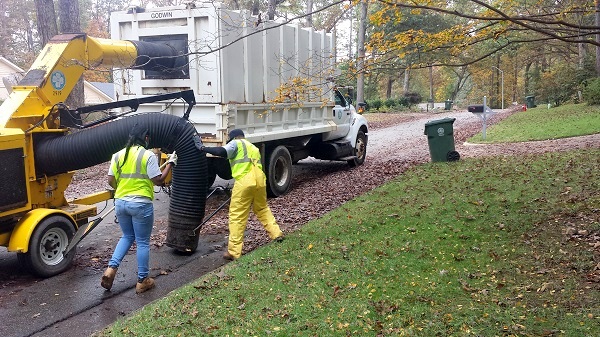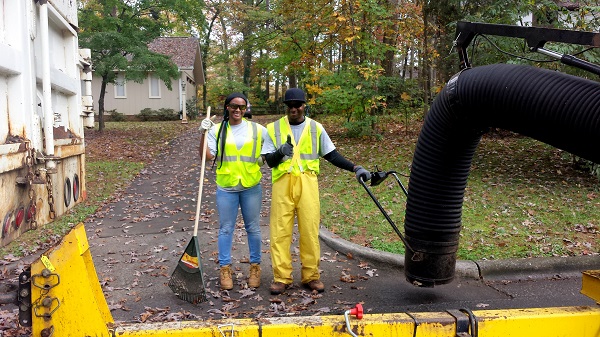 What Happens to Leaves?
After the truck is full, it's driven to the Citizen's Convenience Center in Downtown Cary. There, the truck's contents are dumped into a pile especially designated for leaves.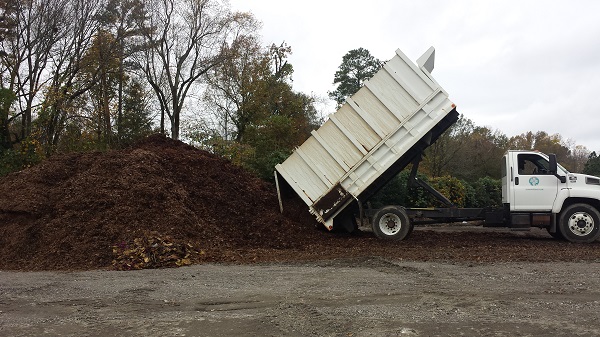 To condense the leaves, a bulldozer pushes them together and up. This maximizes the space available for the leaf pile (which will be rather high by December!) and makes it easier for Brooks Contractors in Chatham County to pick up the leaves later in the season. Brooks will turn the leaves into compost, which will be used to create soil and fertilizer.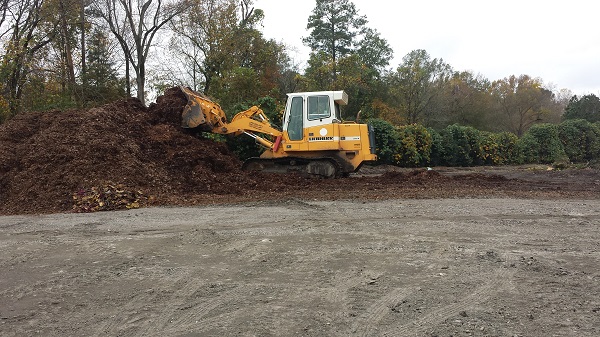 7,485 Tons of Leaves
I'll leave you with the statistic that, in Cary, about 7,485 tons of leaves are composted each year. That's a lot of leaves! In the coming weeks, watch out for the leaf collection trucks, and stay tuned for more articles about what happens to trash in Cary.
——————————————————————————————————————————–
Story and photos by Jessica Patrick.
https://carycitizenarchive.com/wp-content/uploads/2015/11/Leaves3.jpg
337
600
Jessica Patrick
https://carycitizenarchive.com/wp-content/uploads/2020/03/cc-archive-logo-450-v3.png
Jessica Patrick
2015-11-13 11:23:31
2019-12-08 10:24:35
The Trash Series: 7,485 Tons of Leaves