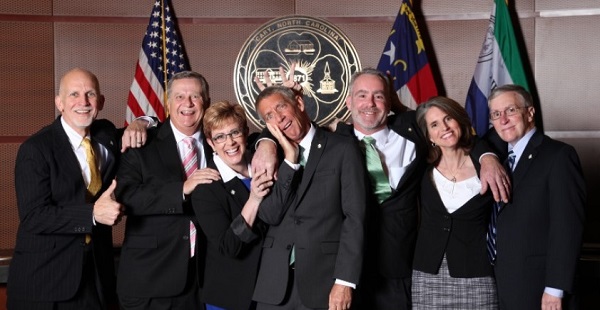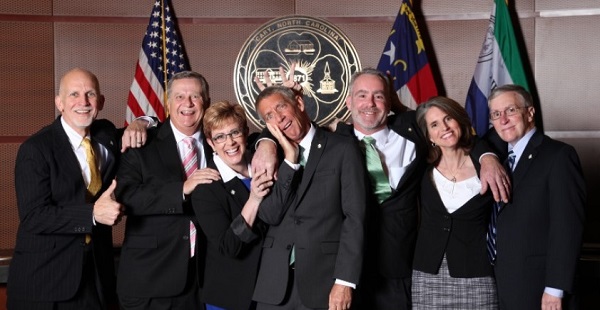 Cary, NC — Sorry it's been awhile since my last post. I've been trying to dig myself out of a honey-do hole since the election ended. ;-)
Catching Up
It has also been nice to get back in the swing of things at work and get my hands dirty again. I am thankful I get to make a living doing something I really enjoy, plus I get to work with my wife, so that's awesome – if we didn't work together we'd hardly ever see each other.
There's a lot to talk about since I last posted. I'll do my best to keep it short and sweet, but I'll also go ahead and apologize in advance for it running long. ;-)
Post-Election
Congratulations to Cary's newest council member, Ken George. I look forward to Ken joining the council and participating in a meaningful way. Ken is a long-time Cary resident. He raised his family here and he owns and operates his business here. Ken has a good feel for the community and the Cary way and will serve District D and Cary well.
Thanks again to the 60% of District B voters for your faith and trust in me to serve as your representative for another four years. To the 40% who preferred one of my opponents, I promise to work even harder to earn your support. Here is our new council group photo.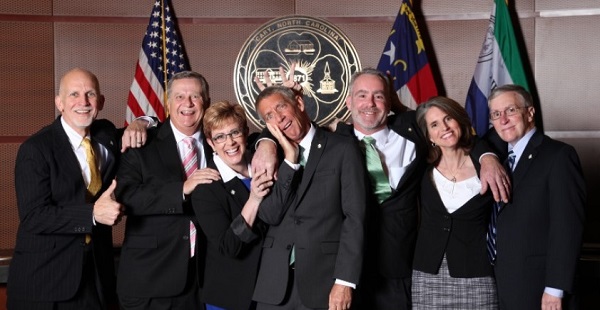 Just kidding ;-)
Congratulations also to my good friend Michael Schlink on his reelection victory to the Morrisville Town Council and also to Satish Garimella for his election victory. Michael is a great guy. I don't know anyone in Morrisville who cares more about their community than Michael, and he deserved another term to continue his work to make Morrisville a better place.
I also had the pleasure of getting to know Satish during the campaign, and he, like Michael, also brings a community-over-politics attitude to their council. Given the partnerships and regional interests of both our communities, a quality council in Morrisville is important.
Who's Got Spirit?
Anne B. Kratzer, Brent Miller and Desiree Kettler, that's who! Anne, Brent and Desiree were the nominees for this year's Hometown Spirit Award. They're all extraordinary folks who give so much of themselves for our community and are deserving of such recognition.
I'm glad that council members aren't on the awards committee. ;-) The winner of the 2015 Town of Cary Hometown Spirit Award Winner is…Anne B. Kratzer!!! Congratulations to Anne, Brent and Desiree for being nominated, and thank you for all that you do for Cary!
The "That Is So Cool Award," however, goes to Brent Miller.
Brent nominated Anne. How cool is that? ;-)
Veterans Day Celebrations
I had the honor and privilege of participating at Cary's Veteran's Day Luncheon at the Herb Young Community Center and at Cary's Veteran's Day Celebration at the Veterans Freedom Park Memorial. Both events were a moving tribute to our nation's veterans and their families.
We are forever grateful for their service and sacrifices.
Cub Scouts
I also had the privilege of speaking to Cub Scout Pack 208 about elections and my service on the council. I always enjoy speaking to kids. I especially enjoy the questions they ask! Kids don't sugarcoat a thing – I love it. I do my best to answer those that I can without scarring their minds or upsetting the parents or teachers. ;-) But, once in a while, I do find myself staring at them for a few seconds before I smile and say, "Next question." ;-)
The funniest political question I ever got – while speaking to 3rd graders I had a kid ask me, "What is the difference between a Republican and Democrat?" I looked at the teacher with a smile and said, "Can I answer that?" She thought about it for a few seconds and said, "Probably best you don't." Smart… ;-)
Next question!
Downtown Library Update
The council held a worksession to discuss design considerations for the new downtown Cary regional library, an update on Imagine Cary and to talk about the upcoming council retreat.
While the topic that received the greatest discussion was the library building and parking layout options, we also learned a little more about the library itself. The new library will be between 22,000-25,000 sq ft and two stories tall. It will include large and medium-sized multipurpose programming rooms as well as a quiet study lounge.
There will be 11 librarians on staff – compared to three at the existing library – and over 125,000 books along with increased public computer space.
In order to stay on schedule and not jeopardize Wake County's Bond funding requirements, the library needs to be completed by the fall of 2018.
To make this happen, Wake County needs to begin design work by January. If we don't hustle, the library will have to wait until Wake County passes another Library Bond referendum, and all of our work to get the downtown library included as a bond project will be lost.
Parking Deck
The council affirmed previous decisions. The library will go where we always said it would, and we will be constructing a four-level, 350 space parking structure in conjunction with the library. The deck will not only serve the library but will also provide public parking for the Cary Arts Center, the park, downtown events and future private development.
The council also agreed to invest in a facade that disguises the deck as a residential/office building to soften the views from the park. In a perfect world, we would have preferred to wrap the deck with residential and office development.
However, given Wake County's time constraints and the complexities of bringing in a private developer to make this happen, well, it just isn't going to happen. And that's OK.
The end product will be remarkable. Private development will occur between the deck and Walnut and Walker Streets similar to the image below. Private development – especially office or commercial – needs the visibility and access from the street to be viable.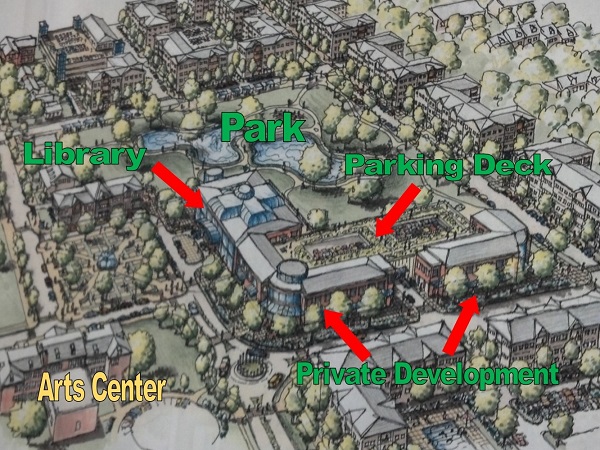 Council Retreat
The council will be traveling to Greensboro for our retreat.
Our main discussion topic will be redevelopment and infill development. This will be one of Cary's biggest challenges from here on out, as there aren't many large undeveloped tracts of land left in Cary. The majority of future development will be infill or redevelopment of older properties and we need to better understand how to support that while protecting the character of existing development and especially neighborhoods.
Town Manager Search
The council has spent a great deal of time reviewing potential candidates to be Cary's next Town Manger. After narrowing a large field of quality applicants down to our "top ten," we then whittled the field down to six. After a day and a half of interviewing those six candidates, we then narrowed the list down to three finalists, so we're getting close!
Unfortunately, there isn't much more I can tell you, as this is a confidential personnel matter, but please know that we are working as hard as we can to find the best person possible to be Cary's next manager.
Council Meeting
We had a long meeting this past Thursday. Highlights include:
Opposition to Publix Supermarket
The council held a public hearing for the proposed Lewter property rezoning at the intersection of Carpenter Fire Station and Green Level Church Roads.
The land is currently zoned for medium to high density residential. The applicant is proposing commercial to include a Publix grocery store. A number of folks showed up to speak in opposition to the project with a couple of folks speaking in support of the proposal. Council has also received a number of emails on the topic, and those run about 50/50 for and against.
At the end of the day, the question for me is – do I believe the best use of this property to be commercial development or more apartments? I have my thoughts but will let the process run its course before commenting further. Cary's Planning and Zoning Board will review the case and make a recommendation to council prior to our decision.
Connectivity Ordinance
The council also approved a new connectivity ordinance that creates three tiers to determine whether or not connectivity to adjoining properties would be required. This – hopefully – will provide greater flexibility to applicants and neighborhoods who oppose connecting adjacent properties when public safety and traffic flow requirements are adequately addressed.
In a nutshell, new development adjacent to older properties (those approved prior to 1999 that were not planned for connectivity and have adequate public safety and traffic access) would not be required to connect to the existing development.
Pedestrian and utility connections, however, would still be required. Newer developments, however, (those planned for connectivity to include those with street stubs) would still be required to connect.
Another bonus is that this decision can now be considered at the time of rezoning and not have to wait until site plan giving residents more security that what is proposed will actually happen.
Parks & Greenways
The council also approved the concept plan and phase two for Mills Park as well as the next phase of the Panther Creek Greenway. The greenway connections will create a continuous trail from Cameron Pond to Cary Park developments, Mills Park and Mills Park Middle School.
The second phase of Mills Park with include a playground for children, new restroom facilities, a 30 car parking lot and picnic shelter. That's all for now.
Until Next Time
As always, thanks for reading and I hope everyone has a great Thanksgiving!!!
—————————————————————————————————————————
From the blog of Don Frantz, Member of the Cary Town Council District B (representing Downtown Cary). Photo courtesy of Don Frantz.
https://carycitizenarchive.com/wp-content/uploads/2015/11/Don1.jpg
310
600
Don Frantz
https://carycitizenarchive.com/wp-content/uploads/2020/03/cc-archive-logo-450-v3.png
Don Frantz
2015-11-24 09:15:52
2015-11-24 09:15:52
Don's Blog: November 2015 Update