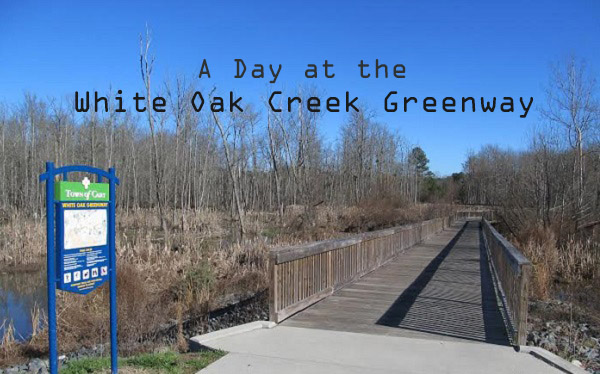 Cary, NC — Last week, I took a guided walk of the White Oak Creek Greenway and found it to be one of the best places to discover wildlife in Cary.
A Great Place for Nature-Lovers
For many years, if nature enthusiasts like me wanted to learn more about the plants and animals in Cary, the only place to find professional education about that wildlife was the beautiful Hemlock Bluffs Nature Preserve. Then, I discovered the White Oak Creek Greenway.
With seven other nature enthusiasts, I explored one of Cary's best treasures in search of wildlife. Our program was led by Mark Johns, Operations and Program Supervisor at the Stevens Nature Center. Mark has been teaching nature education classes in Cary for over 24 years and is a veritable encyclopedia of knowledge about wildlife in the state of North Carolina.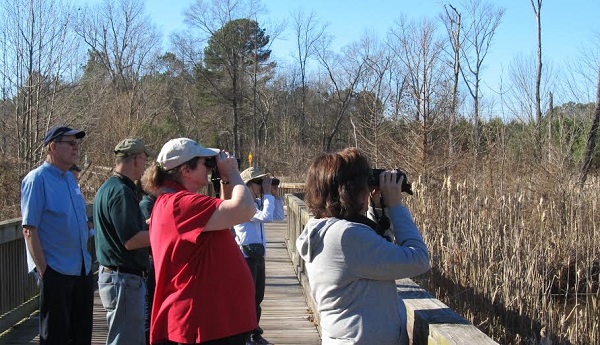 Our group met up with him at the trailhead for White Oak Creek Greenway just off Green Level Church Road. This segment of the East Coast Greenway extends nearly two miles eastward to Davis Drive Park and includes a spectacular boardwalk through wetlands associated with White Oak Creek, Jack Branch and Batchelor Branch.
White Oak Creek Greenway
It quickly became obvious that the White Oak Creek Greenway is not only a wonderful resource for walking and bicycling (we encountered a number of people engaging in these activities on aWednesday afternoon) but that it is rich in wildlife.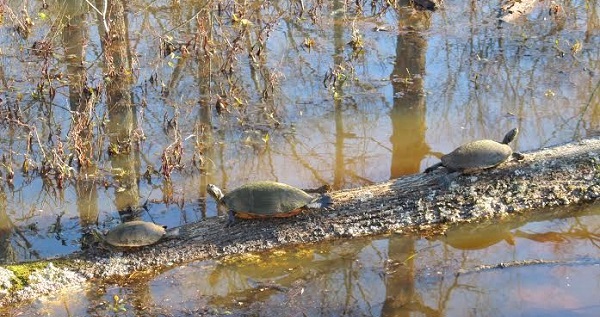 We quickly located over a dozen wild Mallard Ducks, a singing Chorus Frog, many Yellow Bellied Slider turtles and quite a few birds including a Red Headed Woodpecker, a Red Bellied Woodpecker, a Downy Woodpecker, a Pileated Woodpecker, a Yellow Rumped Warbler, a Tufted Titmouse, a Carolina Chickadee, a Carolina Wren and a Golden Crowned Kinglet.
Several Black Vultures circled slowly overhead, enjoying the thermals created on a surprisingly warm mid-December day. We also found clear signs of muskrat and beaver (including two active beaver lodges and two well maintained beaver dams). There are many wet site plants, and I noted Cypress, Crossvine, Tulip Tree and Cattail as highlights of this walk.
Mark Johns told me that he is very interested in building nature programming at this greenway and at other locations in Cary's parks system. He is currently scouting other parks and greenways in west and south Cary and expects to add some classes at these places in 2016.
Interested citizens can learn about nature education at townofcary.org or by picking up a copy of the Parks, Recreation and Cultural Resources Program Guide.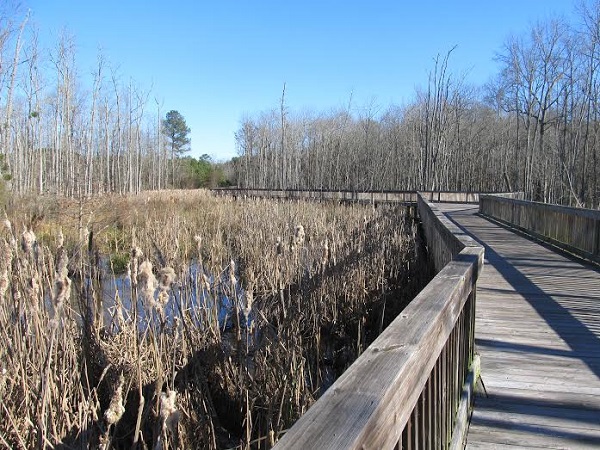 Explore the Greenway
Those who would like to explore White Oak Creek Greenway for themselves can park at the gravel lot immediately southeast of the intersection of Green Level Road and Green Level Church Road. The boardwalk begins approximately 300 feet south of the parking lot and is marked with a distinctive blue and green "Cary Greenways" signpost.
——————————————————————————————————————————–
Story and photos by David Lindquist.
https://carycitizenarchive.com/wp-content/uploads/2015/12/White-Oak.jpg
374
600
David Lindquist
https://carycitizenarchive.com/wp-content/uploads/2020/03/cc-archive-logo-450-v3.png
David Lindquist
2015-12-22 09:30:35
2015-12-26 17:32:09
A Day at the White Oak Creek Greenway