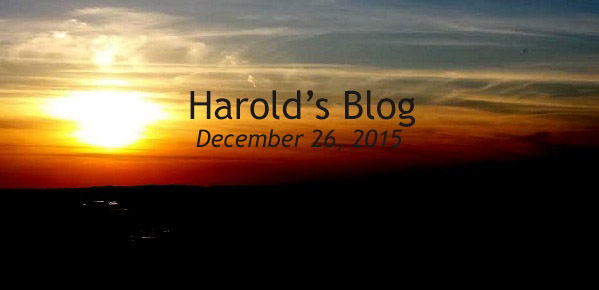 Cary, NC — This will be my last journal entry of the year.
Monday
Monday, I returned from a visit with my oldest daughter in New York.
New York
We had a great time and saw an unbelievable light display in Brooklyn's Dyker Heights. We also did the typical touristy things, like visiting Rockefeller Center.
Holiday Banquet
Monday night, I joined Mayor Pro-Tem Yerha and council member Bush at the annual Mayors Association holiday banquet. We were entertained by the Raleigh Boys choir and joined them in version of 12 Days of Christmas called the 12 Mayors of Wake County which was written by Mayor Stohlman of Morrisville. Each municipality had something associated with it and the number. And, the municipalities were in reverse alphabetical order.
This meant that Cary had eleven and our verse was "11 Cary ordinances." After dinner, the mayors introduced council and staff from their respective municipalities. Only council members were present from Cary. There was no staff present for the first time I can remember.
Holiday Vacation
The rest of the week was spent with family and friends enjoying the holiday. Unfortunately, I injured myself on Christmas Eve, which severely limited my mobility, and I was unable to participate in Christmas Eve services as an usher which is a Weinbrecht tradition.
Hopefully, I will have a full recovery in the coming days so that I can enjoy some of the time away from my job at SAS.
Sunday
Sunday, I had the honor and privilege of a late celebration of Chanukah with council member Bush's family. While I am not Jewish, I love celebrating with them and consider them extended family. Even though Chanukah has passed, they decided to hold it at this time so that their daughter, who was coming home from overseas, could celebrate with them.
As usual, we had a fantastic time.
Emails from Staff
Emails this week included an economic development summary for the year from the Vice President of Economic Development. This year, 1,523 new jobs and nearly $76MM in new capital investment were tracked and involved the chamber's economic development team.
These numbers represent the ones that the Cary Chamber/Economic Development had direct knowledge of. There were more that were not included in these numbers.
Accolades
The summary also included accolades for Cary and the Raleigh/Cary metro area:
#4 Safest City in the Nation, SmartAsset, Cary, (Nov. 17, 2015)
#6 on 'America's 50 Best Places to Live,' 24/7 Wall St., Cary, (Nov. 9, 2015)
#7 Small American Cities of the Future for Economic Potential 2015, Financial Times, Cary (April 13, 2015)
#1 City in North Carolina to Get a Job, Zippia, Cary (June 1, 2015)
#7 Best City for Economic Potential, fDi American Cities of the Future, Cary, NC (September 2015)
#10 Happiest Suburb in America, Movoto, Cary (June 16, 2015)
#8 Healthiest Housing Market, Wallet Hub, Cary, NC (August 2015)
#2 Best Cities to Work for a Small Business 2015, WalletHub, Raleigh MSA (May 8, 2015)
#6 on 2015 'Best Performing Cities' list, Milken Institute, Raleigh-Cary Metro, (December 9, 2015)
#3 Best Metro Areas for STEM Professionals 2015, WalletHub, Raleigh MSA (January 14, 2015)
#2 Cities Creating the Most Technology Jobs 2015, Forbes, Raleigh MSA (April 14, 2015)
#3 Fastest Growing U.S. Metros 2015, The Brookings Institution, Raleigh MSA (February 2, 2015)
#5 Community with the Most Pride, Gallup, Raleigh MSA (May 15, 2015)
#10 Best Destination for Recent College Graduates, American Institute for Economic Research, Raleigh MSA (May 14, 2015)
#4 Best Public High School in North Carolina (Green Hope High School, Cary)
#11 Best Public High School in North Carolina (Panther Creek High School, Cary)
#2 Up-And-Coming City for Tech Jobs. ZipRecruiter, Raleigh MSA (July 1, 2015)
#11 for Population and Wealth Growth, Selfstorage.com, Raleigh-Cary, (July 2015)
#3 Big City Where White-Collar Employment is Booming, Forbes, Raleigh-Cary (July 2015)
#2 Area for Life Sciences Employment, BioSpace, Raleigh-Cary (August 2015)
#4 Area for Technology Jobs, Simply Hired, Raleigh-Cary (August 2015)
#3 Metro for Finding a Job, Career Builder, Raleigh-Cary (June 2015)
#6 Metro for Economic Growth, U.S. Conference of Mayors, Raleigh-Cary (June 2015)
#4 best Metro for College Students, Forbes, Raleigh-Cary (Nov 25, 2015)
Among 2015 Best Hotels in the USA Winners (The Umstead Hotel and Spa, Cary), U.S. News and World Report (January 27, 2015)
#1 in the U.S. for trick-or-treating, Nextdoor, Cary, NC (October 2015)
The report also mentioned at least 45 ribbon cuttings for businesses within town.
Emails from Citizens
Emails from citizens this week were very light. This is highly unusual for me, since this is the time of year when I receive the nastiest of complaints. But this week's only complaint was about the free Cary Newspapers littering the street (which I have mentioned before). Other than that, there were no complaints, and, instead, a few well wishes for the holiday season.
Next Week
Next week's schedule will continue to be light.
My main focus will be writing the State of the Town address. I will also meet with the interim town manager and have dinner with the Mayor of Holly Springs.
I hope you and your family have a safe and Happy New Year!
Get in Touch
Well, that is all for this week. My next post will be on Sunday, January 3rd. Although I have Facebook and Twitter accounts those are not the best means of communications with me. Please send all Town of Cary questions or comments to Harold.Weinbrecht@townofcary.org and email personal comments to augustanat@mindspring.com.
https://carycitizenarchive.com/wp-content/uploads/2015/12/Harold60.jpg
290
599
Harold Weinbrecht
https://carycitizenarchive.com/wp-content/uploads/2020/03/cc-archive-logo-450-v3.png
Harold Weinbrecht
2015-12-28 11:47:09
2016-01-12 17:33:06
Harold's Blog: Holiday Week