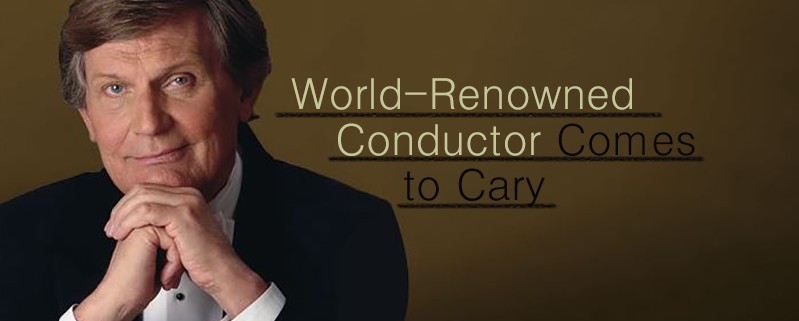 Cary, NC — On Sunday, January 17, 2016, the Concert Singers of Cary will welcome two-time Grammy winner Joseph Flummerfelt to guest conduct their latest major orchestral work, "Voices Across the Centuries."
World Renowned Conductor Visits Cary
Joseph Flummerfelt, a world renowned conductor, will host a one-of-a-kind performance with the Concert Singers of Cary and the Chamber Orchestra of the Triangle at the Carolina Theater this Sunday, January 17, 2016. Technically, that means Flummerfelt is visiting Durham, not Cary, but it is his friendship with Larry Speakman, the founder and director of the 24 year-old Concert Singers of Cary, that has made this must-see concert a reality. I talked with Larry and Joe to learn more.
"I can't emphasize enough that we have something really extraordinary happening here on the 17th," Larry told me. "People like Joe don't come through the Triangle a lot. Audiences will have an opportunity to hear someone who has has worked with and prepared choruses for virtually all of the major orchestral conductors of the big orchestras of the world."
In the orchestra world, Joe is famous. He has been responsible for most of the choral work of the New York Philharmonic since 1971, and he is founder and musical director of the New York Choral Artists. For 33 years, he was conductor of the world-renowned Westminster Choir, and that's how he met Larry, a graduate of Westminster Choir College.
A Sweet Homecoming
"My friendship and relationship with Joe goes back a long time," said Larry. "We worked together 33 years ago." While I chatted with Joe and Larry, I was surprised to learn that Lorenzo Muti, the conductor for the Chamber Orchestra of the Triangle, knows Joe as well. Joe connected with Lorenzo, who is from Spoleto, Italy, when he served as the artistic director for the Spoleto Festival USA, an all-comprehensive arts festival consisting of music, theater, opera, dance and chamber music. The two men met when they were just teenagers.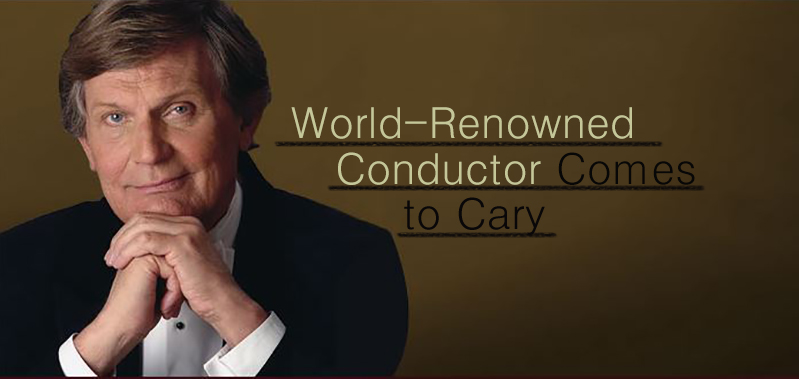 "For Lorenzo and myself, this was kind of a homecoming," Larry told me. "Because Lorenzo and I both have a personal history with Joe, that just makes the whole thing sweeter for us. We'd talked about working with him for years, and we were finally able to pull it together so that we could make that happen."
Sunday's event will be a celebration of sorts, not only for the music that is taking place on the stage but for the history that the three of us have had for many, many years.
Voices Across the Centuries
What can you expect from Sunday's performance? The Concert Singers of Cary, a chorus of about 100, will join together with 35 members from the Chamber Orchestra of the Triangle to celebrate music that goes back many years. Joe will conduct the a 40-minute piece, and Larry will conduct two smaller selections that are each about 12 minutes long.
The Concert Singers of Cary always place an importance on recognizing and making audiences aware of the history behind the selections they perform, so Larry told me a bit about the pieces audiences will hear on Sunday. Toward the Unknown Region is a purely-orchestral piece from the early Victorian period. The composer, Ralph Vaughan Williams, created the piece, which explores unknown places, based off of the work of American author Walt Whitman.
Another piece, From a Lost Continent, is full of singing and music and was composed in the early 1950's by an overlooked African American composer named William Grant Still. Larry, who is still in touch with Still's daughter, learned from her that Still was inspired to write the selection after he had a dream of a lost continent. "He heard the melody in a dream and woke up and immediately wrote it," Larry told me. "So, on Sunday, we'll sing in a language that doesn't exist – a language based on syllables and about what this composer heard in his dream."
The oldest piece in the concert is from 1798. The beautiful, 40-minute selection is called Lord Nelson Mass. "The composer, Josef Haydn, is one of the greatest composers of all-time," Joe explained to me.
"The selection does contain religious content, but it's not liturgical," Larry added. "It was written for a secular audience, and it resembles Jesus Christ Superstar more than it does a church piece."
This will be the kind of music that, at a certain level, you'll want to wash over you, but you'll also want to follow along and see what's happening for the purpose of understanding it better.
Event Details
Voices Across the Centuries
Sunday, January 17, 2016 at 3 pm
at the Carolina Theater, 309 W. Morgan Street, Durham
For tickets ($25 for adults), visit the Chamber Orchestra online.
---
Story by Jessica Patrick. Photo from JosephFlummerfelt.com.
https://carycitizenarchive.com/wp-content/uploads/2016/01/Joe2.jpg
379
799
Jessica Patrick
https://carycitizenarchive.com/wp-content/uploads/2020/03/cc-archive-logo-450-v3.png
Jessica Patrick
2016-01-12 15:29:34
2019-12-08 10:25:04
World Renowned Conductor Visits Cary