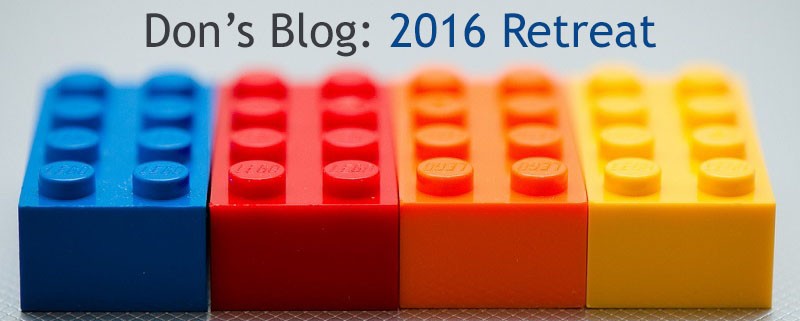 Cary, NC — This past weekend, the council and town staff traveled to Greensboro, North Cackalacky for our annual council/staff retreat. The main focus of the retreat was on infill development and redevelopment.
Redevelopment vs. Infill Development
Redevelopment is exactly what it says – the redevelopment of existing development to include the demolition of old buildings to make way for new construction, or the repurposing of older structures into new uses.
Infill development is the development of vacant land that is surrounded by existing development. Infill and redevelopment are becoming, and will continue to become, more of an issue in Cary, as there isn't much undeveloped land left available for new development (roughly 15%) and as older development ages out (Cary Towne Center Mall, for example).
Why Greensboro?
While Greensboro and Cary are very different cities, Greensboro has experience dealing with many of the challenges of redevelopment and infill development and provided a good example for us to learn from.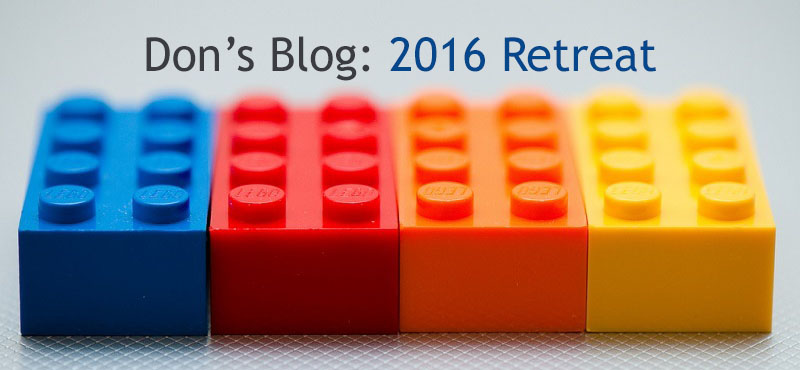 What did they do right? What went wrong? What would they do differently if given the opportunity?
Planning Updates
We began the retreat with a session to better familiarize ourselves with planning updates in the Triangle region. We first heard from Mr. Lee Worsley, Executive Director of the Triangle J Council of Governments, about how communities can better work together to achieve their goals. Mr. Bob Geolas, President and CEO of the Research Triangle Foundation, spoke about Research Triangle Park's plans for a mixed use development project at the park.
And, after that, we reviewed the land use plans of other Triangle communities and adjoining jurisdictions to not only better understand what their plans are but, also, how that might impact what we do here in Cary.
Center Pointe
We then visited Center Pointe, a redevelopment project in downtown Greensboro that used to be the home of Wachovia Bank. It is a 17-story building that had sat vacant for a number of years and was falling into disrepair. The building was ultimately redeveloped into luxury condos and has become a huge success story for downtown Greensboro.
The first floor of the building also includes a restaurant. This was a very impressive project, and, while Cary thankfully does not have any abandoned 17-story buildings, we do have a number of empty shopping centers and buildings that we are concerned about. Center Point was a good example of how a city and a developer can work together to achieve something remarkable. The building also provided a great look at Greensboro's new downtown library, which has a parking deck adjacent to their new Downtown Park and Arts Center. Sound familiar? ;-)
Challenges with Development
After our visit to Center Pointe, we heard from Greensboro's Planning Director, Mrs. Sue Schwartz, about their efforts to amend their development ordinances, policies and procedures to better incentivize redevelopment and infill development in and around Greensboro's downtown area, and how they worked to manage a number of challenges to include inadequate infrastructure, community opposition/cultural tension and the economic viability of such projects.
Some of the key takeaways include:
Growing inward is harder than growing outward, as the development of greenfield sites is much easier than the redevelopment of existing properties. Ordinances and policies must be different for redevelopment vs. new development.
Change can be very uncomfortable for folks.
Public/private partnerships are an important part of redevelopment.
Historic preservation is also important – you don't have to knock every building down to accomplish something great.
Tour of Downtown Greensboro
The following day began with a bus/walking tour of downtown Greensboro to see it firsthand and to learn more about many of their redevelopment and infill projects. I was impressed at how well they blended into their surrounding communities – you wouldn't have guessed it was new development.
Now the fun part, right Ed? ;-)
Planning Activity
Afterwards, we headed back to the hotel for a hands-on exercise with our staff.
Each council member was teamed up with a few staff members, and we were given a large aerial photo of an actual 18 acre site in Cary that we would like to see redevelop one day…and Legos. Yes, Legos.
The Legos represented different types of development, and each Lego block represented 2,500 sq ft. Red blocks were commercial, blue were office, orange were multi-family and so on. Each council member then redeveloped their site by placing the different color Legos where they thought they were best suited on the site. We also had to account for things like road access, parking requirements, buffers, etc. Here is my development.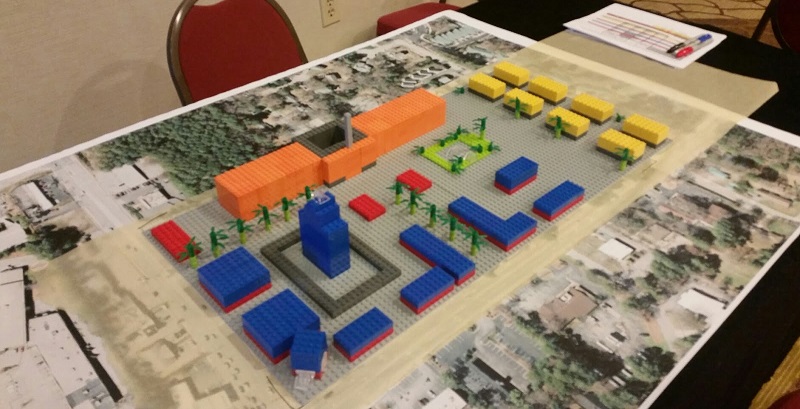 The orange blocks are multi-family and very similar to what we have at the Arboretum, including structured parking wrapped with residential. The yellow blocks are townhomes with garages underneath. The red and blue blocks are commercial on the first floor with office above. The tall blue building represents a hotel or office building, and the dark gray around it represents structured parking. The green is a small park and/or gathering space, and, last but certainly not least, the single red buildings are a Chili's and a Red Robin. Hey, this is my development remember? ;-)
What's the Point?
So, yeah, it needs work. I only had an hour to work with it, okay? And, trust me, nobody's Lego development was perfect. But the gist of this exercise wasn't to design a perfect development – it was to better identify what is important to us, and, more importantly, to our community when it comes redevelopment or infill.
What types of uses do we want and where? How dense are we willing to allow those uses to be? Structured parking or surface – or maybe both? Things like that. Each council member then presented their development to the group and explained why they developed it the way they did, and then we talked about it.
Cary Applications
It was a good discussion with few surprises – it's not like we haven't had similar discussions before. We prefer a mix of uses and development that creates a sense of place. We value protecting the character and charm of adjacent communities but could support increased densities where appropriate. We support transit friendly development yet understand that the car is and will continue to be the predominant means of transportation for folks. We love structured parking. We would consider public/private partnerships. We expect public gathering spaces – stuff like that.
We also understand economics. We get that, in order for redevelopment to occur, it has to be economically viable. Like it or not, the reality is that if the developer can't make a buck, he ain't gonna build it, and, while market forces might be beyond our control, regulatory reform isn't.
Cary's land development ordinance has historically applied to new, green-field development – and the overwhelming majority of Cary's development over the last few decades has been exactly that. But if we want to encourage the redevelopment of older, under-performing sites in Cary – and we do – it will require changes to Cary's land development ordinances to make it happen. With the ongoing Imagine Cary process to include our recent worksession to discuss the Eastern Cary Gateway Plan, it was a very timely discussion and I look forward to seeing the work that comes of it.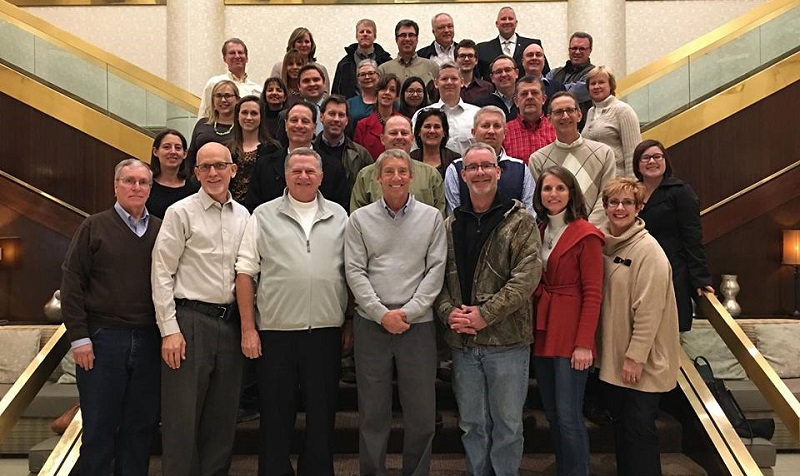 Thank You
Thanks so much to our town staff for all their efforts to make this year's retreat a success and to the city of Greensboro for their hospitality. It is greatly appreciated.
---
From the blog of Don Frantz, Member of the Cary Town Council District B. Lead photo by Kenny Louie.
https://carycitizenarchive.com/wp-content/uploads/2016/02/Dons3.jpg
370
800
Don Frantz
https://carycitizenarchive.com/wp-content/uploads/2020/03/cc-archive-logo-450-v3.png
Don Frantz
2016-02-02 10:52:33
2019-12-08 10:25:10
Don's Blog: 2016 Retreat