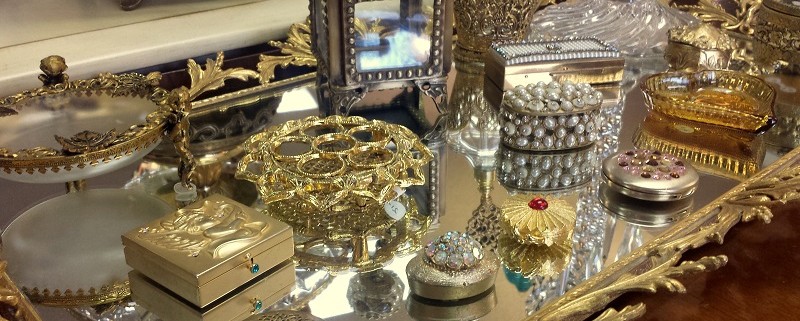 Cary, NC — Last week, I stopped by Vintage Vogue Antiques in downtown Cary. As a lover of antiques, cameo jewelry and all things girly, I got a little "camera happy" and couldn't stop taking photos of all the beautiful odds and ends.
Vintage Vogue
I stepped into Vintage Vogue, an antique store in Ashworth Village, not knowing what to expect. I'd passed the store many times, wanting to stop in, but had never gotten around to it. As soon as I opened the door, though, I knew I'd met my match. Oriental rugs, glass perfume bottles, large, old-fashioned picture frames, stained glass lamps, delicate tea sets, distinct trinkets and boatloads of the most beautiful jewelry you could ever imagine surrounded me.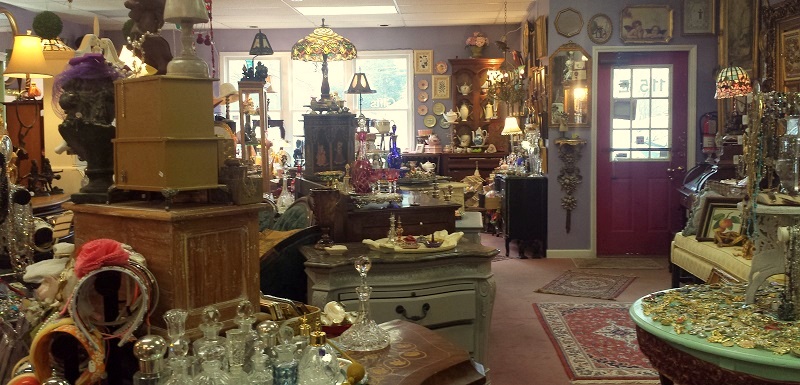 50's music was playing and the shop smelled lightly of perfume. I felt like I'd stepped into a grandmother's house. Right away, Teresa, the store owner, greeted me and began to tell me all about the store and about her passion for antiques.
A Hand-Picked Collection
"I've been collecting for 23 years," Teresa told me. "I feel like a butterfly fluttering around and finding beautiful, special things," she said excitedly. Almost everything you'll buy in Vintage Vogue was hand-picked by Teresa herself. "This is my own stash – I've worn a lot of the jewelry or displayed the decorations in my home," she said.
"In the beginning, it was just for fun. I was just buying because I liked it."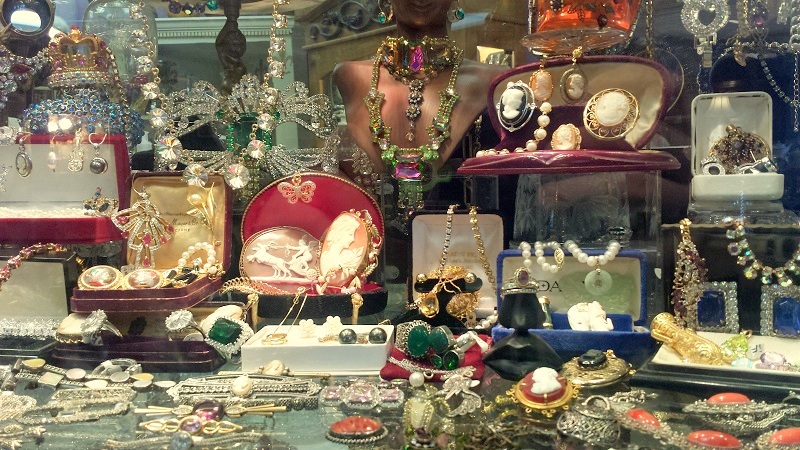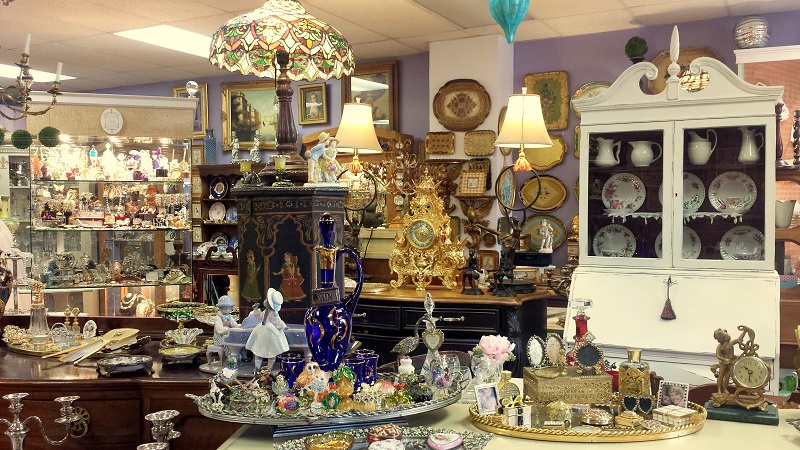 Teresa was born in South America but lived in New York for many years. That's where she first started buying antiques. "I've accumulated a lot," she said as we looked around the beautiful space. "I never thought that I'd open a store, but it has made me so happy." Teresa's love for antiques was already evident to me, but, when she started telling me about the process she goes through to collect new items, I realized how serious the business is to her.
Teresa loves to travel and still goes back and forth from New York to D.C. to shop for antiques like jewelry, furniture and basic home decorations. She'll also travel to sell her more valuable items at shows on the weekends.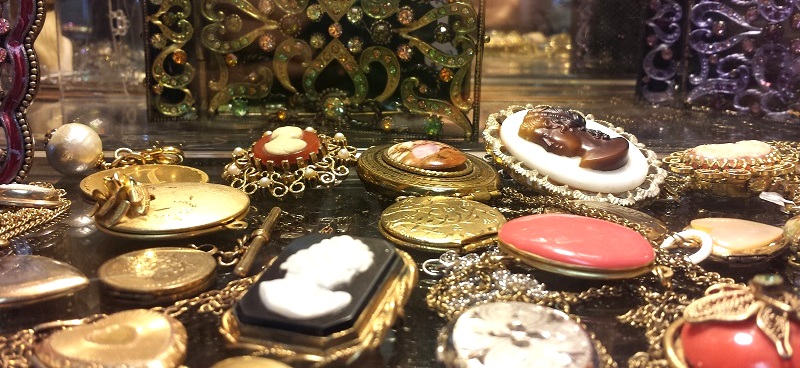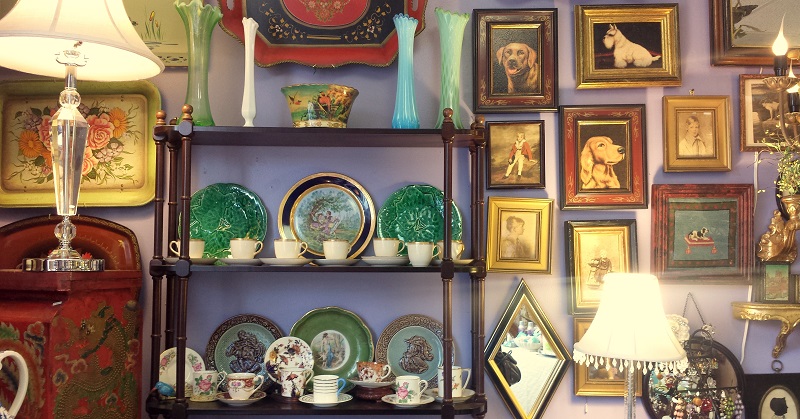 "I'm a picker – I won't buy just anything," she told me.
"I have to travel to find my antiques because I have to see an item – I have to look at it, study it, hold it, Google it." Teresa explained to me that it's important to her to be in the store to tell customers about the pieces they buy.
"I like to know where it came from, when it was made and what it was made out of," she said as she picked up a small, etched glass bottle. "I want my customers to know the history and story of each item. I don't care if I sell you this bottle or not, my gift to you is that you were happy to learn where the bottle came from and how I got it into my hands."
Antiques & Customers
Though it's organized nicely, Vintage Vogue is packed full of treasures. It was hard for me to focus on one particular area until I saw a table of old cameo pins – my favorite. "Most of the cameos and jewelry I collect are Victorian," Teresa told me.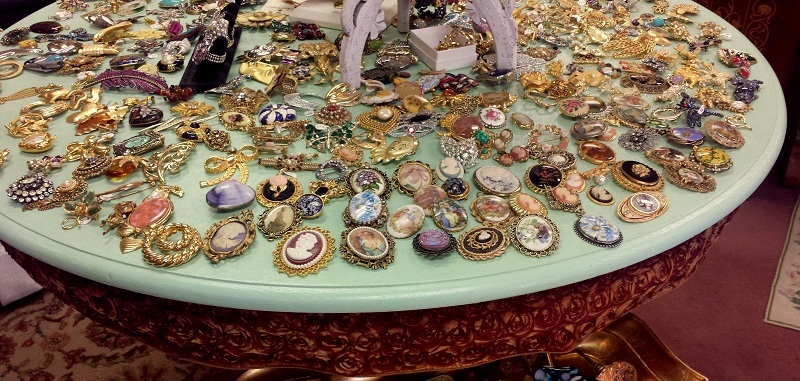 Just when I thought I'd seen it all, Teresa told me that she paints old furniture she finds at auctions and assists brides in picking out jewelry to wear in their weddings. She'll sometimes use broken jewelry to create accessories for the brides to wear, or, upon request, she'll make refurbished jewelry pieces out of customers' old family heirlooms.
"I wish I had five hands so I could paint more, collect more and make more jewelry," Teresa exclaimed. "I love my job, and the day passes very quickly. My regular customers will come and sit in the store and talk with me, and the day flies by."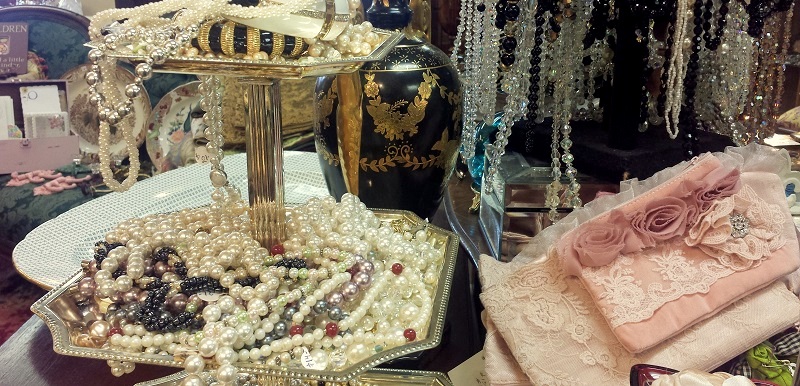 Some of Teresa's most regular customers, and her most favorite, are the older women who come into Vintage Vogue.
"It makes me so happy when the ladies come and say that a piece reminds them of their grandma or mother," she said. "They absolutely love it here, and it even makes me cry sometimes. That's why I play old music – good 40's and 50's music – because it brings them so much memory.
Just as the store drew me in, Teresa's energy and optimism were addicting – before I left, she offered me some great advice. "Keep being creative," she told me. "Fill your home with colors and happiness. Live life for one day at a time. Do whatever you want in life – nothing is impossible. If you want to eat a whole cake, eat a whole cake!"
Teresa confided in me that, since she is next to Blue Moon, she does this quite often.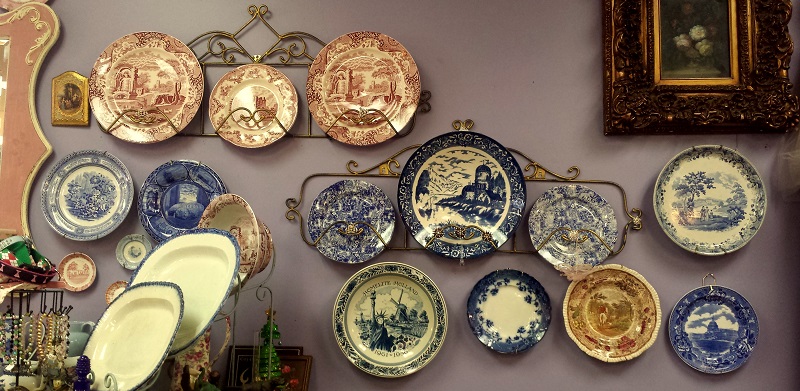 Visit Vintage Vogue
Vintage Vogue is located in Ashworth Village in downtown Cary at 115-E West Chatham Street.
Related Content
---
Story and photos by Jessica Patrick.
---
CaryCitizen stories are sponsored in-part by Ten Thousand Villages in the Shoppes of Kildaire.
https://carycitizenarchive.com/wp-content/uploads/2016/02/20160128_150147.jpg
393
800
Jessica Patrick
https://carycitizenarchive.com/wp-content/uploads/2020/03/cc-archive-logo-450-v3.png
Jessica Patrick
2016-02-02 15:27:25
2019-12-08 10:25:11
Vintage Vogue Antiques in Cary