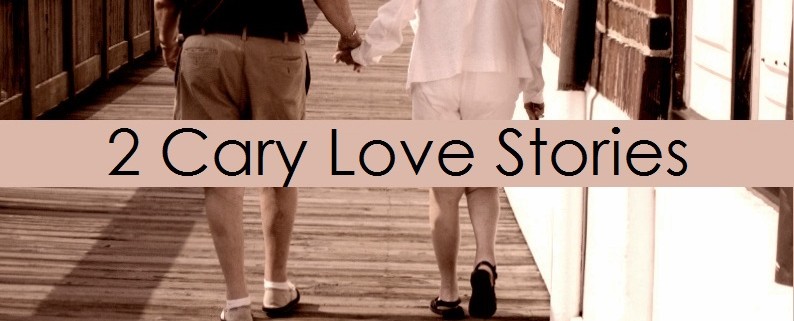 Cary, NC — Sometimes I find myself thinking about how it comes to be that two people meet. Are the stars aligned? Is it written in God's or the Universe's plan? Is it a serendipitous event?
Love that Lasts a Lifetime
Regardless of how it occurs, some people are lucky enough in life to find a true soulmate. Maybe you are one of them.
Personally, I am still on the hunt.
Over the past week, I sought out and interviewed two Cary couples about how they met and their views on love and marriage.
Tom & Dee
Tom and Dee McCutchen are originally from Fayetteville, North Carolina but now reside at Glenaire retirement community. On an unseasonably warm January day, I sat down with the McCutchens to hear their story.
When Tom was a freshman at Davidson College in 1956, it was an all-male school. Winter was approaching, and Tom needed a date for the dance. Luckily, Tom's roommate Drayton was dating a high school senior named Linda Sue from Aiken, South Carolina who had a single friend named Dee.
Drayton sent Dee a letter with a picture of Tom, and she thought he sounded nice.
His looks merited a date, so she agreed to come. Tom and Dee had a good time at the dance, but both of them were busy with school and not ready to date.
The next year, Dee was a freshman at the University of South Carolina, and Tom happened to stop there to play in a tennis match. Tom ran into Linda Sue, Dee's roommate, and the girls decided to surprise him at the game. They sat on the front row, and Tom still remembers Dee's red sweater and cat-eye glasses that caused him to lose his match that day. After that encounter, Dee and Tom started dating long distance and writing often. They took turns planning a month of scripture reading. Tom and Dee would complete the reading and include thoughtful handwritten notes that they mailed to one another.
It was difficult to get together because neither Tom nor Dee had cars. They missed each other immensely when they were apart, but they took solace in the fact that they would one day be together forever. Tom proposed in Nashville, Tennessee where he was going to medical school, and Dee was working as an editorial assistant. Six weeks later, they were married at Dee's church in Aiken. Back in Nashville, Tom worked crazy hours and didn't get to spend much time with his new bride. Just after finishing his internship, Tom got drafted to Turkey, but Dee was permitted to accompany him.
Tom and Dee have been married for 54 years now and have two children. Both agree that their successful marriage is largely due to their faith and love of Jesus. Tom and Dee are committed to each other with the intent to make it work no matter what.
Their advice to young couples contemplating marriage is to spend a year getting to know each other first, take a premarital course and discuss topics such as children and money.
Most of all, they say, appreciate individuality without trying to mold the other person.
Sean & Siobhan
Sean and Siobhan O'Neal live in Raleigh and own the Science Safari store in Cary. In 1995, the two met while attending North Carolina State University. It was August, and Siobhan was on her way to fencing practice at the gym. She was carrying her sabers down the hall and passed a guy wearing all black, cut-off shorts, combat boots and a motorcycle helmet. Siobhan thought this guy, with a smirk on his face, looked like he owned the world.
She had no idea that Sean was smiling because he would see her in a few minutes at fencing practice.
For a few subsequent practice sessions, Siobhan taught Sean how to fight with sabers. Sean was not dissuaded after getting beat by Siobhan, and he asked her out for coffee. They continued to go out on dates, but Siobhan was hesitant to admit that they were dating because she was also seeing someone in her hometown in Minnesota. Come November, Sean knew he wanted to marry Siobhan as soon as she was ready to decide. So he told Siobhan to call him when she knew what she wanted. During Christmas break, Siobhan broke up with her Minnesota boyfriend. She was ready to commit to Sean.
On September 12, one year after their first date, Sean and Siobhan finished a delicious meal at the Melting Pot. Then they walked around the Raleigh Rose Gardens where Sean went down on one knee and asked his love for her hand in marriage.
Siobhan was an avid sailor at the time, and Sean knew she was afraid of losing a ring so, as her engagement gift, he bought her a 16-foot sailboat with a gold band painted around the perimeter. Sean and Siobhan waited another two years before getting married in order to please Siobhan's father. After graduating from State, Sean and Siobhan loaded their packs and dogs to hike the Appalachian Trail from Georgia to Maine. They now refer to the hike as their premarital counseling trip.
During the six months of hiking, Sean and Siobhan got to know each other on a deeper level.  When they were cold, wet, hungry, mosquito-bitten and exhausted, Sean and Siobhan found strength in each other. At the culmination of the hike, Sean and Siobhan got married at a Catholic church in the small town of Millinocket, Maine. Siobhan's dress, Sean's clothes and the wedding rings had been mailed prior to their arrival. A trail friend that they met a few days before donated $100 for flowers. The woman working at Sean and Siobhan's bed and breakfast made a wedding cake for them.
Upon hearing Sean and Siobhan's story, some members of the local parish decided to attend the ceremony intermixed with a group of about 20 trail friends (scrubbed up the best they could) and the two dogs, of course.
This year, Sean and Siobhan will celebrate their 18th wedding anniversary.
They have one daughter who is nine years old. Sean and Siobhan are faithful members of Sacred Heart Cathedral, and they volunteer to meet with couples before they get married. Their advice to the couples is that, as they both grow and change, they remember why they got married in the first place and hold on to that.
Two Become One
When I asked the couples how their marriages have evolved over the years, they had similar answers – two become one. I think Sean said it best when he said, "My arm is not separate from my body, and Siobhan is not separate from me."
I hope we all come to know and care for another person that much.
---
Story and photos by Jamie Buning. Lead photo by Jessica Patrick.
https://carycitizenarchive.com/wp-content/uploads/2016/02/IMG_0306.jpg
340
794
Community Contributor
https://carycitizenarchive.com/wp-content/uploads/2020/03/cc-archive-logo-450-v3.png
Community Contributor
2016-02-12 10:52:20
2016-02-12 09:05:19
Love that Lasts a Lifetime - 2 Cary Stories