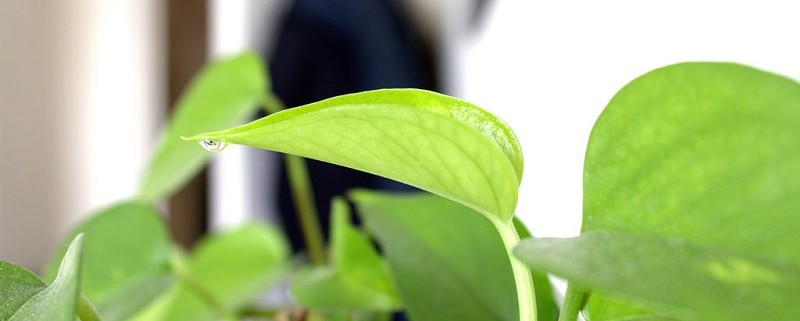 Cary, NC — Here we are, right in the middle of winter and the coldest part of the year. Gardening may be the last thing on many of our minds, but, if you still need some green, positive energy to keep your house lively, houseplants are the way to go.
The Easiest Houseplants
Many people don't realize just how easy it is to keep some plants alive and thriving inside homes, apartments and offices. Sure, you'll need to make sure the plants get some water and sunlight, but, if you purchase appropriately, a houseplant can be a live, inexpensive, low-maintenance decoration that can entertain you for years.
Not all houseplants are easy to care for, but many of them are. I visited Cary's Garden Supply Company and asked a friendly associate to show me the five easiest, most low-maintenance houseplants she could find. No green thumb required.
ZZ Plant
The ZZ plant (Zamioculcas zamiifolia) has fleshy, oval-shaped leaves with waxy, shiny coatings. The shine even makes some people think that the ZZ is artificial. It's not artificial, but the low level of care it needs is almost that of a fake plant – one source I found even said that they do best if you leave them alone! The ZZ plant needs very little light (moderate, indirect light is ideal, but low levels of light are okay too), and you should need to water it no more than once a month.
The ZZ is an ideal plant for a window-less office or bathroom where it will only receive small amounts of fluorescent light.
Snake Plant
There are over 70 different species of snake plants, but they're all easy to care for. They come in all different shapes and heights – at Garden Supply, I found one with shapely leaves and another that actually appeared coiled, like a snake. The "snake" in the snake plant, though, comes from the intricate designs on it's leaves, which resemble patterns much like snakeskin. Place your snake plant in indirect sunlight and water it no more than once a month.
Pothos
Pothos plants are cascading ivy plants with large leaves. They will not survive if placed in direct sunlight, so they're a great addition to bathrooms or other shady spots in your home. The plants need very little water and can survive with dry soil.
It's important to know that, while beautiful and low-maintenance, Pothos plants are poisonous. Though rarely fatal, the calcium oxalates in the plants can cause irritation and vomiting if ingested. Keep these out of reach of dogs, cats and children.
Chinese Evergreen
Chinese Evergreens are beautiful, popular houseplants, as they too require little light and watering. These plants thrive in medium to low light conditions or indirect sunlight. While this plant can tolerate a lot, it thrives best in warm temperatures and somewhat humid conditions. Keep it away from drafts, and it should be fine.
These plants enjoy moderate watering, so allow it to dry out before watering it again.
Peace Lilly
The white blooms on the Peace Lilly make it another favorite of all the houseplants.
The plants enjoy medium to low light, but those that are placed in more light produce more white blooms than those placed in low light. The best way to kill a Peace Lilly is to over-water it, so some people will wait until their plant is starting to droop before watering it. The Peace Lilly can handle this, and it's an easy way to prevent over-watering.
Resources: The friendly folks at Cary's Garden Supply Co. and GardeningKnowHow.com.
Related Content
---
Story and photos by Jessica Patrick. Lead photo by Silvia Maggi.
---
Gardening stories on CaryCitizen are sponsored in-part by Garden Supply Co. on Old Apex Road in Cary.
https://carycitizenarchive.com/wp-content/uploads/2016/02/Houseplant.jpg
328
800
Jessica Patrick
https://carycitizenarchive.com/wp-content/uploads/2020/03/cc-archive-logo-450-v3.png
Jessica Patrick
2016-02-12 09:06:39
2019-12-08 10:24:06
Garden: 5 Easy Indoor Plants for Winter