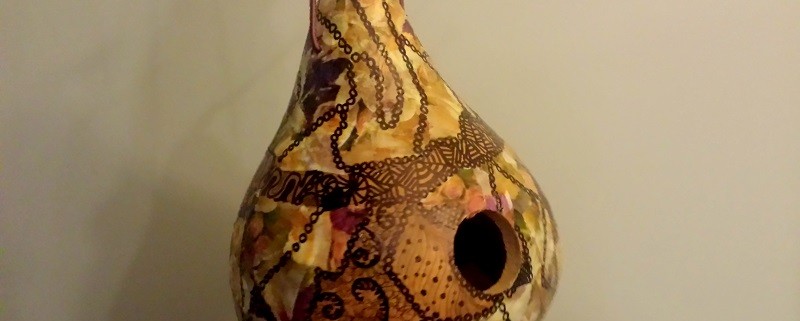 Cary, NC — It was just last year that I first learned of Cary's former reputation as the Gourd Capital of the World. Since then, I've taken a special interest in our town's gourd history, and, last month, I even made a gourd birdhouse.
Cary's Gourd History
A gourd birdhouse is a type of gourd art – and gourd art is very much "a thing" in Cary and Raleigh. Let me explain.
Six months ago, I learned an interesting tidbit about Cary's past. In 1964, the Town of Cary seal actually read The Gourd Capital of the World. The seal was also made complete with a circular border of gourds. Yes, this is a true story.
Why was Cary famous for gourds, you ask? Because the North Carolina Gourd Society was started right here in Cary by a group of gourd growers and gourd artists. This society held an annual Gourd Festival each year in Cary at Jordan Hall. This was back when Jordan Hall was the largest, and only, community center in Cary.
Eventually, the Gourd Festival outgrew Cary and moved to Raleigh. The festival is bigger than ever and still takes place every year in Raleigh at the fairgrounds. The NC Gourd Association still meets quarterly in Raleigh, too.
My Fascination with Gourds
This history is one of the most unusual, and most interesting, things I've learned about Cary yet – and I couldn't have been happier when I found out about it. You see, years ago, before I even knew of Cary's gourd history, I had spotted a beautiful gourd birdhouse hanging in the front yard of a ranch-style home on a rural road. My family was taking a bypass through a small town on the way to a vacation in South Carolina when I saw it, and I was immediately attracted to its appearance.
After that, I kept seeing them – but mostly in rural areas. It became a family joke of, "Look, Jess, there's another gourd." I knew I wanted to make one, but I had no idea how or where I could even get gourds. Until two months ago.
Gourd Art & Birdhouses
I received a press release that said a local library was hosting an artist meet-and-greet – and the featured guests were gourd artists. Of course I attended, and that's where I met Barbara McGeachy, a talented gourd artist and a member of the Triangle Gourd Patch, a group that meets once a month in Raleigh to create fun gourd art projects together.
Barbara gave me a quick introduction to gourd art – where you find gourds and how you dry them out to prepare them for making things. You don't eat gourds, you see, so, instead, people grow them and use them to make all kinds of gourd art – birdhouses, dolls, earrings, ornaments, lamps, bowls and more. They're actually quite beautiful, as you can see here.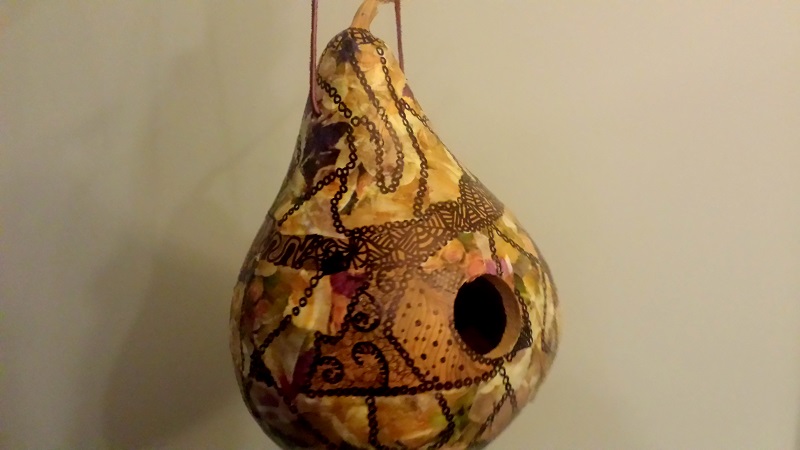 An Accidental Gourd Artist
If you really look at it, my "gourd adventures" were all coincidental and by chance. It was by chance that I, someone who would appreciate the beauty of gourds, was born in Cary, NC, the Gourd Capital of the World.
It was by chance that a local library decided to host a gourd art event and even more by chance that I only received the press release because it's my job to know about what's going on in Cary. It was even coincidental that, the very first time I met her, Barbara told me that she'd be teaching a gourd birdhouse class at the NC State Crafts Center in January.
It was at that class last month that my journey came full circle – when I made a gourd birdhouse of my very own.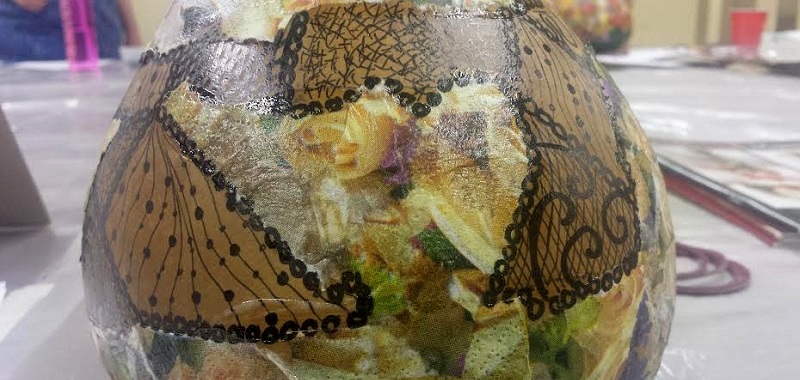 This gourd birdhouse was my first, but I think it turned out well. Before I could even work with the gourd, it had to dry out for a year. Then, Barbara sawed a hole in it and dug out all the dried pulp (you have to wear a mask for this part).
After that, I decorated my gourd alongside about 10 other women at the NC State Crafts Center. There are dozens of things you can use to decorate a gourd, but I decided to decoupage mine with shreds of a flowered cocktail napkin and added some whimsical doodles to complete the look. I looped a string through the top, and it became a birdhouse.
Get Involved
If you too are interested in gourds and gourd art, the Triangle is the place to be.
You can join the NC Gourd Society (which was established right here in Cary) or visit the Triangle Gourd Patch, a group that meets monthly at the NCSU Crafts Center in Raleigh.
---
Story and photos by Jessica Patrick. Birdhouse class photo by George Thomas, NC State Crafts Center Director.
https://carycitizenarchive.com/wp-content/uploads/2016/02/20160201_212427-1.jpg
450
800
Jessica Patrick
https://carycitizenarchive.com/wp-content/uploads/2020/03/cc-archive-logo-450-v3.png
Jessica Patrick
2016-02-18 10:58:45
2016-02-18 12:05:06
An Accidental Cary Gourd Artist