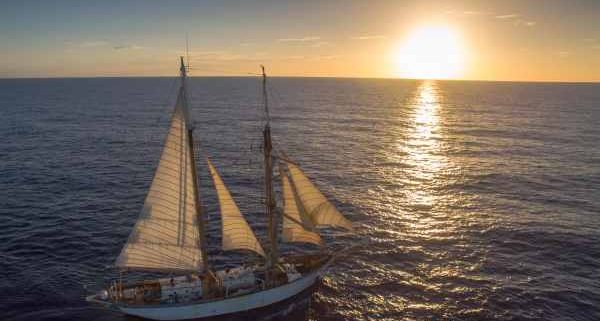 Cary, NC – When most students participate in study abroad, they will get questions back home about what country they visited and what sights they saw. Those questions may prove difficult for one Cary resident who spent four weeks studying aboard a ship in international waters.
Research on the High Seas
Cary's Will Freund is a biology student at the College of Charleston and a graduate of Enloe High School. He participated in the program through the Sea Education Association (SEA) where he sailed from San Juan, Puerto Rico, to Woods Hole, Massachusetts – a journey of more than 3,000 nautical miles through the Sargasso Sea.
Among other classes Freund took aboard the research vessel the Corwith Cramer, he took samples of Caribbean spiny lobster larvae as part of a research project he devised while in San Juan.
"I was looking at the distribution across the sea of the larvae," Freund said. "Most were in the lower meters, which is supported by the literature."
Also part of Freund's research was to take genetic markers of the 70 larvae samples he and other students on board the ship took to see if there are any differences among those caught.
"We're getting that data back now and fiddling with it so we can see how they fit into the greater 'Tree of Life,'" he said.
Freund and other students will present their findings at the June 10 SEA symposium in Woods Hole.
"It's part of giving back to the issue of conservation," he said.
Round the Clock
Freund was on the Corwith Cramer with 22 other students from around the world which meant a busy schedule of watch duties. In rotating six hour shifts, Freund and his crewmates would work on technical tasks such as sail-handling and helm navigation, as well as helping with research by casting nets and using spectrophotometers and fluorospectrometers on water samples.
"During the day, we would help out the engineer in the engine room or work in the galley to cook and clean dishes," Freund said. "With more than 30 people on board, that's a lot of dishes."
The rest of their time, Monday to Friday, Freund and other students would take classes on subjects ranging from oceanography to nautical skills.
"We would usually learn star-based navigation with a sextant or sailing and rigging," he said.
Freund also took classes on the governing of international waters. Conservation efforts in international waters proves difficult because there are no regulatory bodies but in 2014, nearby nations signed the Hamilton Declaration, a non-binding political statement to protect the Sargasso Sea.
In last year's SEA voyage through the Sargasso Sea, students put together a management plan for the unique ocean gyre.
"This year, we are working on a way of implementing that management plan," Freund said. "We will present that to the Sargasso Sea Commission."
While those were Freund's weekdays, Saturdays were what Freund called "Field Days," which meant cleaning the entire ship.
"You literally wipe every surface with a sponge and a bucket," he said.
Passion for Nature
Freund said he has been interested in biology as long as he can remember.
"I was always interested in nature," he said. "I love going out to the Columbus zoo."
In Cary, Freund was a part of Boy Scout Troop 210 and made it to the rank of Eagle Scout.
"That was big for me, for going out into nature and working to protect and preserve animals and the land," he said.
Freund said he is looking to continue that passion by pursuing a master's degree in zoology after he graduates in 2017.
---
Story by Michael Papich. Photos courtesy of SEA.
https://carycitizenarchive.com/wp-content/uploads/2016/05/Ship2.jpg
372
600
Michael Papich
https://carycitizenarchive.com/wp-content/uploads/2020/03/cc-archive-logo-450-v3.png
Michael Papich
2016-05-26 13:46:56
2016-05-26 10:50:46
College Classes on the Sargasso Sea