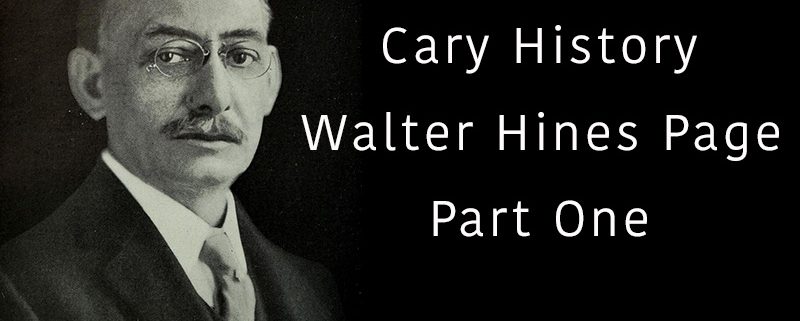 Cary, NC – Perhaps Cary's most famous resident is Walter Hines Page, the son of town founder Frank Page. Walter was a journalist (Evening Standard), editor (Atlantic Monthly), publisher (Doubleday-Page) and Ambassador to Great Britain during WW I. In this first of three stories, we'll look at the early years of Walter's life.
Traditional Cary Upbringing
Walter Hines Page was born in 1855, one year after his father Francis "Frank" Page moved to the town he would ultimately found. He was born in a house that is now the site of Cary's Town Hall and became the oldest of eight children.
Page went to small private schools after he turned 10, one of which was a Presbyterian boarding school in Mebane that was turned into a military school with uniforms stylized like those of Confederate soldiers. Eventually, he went on to Trinity College in Randolph County, which later became Duke University.
The goal in sending Walter to these schools, particularly Trinity, was to enable him to become a Methodist minister. Frank Page, a diversified businessman (in addition to being Cary's de facto founder), was a very straight-laced man. At his businesses, he banned employees from a variety of "vices," including swearing, dancing, going to theaters and especially drinking.
In fact, Frank Page once wrote to the editor of a Raleigh newspaper, in which he held stock, to complain about the quantity of articles about baseball.
"Yesterday you had a column and a half wasted on boys running around bases and knocking balls somewhere. Cut it out. Put in something about farming. Print some sermons." – Frank Page
From Trinity, Walter went to Randolph-Macon before winning a scholarship to a little-known school in Baltimore called Johns Hopkins.
Page Starting to Change
While studying Greek, Latin, mathematics and more at Johns Hopkins, Page developed a fascination with the writings of Thomas Jefferson and William Shakespeare.
In The Journal of Social Forces from 1924, R.D.W. Connor wrote that Page's "search for an education which he could not obtain at home carried him far afield for a North Carolina rural boy of the 'seventies." And that's 1870s, to be clear.
Of course, Page's intellect and interest in education did not come from nowhere. His mother, Catherine "Kate" Page had a better education than her husband and knew French, algebra and encouraged all her children to love literature. Kate Page homeschooled her son Walter until he was 10.
Burning with intrigue about the world, Page traveled Europe and studied for months before returning to North Carolina during Reconstruction. Upon seeing fellow Southerners' issues with the state of North Carolina, he wrote articles and speeches about how the South brought their misfortune upon themselves by creating a society built on slavery instead of following what he viewed as a Jeffersonian Democracy with no slavery and open, public education.
Not only did Page oppose slavery and the Confederacy, he also spoke out against the lack of women's rights.
"The whole structure of society is opposed to women being able to support themselves […] Thus, the prejudice against universal education is kept alive." – Walter Hines Page
He continued to write about the need for an enlightened "New South" for the widely known Atlantic Monthly magazine and decided he could do far more to spread his ideas as a journalist than as a teacher or a minister.
At this time, Page also lectured about Shakespeare at the University of North Carolina, so he came to understand the phrase "some rise by sin, and some by virtue fall" when no newspaper in North Carolina would hire him after his articles about the South's need to remodel itself.
In 1880, Walter left North Carolina to become a reporter for the St. Joseph Gazette. 
On a side note, after Frank Page saw his son return from Europe full of new ideas, he decided not to send any more of his children to college.
---
In part 2, we'll look at the life of Walter Hines Page as he lends a hand in the founding of NC State and rises to the top of the publishing world in New York City.
Story by Michael Papich. Sources: "Around and About Cary" by Thomas M. Byrd and "Walter Hines Page: A Southern Nationalist," published in The Journal of Social Forces by R.D.W. Connor.
https://carycitizenarchive.com/wp-content/uploads/2016/06/PageFeatured-1.jpg
550
800
Michael Papich
https://carycitizenarchive.com/wp-content/uploads/2020/03/cc-archive-logo-450-v3.png
Michael Papich
2016-06-13 14:20:01
2016-06-30 14:38:52
Cary History: Walter Hines Page – The Early Years