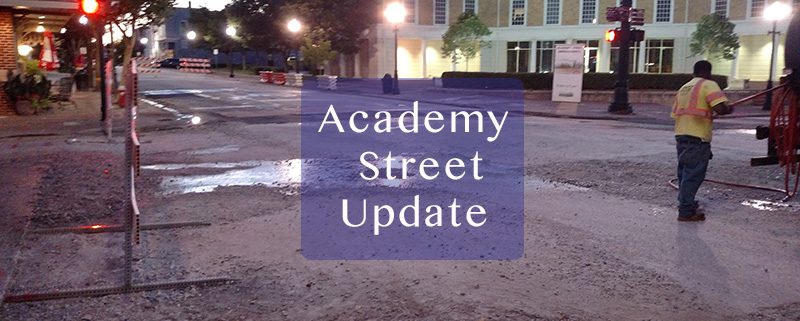 Cary, NC – As Cary passes the one-year mark since construction began along Academy Street, work is now underway on the intersection of Academy and Chatham Street. This is set to be the final step in the process but there are still many long days ahead for crews downtown.

Construction on the Intersection
The Town of Cary announced the Academy/Chatham intersection would be closing nights and Saturdays starting May 16 for crews to work on it, with the goal of completion in August.
But as those living around the intersection will have noticed, it has not always closed.
"We shut it down as needed but not every night," said chief contractor Marty Thompson. "A couple of things need to be coordinated first."
One of those is Thompson's asphalt paving subcontractor so that the US-1 concrete can be removed and a lift of asphalt can be put in, allowing drivers to pass over. The other is weather.
"It's all dirt under the pavement and the last thing you want is rain turning dirt into mud," Thompson said.
When the intersection will or will not be closed, Cary transportation engineer Robert Shultes said the town tries to get that information out.
"The Town remains in contact with business owners either door to door or by email as would be most appropriate means to convey the same information," Shultes said. "The Contractor makes the same level of effort as well. We also send out occasional traffic alerts and media advisories as is consistent with past practice."
Thompson said the closures at night will become more frequent, now that plans are lined up for asphalt and water lines have been turned off in the area.
Also, Thompson said his crew has successfully relocated traffic signal lines at the intersection and have confirmed they are now deep enough.
Utilities and Further Obstacles
Another reason there has not been as much work on the Academy/Chatham intersection is crews had to make sure they would not be puncturing any of the water lines that are underneath the street.
"We had to shut down the water lines because they're so shallow," Thompson said. "So the water valve had to be located and then taken out."
Starting Monday, June 13, 2016, Thompson said water lines will be installed and repaired.
Earlier, shallow electrical lines caused delays on the South end of Academy Street and they continue to cause problems for the crews. Not only are they still being relocated on the South end by Duke Energy, who subcontracts to Pike Electric, but one worker was badly injured on the job by a live wire.
Thompson said his crew was scheduled to put in a line and was told the electrical lines were dead. When his crews started digging and hit a line that impeded them, Thompson said one of his employees tried to cut through it, only to find that the line was not dead.
"He got burned and had to go to the hospital," Thompson said. "But he's out now and he's recovering."
In the process of their relocation, Duke Energy also discovered that the underground vaults for the electrical lines in front of Serendipity and Jones House were much larger than they had anticipated.
Shultes said the plan is for the construction on Academy Street to be completed this Autumn, with the Academy/Park Street and the Academy/Chatham Street intersections opening in the late Summer. However, this will depend on the relocation by Duke Energy.
"Dates are an unknown as long as Duke is still involved," Thompson said. "Relocating this lines is a major operation."
In the mean time, the Academy Street/Dry Avenue intersection is now open, as is the nearby intersection of Walnut Street and Kildaire Farm Road.
---
Story and photos by Michael Papich.
https://carycitizenarchive.com/wp-content/uploads/2016/06/AcaChat-Featured.jpg
450
800
Michael Papich
https://carycitizenarchive.com/wp-content/uploads/2020/03/cc-archive-logo-450-v3.png
Michael Papich
2016-06-14 09:40:05
2016-06-14 09:40:05
Progress on Academy/Chatham Street Construction