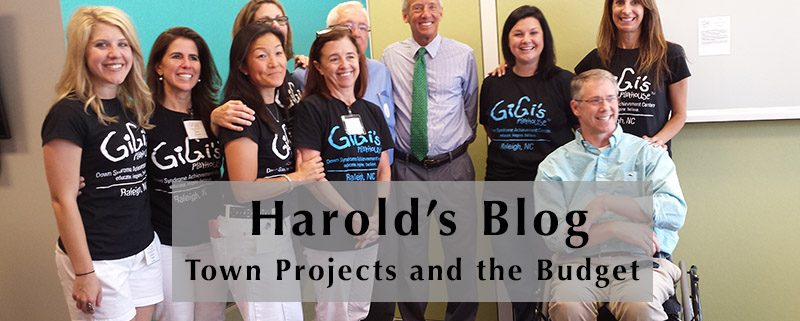 Cary, NC – This was my first week back after a two week vacation with the family. We celebrated my 60th birthday and spent time at the beach.
Sunday – Graduation
Sunday after I returned to Cary I attended the Green Hope High School graduation in downtown Raleigh. I was able to witness over 600 graduates including two of my Sunday School students and several friends' sons and daughters. Council member Bush, who has been a friend of mine before I was mayor, got to hug her son after he received his diploma. What a special time for them.
Monday – Budget
Monday I attempted to contact all council members for any questions or concerns they might have had about the regularly scheduled council meeting agenda. I was able to contact all council members but one and there were no questions. Later in the day I met with key staff members to go over the agenda. Since the agenda was short the meeting was quick. I predicted that council meeting would last about an hour.
Monday night the council held a work session on the budget to go over items that we asked to review with more information. At the work session the following decisions were made:
The downtown park Master Plan will be included in the budget. The $100,000 cost will be funded from the additional $25 million in "green" money from the General Fund.
The MacDonald Woods Park Restrooms will be included in the budget. The $300,000 cost will be funded from the additional $25 million in "green" money from the General Fund.
The Reedy Creek Road widening project will be removed. Council agreed to investigate installing sidewalks on Reedy Creek Road and Louis Stephens Road at the fall mini retreat. These will probably be funded by a bond referendum in the fall of 2018 if council decides to hold a referendum and if it passes.
A motion to master plan Cameron Pond Park and Morris Branch Park together for this year failed. Council members discussed this at length. Council members made points that a study may mislead the public into thinking both would be getting built and that the cost of such a study would be a waste of taxpayer dollars; All property for the Morris Branch Park has already been acquired and Cameron Pond would cost almost $2 million more; and it is possible that a future bond referendum could provide funding for the Cameron Pond Park.
A motion to master plan Cameron Pond Park instead of Morris Branch Park failed due to previously mentioned reasons.
Council asked about the missing Panther Creek greenway connection closest to the American Tobacco Trail. That cost would be $1 million and would be difficult since there are multiple property owners including the corps of engineers who would not easily sale their property. That section would also require 4 bridges.
Council also asked that "Fest in the West" be considered with this year's operational cost. The parks director and management stated that some funding was possible but running the event would require additional staff of public works, police, parks, and other support staff.
At the end of the work session the council agreed that another work session on the budget was not needed. However, the council will review technical adjustments to the budget at the June 22nd work session and will vote on the budget at the June 27th regularly scheduled council meeting.
Tuesday – Brief Meeting
Tuesday I met with the Deputy Town Manager for our weekly one on one meeting. The meeting didn't last long and included discussions about the budget and the hotel/meals occupancy tax.
Wednesday – Funding Projects
Wednesday I attended a meeting of the Capital Area Metropolitan Planning Organization's Executive Board (CAMPO). Most of the meeting was spent discussing issues with Locally Administered Projects Program (LAPP). This is used to prioritize and program all projects in the region that will utilize federal funding. Distributing this type of federal funding is the responsibility of the CAMPO and includes things like local roadway, transit, bicycle and pedestrian projects, and will result in an annual program of projects in the Transportation Improvement Program. Since it was established in 2010 the federal government has rescinded projects programmed that did not utilize funding. This has only happened once and resulted in a $50+ million dollar loss of funding. Currently most of the CAMPO projects that have been OK'd for funding have not reached a point they can receive funds. This leaves unobligated funds that are at risk of once again being rescinded by the federal government. Reasons for not being ready for funding include unexpected environmental approvals, lack of local funding, and project manager changes that result in requirements not being met. I plan to talk with our staff about projects that we may have at risk.
Thursday – Town Council Meeting
Thursday the council met for its first regularly scheduled council meeting of the month. There were 11 consent items, 3 public hearings, and 2 discussion items. Most of the speakers spoke during the budget public hearing. The 2 discussion items were on the Cottages at Wellington rezoning. Council members stated that they weren't excited about the Wellington proposal but acknowledged that the owner had the right to developer their property and there weren't better alternatives. Council member Smith, who represents the district, voted no and all others voted yes. The meeting concluded after 36 minutes which is highly unusual.
Friday – Mayors Meeting
Friday I participated in a meeting of the North Carolina Metro mayors. The meeting was spent going over current bills being considered in the legislature and the negative impact it will have on municipalities. It was also pointed out that the session is close to ending so local bills will need to be put on the fast track. Our meeting lasted about 30 minutes.
Saturday – Non-Profits
Saturday I attended a Project Phoenix event on Wrenn Drive. Project Phoenix is designed to help residents, owners and rental property managers keep drugs and other illegal activity off their property through education and community involvement. To find out more about project Phoenix go to https://www.townofcary.org/Departments/police/Community_Services/projectphoenix.htm.
This event included all kinds of activities for children and adults. It was well attended by about 1000 people from the neighboring apartment complexes. I introduced council members in attendance, gave a few remarks, and thanked those in attendance for being there and being involved in their community. I enjoyed talking to those present and stayed for about an hour.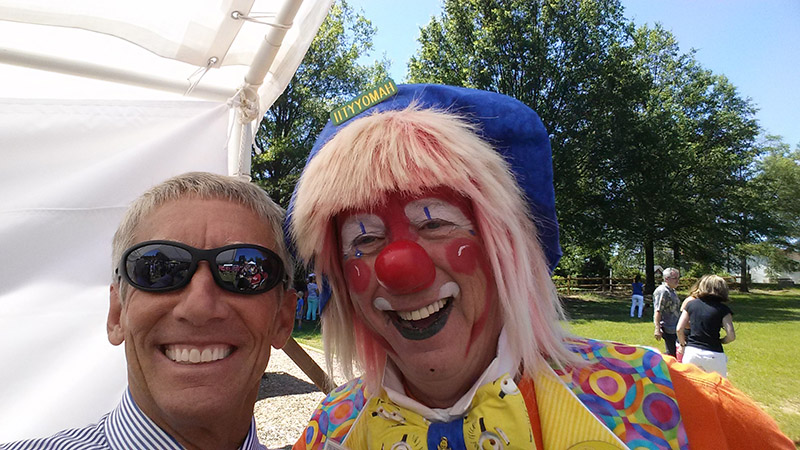 Later Saturday I attended the ribbon cutting event for Gigi's Playhouse in the Swift Creek Shopping Center. There were several hundred people in attendance. GiGi's Playhouse is a one-of-a-kind achievement center for individuals with Down syndrome, their families, and the community. GiGi's Playhouse offers more than 30 therapeutic and educational programs that advance literacy, math skills, fine and gross motor skills and more; all of which are free of charge. They serve infants through adults with programs that are created by professional therapists and teachers who generously donate their time and expertise. All programs are based on learning styles specific to Down syndrome, and customized to ensure individual success. GiGi's Playhouse is headquartered in Hoffman Estates, Illinois; with nearly 30 locations throughout the United States and Mexico. At this event I gave a few remarks along with my good friend Mayor Sears of Holly Springs. Then I toured the facility and had my picture made with the directors. I talked with a lot of folks who all seemed to be having a great time. I was too and even did a selfie, clowning around with the clown in attendance. Gigi's Playhouse is a great addition to our community and will serve our residents well. If you can give your time and talents for this worthy cause I would urge you to do so.
Emails From Citizens
I received lots of emails from citizens this week and while I was on vacation. Some of the topics included:
Changing the budget to include Cameron Pond instead of Morris Branch Park. (The Cameron Pond Park would serve 5,000 fewer residents and would cost about $2 million more.)
Saving Lake Crabtree Park. (This area belongs to RDU and not to Cary and Morrisville. While we will always advocate for our citizens and parks, it is ultimately their decision. And it is my belief they will eventually redevelop this area regardless of what we want. My hope is that this redevelopment is decades away.)
Several comments about problems with builders, contractors, inspections, etc. (These are operational issues which is out of the scope of the town council. I usually contact the town manager's office with these and make sure they are addressed – which they always are.)
A complaint about contractors working on Academy Street.
A complaint about the Jack Smith Park delays.
A complaint about the lack of events in west Cary.
A complaint that Cary should widen Reedy Creek Road (This is a state road. Council discussed this at a work session this week. Council stated that we will address this at our fall retreat and would be interested in planning to install sidewalks.)
A complaint about fake trees for cell towers. (Unfortunately, we are very limited in what we can do to stop this. In the past the town has been sued for not allowing cell towers and lost.)
A request that all Cary and American immigrants be required to speak only English. (There were other ridiculous comments in this email but I stopped reading. Cary is a diverse community and we embrace our differences. It is only through mutual understanding and respect that we will reach our potential as a community and a nation. Period!)
A complaint about a proposal that would move the Ivey-Ellington House.
A complaint about the council considering brick on the parking deck being planned next to the new library.
A request for more bike lanes on major roads.
A concern for pedestrian safety at Kildaire and Lochmere Drive.
Next week's activities include a Mayor's Association meeting, a dinner with visitors from France, a council work session, staff reviews (council's staff is the town manager, town attorney, and town clerk), and a quasi-judicial meeting.
Get In Touch
Well, that is all for this week. My next post will be on Sunday, June 26th.  Although I have Facebook and Twitter accounts those are not the best means of communications with me. Please send all Town of Cary questions or comments to Harold.Weinbrecht@townofcary.org and email personal comments to augustanat@mindspring.com.
---
From the blog of Cary Mayor Harold Weinbrecht. Photos courtesy of Harold Weinbrecht. 
https://carycitizenarchive.com/wp-content/uploads/2016/06/HaroldsBlog-GigiFeatured.jpg
450
800
Harold Weinbrecht
https://carycitizenarchive.com/wp-content/uploads/2020/03/cc-archive-logo-450-v3.png
Harold Weinbrecht
2016-06-20 09:50:23
2019-12-08 10:30:30
Harold's Blog: Town Projects and the Budget