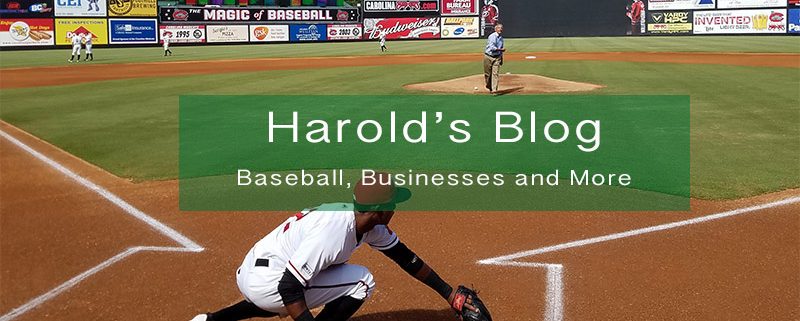 Cary, NC – This week was a light week with the exception of a couple of busy nights. 
Monday – Quick Meeting
Monday I met with the Deputy Town Manager to go over active issues in town. The meeting consisted of a couple of updates so our meeting was relatively short.
Tuesday – USA Baseball Center
Tuesday I met with a developer interested in developing property near Crossroads. He wanted to know my interest in multi-family combined with a public-private partnership for a park. The town is always open to ideas and proposals so I made sure he was aware of that. However, I told him that additional multi-family in that area, which is already saturated with multi-family, would be a hard sell.
Later Tuesday I met with someone about the process of making Cary the Olympic Training center for baseball. Cary is the USA national training center and baseball will be an Olympic sport starting at the next games. So it seems that it would be a natural fit. But an application process is required and it may be difficult because of the HB2 issue. The Town of Cary will do everything it can in spite of the legislature and their harmful laws that continue to hurt municipalities. It is my hope that we can be the Olympic training site and continue to host NCAA Champions, ACC Championships, etc. Time will tell.
Wednesday – Business Interest
Wednesday I traveled to Raleigh and toured a business. The business expressed interest in Cary. We continue to see strong interest in businesses and jobs coming to Cary.
Thursday – Quasi-Judicial Session
Thursday six of seven council members met with a group of Indian Americans who were celebrating Raksha Bandhan. This is a Hindu religious and secular festival. In simple words, Raksha Bandhan means "Bond of Protection." In the ceremony our guests tied a Rakhi, made up of a silk thread, around the right wrist of men and left wrist of women. It is to symbolize a promise of protection, their recognition and appreciation of civic leaders and public safety officers, and our promise to continue to serve and protect them. While in its purest form this ceremony is between brother and sister, it has been expended to help create a peaceful coexistence. Thanks to my Hindu brothers and sisters for making me a part of this.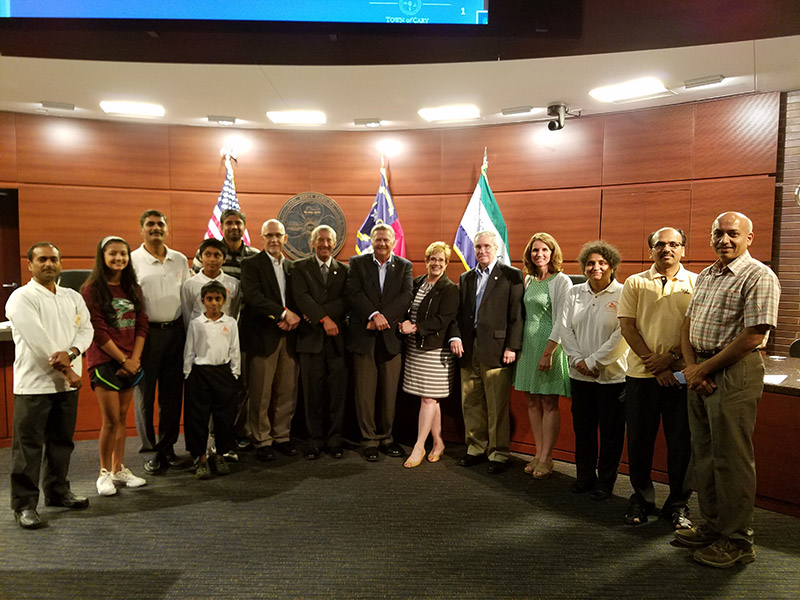 Thursday night the council held a meeting to hear three quasi-judicial cases. Before the quasi-judicial cases the council ratified its decision to deny a request to rezone for a storage unit at SW Maynard and Gordon Street. In Cary, the Town Council holds quasi-judicial hearings for special use permits, certain subdivision and site plan applications and for certain other applications. During a quasi-judicial hearing, the Hearing Body must hold an evidentiary hearing and make its decision based on the written and oral evidence presented. Unlike legislative decisions like rezonings, a quasi-judicial decision must be based solely on the evidence presented and cannot be based on opinions of members of the Hearing Body. Put differently, a quasi-judicial decision is one that requires the Hearing Body to find facts and exercise discretion when applying the standards of an ordinance to a specific situation.
The first quasi-judicial hearing was a site plan for Home Trust Bank at the Bradford. This was pretty straight forward and took about 15 minutes before council voted to approve. The only issue was the drive thru for the bank which was allowed in the current approved Bradford project.
The second quasi-judicial public hearing was an application requesting consideration of a subdivision plan to develop 286 lots comprised of 148 townhome units and 138 detached residential units. After discussing for over two and a half hours council continued this hearing until September 8th.
Our last quasi-judicial public hearing requested approval of modifications to the subdivision and site plan to accelerate construction on lots prior to the construction or opening to traffic of the O'Kelly Chapel Road crossing of the CSX railroad. The original site plan was approved by Council at a quasi-judicial hearing on December 12, 2013. The Council approved a modification to the traffic mitigation table at another quasi-judicial hearing on November 13, 2014. Council approved this request after about thirty minutes of discussion.
Sunday – Carolina Mudcats
Sunday I had the honor and privilege of throwing out the first pitch at a Carolina Mudcats game. I arrived before the gates opened, was escorted to a seat by the field entrance, and was given the ball I was supposed to throw. Once on the field I waited with a family of a young man from Cary who was preparing to sing the National Anthem (BTW he was awesome). After throwing the first pitch and taking a picture or two I headed up to my seat and watched the Mudcats win 5-0. It was a lot of fun and the weather was perfect.
Emails From Citizens
Emails from citizens this week included:
A complaint from Heritage Pines about a lack of a crosswalk.
A complaint about shuttle service during Lazy Daze.
A complaint about Rachael Dolezal being at Dreamfest (as I said last week this is not my decision and I was not involved in this decision).
With the exception of Labor Day next week will be back to a normal schedule. Activities include the first regularly scheduled council meeting of the month, a work session on the library and parking deck, an economic development meeting, the dedication of Jack Smith Park, and a 9-11 service at Firestation #3 on Kildaire Farm Road.
Get In Touch
Well, that is all for this week. My next post will be on Sunday, September 11th.  Although I have Facebook and Twitter accounts those are not the best means of communications with me. Please send all Town of Cary questions or comments to Harold.Weinbrecht@townofcary.org and email personal comments to augustanat@mindspring.com.
---
From the blog of Cary Mayor Harold Weinbrecht. Photos courtesy of Harold Weinbrecht.
https://carycitizenarchive.com/wp-content/uploads/2016/09/HaroldsBlog-Sept6-Featured.jpg
494
800
Harold Weinbrecht
https://carycitizenarchive.com/wp-content/uploads/2020/03/cc-archive-logo-450-v3.png
Harold Weinbrecht
2016-09-06 09:26:06
2016-09-06 09:26:06
Harold's Blog: Baseball, Businesses and More