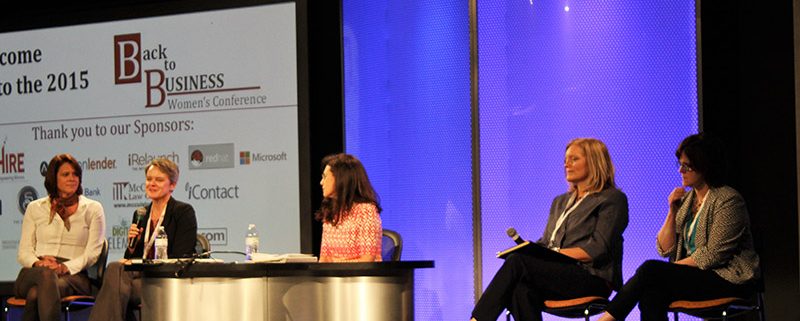 Editor's Note: Erin Simanskis, media coordinator for the Back to Business Women's Conference, contributed to this article.
Cary, NC – Almost a year later and the emails keep coming, all with the same theme – "I am a success story", "I received three job offers in one day", "My network expanded in so many directions." The glowing expressions of gratitude are coming from stay-at-home mothers and they're praising the phenomenally successful Back to Business Women's Conference.
"I can't thank you enough," said Cary mom Catherine Smith. "It was your conference and your inspirational words that made me 'Go for it!'"
New Cary Workers
What women like Smith were going for was a re-launch of their careers after time away to raise a family. The conference gives them the ability to plug back into today's workforce. The two-day event brings together experts in job searches, speakers on essential job skills and local recruiters to prepare women for success on their path back to work.
This year's Back to Business Women's Conference is slated for Thursday and Friday, October 6 and 7, 2016 at the Archie K. Davis Conference Center in the Research Triangle Park. Go to backtobusinessconference.com to register by the Friday, September 30, 2016 deadline. More than 100 women attended last year's phenomenally successful 2015 conference. This year's event will feature speakers from Cisco, SAS and iRelaunch. Discussion panels will be lead by business skills professionals, some of whom re-launched their own careers after attending last year. Sponsors include Deutsche Bank, Blue Cross Blue Shield and WRAL.com.
Katie Dunn created the event. She's the recipient of all those grateful emails. The long-time Cary resident is committed to helping local women balance their careers and family in a fulfilling way.
"It's important that companies and hiring managers are aware of the many highly qualified women seeking jobs who have a gap in their work history," Dunn said. "Chances are they spent their time during this gap running the schools, churches and community volunteer projects that make our country great.  It's high time we gave these women an opportunity to contribute again in a professional setting."
Dunn drew on her own experience as well as that of the many smart women she knows who want to re-enter the workforce. As well as raising four "cool kids," Dunn is current Associate Director in the MBA Career Management Center at UNC Chapel Hill's Kenan-Flagler Business School.
Barb Friend, who attended last year's conference, is the one who emailed Katie about getting three job offers in one day.
"This after six months of very few responses," Friend said. She now works for NC State University and it's her first full time position in 10 years. "I do not believe I would have a job right now without having attended the conference."
How to Find a Job
A Back to Business survey of women in the Raleigh-Durham area who have taken time off from their careers showed that 79 percent of respondents feel they don't have the right skills to re-enter the job market. The conference seeks to address that by teaching attendees how to job search. It's not done with paper cover letters, stamps and envelopes anymore. It takes an updated resumé, effective networking and a killer LinkedIn profile.
"Within the first few hours, I had a great new professional photo and my resume had been reviewed by recruiters," said Kirsten Young, one of the conference's attendees. "These were great confidence boosters."
Young is the attendee who emailed Dunn about her expanded network after the conference.
"I'd had conversations with entrepreneurs, IT specialists, IT generalists, healthcare workers and more," Young said.
Smith's experience was similar.
"Prior to the conference, I did not realize how critical it was to involve all contacts into a job search," said Smith, now an environmental health scientist. "There was story shared at the conference, about how a dad learned of another dad's job search through a carpool run."
Smith's path back to work began with a phone call to a former colleague. The conference gave her the courage and faith in her professional self to make the connection. Fourteen years to the day after the birth of her first child, the Cary mom of three signed a job offer.
Dunn is gratified that she can help local women take those all important first steps to re-enter the job market. And all those emails from "success stories" that have filled her inbox, "made my day!"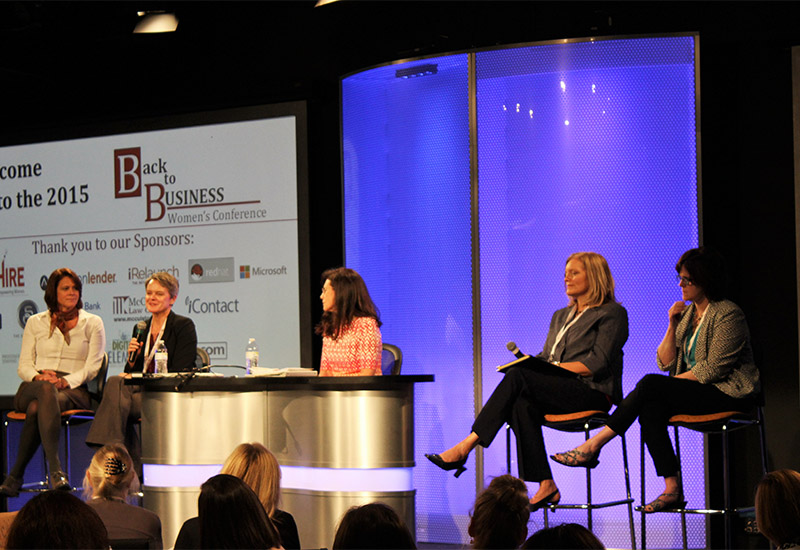 ---
Story by Erin Simanskis, media coordinator for the Back to Business Women's Conference. Photos courtesy of Erin Simanskis.
https://carycitizenarchive.com/wp-content/uploads/2016/09/B2B-2.jpg
550
800
Community Contributor
https://carycitizenarchive.com/wp-content/uploads/2020/03/cc-archive-logo-450-v3.png
Community Contributor
2016-09-13 13:31:46
2016-09-14 11:23:48
Cary-Created Conference Gets Women Into Workforce