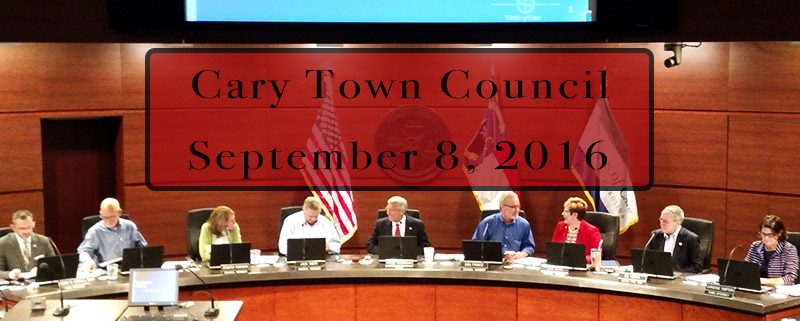 Cary, NC – The Cary Town Council held a very short meeting this past week as councilmembers voted to look into new developments and Town Manager Sean Stegall revealed some news about voting in Cary.
Amberly Glen Neighborhood
The Thursday, September 8, 2016 Town Council Meeting would have been even shorter had it not been for a continuation of one item from the Quasi-Judicial meeting from earlier in the week. The item in question was a proposed residential area north of Amberly. All statements were already concluded and all that was left was for Town Council to deliberate and vote.
Since the original 286-lot proposal was brought forward, there were several changes made. Among them were the inclusion of four gathering spaces and two mini-traffic circles, dropping the number of lots to 283.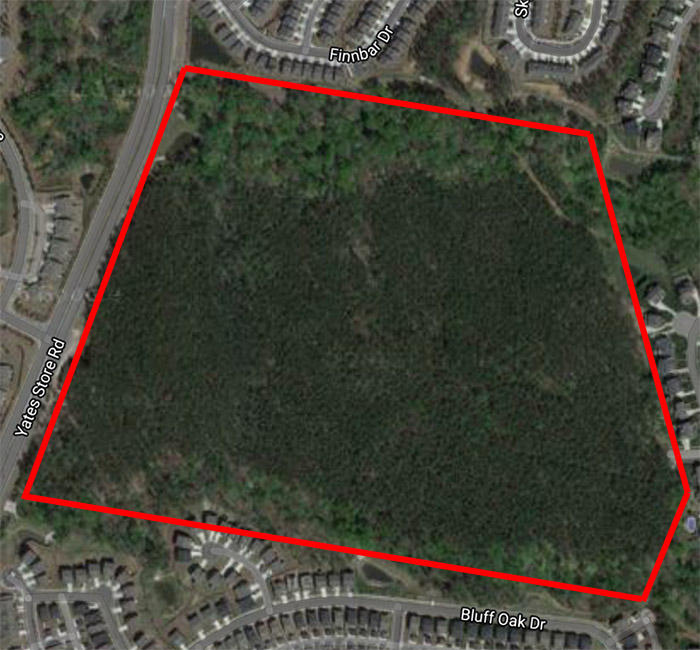 The councilmembers were receptive to the changes, although Councilmember Jennifer Robinson said it was still too dense and did not make a gentle enough transition with the surrounding areas.
"When I vote for projects I still don't like, I end up feeling guilty when I drive past," Robinson said. She was the sole nay vote on Town Council and the proposal passed.
Discussion Items
With no public hearings, the bulk of the meeting was taken up with the discussion items, including the Amberly Glen subdivision. Aside from that, there were two other items, including a grant application to add more electric vehicle charging stations to Cary. This application would ask for a $50,000 grant from Duke Energy for four charging stations at the parking decks near Herb Young Community Center, the Bond Park Boathouse and the coming decks downtown for the new library and the mixed-use development on Chatham Street.
While town staff said the number of electric vehicles in North Carolina are growing, Councilmember Don Frantz extrapolated that there are statistically few of such cars in Cary itself and brought up the issue of what fees to impose to cover the cost of maintenance.
"I don't know that I want to subsidize a few hundred cars in Cary," Frantz said.
Frantz still voted for town staff to apply for the grant, with issues related to fees to be discussed if Cary was awarded said grant. The item passed unanimously.
The other discussion item dealt with the rules surrounding medians in Cary. The current rule says that if medians are six feet or fewer across, they do not need to be planted. Both Robinson and Cary Mayor Harold Weinbrecht questioned whether smaller medians could not be planted to improve the look of the town.
"Median are one of our best aesthetic amenities," Weinbrecht said. "It makes us unique and I'd hate to lose that."
Town Council voted unanimously for staff to look into the rule.
News In Cary
At the top of the meeting, Cary Town Manager Sean Stegall revealed some important news about voting in Cary. After the circuit court overturned North Carolina's voting reforms, the additional week of early voting returned but in Wake County, it was restricted to only one location from October 20 to October 26.
However, after a letter from Weinbrecht and other Cary staff members, Herb Young Community Center will be included as an early voting site in that period. So starting Thursday, October 20, Cary residents can go to Herb Young and cast their early votes in the 2016 election.
Stegall also said Cary now has a public wireless network on and around Town Hall Campus, with the name "TOC_Network." Users would have to agree to the terms and conditions once every 24 hours.
"This will make it easier for Councilwoman Bush to play Pokémon Go on campus," Stegall said.
For Public Speaks Out, two community members spoke to thank the town, one by the Executive Director of North Carolina's Senior Games for Cary hosting the games and another by a local resident thanking Cary for its sustainability initiatives.
"I think that's the first time we had only thank yous for Public Speaks Out," Weinbrecht said.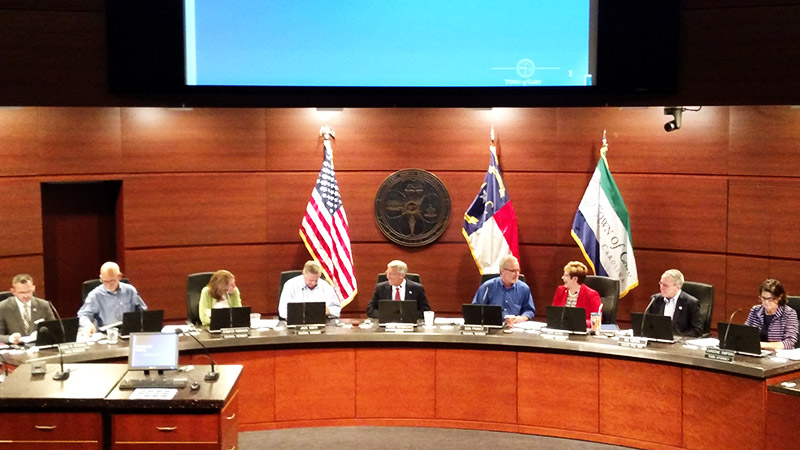 ---
Story by Michael Papich. Photos by Michael Papich and Google Maps.
https://carycitizenarchive.com/wp-content/uploads/2016/09/TownCouncilSept8-Featured.jpg
450
800
Michael Papich
https://carycitizenarchive.com/wp-content/uploads/2020/03/cc-archive-logo-450-v3.png
Michael Papich
2016-09-13 10:01:29
2016-09-13 10:01:29
Cary Town Council: 9/8/16