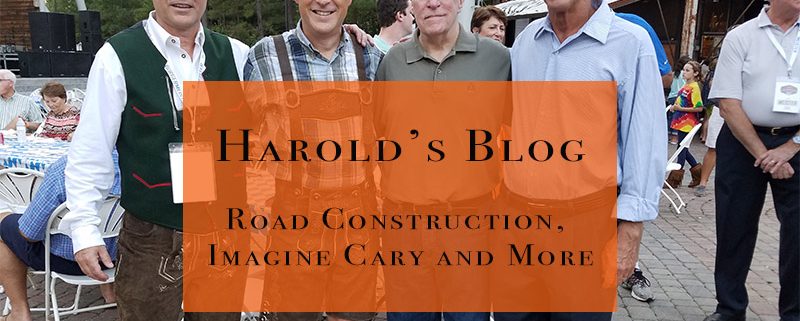 Cary, NC – This was another busy week which is typical of the fall and spring.
Monday – Mayors Meeting
Since there was a regularly scheduled council meeting during the week I called all council members to hear of any questions or concerns about the agenda. The agenda was short so there was very little feedback from council members.
Later I met with Mayor Pro-Tem, Department Directors and other management staff to go over the agenda. Since there were no questions the meeting was short.
Monday night I attended the Mayors Association meeting. Mayors from Morrisville, Rolesville, Apex, Fuquay Varina, Holly Springs, and Zebulon were also in attendance. In our meetings we usually go around the table and ask about current issues. I spoke about the NCAA/ACC announcement and its impacts and also our downtown development.
Tuesday – Town Council Meeting
Tuesday the council held its second regularly scheduled council meeting of the month. There were 13 items on the Consent Agenda, 2 Public Hearings, and 2 items for discussion. Council unanimously agreed to submit the ADA Bus Stop Improvements Project and the Design of the Bus Operations and Maintenance Facility to CAMPO (Capital Area Metropolitan Planning Organization) for funding. In addition, the council unanimously agreed to close a portion of right of way on Wilson Road. After 2 closed session items the council adjourned. The meeting took a little over an hour.
Wednesday – Road Construction
Wednesday I attended the monthly meeting of CAMPO's executive board. The meeting lasted about an hour and fifteen minutes. Items of interest included the 2040 study of Highway 54. To widen the corridor from I540 to Maynard Road would cost an estimated $240 million. The section from Park West to Maynard Road would cost under $40 million. Announcements included that the DCHC (Durham, Carrboro, and Chapel Hill Metropolitan Planning Organization) will join us in a meeting on November 30th.
Later Wednesday I met with the Executive Director and a staff member to go over the current Cary CAMPO projects. They want to provide help to Cary to get projects done sooner than later.
Thursday – Imagine Cary
Thursday the council held one of its last work sessions on the Imagine Cary Planning process. Council was presented with a summary of the draft plan public outreach efforts and key themes from feedback. Then we recommended some changes and refinements for the public hearing version. Council commented on densities per acre in the Green Level special planning area. Council is unsure that using lot sizes rather than densities per acre is the best way to proceed. Staff will bring back examples of how this works. This plan is scheduled for a public hearing at the October 27th council meeting. A second public hearing will be at the November 10th council meeting. The Planning and Zoning Board will hold a public hearing on December 19th and council is scheduled to take action in January.
Friday – Oktoberfest
Friday I participated in the Triangle Oktoberfest opening at Koka Booth amphitheater. The Apex Sunrise Rotary club and the Cary MacGregor Rotary club co-host this charity event for the Alzheimers North Carolina organization. There was traditional Bavarian food and fare, entertaining events, and of course plenty of local and authentic German beer. I tapped the first keg along with Mayor Olive of Apex. Then later I tapped a second keg at one of the sponsor's tents. The weather was perfect and everyone seemed to be having a great time.
Sunday – Volunteer Picnic
Sunday I attended the Parks Recreation and Cultural Resources annual volunteer picnic at the Booth amphitheater. There were probably about 100 in attendance enjoying the good food and fun games. I even had enough time to join council member Bush in a spirited game of badminton against two of our younger citizens. This is one of two annual events we hold to thank over 400 volunteers and to let them know that we appreciate their time, commitment, and contributions. Cary would not be the town it is today without its volunteers. God bless all those who give for the benefit of others.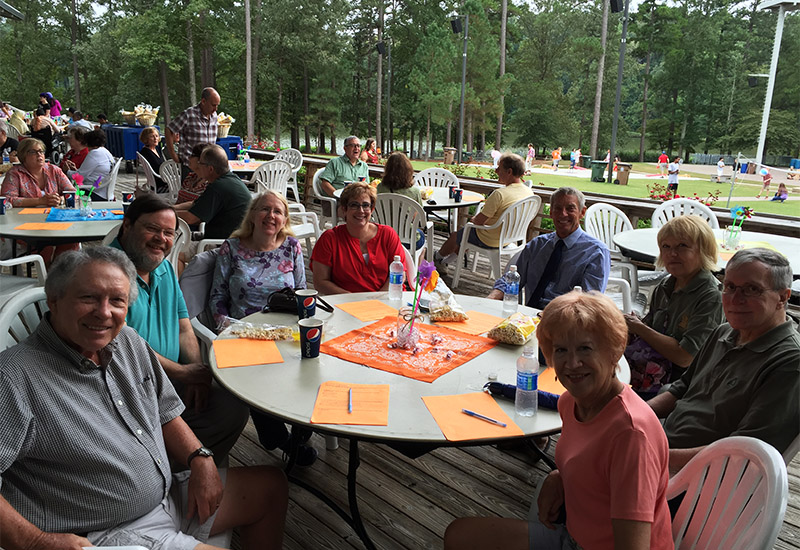 This week the Cary Chamber of Commerce issued a statement on HB2:
"The Cary Chamber has been encouraging the North Carolina Legislature to take action to remedy the negative economic impact of House Bill 2.  As a result of HB2 and national reaction to it, Cary is experiencing unnecessary economic losses from delays in business expansion, difficulties in attracting new businesses, and most recently the loss of hard-earned NCAA and ACC Championships.  As a former NCAA Championship Community, one of only six that were recognized nationwide, Cary is faced with losing our identity as a premier sports destination, a recognition that has been a key attraction for new residents and businesses.  The Cary Chamber joins with other chambers, businesses, and other organizations around the State in calling for the immediate repeal of House Bill 2."
Thank you to the Cary Chamber for continuing to look out for the interest of our businesses and our community.
This week Money Magazine ranked Cary the #1 place to live in North Carolina and the #37 place to live in the United States. To read their comments about Cary go to http://time.com/money/4469039/cary-north-carolina/. It should be noted that no other North Carolina cities made the list. I am proud to be mayor of such a great town that continues to be recognized nationally as one of the greatest places to live, work, and play.
Town Manager Report
The town manager's report for this week includes:
Mayton Inn – HUD Loan

We have a goal of closing this month the Town's Section 108 loan with HUD and to receive reimbursement from HUD for the $1.4 million the Town, in turn, has loaned to the Mayton Inn. Among the documents required by HUD for the closing is an updated appraisal of the value of the Mayton Inn now that it has been completed. The appraisal was received, and Town staff, along with our outside attorney, is completing the remaining closing documents. Barring any unforeseen issues we are on target for meeting the September 30 goal.

Floodplain property issue

A property on the 300 block of Waldo Street has erected a concrete wall made of stacked bags of quickrete along the stream bank behind his property. Also, there are two large soil piles in his yard. This property is within the TCAP de-lineated floodplain, and therefore our ordinance does not allow filling or structures to be placed within this floodplain. The wall and soil piles are in violation of our ordinance, LDO 7.5. The wall is also potentially in violation of state and federal regulations. The Town plans to issue a notice of violation (NOV) and seek correction to avoid possible impacts to other properties resulting from these actions.

Google Fiber Notice of Cable Franchise

Google has filed for a franchise agreement with the State of North Carolina to be able to provide cable television services in our area. If there request is approved, the State, and not the Town of Cary, will oversee regulatory matters affecting the company, including how citizen complaints are resolved.  Both AT&T and Time Warner Cable have franchise agreements with the State as opposed to local agreements with the Town of Cary.

East Cedar Street Public Parking – Open!

The East Cedar Street Public Parking Lot is now substantially complete and open for use. The project is expected to come in approximately 70% under budget. Citizens have already started utilizing the parking spaces while downtown.

Downtown Streetscape

Staff met with the contractor for the downtown streetscape project last week. They stated that Academy Street is expected to be open to two-way traffic by the end of September and that the entire project would be complete by October 17, weather permitting.
Emails From Citizens
Emails from citizens this week included:
Complaints about HB2.
A complaint about the proposal to move the Ivey-Ellington House.
A complaint about the condition of major thoroughfares in town (major thoroughfares are maintained by the state).
A complaint about a proposed rezoning near Green Hope.
A complaint that Cary is approving too many apartments.
A complaint about recycling options.
Several invitations to events.
Next week will include a joint meeting of the boards, commissions, and council, two interviews, a movie screening, and a meeting with private developers.
Get In Touch
Well, that is all for this week. My next post will be on Sunday, October 2nd.  Although I have Facebook and Twitter accounts those are not the best means of communications with me. Please send all Town of Cary questions or comments to Harold.Weinbrecht@townofcary.org and email personal comments to augustanat@mindspring.com.
---
From the blog of Cary Mayor Harold Weinbrecht. Photos courtesy of Harold Weinbrecht.
https://carycitizenarchive.com/wp-content/uploads/2016/09/HaroldsBlog-Sept26-Featured.jpg
550
800
Harold Weinbrecht
https://carycitizenarchive.com/wp-content/uploads/2020/03/cc-archive-logo-450-v3.png
Harold Weinbrecht
2016-09-26 09:28:43
2016-09-26 09:31:17
Harold's Blog: Road Construction, Imagine Cary and More