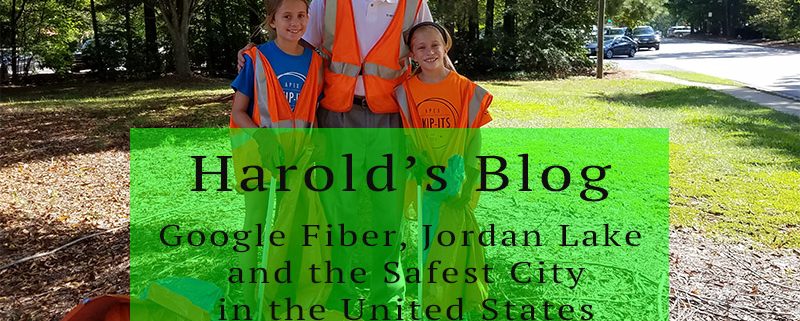 Cary, NC – This was a long and busy week for me and included a couple of late nights.
Monday – Potential Sister Cities
Monday I met with the town clerk to go over a few items including our sister city policy. We currently have groups from India and China interested in creating a sister city relationship with Cary.
Later Monday I met with the town manager to go over current issues. Our conversation included CAMPO projects, Dreamfest, Wake County touring our facilities (related to the Meal and Hotel Occupancy tax), organizational assessment, our fiscal year position ending June 30th, and business recruitment. Our meeting lasted about an hour.
Tuesday – Cary Meeting
Tuesday I was the emcee at the Council, Boards, and Commissions joint meeting. The meeting included a meal followed by the recognition of outgoing members, a presentation of boards and commissions' accomplishments and plans, and a staff and council update of downtown and other projects. In my remarks I talked about the Imagine Cary Planning process, the Eastern Gateway Plan, development activity and trends, the website update, and the installation of Google fiber. It was great to have so many of our boards and commission members in attendance so that we could hear from them and thank them for their service. Cary is the great town due in part to these great volunteers. Thanks to all of them for giving their time and talents so that we can all enjoy a better quality of life.
Wednesday – Safest City
Wednesday I was informed that Cary was ranked the safest city in America based on recent FBI crime statistics (http://247wallst.com/special-report/2016/09/28/americas-safest-cities-2/6/). Year after year Cary has been ranked one of the safest communities in the nation. This occurs because of the great partnerships between the citizens, the police department and town. I would like to give a special thanks and recognition to our police chief and his department which is one of the best in the nation.
Wednesday afternoon I was scheduled to do a promotional video for NCNGN. This is a regional initiative focused on stimulating the deployment of next generation broadband networks in North Carolina. The goal is to encourage private sector providers to deliver ultra-fast bandwidth at highly affordable prices to ensure our regions and state remain competitive and at the forefront of developing the next-generation applications essential to all sectors of the economy. Unfortunately, they were unable to make our scheduled time.
Later Wednesday I met with a group from the SV Temple in Cary. They would like to buy properties around the temple which includes an historic sight. Our conversation was about how to preserve the historic sight if they bought and developed the property.
Wednesday night I attended the screening of a documentary called "Generation Found". I gave opening remarks and then several dozen of us watched the film. Afterwards there was a discussion on the growing youth addiction and drug use in our community and region. Opiate addiction is a fast growing problem across the nation, in our region, and in our community. One person stated that in their small support group alone 4 kids died from overdoses in the last 10 months. The film offered an overview of real solutions to this crisis facing our youth such as sober high schools and alternative peer groups. To find out more see http://rcnc.org/.
Thursday – Cary Development
Thursday I met with a developer and his representative about land they are buying in West Cary in a prominent location. Their intention is to eventually develop this as a mixed use. If their investment comes to fruition it would create hundreds of jobs and add millions to the tax base. Our meeting lasted about an hour.
Saturday – Fall Litter Sweep
Saturday I participated in the annual Fall Litter Sweep. There were several dozen people in my shift as we covered the Kildaire Farm Road area between Maynard Road and Cary Parkway. I had the joy of working with a crew of two young girls and their dads. If you would like to be involved in a future litter sweep or would like to Adopt a Spot in Cary please contact Sarah Justice with the Town of Cary.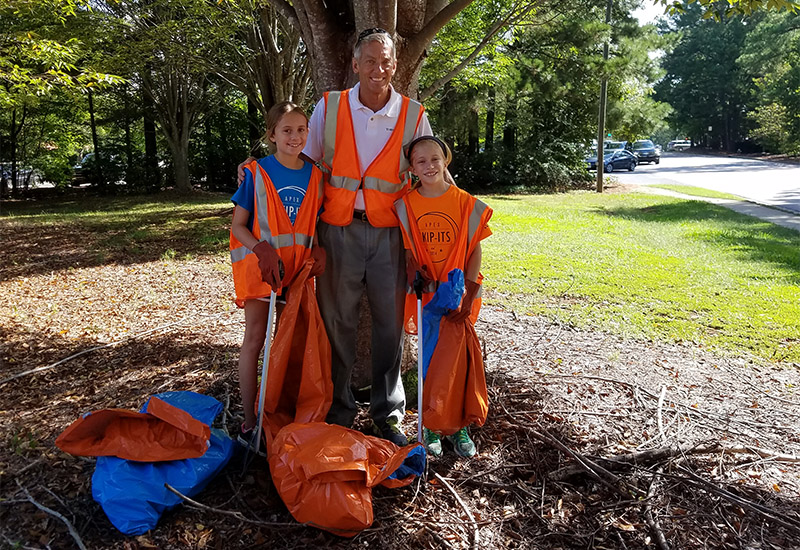 Town Manager Report
Here are excerpts from the town manager's report this week:
Police's ERT Strikes Gold

It's a pleasure to share that our Police Department's Emergency Response Team (ERT) was named overall champion at this week's NC Justice Academy & NC Tactical Officers Association's Annual SWAT Competition. The competition is a grueling three days of mental and physical challenges. This is a team first since its formation in 1993.

The award comes on the heels of being ranked earlier this week by national publications as the safest community of our size in America. I couldn't be more proud, and I just want to again recognize the work of Chief Godwin and everyone in our Police Department for everything they do to create a safe place for our citizens to live, work and raise their families.

DOJ Charges Former Cary Employee

As you already know, the U.S. Department of Justice issued a press release announcing the conviction of former water sampling technician Christopher Miller. On Monday, he pleaded guilty to falsifying water sample records.

What you may not already know is that we have implemented many improvements to our processes including advanced certifications and training for water sampling staff, diversification of water sampling staff, and stronger custody management through an electronic system that tracks water sample chain of custody from the sample collection location to the laboratory.

Jordan Lake Turnover

Utilities staff continues to monitor the lake, and we believe it's now fully mixed with consistent DO (dissolved oxygen). We have seen instances in the past if the temperatures rises the lake will partially stratify again for brief periods. We will continue to monitor conditions closely. Water quality remains very good and we are not experiencing any taste or odor issues.

Wake County Tour Debrief

On Friday, September 23, Doug McRainey, Lana Hygh and I gave a tour of the Town's three sports venues to Wake County administrative staff, including: Jim Hartmann, Wake County Manager; Dave Ellis, Deputy County Manager; Denise Foreman, Assistant to the County Manager and Chris Dillon, Intergovernmental Relations Manager. We toured the USA Baseball National Training Complex, the Cary Tennis Park and WakeMed Soccer Park. Based on the growing importance of Cary's venues to the region's economy, the County Manager requested this tour so that his administrative staff would be better acquainted with these facilities.

Mayton Inn/HUD Process Continues

Despite our best efforts and meeting all of our self-imposed deadlines, we are still negotiating contract terms with HUD. As a result, the loan did not close by September 30. Staff is working to keep the process moving despite some planned vacations of the key staff at HUD.

Fuel Update – Back to Normal

Staff has spoken with our fuel supplier and confirmed that they have reserved fuel for us to be delivered as part of normal processes. Therefore, the Operations Center is now open to all and we are resuming normal fueling procedures. A special thanks to our department directors for the work they did to come up with conservation goals and continuity of operations planning.

Recognitions

On Tuesday evening, Town Council and staff recognized all of the outgoing Board and Committee members for volunteering their time and efforts on behalf of the Town. A special thanks and appreciation goes to the Clerk's Office for organizing a great event that featured a presentation from Ted Boyd, Downtown Manager.

I also want to congratulate Brian Stark for his recent promotion to Operations Manager with the Inspections & Permits Department. Brian has been with the Town since 2006 when he started as a Multi-Trade Code Official.

And in a Town first, we live-streamed the ICMA Virtual Conference in Council Chambers. This opportunity was open to all staff and I'm pleased that staff was able to participate as their schedule permitted.
Emails From Staff
Emails from staff included an update on the Academy Street construction. The contractor did not connect one of the sewer services for the United Methodist Church. It was not identified on the plans but was identified when the active laterals were dye tested prior to lining the sewer main and should have been replaced then. This will delay the two way traffic on Academy into early October which is approximately a one week delay. The contractor will need to remove pavement, sidewalk, etc. to make the connection to the Academy sewer main.
Emails From Citizens
Emails from citizens this week included:
Comments about a potential sister city in China.
A complaint about potholes in Cary.
A complaint about the road conditions at the entrance to MacGregor Downs.
A complaint about traffic related to a school at Harrison and Maynard.
Several invitations to events and speaking engagements.
Next week will slow down enough to give me a little of a breather. My week includes interviews, meetings, and events.
Get In Touch
Well, that is all for this week. My next post will be on Sunday, October 9th.  Although I have Facebook and Twitter accounts those are not the best means of communications with me. Please send all Town of Cary questions or comments to Harold.Weinbrecht@townofcary.org and email personal comments to augustanat@mindspring.com.
---
From the blog of Cary Mayor Harold Weinbrecht. Photo courtesy of Harold Weinbrecht.
https://carycitizenarchive.com/wp-content/uploads/2016/10/HaroldsBlog-Oct3-Featured-1.jpg
550
800
Harold Weinbrecht
https://carycitizenarchive.com/wp-content/uploads/2020/03/cc-archive-logo-450-v3.png
Harold Weinbrecht
2016-10-03 09:23:28
2016-10-03 09:25:50
Harold's Blog: Google Fiber, Jordan Lake and the Safest City