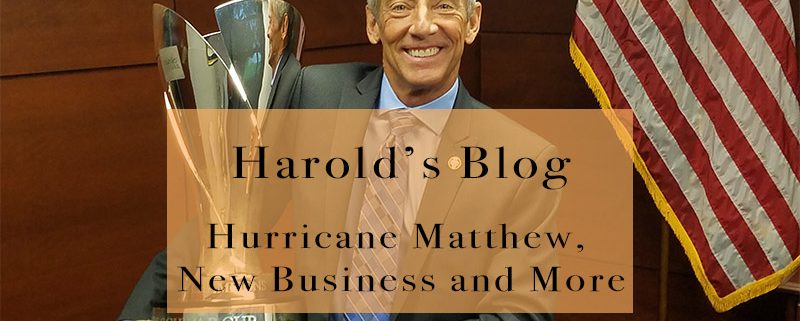 Cary, NC – This week was much slower than the past week and next week. It is kind of like the calm in between the storms. And speaking of storms, Hurricane Matthew had a big impact on Cary and North Carolina this week.
Monday – New Town Website
Monday I met with the town manager for our one-on-one. We really didn't have a lot to discuss so we spent our time talking about personal issues such as golf.
Later Monday I met with a town staff member responsible for the new website that should be available to the public by the end of the year. I tested the site and used the search engine to see how much it has improved. It was much faster. My understanding is that some of the improvement gains were because meeting minutes and other similar items were archived. I hope to get a beta version in November.
Tuesday – Future of Cary
Tuesday I did an on camera interview with Mark Stewart's real estate team on what makes Cary great. We also talked about the future of Cary. The entire session lasted about 30 minutes.
Wednesday – Diwali
Wednesday I did a radio interview with WDUR. It is this area's only 24/7 South Asian Station. In the interview I talked about my role as mayor, diversity, and the upcoming Diwali festival in Cary. The interview lasted about 20 minutes.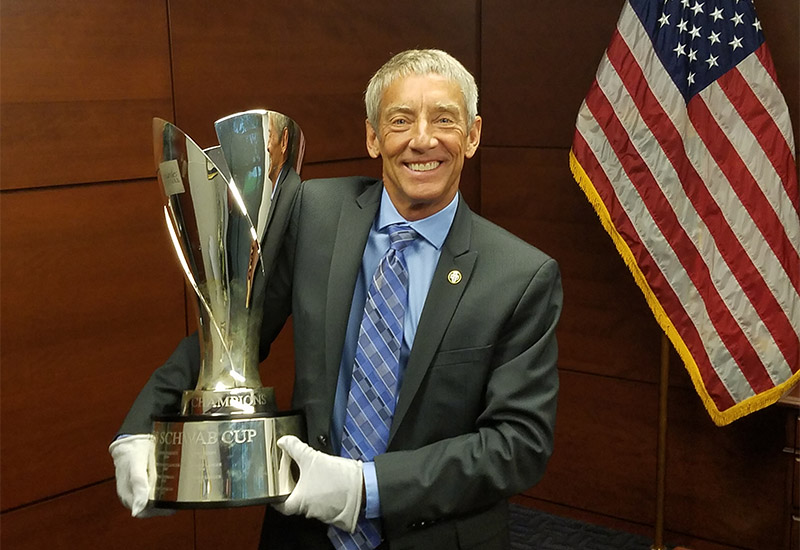 Thursday – SAS Championship
Thursday I participated in promotional photos for the upcoming SAS golf Championships to be held at Prestonwood next week. I was taking pictures with the Charles Schwab Cup trophy. Played in late October or early November each year, it is PGA Tour Champions' equivalent of the PGA Tour's Tour Championship, and was formerly known as the Senior Tour Championship. The field for this championship will be small and only have the top 36 golfers. The trophy can only be handled with gloves during photo ops so my photos had me handling it with white gloves.
The Cary Chamber of Commerce was having an event across from town hall during the time of the photo shoot so I talked the handler to going over there for more photo ops. I made a few remarks at the event and was only able to stay about 30 minutes.
Friday – New Business Opening
Friday I had the pleasure of attending the grand opening of the new Proto Labs facility in Cary. Proto Labs, based in Minnesota, recently acquired FineLine Prototyping out of Raleigh. The company, which received state and local incentives, pledged to create 170 new jobs at its new site off Pleasant Grove Church Road. Proto Labs has invested heavily in 3D printing and now has one of the largest facilities in the world with about 77,000 square feet. I was given a tour of the facility and was able to see several types of 3D printing from nylon powder, metal powder, and from an epoxy resin. The company employs not only computer scientists and industrial engineers but several in manufacturing jobs including high school students. I wished them great success and reminded them that the town will do everything we can to help them thrive and prosper.
Saturday – Hurricane Matthew
Saturday the area experienced rain and wind from Hurricane Matthew. There was over six and a half inches of rain at my house which exposed a leak and I was a lucky one. There were several large trees that fell in my neighborhood including one in my cul-de-sac. Many throughout Cary and North Carolina suffered damage to their homes and properties with downed trees and flooding. About one fourth of the local area was without power.
Emails From Staff
Emails from staff this week included a notification of that The American Academy for the Park and Recreation Administration (AAPRA), in partnership with the National Recreation and Park Association (NRPA) has named Cary as a recipient of the 2016 National Gold Medal Grand Plaque Awards for Excellence in Park and Recreation Management. This is the highest honor a community can receive in this field. This Gold Medal Award honors communities throughout the United States that demonstrate excellence in long-range planning, resource management and innovative approaches to delivering superb park and recreation services with fiscally sound business practices. I am proud to be mayor of a community that continues to demonstrate excellence in everything we do. A big thank you to all those in our Parks Recreation and Cultural Resources for all their hard work in making the town's programs and facilities one of the best in the country.
In another email from staff council was notified that Academy Street is now open for two way traffic. This project that took about a year and a half, included repairing sewer pipes, installing manholes, constructing water lines and storm drainage, relocating power and gas lines, changing out streetlights and traffic signals, laying asphalt and installing close to 300,000 brick pavers. Work will continue on electrical infrastructure and LED light installation, landscaping and public art placement in the form of granite benches as well as solar-powered light pavers in the sidewalks similar to those in front of the Cary Arts Center. Phase one of the Downtown Park will also continue throughout the rest of this year.
Town Manager's Report
The town manager's report for the week included the following:
Wake County Presentation

On Monday, October 10, I'll join staff in making a presentation to the Wake County Board of Commissioners on Hotel Occupancy Tax funding for projects at WakeMed Soccer Park and the Cary Tennis Park. Specifically, we are asking for funding to convert the soccer field to a synthetic turf field and to add public Wi-Fi at WakeMed Soccer Park. At the Cary Tennis Park, we're seeking to expand spectator seating, boost court lighting for expanded play, and resurface aging courts. We believe these facility improvements are necessary to meet the demands of the increasingly competitive tournament sports venue options. In total, these projects are estimated to cost roughly $3.47 million.

Prioritizing Goals for CityVision 2016 Conference

CityVision 2016, the NC League of Municipalities annual conference is coming soon, October 23-25. This year, the League is including the Goals Advocacy conference in conjunction with the annual conference, on Sunday, October 23.  At that time, the membership will be prioritizing the goals they will be actively pursuing over the next biennium.  Potential goals have been recommended by the League's legislative and regulatory advisory committees as well as the board. Town staff has reviewed these potential goals and recommends the following "Top-5" ranking:

Support municipal authority over municipal personnel issues. [Don't implement state mandates over local personnel issues.]
Support legislation that defends the fiscal integrity of the Local Government Employees' Retirement System. [Long-term fiscal responsibility]
Support solutions addressing established use impairments in waters that are based on current site-specific data and analysis. [Water quality]
Support legislation that gives deference to community water systems. [Orderly, predictable long-range water supply planning.]
Support legislation that provides for municipal elections to be determined by local municipal authority. [Oppose state-mandated changes to local election cycles.]

The conference will be held in Raleigh.

National Guard Assistance

We're doing what we can to help the National Guard with a jet fuel spill that occurred at RDU earlier this week while the Guard was preparing for Hurricane Matthew. The estimated 4,200-gallon incident occurred on October 4, and we've been asked to take the wastewater from the cleanup. We're looking at our system parameters and talking with regulators. I expect the work to continue through this weekend and am hopeful we'll be able to meet the request.

Raleigh Mutual Aid Request

On Tuesday, staff fulfilled a mutual aid request from the City of Raleigh. Within 30 minutes of the request, water was flowing through our Trinity Pump Station Interconnection at about 2.8 gallons per minute, keeping Raleigh's tanks from falling while not disrupting service to our utility customers. By 11 a.m., Raleigh resolved its problem, and we returned to normal operations. Early estimates indicate we transferred about 284,000 gallons of water. Raleigh staff was nothing but complimentary of our support, and I'm proud of our staff for their quick response in helping our neighbor in need.

ReadyWake Call Success

On Thursday, staff partnered with the Wake County Emergency Management Center to activate our first Town-wide test of the County's reverse 911 system, ReadyWake. Since March, enrollment jumped from 420 contacts to 6972 — a 1560% increase in self-registration. Initial reports show that roughly 99% of calls were successful. We're thrilled to see such positive results from this added level of service to our community.

Accelerator School at WMSP

On Tuesday, the NC Council of State unanimously consented to the Town of Cary's sublease with Accelerator School, LLC allowing a middle school organized around the training of young, elite soccer players at WakeMed Soccer Park.

Recognitions

I'd like to recognize Karen Mills for her participation in the Envision Carolina conference at SAS Headquarters on October 4. Karen joined the ranks of well-respected Smart Cities leaders in presenting information on our Aquastar project.
Emails From Citizens
Emails from citizens this week included:
Several complaints about Rachael Dolezal as a speaker at Dreamfest (the council had nothing to do with the selection or organization of this event).
A request to fund Cameron Pond Park (Cary has a long list of park needs and we prioritize them with available funding).
A complaint about bike markings on major roads in Cary.
A complaint about construction quality at Academy Street and Chatham Street.
A complaint about an English mistake in my journal.
Several invitations to events.
Next week's activities include the first regularly scheduled council meeting of the month, a speaking engagement at Cary Academy, the SAS Championship, and Diwali.
Get In Touch
Well, that is all for this week. My next post will be on Sunday, October 16th.  Although I have Facebook and Twitter accounts those are not the best means of communications with me. Please send all Town of Cary questions or comments to Harold.Weinbrecht@townofcary.org and email personal comments to augustanat@mindspring.com.
---
From the blog of Cary Mayor Harold Weinbrecht. Photos courtesy of Harold Weinbrecht.
https://carycitizenarchive.com/wp-content/uploads/2016/10/HaroldsBlog-Oct10-Featured.jpg
550
800
Harold Weinbrecht
https://carycitizenarchive.com/wp-content/uploads/2020/03/cc-archive-logo-450-v3.png
Harold Weinbrecht
2016-10-10 09:29:34
2016-10-10 09:29:34
Harold's Blog: Hurricane Matthew, New Business and More