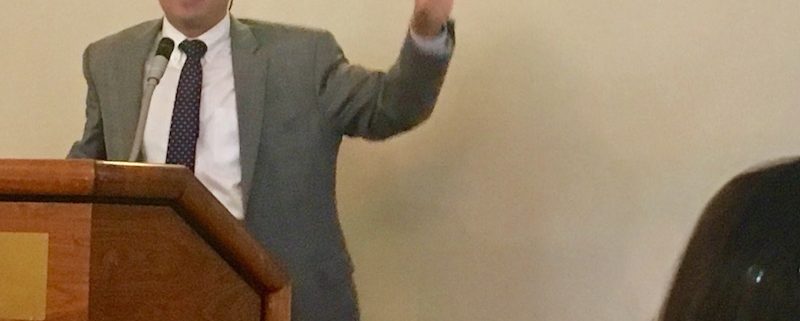 Cary, NC – Downtown Raleigh's revitalization efforts are starting to pay off as new residential units, businesses and retailers add to the burgeoning restaurant and bar scene. How can Raleigh's success help inform Cary's own Downtown turnaround? 
Planning
David Diaz, president and CEO of the Downtown Raleigh Alliance, spoke at the monthly Heart of Cary Association meeting on Thursday, October 6, 2016 to give members some hard-earned insights about how it can be done.
"If Raleigh had done anything well for the past 15 years, it was planning," Diaz started off by saying. "It's vital that you get a world-class consulting team that can look at you from the outside and tell you what's wrong with your downtown and not just pat you on the back."
Having consultants takes cash. In 2000, the Downtown Raleigh Alliance raised $100,000 and the city matched it. Recently, they raised $250,000 and again the city matched it. That's half a million dollars. With those funds, they created a plan for the thousand acres that make up the downtown core of Raleigh. Once you have a master plan (in this case a unified development ordinance), development follows because developers know where the vision is and the direction the downtown is prepared to take.
"If you could take anything away from this meeting today it would be: What's the plan for Downtown Cary? I want to see it," Diaz said.
Here's the 2012 Plan done after public charrette workshops. This is currently being updated through the "Imagine Cary" process.
Money
The Raleigh Downtown Alliance has been around as a non-profit organization since 1996 and has a $2.5 million budget. They have staff and resources. There's a dedicated staff person working every day to work deals and attract a certain level of retail. With full-time attention you can make an impact.
Downtown Raleigh benefits from a designation called the Municipal Service Development or MSD. This designation was created for downtown areas several decades ago to allow downtown organizations to have a more predictable resource for funds to do downtown investment. It creates an extra levy on downtown property owners that is then used by the Raleigh Downtown Alliance to administer those funds to deliver services. This funds about 50 percent of the budget of the Alliance and the rest is from sponsorships.
In Cary, the Town Council implemented the Building Improvement District in July of 2012. While similar to MSD, it does not levy fees on property owners. The Town also created the full-time position of Downtown Manager five year ago, first hiring Ed Gawf, and more recently Ted Boyd, to fill that role. Ted focuses every day on improving our Downtown District, meeting with stakeholders and talking to would-be investors and developers.
Research and Analysis
The Alliance produced a 90-page report on Downtown Raleigh. They are the research experts on Downtown, and therefore the brokerage, development, and investor communities  come to them to find how they can best make a sale. They have a full-time research analyst who sources this information. This information helped inform the sale of the Sheraton several years ago for $60,000,000.
Marketing and Advertising = Variety
The Alliance creates events that promote Downtown Raleigh. They created a promotion for each type of retail: restaurant, club, shopping and art with a series of events. These include First Fridays, Downtown Raleigh Restaurant Week, The Raleigh Mix and Shop Downtown. They implement three outdoor events a year: The Raleigh Downtown Farmer's Market, WinterFest and their Outdoor Movie Series.
Added to that mix are large networking events which serve in a pseudo-Chamber of Commerce role: The State of Downtown and the upcoming Women with Vision Lunch. The sponsorships generated from all these events generate the funds to market them fully.
Vision: Diversity is Key
"The more things you put in a downtown, the better it works," Diaz said.
The goal is to create spaces with lots of activity with a mix of uses with things happening at different times of day for different age groups. They wanted to add more green spaces, more retail, more parking, more places to live and more transportation. There are currently 7,000 people living in downtown (soon to be 10,000) and 50,000 work there. The Union Station transportation hub in under renovation and expansions as a regional hub. And park improvements are underway for Moore Square and others.
As the residential mix in Downtown changes, so will their board. The group will add two residential seats, because the residents are stake-holders too.
Take-Away
What can Cary learn? Granted: the core of Downtown Raleigh is roughly 1000 acres, considerably larger that Cary's own Downtown.
Planning, and having a published vision with input from stake-holders on that plan, is key. Having that plan enables developers and investors to buy into that plan to help make that vision a reality. We are on our way with Imagine Cary. Having full-time people working on recruiting businesses is key, and we already have one person: Ted Boyd.
The Town of Cary has already spent considerable funds from bonds and budget items to lead the way for Downtown's redevelopment. What Cary lacks is a separate organization with funding to add to the mix with additional full-time staff. As I listened to Diaz, that was the single factor that stuck out in my mind.
---
Story by Lindsey Chester. Photos by Lindsey Chester and orionpozo.
https://carycitizenarchive.com/wp-content/uploads/2016/10/D.-Diaz-Raleigh-DntnAlliance.jpg
551
800
Lindsey Chester
https://carycitizenarchive.com/wp-content/uploads/2020/03/cc-archive-logo-450-v3.png
Lindsey Chester
2016-10-10 10:30:36
2019-12-08 10:31:06
Can Raleigh's Downtown Success Translate to Cary?