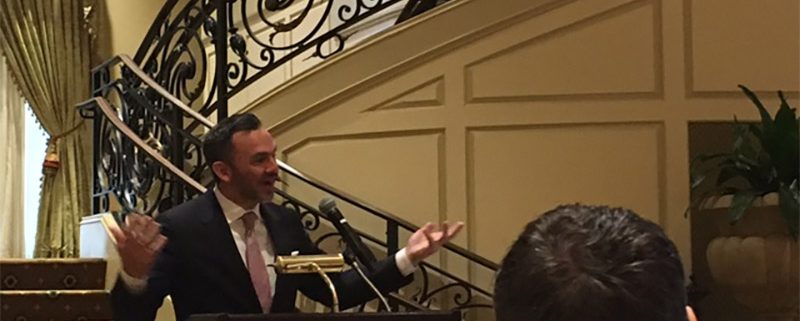 Cary, NC – Cary's growth and success are well known to residents but the question is: how does the town maintain and capitalize on it? Town Manager Sean Stegall took time to discuss this with business leaders in Cary, offering solutions and challenges.

One of a Kind
Sean Stegall joined the Town of Cary in August and has now been town manager for long enough that people no longer refer to him as Cary's "new" town manager. And in his time here, Stegall said Cary's high quality is clear by any objective measurement, made all the more impressive because of how quickly that growth happened.
"For most towns I have studied, they were overwhelmed by that kind of growth. Cary wasn't," Stegall said.
Speaking at a meeting of the Cary Chamber of Commerce on Wednesday, November 30, 2016, Stegall said Cary is extraordinary by another of his measurements. In the past 20 years, Cary has added a variety of new features such as Koka Booth Amphitheater and various shopping centers, as well as redeveloped several important roads.
But if you look at the increase in home values coupled with the decrease in property tax rates over that same 20 years, all of that new development in Cary was paid for with only a $10/month average increase in property taxes.
"I don't know if the community understands just how unprecedented that is," Stegall said.
But as Cary is continuing to climb, Stegall warned that maintaining that level of quality is difficult for any institution, referencing the decline in formerly ubiquitous companies such as Kodak and BlackBerry and bustling towns such as Gary, Indiana. To stay at the level Cary is now, Stegall said it will take some aggressive approaches but believes the community will be able to pull it off.
Challenges and Solutions
One key component of Cary's future, Stegall said, will be branding. Many other towns and cities are doing branding initiatives to bring in more investors and interest and Stegall said now is an especially important time with North Carolina as a whole being put in a negative light nationwide.
"In a post-HB2 world, we need to market ourselves aggressively around the country," he said. "If we don't, we will suffer. Even if HB2 is repealed, we won't know about the companies that have already made up their mind not to come here."
Another challenge facing Cary is the physical limit on new development. Only 17 percent of Cary is still available for new construction so Stegall said the town will need new approaches, which is part of what Imagine Cary lays out.
"We'll need an aggressive approach to redevelopment," he said.
Stegall pointed to plans for Downtown Cary to include a new library, park and business center but said redevelopment will receive pushback in some places.
"It's not as popular when you redevelop inside existing neighborhoods," he said.
Cary has some factors in its favor. Stegall mentioned Cary's AAA bond rating, putting it in the top 1 percent of municipalities, and said he thinks the Wake County transit bond passed in November will help get people around and cut down on traffic.
But Stegall also said Cary, and North Carolina in general, has a unique problem that prevents them from using locally tailored laws and ordinances because, as Stegall put it, the General Assembly takes "pride" in restricting local government.
"When we don't have the tools that other states and municipalities have, that's a problem," he said.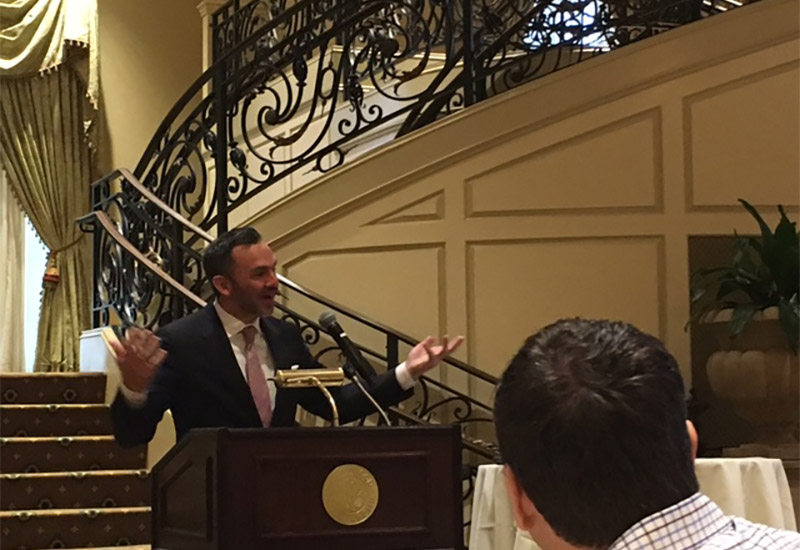 ---
Story by Michael Papich. Photos by Lindsey Chester.
https://carycitizenarchive.com/wp-content/uploads/2016/11/StegallTalk2.jpg
550
800
Michael Papich
https://carycitizenarchive.com/wp-content/uploads/2020/03/cc-archive-logo-450-v3.png
Michael Papich
2016-12-02 14:45:53
2016-12-03 12:31:19
Town Manager Talks Managing Cary's Growth