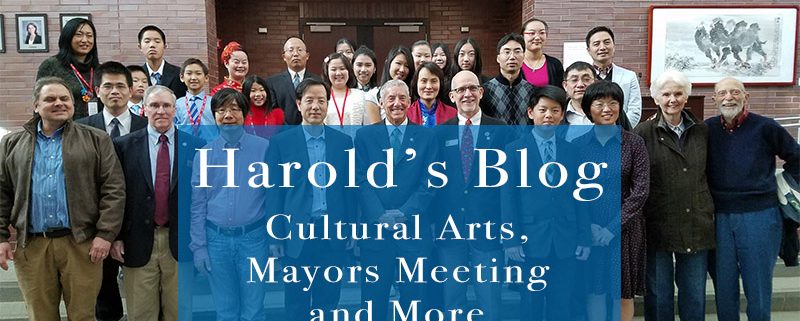 Cary, NC – This was a slower week than normal. 
Monday – Planning the Week
Monday I met with town manager for our weekly one-on-one. We talked about a downtown business, downtown projects, my state of the town address to be given in January, and the format of quasi-judicial hearings. Our meeting lasted about an hour.
Wednesday – Town Manager's Talk
Wednesday I attended the Eye Opener Breakfast, sponsored by the Cary Chamber, where the guest speaker was town manager Sean Stegall. In his message he explained that Cary exploded with growth during the last two or three decades. And that this growth was excellently managed which was unprecedented. As we move forward out of the exploding growth into more redevelopment we will need to be more innovative rather than engineering focused. This will require continued strong partnerships and a new thought process by our council, staff, citizens and businesses. I plan to expand on this a little further in my state of the town address in January. So stay tuned.
Thursday – Mayors Meeting
Thursday I attended the North Carolina Metro Mayors Coalition dinner in Durham. There are 32 member mayors in this coalition that was founded 15 years ago. Many of the current mayors and past mayors were at this dinner including former mayor Glen Lang of Cary. We were treated to a steak dinner from Angus Barn and heard from a few speakers in the legislature. The featured speaker was Governor-elect Roy Cooper. He stated the need for Democrats and Republicans to focus on what they can agree on rather than spending their time looking for things to disagree on. Amen to that!
Friday – Generous Student
Friday I called a second grader (and his mom) from Highcroft Elementary. During the aftermath of Hurricane Mathew he felt bad that kids would not have the ability to go trick-or-treating. So he collected his candy and candy at his school and had it sent to eastern North Carolina. What a fantastic gesture especially for someone so young. In my call to him I thanked him and invited him to ride in the town's fire truck during the Christmas parade. So if you see him in the parade make sure you blow him a few kisses.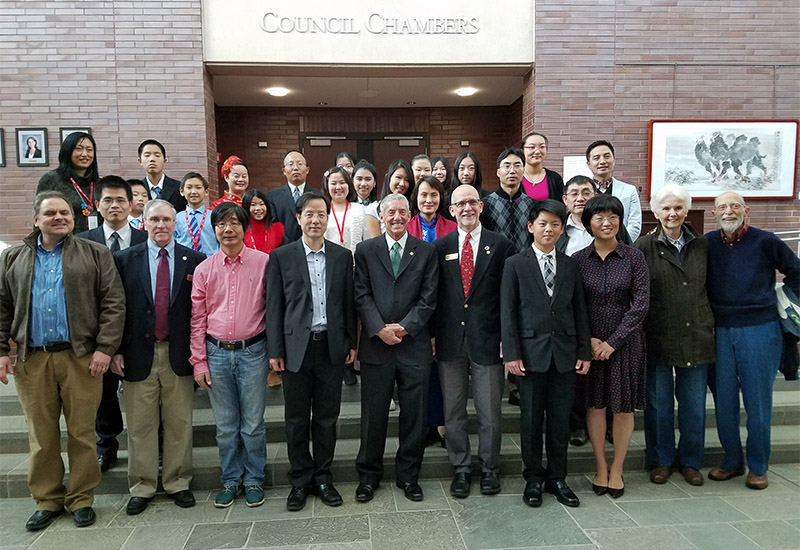 Saturday – Holiday Events
Saturday afternoon I gave welcoming remarks at the Discover China Art Exhibit held inside the town hall lobby. The exhibit included several dozen pieces of art. Each one was explained by students from the Cary Chinese School. The beautiful pieces captured Chinese fine art techniques. We were blessed to have visitors from all over the world at this exhibit including guests from Beijing. Thanks to FotoSay International Arts and Science for making this happen.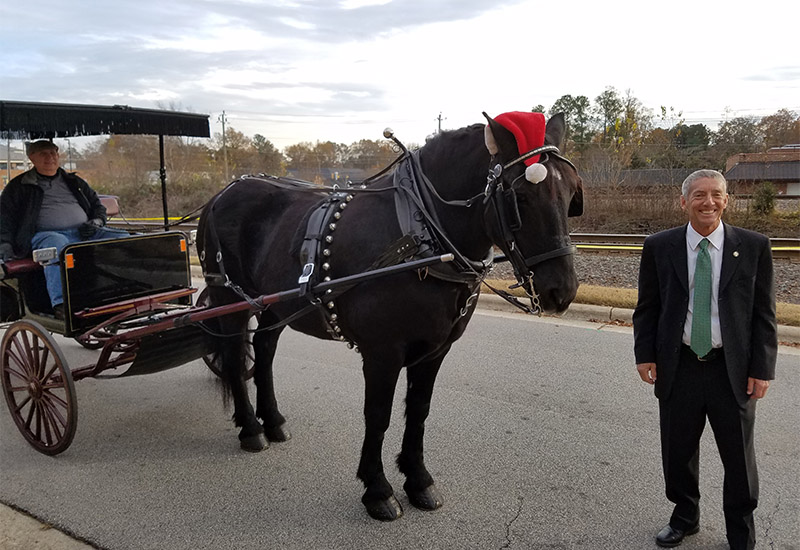 After the art exhibit I headed over to the Page Walker to get a quick peek of the Victorian Christmas festivities which included carriage rides. I even had time to take a quick picture with one of the beautiful horses.
Saturday evening I had the joy of once again introducing the Christmas tree lighter for the town's Christmas tree. This year we honored long time citizen Sheila Ogle who has given so much to our community and was this year's Hometown Spirit award winner. God bless her! There were great performances at this year's tree lighting that was emceed by WTVD's Tisha Powell. Everyone seemed to have a good time and afterwards went into the town hall lobby to enjoy smores.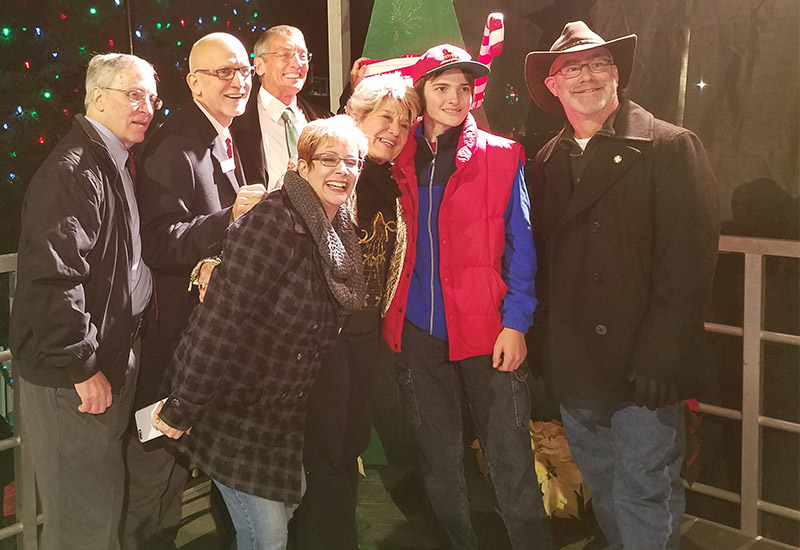 Town Manager's Report
The report from the town manager this week included the following:
Metro Mayor's Conference

I attended the NC Metro Mayors Coalition Annual Meeting, joined by Mayor Weinbrecht, Ed Yerha and Lana Hygh. I was able to meet with many mayors and managers from across the state, as well as reconnect with our regional partners. At the manager's breakfast on Friday morning there was a productive discussion of issues facing large communities.

Wake Transit Interlocal Agreement

As you are aware, on July 6, the Wake County Board of Commissioners approved the Wake County Transit Plan and accompanying Financial Plan. Since Wake County voters approved the Sales Tax Referendum for Transit on November 8, plans are moving forward for implementation. Along with the sales tax, a proposed new $7 Wake County Vehicle Registration Tax is an anticipated local revenue source identified in the Wake County Transit Plan and Financial Plan. Over the next several months, there will be multiple agreements among and between Wake County, GoTriangle, other transit providers and Wake municipalities. One of the first agreements you will see, in January, will be an Interlocal Agreement to assign revenues from the proposed new $7 Wake County Vehicle Registration Tax to implementation of the Transit Plan.

Wilson Road Closure Time Reduced

On Thursday, the NCDOT Board of Transportation approved the closure of Wilson Road that traverses through both the Town of Cary and Morrisville.  Final approval of the Closure Order by the Town of Cary will be considered at the Council's regular meeting on December 8. The Town of Morrisville Council considered the Wilson Road closure at its November 22 regular meeting. In response to feedback from Woods at Fairbanks residents, the Morrisville Council asked CalAtlantic to come up with an option to reduce/mitigate the effect of the road closing on surrounding residents. As a result they developed a plan that would keep Wilson Road open as a private road for four months (Jan-May) after Cary/Morrisville closure orders are approved and then close it to finish site infrastructure for their new subdivision. Thus, instead of an 8-month closure as originally envisioned, it will likely be a 4-month closure instead. The Morrisville Council will take final action on the closure on December 13th.

Changes at The Cary News

This week we were informed of changes coming to The Cary News. Our beat reporter, Kathryn Trogdon, is moving to the News & Observer; her new assignment includes growth and transportation so you may still hear from her from time to time. Additionally, the editor, Jessica Banov, will be the N&O's new food editor. Until the paper assigns a permanent reporter to the Cary area, you may hear from Henry Gargan. He currently covers other municipalities in western Wake county as part of The Cary News/Southwest Wake News, and recently did this piece on Cary High School's adventure to New York for the Macy's Parade. He can be reached at hgargan@newsobserver.com and his task to cover Cary begins immediately.

NCNGN Video

In the coming weeks you may see a promotional video from NCNGN. Cary is conspicuously absent. Know that the Mayor was stood up twice, and the production team did not include requested b-roll. Not yet available for public consumption.

Leaf Collection – On Schedule

Due to very dry conditions and a "late" leaf drop, tonnages are down this this leaf season. We are on track to have two loose leaf collections done prior to Christmas, as committed.

America Recycles Day

The Town's seventh annual Shred Event drew over 840 participants. We collected and recycled 41,325 pounds of paper. This effort was assisted by volunteers from Green Hope High School APES.

GoCary Transit Food Drive

The fourth annual food drive was a success, with passenger donations going to Dorcas Ministries to help feed those in need in our community.
Emails From Citizens
Emails from citizens this week included:
A concern about a rezoning request next to Marla Dorrel Park.
A thank you for the work I do with the town (Thank you!).
A concern about school reassignment at Mills Park.
A concern about reckless driving on Maynard Road.
A concern about a rezoning proposal on Ryan Road.
Next week will be a busy week and will include quasi-judicial meeting, an economic development meeting, the annual Town of Cary employees' luncheon, a regularly scheduled council meeting, the Cary Jaycees Christmas parade, and other meetings.
Get In Touch
Well, that is all for this week. My next post will be on Sunday, December 11th.  Although I have Facebook and Twitter accounts those are not the best means of communications with me. Please send all Town of Cary questions or comments to Harold.Weinbrecht@townofcary.org and email personal comments to augustanat@mindspring.com.
---
From the blog of Cary Mayor Harold Weinbrecht. Photos courtesy of Harold Weinbrecht.
https://carycitizenarchive.com/wp-content/uploads/2016/12/HaroldsBlog-Dec5-Featured.jpg
550
800
Harold Weinbrecht
https://carycitizenarchive.com/wp-content/uploads/2020/03/cc-archive-logo-450-v3.png
Harold Weinbrecht
2016-12-05 10:30:34
2016-12-05 09:43:19
Harold's Blog: Cultural Arts, Mayors Meeting and More