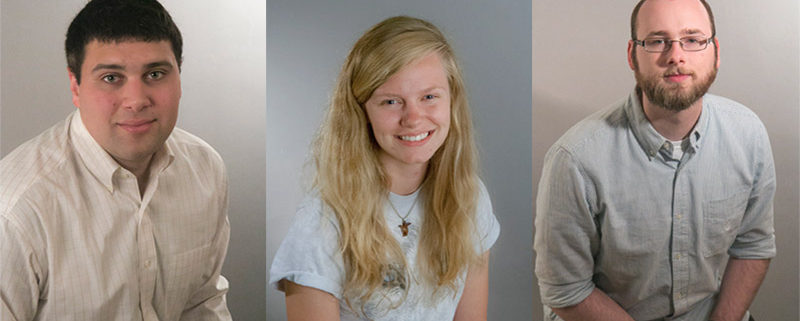 Cary, NC – Standing out for exceptional work in the arts is difficult but three Cary residents now at North Carolina State University were honored by the school's Arts Department for doing just that. Even more impressive, all three students won while working on other majors.
Artists' Recognition
Carter Harris, Spencer Monaco and Natalie Sherwood were all recipients of awards conferred by Executive Director of Arts at NC State Rich Holly and Friends of Arts NC State Board Chair Gary Greene. All three, out of nine NC State students who received an award, are from Cary.
Monaco and Sherwood both received the Performing Artist Award for outstanding performances and Harris received the Creative Artist Award for original works, such as the jazz ensemble "Waltzometry" that Harris wrote and premiered at the 2015 North Carolina Music Educators Association.
"It's something I'm very passionate about but I didn't realize it until I got to NC State," Harris said.
Harris said he was excited to find out he had won the award and said it was a substantial honor given the many years he took working on the piece. Harris is also pursuing a PhD in electrical engineering.
Sherwood, who received the Performing Artist Award for her roles as the matchmaker in "Fiddler on the Roof" and Meg in "Leading Ladies." When Sherwood found out she'd won, she said it was a total surprise.
"They called me up and told me I'd won and I was so blown away," Sherwood said. "To be recognized for something I love means a lot."
Sherwood is getting her minor in theater while her major is polymer and color chemistry. Also with a major in color chemistry is Spencer Monaco who got his Performing Artist Award for his skills with the trombone, particularly his performance of Steven Verhelst's "Song for Japan."
Monaco said he was "a little bit shocked" when he learned he'd won the award.
"When I signed up, I thought it would be fun. It's a little bit crazy to think I beat out other people," Monaco said.
Freedom of Expression
For all three winners, their arts are outside of their demanding majors and said said it allows them to tap into another part of themselves. For Sherwood, she described it was an almost cathartic outlet after working hard studying science.
"I get to come to the theater every night and put that aside and step into someone else's shoes," Sherwood said. "Art keeps me grounded."
Similarly, Monaco said playing music is a release for him.
"A lot of what I do is nerve-wracking and stressful," Monaco said. "When I take out my instrument, I get away from it all."
Through working with other jazz musicians at NC State, Harris said he has found people who are open to what he called his "crazy ideas" in music, particularly from Wes Parker, NC State's director of jazz studies.
"He's never prevented me from exploring. Him encouraging me makes it easy to push myself," Harris said. "With support from Dr. Parker and the other musicians, there's virtually no other place I could get this done."
Once he completes his PhD in electrical engineering, Harris said he wants to stick with that field but is still deciding in what capacity.
"I started with the idea of being a professor but after being in school so long, now I'm thinking of being in the professional world," Harris said.
Monaco said he is thinking about starting a master's program but knows he wants to stay with some form of chemistry.
"Ideally, it would be formation chemistry or something else that allows me to be creative," Monaco said.
Sherwood said she is currently in a crossroads when it comes to post-college plans.
"I love medical science and am interested in oncology," Sherwood said, adding she took an internship with cancer-related research. "I want to find a way to balance that and theater."
---
Story by Michael Papich. Photos courtesy of Amy Sawyers-Williams. Coverage on CaryCitizen is sponsored in part by Joint Chiropractic.
https://carycitizenarchive.com/wp-content/uploads/2016/12/ArtsAwardGroup.jpg
359
800
Michael Papich
https://carycitizenarchive.com/wp-content/uploads/2020/03/cc-archive-logo-450-v3.png
Michael Papich
2016-12-21 14:45:16
2016-12-21 13:49:29
Three Cary Students Win Artists Awards