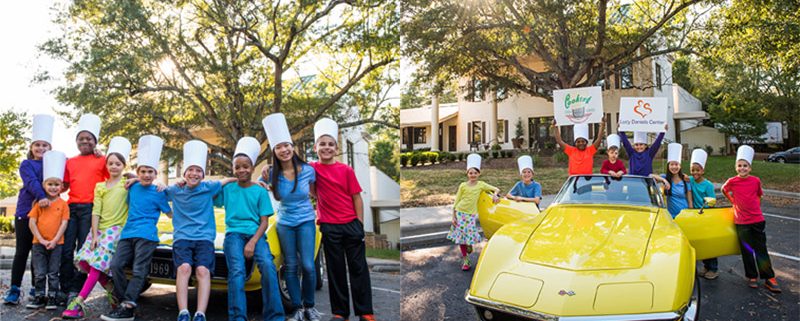 Story originally appeared on FoodCary.
Cary, NC – The Lucy Daniels Center provides important services for Cary and the Triangle area, and now, one Cary chef is competing in their first ever tournament to help promote the cause.
Cooking for a Cause
Cooking For A Classic is the Lucy Daniels Center's inaugural fundraiser where 16 chefs compete to see who made the better meal until one winner is crowed. The grand prize for the winner is a classic car: a restored 1969 Corvette Stingray.
Dr. Donald Rosenblitt, the center's executive and clinical director, said the idea came from a collaboration between chefs and staff.
"Shane Bull on our board of directors and Dean Ogan from 1705 Prime conceived of this idea," Rosenblitt said. "They started to think about a fundraiser along these lines."
1705 Prime in Raleigh will be the competition site for the participating chefs, one of whom is Cary's Tom Havrish, owner of Lugano Ristorante and Academy Street Bistro.
"It's a good cause. Anything we can do to get out and help is good," Havrish said. "And it's a cool format. It's different and I'm excited."
Havrish said this will be his first cooking competition but he enjoys being creative with his cooking and thinks that will play in heavily. But Havrish also said his years of experience will give him an edge.
"After working in restaurants for so long, you know what people want," Havrish said. "It's the difference between an artist and a performer. A performer gives people what they know they want, an artist gives people what they want, even if they don't know it yet."
The first rounds of the Cooking For A Classic start on Monday, February 20 with Havrish competing against Jonathan Ballard of Raleigh's Sassool on Wednesday, March 1, 2017. All proceeds and tickets for the event go to the Lucy Daniels Center, which is the Triangle's largest provider of mental health care for children.
"The majority of the families we serve do not pay the full cost of care and a quarter are served without any cost," Rosenblitt said. "These funds will help us meet the gap between the cost of services and revenues. It's an opportunity for the community to come behind us. We operate largely because of the faith and support of the community."
Preparing for the Big Day
In the build-up to the competition, Havrish said he is slowly planning, focusing on how to execute his creations.
"I want to make it consistent for everybody and every bite," Havrish said. "It's like preparing a menu where I'm reverse engineering my dishes."
Havrish said he also has to think about budgeting for the competition and how he can best pull of dozens, if not hundreds, of the same plate.
"You have aspirations for something big and ambitious but that isn't always the best idea," he said.
One other aspect of the Cooking For A Classic that makes it unique is chefs will also be judged on how they pair drinks with their dishes. Havrish admitted this is probably his weakest area and will be the toughest part of the competition.
"I have some people helping me learn who know what they're doing," he said. "And at the bistro, we use a lot of local stuff like they will have at the competition so that will make it easier."
For attendees to the Cooking For A Classic, not only will they be eating food by some of the Triangle's best chefs, but there will be auctions for "experiential packages" put together by each of the participating chefs.
"It could be a private tutoring class, it could be time with the chef in their kitchen, it could be a dinner party in the home of the bidder," Rosenblitt said.
Cooking For A Classic starts on Monday, February 20, 2017 with all proceeds going to the Lucy Daniels Center, which has provided care for more than 10,000 children and families.
---
Story by Michael Papich. Photos by Hal Goodtree, Lindsey Chester and the Lucy Daniels Center.
https://carycitizenarchive.com/wp-content/uploads/2017/01/CookingClassicCar.jpg
377
800
Michael Papich
https://carycitizenarchive.com/wp-content/uploads/2020/03/cc-archive-logo-450-v3.png
Michael Papich
2017-01-26 13:47:50
2019-12-11 19:13:45
Cary Chef in Fundraising Tournament for Lucy Daniels Center