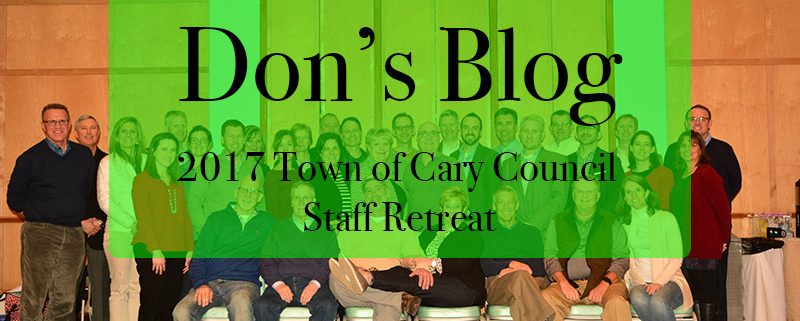 Cary, NC – This past weekend the council traveled to Wrightsville Beach for our annual council/staff retreat.
We began the retreat with a tradition we started a number of years ago where the council heads up the night before and has dinner together in an effort to get to know each other better. We ate at the Blockade Runner Hotel restaurant. The food was terrible. Seriously, $16 for a burger that tasted like it was frozen a half hour before I ate it. Hamburgers are my favorite food in the world. I eat probably 10 hamburgers a week – I know a tasty burger when I eat one. They need a Crosstown Pub, Tribeca or an Abbey Road in Wrightsville Beach bad. Anyways, we enjoyed each other's company and learned a little more about one another.
Over the years Cary has grown from a suburban boomtown to an established city that now competes with the likes of Raleigh, RTP, Charlotte and other cities across the country in regards to economic development and jobs. More people actually work inside town limits now than those who commute outside of Cary for employment.
Our Parks system is second to none. We offer an amazing array of cultural and arts programs. We host numerous festivals such as Lazy Daze (which has now grown into a two day event), the Chinese Lantern Festival, Diwali and Spring Daze just to name a few.
Cary's strict development standards and good planning have helped to ensure that development met or exceeded our community's expectations and reflected our values. Were there some mistakes along the way? Sure there were. But I think as a whole folks would be hard pressed to find a more beautiful or well planned community.
Cary is also more homogeneous than ever. 30% of Cary's population is now "not white" with our fastest growing demographic being Asian/Indian.
I could go on, but the bottom line is that Cary is one of the greatest communities in America to live, work and play.
So how do we stay that way?
THAT was the primary focus of this year's retreat.
Town staff shared a Buddhist saying (at least that's what they told us – it could have been an internet meme for all I know 😉 ) that spoke to Cary's challenges well; "If you want to know your past, look into your present conditions. If you want to know your future, look into your present actions".
Cary didn't grow into a city of 159,000 residents overnight and like it or not, Cary will continue to grow. We are too darn awesome a place not to. That presents challenges; the most significant being our infrastructure.
Our present conditions are that a large portion of Cary's infrastructure is 30-40+ years old and in need of repairs/replacement now and/or in the foreseeable future (more on this in just a bit). Our present actions include maintaining that infrastructure while at the same time planning for infrastructure that hasn't even been built yet to accommodate future growth and development.
This isn't news to anyone at town hall or the council. We have been doing this for years. Take water mains for example: In 2008 the town implemented a program to better identify those water mains in need of replacement and take care of them BEFORE they fail. This has resulted in a significant reduction in the number of water main breaks. In 2007 there were 15 separate water main failures. Since the initiative that number has dropped to an average of 3.75 failures per year. Believe it or not, 15 water main failures per year is less than average for a community of our size – but we don't settle for average here in Cary.
While Cary is no spring chicken (you can't have a Cary blog without using the word chicken once and a while), our boom years were predominantly in the 90's and early 2000's. A LOT of Cary's existing infrastructure was built during that period. Cary currently has 1035 miles of water mains – 24% of which are 40+ years old and reaching the end of its service life. So while the good news is that 76% are less than 40 years old – the bad news is it won't be too long before everything built in the 90's hits the big Four O. With each passing year the number of mains that will need repairs or replacement will continue to increase and is something that we must better prepare for. The same holds true for all of our infrastructure such as roads, stormwater management devices, parks, greenways, town facilities, sewers etc…
As the need to maintain this infrastructure to Cary standards grows, so will the pressures on the town's budget. What that exactly means yet we do not know. What we do know is that we remain committed to providing Cary quality infrastructure, services and amenities for our citizens at the lowest possible cost to you the taxpayer.
Infrastructure isn't the only thing aging in Cary. Nearly 50% of all buildings and homes in Cary were built from 1980 – 1999. 14% were built prior to 1980. Now just because something is old doesn't mean that its broken, right Jack? 😉 Heck, Cary's older neighborhoods are one of the things that makes Cary great – I wouldn't live anywhere else. They typically have larger lot sizes, mature trees, and they don't look like they were built by the same builder on the same day. But just like anything else that ages, our older neighborhoods will need more attention if Cary is to remain the premier community that we are.
12% of homes in Cary are rental. 22% of homes inside the Maynard Loop are rental. Now not all renters or landlords are bad at maintaining their property just like not all homeowners are good at it. We do have some really crappy looking owner-occupied homes in Cary. But the fact remains that rental properties do present different challenges. Renters are far less likely than homeowners to invest in their home as that is the landlord's responsibility. Landlords typically aren't going to invest in their rental property as long as the rent check keeps showing up. The landlord might not be local to our area and may not even realize that their property needs work. We can better educate them about that.
We discussed and will continue to work on ways to improve the condition and appearance of older neighborhoods either through greater code enforcement, infrastructure improvements, expanding Cary's Neighborhood Improvement Grant Program and our Housing Rehabilitation Program or possibly even expanding Cary's Project Phoenix to single family communities to address minimum housing issues. Targeted redevelopment initiatives and strategic capital improvements may also help.
Our infrastructure is aging, our buildings and neighborhoods are aging and guess what? So are you, our citizens. In 2000 the median age in Cary was 33.7 years old. The median age in Cary today is now over 40 years old with 11% of our citizens aged 65 or older. Of the 14 largest cities in North Carolina, Cary now boasts the highest median age of any of them.
The good news is that more and more folks are choosing to stay in Cary well into their retirement. The bad news is that they have less money to do that with than in previous years. In 2011 the national medium retirement income was $32,800. In 2015 that number has dropped to $26,600.
Whether through increased affordable housing options, senior/assisted living facilities, housing rehabilitation initiatives, parks and cultural programming, public transportation or other initiatives we must continue to look for ways to make Cary more livable for our growing senior population so that not only can they afford to live here, but enjoy living here.
One other retreat item we discussed outside of the scope above was the naming of Cary's agricultural park, Good Hope Farm. The site is located at the corner of Morrisville Carpenter Road and Louis Stevens Drive in west Cary directly north of the new Carpenter Park. I am pleased that we used the word "farm" in the name instead of "park" as the site will focus primarily on Cary's agricultural history and farming practices and provide educational opportunities for students and our citizens.
For the record, I along with Councilman Yerha voted against the name but for different reasons. I preferred the name "Brightleaf Farm" as this recognized the significance that tobacco farming played in the region's history – and I just thought the name sounded really cool. Some council members however opposed this as they didn't want the name to have anything to do with tobacco or it reminded them of Brightleaf Square in Durham and they wanted nothing to do with that. Whatever… Mr. Yerha voted against the name as he preferred the park's original name, A.M. Howard Farm.
Another reason I voted against the name Good Hope Farm was more process than anything else. The naming of the farm had already been tabled twice so that council members could consider other options – none of which was Good Hope Farm. This name came up at the last minute and I would have preferred more time to research what someone was telling me – especially when I perceive someone to have a personal agenda on this item. That said, now that I have had that time to do just that, I am satisfied with the name.
One last note on the retreat – I truly believe this retreat was one of, if not the best retreats we have ever had. This was due largely in part to the involvement of all town staff members who attended – not just a select few.
I have been to retreats where six or seven staff members gave presentations and/or participated in the discussion while the other 15 or so sat there and did nothing for two days because the discussion topic wasn't under their department's purview. Yet regardless of responsibility – Police and Fire, Planning, Water Resources, Public Information, Clerk's Office, Manager's Office, Engineering, Finance, Technology Services etc… they are all experts on many things Cary and should have a greater role in the process. This time they did and I know why.
If you'd like to learn even more about our retreat please feel free to visit Councilwoman Lori Bush's Blog here or Mayor Weinbrecht's Blog here. Lori's is good. 😃
No matter our challenges, it is great to be Cary. I love this place. Thanks for reading!
---
From the blog of Cary Councilmember Don Frantz. Photos courtesy of Don Frantz and Harold Weinbrecht.
https://carycitizenarchive.com/wp-content/uploads/2017/01/DonBlog-Jan31-Featured.jpg
550
800
Don Frantz
https://carycitizenarchive.com/wp-content/uploads/2020/03/cc-archive-logo-450-v3.png
Don Frantz
2017-01-31 16:46:37
2019-12-08 10:31:43
Don's Blog: 2017 Town of Cary Council/Staff Retreat