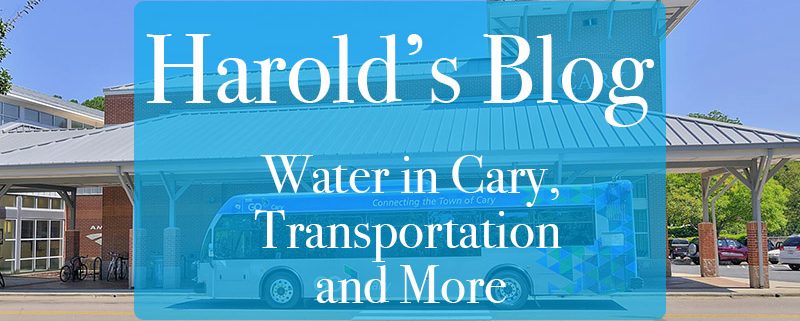 Cary, NC – This week was a little slower than usual for this time of year.
Monday – HB2 and Water in Cary
Monday I had an interview with WUNC who is doing a documentary on HB2. They asked me several questions related to the bill. Some of the points I made was that we have hosted 24 NCAA championships since 2004 and have bids in for another 27. These events bring millions of dollars of economic benefit to Cary and surrounding communities. I made it clear that Cary is a welcoming community dedicated to the principles of non-discrimination and equal protection for all. We embrace the gifts, talents, and experiences that each person has to offer, and we believe it's through mutual respect and understanding that we can reach our full potential as a community. We continue to plead with the General Assembly to come together and do what it takes to repeal the business unfriendly HB2 legislation. My interview lasted about 15 minutes. I am not sure of how much of it they will use.

Later Monday I met with the town manager and went over about a dozen items. We talked about preferences for staff reports, a downtown business, the Trimble Avenue rezoning, and updates from CBL development (the mall site), and Columbia development (across the street from the mall on the state site).
We discussed the Fayetteville lawsuit which was reported by the local newspaper as a loss for Cary. Actually, we kept our IBT (Interbasin transfer) so I don't consider that a loss. Without the IBT we would have had trouble supplying water to our citizens. Now that would be a loss. The issues with the IBT and water are complex and the major downside for Cary is that we may have to expand the water plant sooner than later.
One of our last topics is that the council and staff are creating a walking team as part of the Wake Med competition between municipalities. I am looking forward to that since I average about 13,000 steps on an average day.
Tuesday – Planning for Transportation
Tuesday I was part of a meeting between the CAMPO (Capital Area Metropolitan Planning Organization) and NCDOT (North Carolina Department of Transportation) STIP (State Transportation Improvement Program) staff. In attendance were six staff members from DOT, three staff members from CAMPO, the TCC (Technical Coordinating Committee) Chair and Vice Chair, and the TAC (Transportation Advisory Committee – or Executive Board) Chair and Vice Chair. I am beginning my third term serving as Vice Chair. One of the main discussions was the timing of the next two legs of I540. They are currently scheduled to be funded in 2020. There is an effort to move these up sooner. NCDOT staff noted that these two legs are being combined as one project. And because of the way NCDOT staff have interpreted the state statutes CAMPO could lose about $98 million. For our MPO to lose $98 million would be significant and would have direct impact on projects important to Cary. The CAMPO members will need to work to get that changed. The meeting concluded after a little over an hour.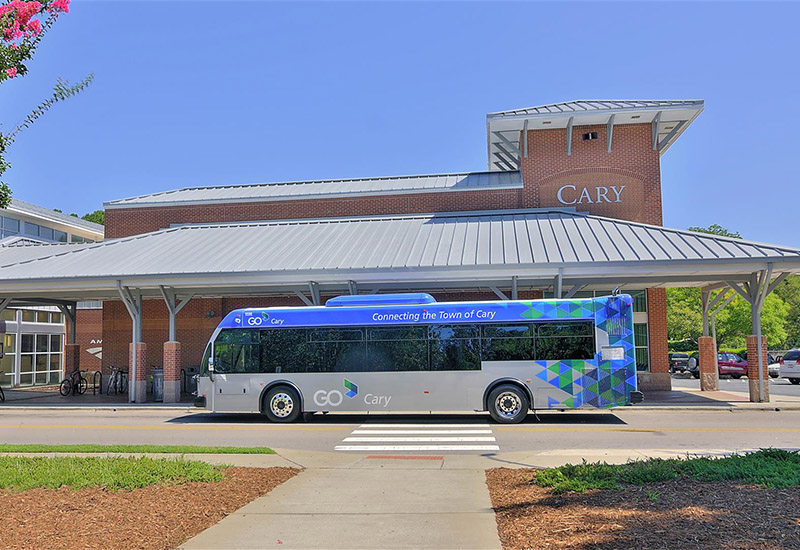 Wednesday – CAMPO Funding
Wednesday I attended the monthly meeting of CAMPO's executive board. On the agenda were three public hearings and seven discussion items. No decisions of significance were made however we did decide that the chair should contact NC Secretary of Transportation about the bonus allocation questions which could result in CAMPO losing about $98 million.
Friday – Interview About Cary
Friday I did an interview with 96.1 Radio about "What's Right About Cary". We talked about several topics and I had the opportunity to describe some of the great things in Cary. In the end they did a speed round asking my favorite things. It was a lot of fun and should air sometime next week.
Later Friday I participated in the weekly legislative summary meeting of the metro mayors. Topics discussed included even year municipal elections, making every election partisan, school class size, eminent domain, sanctuary cities, violations of public records becoming a misdemeanor, and a meeting of metro mayors and Secretary Trogdon. Our meeting lasted about thirty minutes.
Town Manager's Report
The following were included in the town manager's report to council this week:
Rating Agencies Bond Ratings Confirmed

I'm pleased to report that all three rating agencies, Moody's, S&P and Fitch, confirmed our existing revenue bond ratings this week in preparation for the March 1 bond sale. This news comes after my recent trip to NYC for presentations to the rating agencies as well as Council's action at the last Council meeting approving the resolution authorizing the issuance of revenue bonds.

Utility Monthly Update

This month's Utilities Update Report is noteworthy because it contains all of the 2016 operating data, which has been compared against previous years in many key performance areas. This report contains lots of rich information, but a few key takeaways are below:

Water treatment plant production increased from 18.1 million gallons per day (MGD) in 2015 to 18.3 MGD in 2016.
Water plant staff is beginning to detect an increase in taste and odor compounds in Jordan Lake that typically increase early each year. We are monitoring this closely and effectively removing the taste and odor compounds from finished water production.
Wastewater flows to Cary's three wastewater treatment facilities increased from 17.04 MGD in 2015 to 17.33 MDG in 2016. North Cary and South Cary average daily flows were essentially unchanged from 2015 to 2016 with Western Wake Regional increasing from 4.61 MGD to 4.89 MGD. All three wastewater treatment facilities are maintaining exceptional treatment performance with 96% nitrogen removal and 92% or greater phosphorus removal.
Sanitary sewer overflows for 2016 were on par with previous years.
Annual biosolids production is at 5,189 dry tons for 2016, which is an increase of 214 dry tons processed in 2015.

DigiPay eCheck Pilot

In pilot mode, we began offering eCheck on the DigiPay site February 2 to provide our citizens another payment method. Citizens can enter their bank routing number and bank account number to initiate an electronic debit from their bank account for the amount of their choice. This creates a transaction similar to a bank draft, but is citizen-initiated rather than Town-initiated. Without advertisement, about 10 citizens per day are selecting the eCheck option.

Like with a credit card, citizens can schedule recurring payments using eCheck. These payments carry only a 20-cent processing fee, which could provide cost savings for the Town if a citizen chooses eCheck in lieu of a credit card. The scale of the positive impacts of this payment option will become evident in payment analysis over time.

Reclaimed Water Holiday In Progress

Our annual reclaimed water system maintenance shutdown is underway as of Monday, February 13 with plans to be restored by February 23. Since 2008, the Town has implemented a 10-day shutdown during the month of February when demands are lowest in an effort to minimize any inconvenience for reclaimed customers; the reclaimed water system includes approximately 820 meters. Year-round users are able to utilize a potable backup feed for uses such as cooling towers during the temporary shutdown. One of the key tasks associated with this year's reclaimed holiday is replacing a 16-inch valve on Weston Parkway.

Bond Brothers included in USA Today's Best New Brewery Competition

Bond Brothers in downtown Cary is in the running for USA Today's Best New Brewery. It is the only North Carolina brewery on the list of 20. The winning brewery, determined by the number of votes, will be announced Friday, March 17.

Jordan Lake Water Intake Aeration System

In route from Down Under, the Jordan Lake Water Intake Aeration System has been loaded onto a ship in Australia for transport to the United States. We anticipate its arrival sometime next month.

Fluoride Update

The Cary/Apex Water Treatment Facility typically adds fluoride to drinking water as recommended by state and federal regulatory agencies and public health organizations. The fluoride feed at CAWTF has been temporarily out of service due to construction upgrades but is expected to be in service very soon. Our chemist typically receives 3-5 calls/e-mails per year with questions about fluoride. Plant staff monitors fluoride additions very closely to consistently maintain fluoride at the target concentration in our drinking water. Some of the safeguards that have been implemented to prevent an overfeed include things such as operator checks of fluoride concentrations every hour and having two operators on duty each shift.

Upcoming Staff Reports

At Tuesday's work session, staff will be presenting information about the Wake Transit Plan and the related FY18 work plan.

At Thursday's Council meeting, some staff reports include:

Ordinance amendment related to towing from private lots
Bid award for the Kilmayne Drive elevated water storage tank
Bid award for 2017 water main replacement project

Recognitions

Welcome Danna Widmar, who joined the Town on Thursday as our first Director of Special Projects.

I also wanted to share a story about a Public Works employee. John Holland was traveling to a work site and noticed a boring contractor with drilling equipment at an intersection near Highway 55. John stopped to request information from the contractor to ensure they had properly notified the Town of their location. He discovered that the contractors had not notified the Town of the intent to bore and were on target to cross a 20-inch diameter water main that had not been located. Another Public Works employee, Jeff Christian, arrived on site and confirmed the depth of the bore would have hit the 20-inch water main. A 20-inch water main is one of our larger sizes of transmission mains and would have impacted the entire western pressure zone with a sizable break and potentially triggered a boil water advisory. Fortunately the boring operation was halted just in time, thanks to the quick thinking and proactive response from John Holland and Jeff Christian.

And lastly, the Cary American Legion Post 67 recognized Officer Whitney Hall as 2016 Police Officer of the Year. She was recognized for her "keen understanding of the intricacies of criminal investigations and an appreciation of teamwork necessary to bringing offenders to justice." Congratulations, Officer Hall.
Emails From Staff
Emails this week included an announcement from WakeMed and Duke Health. They have signed a joint operating agreement to work collaboratively to create an integrated heart service line. This will bring together all of the heart services, providers and facilities of WakeMed and Duke together into a single heart service. Heart Care Plus+ is the name for the organizational, governance and administrative structure. The name will also be used to reference and describe these services for patients and physicians. There are no plans for Heart Care Plus+ buildings or building signs. Discussions are underway around similar cancer services collaboration in Wake County.
Emails From Citizens
Emails from citizens this week included:
A complaint about trees being planted in a walking path.
A request to honor an art student.
Requests to support and oppose the Trimble Avenue proposal.
A complaint of no road improvements on Carpenter Fire Station Road.
Next week will be busy and include a work session on transit, the Cary Police Department awards, a regularly scheduled council meeting, and several other meetings.
Well, that is all for this week. My next post will be on Sunday, February 26th.  Although I have Facebook and Twitter accounts those are not the best means of communications with me. Please send all Town of Cary questions or comments to Harold.Weinbrecht@townofcary.org and email personal comments to augustanat@mindspring.com.
---
From the blog of Cary Mayor Harold Weinbrecht. Photos by GoCary and Michael Papich.
https://carycitizenarchive.com/wp-content/uploads/2017/02/HaroldsBlog-Feb20-Featured.jpg
550
800
Harold Weinbrecht
https://carycitizenarchive.com/wp-content/uploads/2020/03/cc-archive-logo-450-v3.png
Harold Weinbrecht
2017-02-20 10:30:00
2017-02-20 10:03:59
Harold's Blog: Water in Cary, Transportation and More