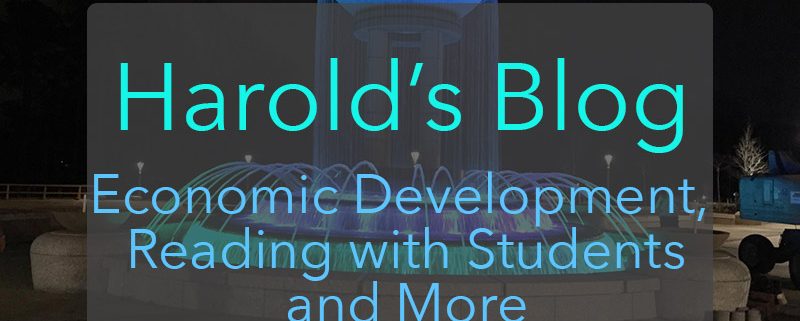 Cary, NC – This week included more talks than anything else.
Monday – New South Voices
Monday started with my weekly town manager one-on-one meeting. He updated me on several items and then he joined me as I went to speak at a meeting of the New South Voices.
There were several dozen people in attendance (I estimate over 50) of the New South Voices. They are dissatisfied with the direction of our state and nation and want to focus on issues that they believe they can get bi-partisan support such as Gerrymandering. I talked for about 10 to 15 minutes on the topic of Gerrymandering and HB2 and then answered a few questions. It is their hope to influence the next legislative election. The leaders of this group include former Cary Mayor Glen Lang. To find out more about this group go to https://www.newsouthvoices.org/.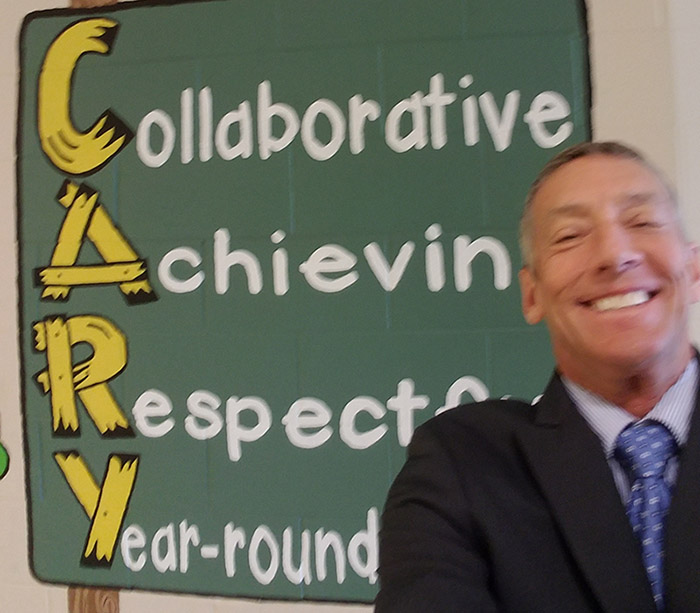 Tuesday – Read Across America
Tuesday I had the pleasure of reading a book at Carpenter Elementary as part of Read Across America. Carpenter Elementary is unique in that they chose "CARY" as their school mascot. The C stands for Collaborative, the A stands for Achieving, and R stands for Respectful, and the Y stand for Year Round Leader. I can now add another acronym for Cary to go along with "Containment Area for Relocated Yankees" and "Can't Annex Raleigh Yet." I had a great time with the Carpenter kids. After reading a book about diversity I answered a few questions. I ended my visit with a selfie of the kids and another with me and the school mural.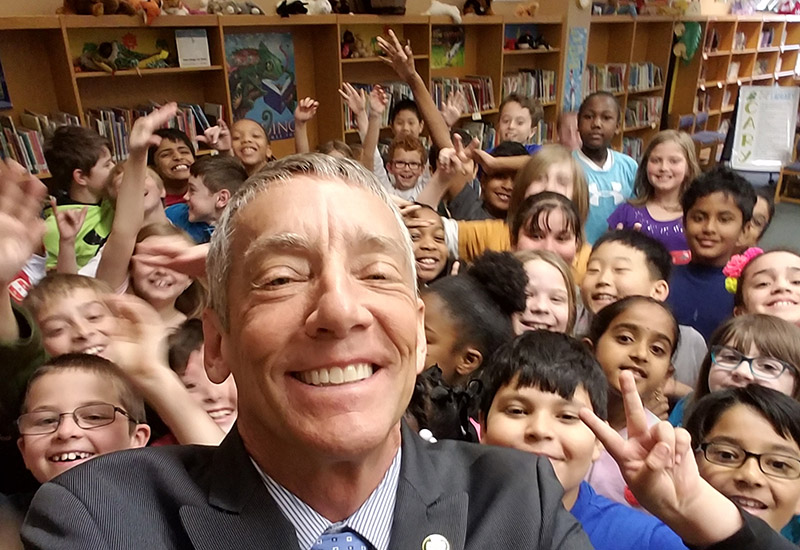 Wednesday – Economic Development
Wednesday I met with a photographer from WUNC who took pictures to go along with their documentary on HB2 and other issues. They interviewed me about this a couple of weeks ago. The photos will be used on their website and in social media.
Later Wednesday I joined two council members, Cary Chamber members, and members of our business community in a meeting of the Economic Development Board. Our first talk was on the branding initiative. First we discussed the Greater Raleigh Convention and Visitor's Bureau and their marketing campaign. Council member Smith led the conversation since he was a part of that effort. Next town manager Stegall talked about Cary's effort to rebrand and the committee unanimously agreed to move forward with this effort. The committee set a special meeting on the topic for March 28th. At that time Mr. Stegall will present his recommendation. If the committee approves the recommendation it will go to council for their approval and funding. Our final topic was the Quarterly Report of Economic Development. Here are a few notable items from that report:
Cary's inventory of land and buildings in key locations is critical to attracting and retaining companies and jobs. Our inventory on both is low.
Class A office vacancy has dropped to 7.03% which is low.
There is a strong interest in corporate offices looking to locate in downtown. There are currently 4 active projects with potentially 2000 employees.
Developers are showing strong interest in moving forward with apartments and condos in downtown.
Cary was the #1 boomtown in the US out of 572 of the largest municipalities. The criteria included unemployment rate, GDP growth, and negative migration.
Cary was the #6 city where millennials are buying a home.
Cary's Umstead was named to 2017 best hotels list.
Cary's unemployment rate is 3.5% as compared to Wake County at 4%, North Carolina at 4.9%, and the United States at 5.1%.
Current potential economic development in the pipeline includes 3400 jobs and 174 million in capital investment.
Our meeting concluded after about an hour.
Thursday – Lidl Grocery Store and Streetscape
Thursday I had the pleasure to speak about 15 minutes with high school youth who were part of the Cary Chamber of Commerce's Youth Leadership program. I talked about the council manager form of government, the council and our decisions, and my role as mayor.
Thursday evening the council held a quasi-judicial hearing for two cases. The first case was whether or not to allow a parking reduction for a Lidl grocery story on Grande Heights Drive off Harrison Avenue. While I am disappointed that we have another grocery store in close proximity of two other grocery stores, that was not our decision. Our decision was strictly on the parking and in the discussion a strong case was made that there was adequate parking with the parking reduction. In addition, it was pointed out that if parking were not available then shoppers would go to the stores in close proximity. Council unanimously approved the parking reduction. Our second case was for a reduction in streetscape for a proposed light vehicle service facility. In this case council was only considering the streetscape reduction request. The applicants argued that the streetscape requirements made it difficult to build on. The council believed there was opportunity for development on this parcel without streetscape reduction and unanimously denied the request. Our quasi-judicial meeting concluded after about an hour and a half.
Friday – Meetings of Mayors
Friday I participated in a meeting of the North Carolina Metro Mayors to get a legislative update. There were about two dozen participants. Items discussed were HB2, NC Secretary Trogdon's meeting with mayors, rural economic development, the regulatory reform act which includes doubling of stream mitigation requirements, sales tax redistribution, Carthage water, developer impact fees, the transportation formula, and the opioid issue. The meeting lasted about 30 minutes.
Town Manager's Report
The weekly town manager's report included the following:
What Works Cities Workshop
Staff from across departments, as well as Council members Jennifer Robinson and Lori Bush, attended a workshop with Bloomberg Philanthropies as part of a What Works Cities discovery session. This onsite visit allowed the WWC team to take a deeper dive into current state of practice, and offered staff the opportunity to better understand the What Works Cities initiative. What Works Cities, launched by Bloomberg Philanthropies in April 2015, is one of the largest-ever philanthropic efforts to enhance cities' use of data and evidence. The initiative will provide technical assistance to 100 cities on a rolling basis through 2018 and offer cities around the country tools and resources they need to succeed. What Works Cities was named by Forbes as "one of the biggest philanthropic bets on social change" in 2015. We began our application process earlier this year and have already completed several self-assessments.
Phase II Kick-off Meeting for Occupancy/Food & Beverage Funds Distribution
Cary is hosting the first of the Phase II stakeholder meetings on Thursday, March 9 from 9 a.m. until noon at the Herb Young Community Center. Registration will begin at 8:30 a.m. This kick-off meeting will include a review of the history of the revenues, update all parties on the current financial models and discuss principles regarding the management and use of these county-wide revenues. I'll attend this meeting, joined by Jack Smith and Lana Hygh. The meeting is being advertised as a public meeting.
Sharing Highlights from Our Council-Staff Retreat
On Tuesday, I had the pleasure of sharing my incredible experience at the annual Council-Staff Retreat with staff. Council Chambers was filled, and we even live-streamed the meeting to two dozen of our satellite facilities. I believe our retreat was a watershed moment for our organization, and truly enjoyed talking with staff about where we go from here.
Sharing Key Budget Requests
To continue strengthening relationships and building on our success with the Council-Staff Retreat, Department Directors gathered to present to and question each other on some of their key budget requests. This is a first for the organization with regards to cross-departmental sharing and another step in our ONECary approach.
Downtown Fountain Testing
Before storms rolled through Cary Wednesday night, staff gathered to conduct a short trial run of the functionality of the downtown park fountain. Testing included the initial lighting focus, some of the colors, and the impact of moving water on the light beams. Based on the photo and video, I hope you'll agree with staff that this was a successful evaluation of the fountain's capabilities.
Jordan Lake Water Intake Aeration System At Sea
The aeration system left Brisbane, Australia on February 20 aboard the NYK Futago, which took it to Auckland, New Zealand where it was loaded aboard the Spirit of Singapore. The Spirit of Singapore is heading beyond the Bay of Plenty and will soon be in the South Pacific. The ship is 10 years old, weighs 42,000 tons and is traveling at 20 knots heading east, away from Australia and is planned to transit the Panama Canal on March 13.
Bond Sale Results
We held a successful revenue bond sale on Wednesday. About $32 million in bonds were sold with an all-in interest rate of 3.44 percent. The market demonstrated strong interest in the bonds with orders totaling over $80 million for $32 million of bonds that were being sold. The interest rates held firm for the Town while rates were rising due to the Tuesday's activity which included a Presidential speech to Congress and two Federal Reserve Presidents speeches.
Congressman David Price Town Hall Event Next Week
On March 6, Congressman Price will host a Town Hall and community listening session at The Cary Theater from 7-8:30 p.m. Mayor Weinbrecht will be on-hand to moderate the event.
Old Reedy Creek Trailhead Parking Lot Open
The Town accepted the parking lot last Friday and our citizens began using it first thing on Saturday morning. Still to be finished is the bathroom, which should be completed by our contractors in the next couple of months.
Share the Love Campaign
Several PRCR facilities participated in the "Share the Love" campaign throughout the month of February. This campaign served as a fundraiser for the Relief for Recreation Scholarship Fund. Individual donations ranged from a few cents up to $100. In total, $722 was raised for the scholarship fund.
GRCVB Tourism Talk
On Monday, Dan Ault, Susan Moran and Council member Jack Smith attended the Greater Raleigh Convention & Visitors Bureau (GRCVB) event discussing the status of tourism in Wake County. Survey findings, resulting from the recent DestinationNEXT assessment completed by stakeholders, board members, government leaders and others in the community, were presented with the hope of sparking a thoughtful, productive conversation about our area as a destination center.
Recognitions
The Police Department held its inaugural peer awards ceremony last week to recognize significant acts of service for the 2016 calendar year. Six officers received life-saving awards and two were awarded the medal of valor for courageous actions in the face of grave danger to themselves. In addition, two citizens were recognized for their assistance to an officer during his attempt to place a suspect under arrest. Another citizen, Mr. Tru Pettigrew, was awarded the Police Star for his incredible efforts over the past two and a half years in helping our police better connect with the African American community. Many thanks to the Mayor, Mayor Pro Tem Ed Yerha and Council member Ken George for attending, along with Wake County District Attorney Lorrin Freeman, for joining this special event.
On Thursday, several staff answered calls to participate by representing the Town of Cary in local classrooms as part of the national Read Across America Day. Seen here is Carla Witherington from our Parks, Recreation and Cultural Resources Department reading to fifth graders at Reedy Creek Elementary School.
Join me in welcoming CJ Loomis as our new Contract General Manager with MV Transportation. MV Transportation is the current service provider under contract with the Town to operate GoCary services. CJ comes to use from Corpus Christi, TX where he served as the General Manager for its transit operations.
Emails From Staff
Emails from staff this week included a response to police training for autism. Here is an excerpt of that response from the Assistant Police Chief on our officers' training:
… all police officers receive instruction in dealing with special populations during Basic Law Enforcement Training (BLET) which includes the eight hour block Individuals with Mental Illness or Developmental Disabilities and an eight hour block Communication Skills/De-escalation. Beyond BLET, specifically, there is a 40-hour course titled Crisis Intervention Training (CIT) which focuses entirely on interacting with the mentally ill and those with developmental disabilities. I have personally completed the 40-hour CIT course and found the training to be of great benefit in communicating and serving that segment of our community. As it stands today, we have 62 personnel in the Cary Police Department that have completed this training course and are considered certified Crisis Intervention Team officers.
In addition to formal classroom training we have also centered some of our reality-based training scenarios this year around communicating with individuals with autism. As an example, officers are called to a scene in which they must effectively communicate with and calm an autistic subject in an effort to acquire him the help he may need (as outlined in the scenario). Emphasis is placed not only on effectively communicating, but de-escalation of the scene. At the conclusion of the scenario, officers involved in the scenario and trainers will discuss performance and any further training opportunities. This type of training compliments the classroom training in that the officer must put the skills they learned into practice.
As you may know, the Cary Police Department is accredited through CALEA (Commission on Accreditation for Law Enforcement Agencies).  One of the many stringent CALEA accreditation requirements includes training focused on dealing with citizens with mental illness and those with developmental disabilities, and we conduct that training at least once every three years. We will completing our additional training in this area under CALEA in 2017 as well. …
Needless to say, we have some of the best trained and dedicated personnel on our police force which helps keep us as one of the safest places in the nation.
Emails From Citizens
Emails from citizens included:
A complaint about Carpenter Fire Station Road.
A request to help with a development proposal.
Several complaints about the corner of High House and Highway 55.
A complaint about the town's website.
Two emails about quasi-judicial topics that I was not allowed to read (all information has to be presented at the meeting's hearing).
An inquiry about synchronizing traffic signals.
A request to help get IKEA to come to Cary.
Next week will be a busy one with a regularly scheduled council meeting, a town hall with Congressman Price, several meetings, and three events.
Get In Touch
Well, that is all for this week. My next post will be on Sunday, March 12th.  Although I have Facebook and Twitter accounts those are not the best means of communications with me. Please send all Town of Cary questions or comments to Harold.Weinbrecht@townofcary.org and email personal comments to augustanat@mindspring.com.
---
From the blog of Cary Mayor Harold Weinbrecht. Photos courtesy of Harold Weinbrecht.
https://carycitizenarchive.com/wp-content/uploads/2017/03/HaroldsBlog-March6-Featured.jpg
550
800
Harold Weinbrecht
https://carycitizenarchive.com/wp-content/uploads/2020/03/cc-archive-logo-450-v3.png
Harold Weinbrecht
2017-03-06 10:30:52
2017-03-06 09:54:05
Harold's Blog: Economic Development, Reading with Students and More