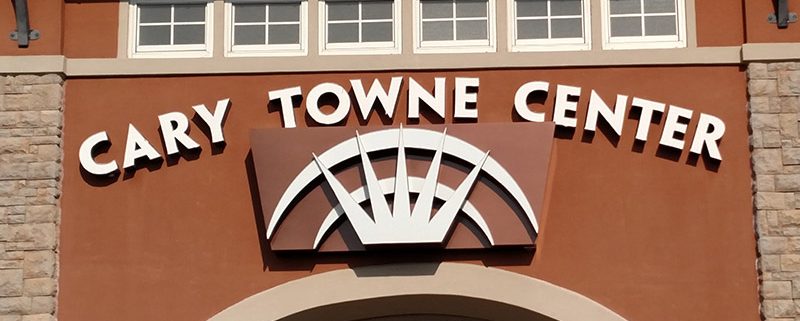 Cary, NC – The Cary development getting the most buzz lately is Cary Towne Center with talk in the air of IKEA opening their first store in Wake County there. To give residents an idea of what would change, the Town of Cary hosted a rezoning meeting for people to ask questions and learn more.
Rezoning Cary Towne Center
This Wednesday, March 1, 2017 meeting for new rezoning applications precedes the Public Hearing on Cary Towne Center's rezoning, which would be a few months away. Property owners who live within 800 feet of the mall were notified about the meeting and it was open to the public as well.
Council chambers were nearly a third filled with people for just this rezoning application and there were no shortage of questions about the mall's plans for the rezoning.
There have been many rumors about IKEA going into the mall, as well as plenty of good evidence. But Jason Barron, partner at Morningstar Law Group and representative for CBL & Associates Properties who owns the property in question, was quick to focus the discussion on the rezoning and not IKEA or whoever else might come in.
"Rezoning is about land use and not land users," Barron said.
So discussions did not include IKEA or any other specific retailer. Instead, Barron talked about the plans for the rezoning. They are asking for a new height limit of 60 feet and a new setback from Ivy Lane of 150 feet.
"When we started looking at redevelopment, we saw all the conditions that were put in place," Barron said. "Buildings could not be taller than the Belk and the minimum building setback from Ivy was 300 feet."
Barron said this limited flexibility for future redevelopment also stopped them from covering up what he called "outdated surface parking" with a parking deck.
Questions and Reasonings
As Barron admitted, this is a very preliminary period in discussions about rezoning and there is not even a date in place for a Public Hearing yet.
"We are very early in the process," Barron said.
To give people some more detail as to what Cary Towne Center would want to build, he showed a rough map of their plans. This would involve taking down the closed Macy's and Sears to make room for these buildings.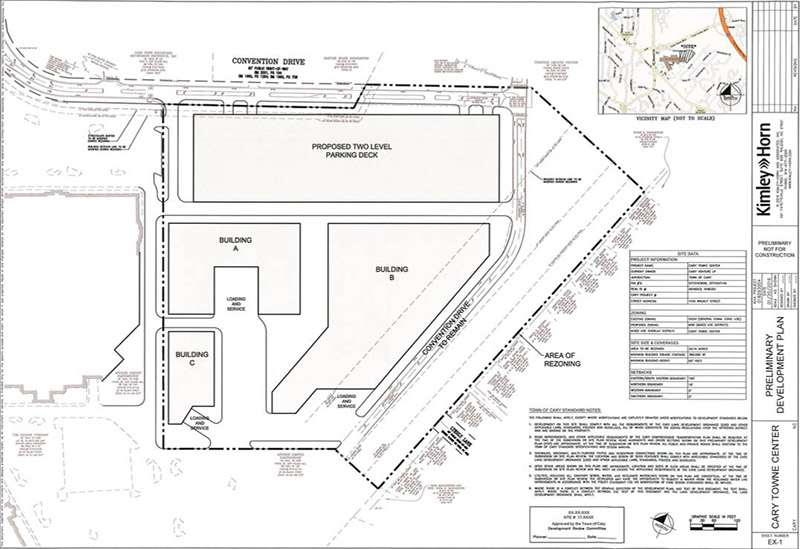 There were no specific definitions for what purpose each of the three building would serve because Barron said they wanted to be "flexible" but it would include a parking deck to the north of the buildings. Behind the parking deck would be Triangle Aquatic Center (TAC) and the Baptist State Convention of NC. Barron said they are currently negotiating with TAC on how that parking deck would be shared.
These buildings would not be attached to the mall but would preserve Ivy Lane and Convention Drive.
Questions from nearby residents asked for clarification about height and distance from Ivy Lane to ideally get a picture of what the development would look like. As far as height, Barron said the Macy's is 54 feet tall in contrast to the 60 feet they are asking for.
"This is to give more flexibility to whoever wants to come in," Barron said.
As for the 300 foot setback, Barron said that would push back the buildings to roughly the space in between Building B and the other two buildings in the diagram.
There were also questions about the traffic during construction and Barron said they are preparing a traffic impact analysis. Also, there are no plans to change the planted berm against Ivy Lane but Barron said any damage would be repaired.
But many other questions dealt with the future of Cary Towne Center in general. Nearby residents expressed frustration with the quality of the mall and Barron concurred.
"When Sears announced it was closing, it was clear something needed to be done and that was further exacerbated by Macy's closing," he said. "We share, we hope, your optimistic view of the mall and its future."
When it comes to what the new development at Cary Towne Center would look like, Barron said it will reflect a new viewpoint the mall's owners are taking.
"The indoor mall concept is dying," he said. "We are not looking for more of the same."
If rezoning is approved by the Town of Cary, Barron said his rough estimate for taking down the existing Sears and Macy's would be two years.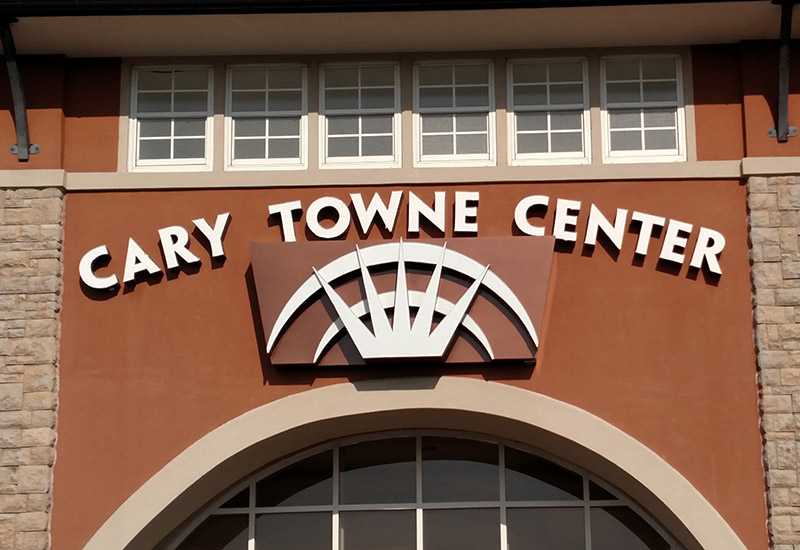 ---
Story by Michael Papich. Photos by Michael Papich and the Town of Cary.
https://carycitizenarchive.com/wp-content/uploads/2017/02/Cary-Towne-Center.jpg
550
800
Michael Papich
https://carycitizenarchive.com/wp-content/uploads/2020/03/cc-archive-logo-450-v3.png
Michael Papich
2017-03-06 13:01:15
2017-03-06 11:37:46
More Info on Cary Towne Center Rezoning at Town Meeting