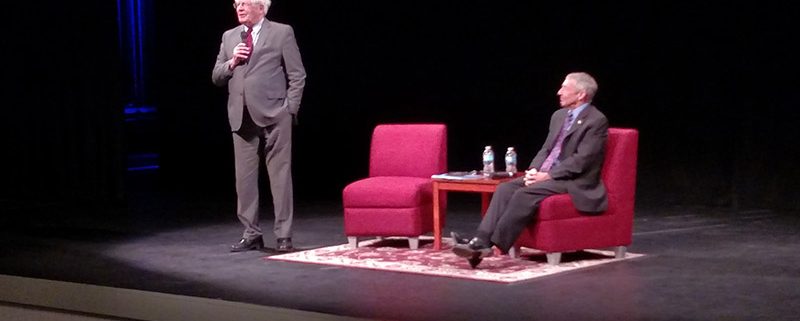 Cary, NC – Downtown Cary saw visitors from all around central North Carolina as U.S. Representative David Price held his fourth town hall of the year.
Health Care Big Topic
Price held this town hall at the Cary Arts Center on Monday, March 6, 2017 and constituents from Durham and Chapel Hill to Fuquay-Varina and Apex came to ask questions or listen to their representative speak. Before questions, Price was introduced by Cary Mayor Harold Weinbrecht and he spoke about his disagreements with President Donald Trump and proposed policies from congressional Republicans.
"It seems like it's been a lot more than 40 days," Price said. "I believe going forward, our country and what we stand for will be tested, though I would prefer we not have to."
While Price got dozens of questions, many of them touched on health care, particularly health insurance, the VA system and the plans for repealing and replacing the Affordable Care Act. In fact, the first question of the night was about the high cost of health care.
"Emergency department charges are appalling. When it comes to the price of health care, those compensation agencies, whether it's insurance or the VA or whoever, ought to demand a change," Price said.
Price also added high deductibles have become a "disincentive" for care and again called for insurers to be accountable.
Two military veterans spoke at the town hall, one of whom was currently undergoing chemotherapy, and talked about not only a lack of access to care but said the VA's own town halls have not been advertised or held. Price urged both people to contact his office to help them get seen.
"I don't want to suggest I can solve every problem at the VA but if there is a patient with inordinate difficulties, I will work to get them heard," Price said.
Price also said he would look into their claims that the VA has stopped holding town halls for information about patient care.
"I want to know about any slip-ups because that is the only way they can get fixed," Price said.
Another speaker at the town hall brought up problems with the websites for health care exchanges, particularly with Blue Cross Blue Shield. As Price talked about the possible ways to clear up these website issues, calls for "Medicare for all" policies came from the audience, although the man asking the question did not appear to be in favor of this policy.
Price said there were definite problems with the roll-out of the Affordable Care Act but pointed to what he saw as positives, such as the lower rate of premium increases. And Price also said the Republican replacement plan would cause even more confusion.
"There will be a firestorm when the Republican repeal plan comes out," he said.
On a similar subject, a speaker asked if Price would take a pledge to support a single-payer health care system, citing similar systems in the United Kingdom. Price said he was open to that as a "reasonable alternative" but said it ought to be on the table in about 20 years.
"That is not the battle we're having right now. Now we're fighting for basic coverage," he said.
Another speaker said a friend of his has recently been diagnosed with leukemia, which in the previous years would have been deemed a "pre-existing condition" and could make that person ineligible for health insurance. Price said he would work to make sure pre-existing condition protections are in any health care replacement bill.
"It really is about life and death," he said. "It's as basic as that."
Possible Budget Cuts
Price is the ranking Democrat in the House for the Transportation, Housing and Urban Development Appropriations Subcommittee and he talked about cuts proposed by the Republicans for the new budget. While Price did not think transportation would be as heavily affected, he said cuts to housing would be bad.
"These steep cuts are self-inflicted damage," he said.
Budget and appropriation cuts came up throughout the town hall, with Price mentioning cuts to the Environmental Protection Agency (EPA) repeatedly because of its labs and research centers in North Carolina. Price was asked about his anti-war stance and he criticized cuts to the State Department while increasing the military budget, framing it as prioritizing combat over diplomacy.
"I want a strong military and support for NATO. That does not mean poking other countries in the eye," he said.
When it came to questions about cuts to things such as the EPA, Price pointed to blanket appropriation cuts which he said would "decide the budget in advance."
"No one will say they support cutting cancer research but then they turn around and cut cancer research," he said. "When are people going to get wise to it?"
On questions of debt and deficit reduction, Price said it was telling that calls for cutting did not touch what he called the drivers of the deficit – tax loopholes and entitlement spending – while only targeting domestic programs.
"I understand the need to be fiscally responsible but this talk is as phony as a three dollar bill," he said.
When asked how he would cut entitlement spending, Price suggested more means testing of programs such as Medicare premiums.
At one point, someone in the audience challenged Price's assertions that domestic programs could be funded given the country's $20 trillion debt but Price said that level of debt is sustainable given the gross domestic product.
"Don't just throw a number out and expect it to fix a problem," he said.
Democratic Engagement
Numerous speakers thanked Price for holding the town hall and criticized North Carolina Senators Richard Burr and Thom Tillis for not holding similar events. Price did not comment on the senators but said early on that he was heartened by the large turn out to the town hall.
"It's a good sign. It shows democracy is alive and well," he said.
Several questions touched on redistricting, or gerrymandering as Price described it. Price pointed to a number of states that independently draw congressional districts – California, Arizona, New Jersey, etc. – and said that is a fair system that North Carolina should implement.
"With redrawing my district, fortunately Cary is back in it," he said.
There were speakers who asked Price for advice on how to get engaged with the political process and Price said he could not give specific advice because it was a congressionally-sponsored event. However, he did tell people to continue to talk to elected representatives and noted how many people were new to this process.
"There are a lot of people who haven't been involved until this season," he said.
Price talked about how elected officials in both parties are more reluctant to speak to people "outside of their base," which he said he dislikes, and said many representatives are more insulated because of redistricting so they are less likely to work with the other party.
"It's not like it used to be with a good number of moderate Republicans," he said.
Related to questions of redistricting, Price was asked about voting rights and whether there were plans for a new Voting Rights Act after the Supreme Court struck down parts of the law in 2013.
"Those bills exist and I am co-sponsoring every one of them," he said, adding he wants to forbid all voter ID laws in the state.
Another theme throughout the event were people talking about recent shootings and murders of people of Southeast Asian descent such as those in Seattle and Kansas. One speaker talked about her own confrontation with a man at the Crossroads shopping center in Cary who told her to "go back to her own country." Price commended the Town of Cary on its work to promote diversity and inclusivity and said this is an approach that can stop these attacks.
"Our community leaders need to take the initiative to show what we're about," he said.
Price's next town hall events are in East Chapel Hill High School in Chapel Hill on Saturday, March 11 and Broughton High School in Raleigh on Monday, March 13, 2017.
---
Story and photos by Michael Papich.
https://carycitizenarchive.com/wp-content/uploads/2017/03/DavidPrice1.jpg
550
800
Michael Papich
https://carycitizenarchive.com/wp-content/uploads/2020/03/cc-archive-logo-450-v3.png
Michael Papich
2017-03-07 11:26:42
2017-03-08 09:34:49
David Price Talks Health Care, Budget Cuts in Cary Town Hall