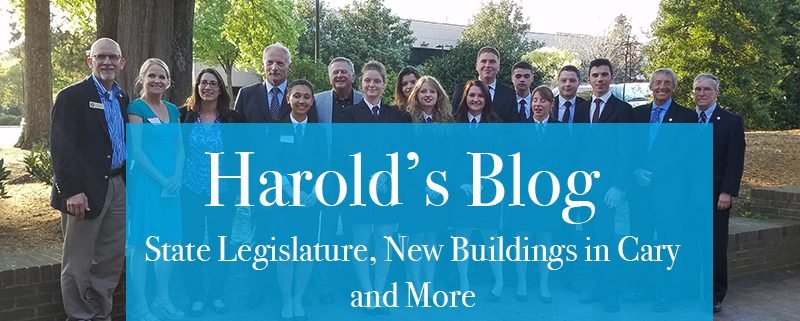 Cary, NC – This was my first week back after spending the week in Augusta, Georgia working at the Masters Golf tournament. This was my 39th year volunteering at the tournament.
Monday – State Legislature
Monday I called council members to hear of any questions or concerns about Thursday's upcoming agenda. I was able to contact all council members and there were very few minor questions. Later in the day I met with staff to go over the agenda. Are meeting was very short and I anticipated the council meeting on Thursday would be less than an hour.
Later in the day I, along with Mayor Pro-Tem Yerha, met with the town manager for my weekly one-on-one. This week we spent most of our time talking about legislative action that is harming Cary or costing Cary money. Here are some of the legislative items:
H436 Local Government/Regulatory Fees: These are impact fees charged to developers for the impacts they create with their projects. If they are not paid by the developer then all Cary taxpayers will have to pay for their impacts. This could have a $11.6 million impact on Cary annually. We would have to raise our tax rate about 5 cents to make up the difference.
H340 Special Allowance for Firefighters: This creates a new benefit for firefighters similar to the current special separation allowance for law enforcement. While it is a fantastic idea, the legislature does not plan to fund it. That means it will cost Cary taxpayers an estimated $2 million over the next 5 years.
H310 Wireless Communications Infrastructure Siting: This eliminates local authority to control the placement of small cell wireless on light poles and in public right of way. If you thought cell towers were ugly you haven't seen nothing yet.
S94 Elections Transparency: This would make local elections partisan starting in 2019. Now that is a brilliant idea especially since partisan elections are working so well at the state and national levels. NOT! It doesn't matter if you are a Democrat, Republican, etc. when it comes to keeping people safe, putting out fires, building parks, providing water/sewer, and other municipal services. Why they would want to make local elections partisan is beyond me.
H64 Municipal Elections in Even-Numbered Years: This would move local elections to a ballot already crowded with everything else instead of odd years when people can focus on the local issues each candidate presents. Another woefully bad idea.
H507 Land-Use Regulatory Changes: Makes zoning enforcement more difficult creating incentives for developers to sue municipalities. Limits local governments from requiring property for transportation improvements that go along with development. Another bill to help developers at the expense of everyone else. At least we know who is contributing to the legislators' campaigns.
S434 Amend Environment Laws 2: Would essentially cut Cary's stream buffers in half. Keep in mind that stream buffers protect our drinking water supply. Nothing like polluting an already polluted drinking source more. Another unbelievably dumb idea.
S296 Road Improvements Near Schools: Limits types of road improvements a municipality may require of a school. NCDOT would be required to make the improvements. Another bad idea since NCDOT can't come close to keeping up with road demands now.
If any of these bother you PLEASE contact your local legislators. You can find them at http://www.ncleg.net/gascripts/counties/counties.pl?county=Wake.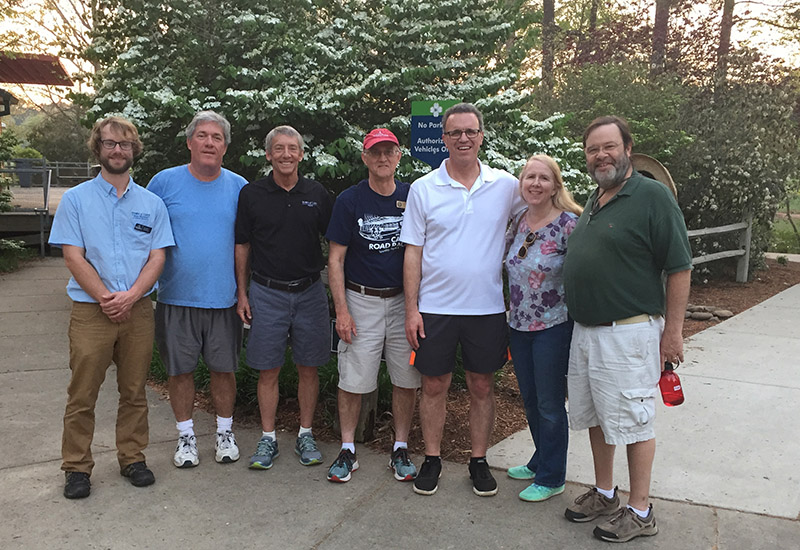 Tuesday – Yak and Trak
Tuesday I participated in what I hope will be a regular event, "Yak and Trak". There were only a small number of people who participated but I believe that is because it was spring break and a week night. The first part of the event was a kayak and canoe trek around Bond Lake. It was a beautiful day and we enjoyed all the wildlife and scenery.
Three of us were in kayaks and two were in canoes. Afterwards we walked part of the Black Creek greenway and trails around Bond Park. My Fitbit measured a little over one and a half miles. It was fun doing the exercise and talking with folks about various topics. I hope you consider joining me in the future.
Wednesday – Tallest Building in Cary
Wednesday I participated in the "topping off" ceremony at SAS. This is a celebration of the last beam being put in place. I was able to sign the beam and have my picture made in front of it before it was hoisted in place. It was a great day for SAS and for Cary with over 200 people in attendance. It will be the tallest building in Cary once completed. This building also signals the health of Cary's largest employer, SAS, and the health of Cary. We are so fortunate to have such a great company like SAS in Cary providing high paying professional jobs to our citizens and citizens from neighboring municipalities. They are one of the reasons why Cary is such a great place to live, work, and play. SAS's success is our success and we look forward to many more years of success and our partnership with them.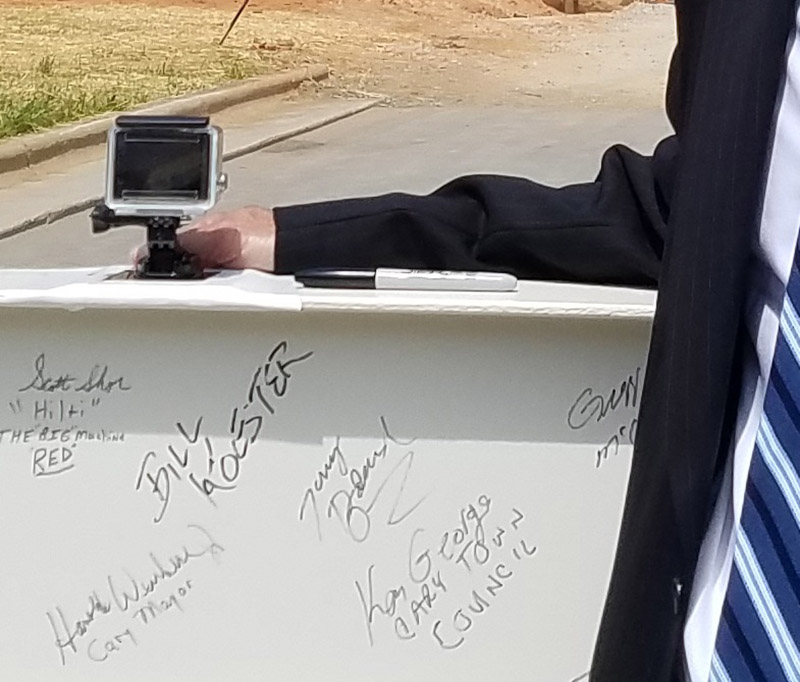 Wednesday I joined Mayor Pro-Tem Yerha in a meeting with the owner of the Triangle Aquatic Center known as TAC. He shared his plans for the next 10 years which included three phases of expansion. Phase 1 would include parking to replace mall parking. Phase 2 would include additions to the existing TAC structure. Phase 3 would include a new facility with new pools. He said that once these three phases are completed TAC should be the largest swim facility in the country. We look forward to working with TAC to resolve issues to help make their vision a reality. Our meeting lasted about an hour.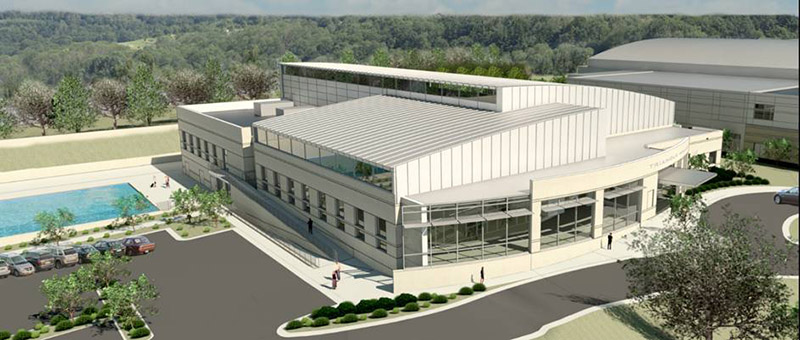 Thursday – Town Council Meeting
Thursday I joined several council members at the Page-Walker to visit with exchange students from our sister city in Le Touquet. They are here for a few weeks working in various restaurants in the area. I will be traveling to Paris and Le Touquet on April 23rd.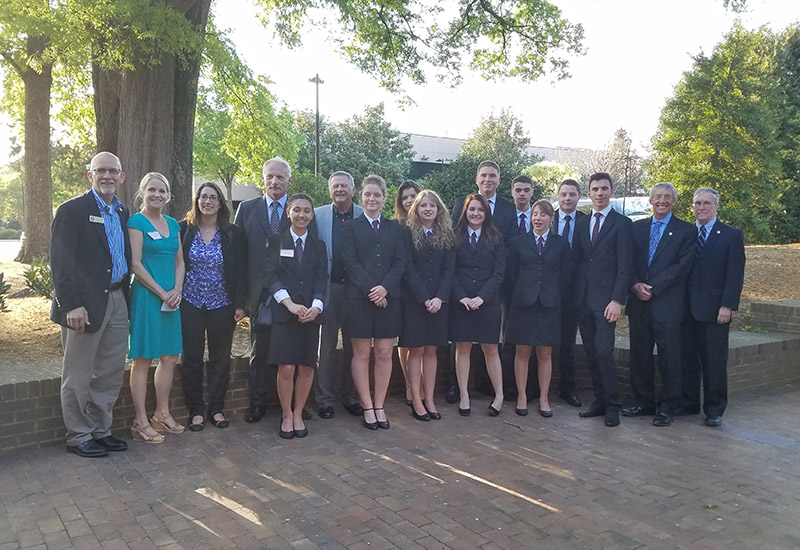 Thursday the council held its first regularly scheduled meeting of the month. There were 4 consent agenda items, 1 public hearing, and 2 discussion items. Our public hearing was about the proposed development at two corners of Cary Parkway and Evans Road. Several proposals have come to the council over the last decade and have been withdrawn or denied. This proposal would have a retirement facility next to the neighborhood and apartments across the street. Most of the speakers did not have an issue with the retirement community but council members and speakers had concerns about the apartments. This will now go to the Planning and Zoning board boar their recommendation. Council held a brief discussion on the 2017 fiscal year road improvements before unanimously approving. In the final discussion item council decided to invite people to make wishes and throw money in the new downtown fountain. Money collected from the fountain will be used for our Parks and Recreation youth scholarship fund.
Town Manager's Report
The town manager's report for this week included the following:
April Meeting Combo

Due to a light agenda for the Council meeting on April 27, staff is proposing to move the April 25 work session to the 27th immediately after the regular meeting. As a sneak peak, the April work session will include a Legislative update and discussion around the Downtown Park. Your calendars have been updated accordingly.

GPS Added to Police Radios

GPS Location Services have been added to all police portable radios. This service increases officer safety by allowing the Emergency Communications Center (ECC) and police staff to visually see field unit locations in the Computer Aided Dispatch (CAD) system when officers are outside their vehicles. Cary is the first agency in North Carolina to implement this technology.

General Assembly Update

Lana and I continue to closely track the bills filled this session. We have updated our website with a listing of legislation of concern for our Town. This list includes the impact fee bill, municipal elections in even-numbered years, and special separation allowance for fire fighters.

Transit Planning Advisory Committee Meeting Update

TPAC met on Wednesday to review public and agency comments received regarding the draft FY18 Work Plan, draft Wake Transit Implementation Financial Policies, and proposed modifications to the FY18 Work Plan based on public comments received. The Town has no proposed modifications to FY18 projects. The most common comments received included:

Many existing riders asked that transit agencies consider increasing peak service, midday service, evening service and weekend service on existing routes.
Many residents expressed concern over the impact bus rapid transit might have on gentrification and displacement along New Bern Avenue and in other parts of Raleigh.
Many comments asked for consideration using alternative fuel buses (most specifically electric buses) in order to lower local emissions and improve public health.

The most common Cary-specific comments included general enthusiasm over existing service, expanding service and adding a park-and-ride facility in West Cary, and requests for routes on NC-55, Cary Parkway and Weston Parkway. Expanding the GoCary service area to include new routes will be part of future Work Plans.

It is anticipated that the TPAC will recommend a final FY18 Work Plan for CAMPO and GoTriangle Executive Board approval at their April 25 TPAC meeting.

Google Introduces New Installation Technology

Google recently proposed using a micro trenching (MT) installation method for their fiber network. MT involves cutting a four-inch deep trench where the asphalt meets the curb, installing the fiber, then back-filling the cut with a sealant material. MT significantly increases fiber installation speed and eliminates the need to dig up yards during installation; both items mitigate installation inconveniences on citizens.  Additionally, MT mitigates the chance of utility strikes. MT was used during Google Fiber installation in Austin, TX.

The Town of Morrisville approved a pilot neighborhood for Google to use MT for installation. The Town of Cary also used this opportunity as a pilot and did not locate any utilities in the neighborhood. On March 23, Town staff met Google Fiber staff in Morrisville to see the MT installation process. We are happy to report that no utilities in the neighborhood were hit during installation.

Town staff is working with Google Fiber to determine an area in our Town limits to pilot Google's micro trenching fiber installation method to see short term impacts, and consider long-term impacts.

Cary Hosts Annual Triangle Bike & Pedestrian Workshop

Last Friday, over 80 bicycle and pedestrian advocates, planners and designers gathered at the Cary Arts Center to talk about recent improvements, plans, experiences, and ideas for improving and increasing bicycling and walking in our Triangle community.

Thanks to Council member Lori Bush for providing the welcome and for setting a great example by riding her Elf to the workshop! After a morning of great speakers and community updates, several attendees participated in a bicycle tour on the Black Creek Greenway and a walking tour of downtown.

Fayetteville v. EMC et al

This week, Cary and Apex jointly filed a response in EMC and DEQ's appeal of the Administrative Law Judge's decision in the Fayetteville IBT challenge. Please contact Chris Simpson if you have additional questions.

Project PHOENIX Egg Hunts

The Project PHOENIX team hosted the first Egg Hunt this week. Children of Chatham Forest were invited to decorate bags before being released to search for the prize-filled eggs. Fire fighters were on hand to make the day even more special. Approximately 35 residents were able to participate. Several other Egg Hunts are planned at various PHOENIX communities throughout the month.

WCPSS Cablecast Pause

This week we were contacted by the Wake County Public School System and asked that they be removed from our cable programming while they work on technical improvements. They will notify us again when they are ready to return to our channel's schedule. In the meantime, citizens can access WCPSS information via their social media channels.
Emails From Staff
Emails from staff this week included the following update on street projects:
Currently we are in the process of acquiring right-of-way for the remainder intersections, which include the following…
Cary Parkway at Evans Road
NW Maynard Road at High House Road
Kildaire Farm Road at Cary Parkway
Construction on these intersections should start in the Fall of 2017.
Emails From Citizens
Emails from citizens this week included:
An information request for stormwater control in Hillsdale Forest
A complaint about Cary's downtown not being vibrant (we have been working on this for years and we are getting there)
A concern about people running the traffic signal at Walnut and Sturdivant
Comments for and against the proposal at Evans and Cary Parkway
A concern about signage at the downtown post office
Next week's activities include a meeting with the state property representatives across from the mall, a meeting of the Wake County Mayors Association, several private meetings, a meeting of the Capital Area Metropolitan Planning Organization's executive board, a meeting with a homeowners association, and a meeting of the metropolitan mayors.
Get In Touch
Well, that is all for this week. My next post will be on Sunday, April 23rd.  Although I have Facebook and Twitter accounts those are not the best means of communications with me. Please send all Town of Cary questions or comments to Harold.Weinbrecht@townofcary.org and email personal comments to augustanat@mindspring.com.
---
From the blog of Cary Mayor Harold Weinbrecht. Photos courtesy of Harold Weinbrecht.
https://carycitizenarchive.com/wp-content/uploads/2017/04/Haroldblog-Apr17-Featured.jpg
550
800
Harold Weinbrecht
https://carycitizenarchive.com/wp-content/uploads/2020/03/cc-archive-logo-450-v3.png
Harold Weinbrecht
2017-04-17 11:51:41
2019-12-08 10:38:59
Harold's Blog: State Legislature, New Buildings in Cary and More