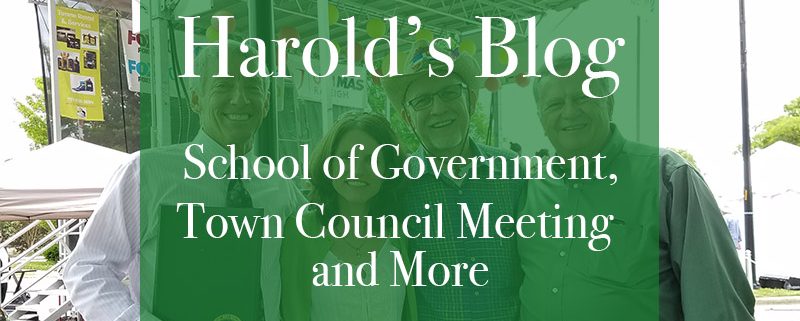 Cary, NC – This week was a typical week for mayoral duties.
Monday – Planning for the Week
Monday I attempted to contact council members to hear of any questions or concerns about the regular council meeting agenda for Thursday. I was able to contact all council members and there were no questions since the agenda was very short and had no public hearings. Later in the day I met with key staff members to go over the agenda. The meeting lasted about 5 minutes. Afterwards I met with the Assistant Town Manager and the attorney to discuss matters related to an upcoming rezoning proposal.
Tuesday – Cary Community Plan
Tuesday I met with a group of family members about the Cary Community Plan and how it impacts their potential to develop their property. In the past the Land Use Plan and the Zoning had to match before development could begin. Now the plan, The Cary Community Plan, is more of a guideline and a rezoning request can be made without changing the plan. Basically it is one less step and allows the town to be more flexible. The only drawback is if you make too many exceptions to the plan. Council should only make exceptions to the plan if there is a compelling reason.
Later Tuesday I met with two business leaders who wanted to discuss the future of the 13 acre site that houses the Mayton Inn and the downtown park. Their concerns and questions will continue to be addressed with the town manager and staff.
Wednesday – School of Government
Wednesday I had the pleasure of joining five other council members at Cary's School of Government graduation ceremony at the Cary Arts Center. The evening started with a slide presentation of downtown from our downtown manager Ted Boyd. He talked about new additions to our downtown and what we can expect in the next couple of years. Next the council members fielded questions from the graduates which covered a wide variety of topics. Then the graduates were called up one at a time to receive their diplomas. Afterwards a reception was held in the Principals room. The entire event lasted about two and a half hours.
Thursday – Town Council Meeting
Thursday I attended a fundraiser for former Cary Mayor Pro-Tem Gale Adcock who represents Cary and others in the NC House. What a remarkable person. She is one of the few that understands that more can be accomplished by putting the citizens first and making political party interests secondary. We need more like her on the state and national levels. Thanks to Gale for all she does for Cary and North Carolina.
Thursday evening the town held its first regularly scheduled meeting of the month. The meeting began with the town manager formally presenting his budget to the council. The rest of the meeting included two items on the consent agenda including minutes, no public hearings, five discussion items, and a closed session. The discussion items were mostly bid awards and memorandums of understanding. All we passed unanimously with staff recommendations. The council adjourned the meeting after an hour and a half.
Friday – State Budget
Friday I participated in a legislative update meeting of the North Carolina Metro Mayors. Most of the time was spent talking about the NC Senate budget that was sent to the NC House. One item of good news from the budget was that sales tax redistribution was not included. One other item talked about in the meeting was the legislation to increase the age for juveniles committing felonies.  A summary was also given on the rural day and tourism day at the legislature. The meeting lasted less than half an hour.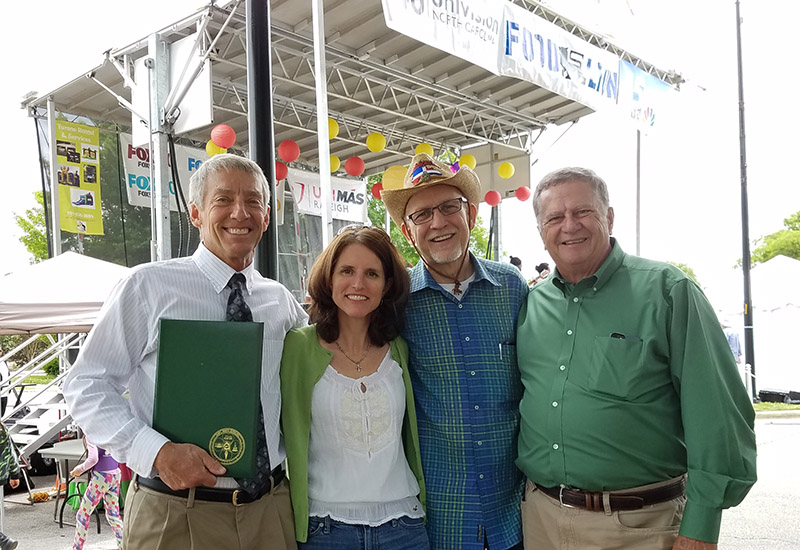 Saturday – Ritmo Latino
Saturday I had the joy of attending the 13th annual Ritmo Latino festival in Cary. Ritmo Latino is a festival showcasing Latino music, dance, and visual arts. I was joined by council members Smith, Robinson, and George. Before taking the stage and reading the proclamation recognizing Ritmo Latino I took photographs with the council members and with The Consulate General of Mexico. I also took pictures with the boy scouts who were leading the pledge of allegiance. Once on stage I read the proclamation in English and council member George translated. After several other speakers the music and dancing resumed.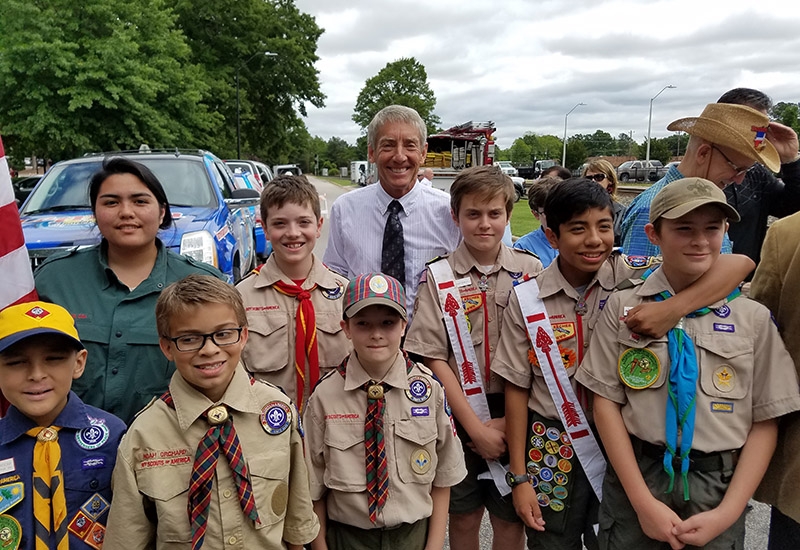 Town Manager's Report
The town manager's report for the week included the following:
Healthy Rewards Results

As health care costs continue to be a challenge, Town employees continue to make their health a priority. We are continuing to focus our collective efforts on keeping health care costs down and working toward being the healthiest we can be. Human Resources, in partnership with Wake Med, just wrapped up our annual onsite health screening initiative, Of our current 1,226 employees, we had 1,184 participate. That's an amazing 97% participation rate! Comparatively, employers typically see participation rates between 60-70%. Town employees have embraced the screening initiative and various wellness opportunities available to them.

National Bike to School Day

Town staff and Council member George joined Northwoods Elementary School in celebrating National Bike to School Day on Wednesday morning. Over 40 students and their parents lined up outside of Godbold Park to travel approximately one-mile along Northwoods Greenway to the school. Northwoods Elementary has participated in Bike to School Day each year since it began in 2012.

Cary Recognized as Certified Community Wildlife Habitat

On Monday, the Town was recognized by the National Wildlife Federation as a Certified Community Wildlife Habitat. We join 100 other communities in the nation that have received this honor. In Cary, this means that over 400 homes, schools, churches, businesses, and public spaces have committed to actions in their outdoor spaces for wildlife. Council members Bush and Yerha were in attendance for the event on Monday and unveiled a sign that will be placed in a strategic location on a Cary roadside the recognizes this accomplishment.

FY18 Recommended Budget

Along with presenting the FY18 budget to Council Thursday evening, staff gathered to learn more about the budget being recommended this year. As I've done before, for my colleagues who are unable to attend in-person, I'm pleased that we were able to stream the presentation to our staff working in our facilities all over Town. The presentation touched on the concept of "living in two worlds" and the need to shift from an annual budget "event" to quarterly updates using rolling forecasts for increased responsiveness and agility.

In addition, I wanted to share the letter I wrote to Mayor Weinbrecht and Members of Council as it relates to the budget. And, as promised, the article that I referenced about the orchestra Orpheus. I'd love to hear your thoughts on either of the documents.

Foundations for Global Success: Zoom-in on India

On Friday, two people from the NCSU Global Training Initiative were on-site to conduct a training with Department Director's focusing on the Indian population and specific cultural differences between the US culture and the Indian culture. We talked about the strategies for working effectively with the Indian population in the areas of communication, trust, authority figures, decision-making, motivation and the concept of time. The idea of gaining a better understanding of Indian culture was discussed at the Council/staff retreat. Thanks to Renee and Karen Spurlin for organizing this training!

Leading Organizational Innovation

A cross organizational group of staff attended a one-day Leading Organizational Innovation workshop made possible through an IBM Impact Grant. The workshop provided tools to create a culture of innovation, how to foster creative leaders, as well as a process for implementing innovative initiatives.

Police Officers Pilot New Approach Downtown

As downtown continues to develop and more businesses open, the Police department is looking for ways to engage citizens as they visit downtown. With the new Downtown Park also open, it is even more important in these early stages for citizens to feel safe and know that downtown is a safe venue in the evenings. As part of a pilot project, one or two officers will be on a downtown foot/bike patrol on Friday and Saturday evenings/nights. It's important to recognize that this pilot is not driven by enforcement needs, rather as another way for police officers to be ambassadors for the Town's downtown efforts. This pilot will run approximately four consecutive weekends and will be reevaluated at the end of that timeframe. While we do not see a downtown foot patrol being needed full-time at this point, we believe experimenting during this early stage will allow us to set the friendly tone moving forward.

Recognitions

Cary's Utilities staff presented at this year's Laboratory Technology Day held each year at NC State. This is an opportunity for utility staff across the state to observe presentations on various topics related to laboratory issues. We would like to recognize the work of Rachel Monschein and Erin Lee for their presentation on Optimizing Powder Activated Carbon for Taste and Odor treatment. Rachel and Erin's work has been instrumental in refining the Town's drinking water strategy to ensure high quality and consistent drinking water throughout the year, regardless of seasonal variations in source water.

We'd also like to recognize Kelly Spainhour and Damon Forney for their presentation, at the same conference, on a joint collaboration with Winston-Salem/Forsyth County and the State Laboratory Certification Branch to achieve regulatory standards for thermally dried biosolids. Both Cary and Winston-Salem operate thermal biosolids drying facilities.

And a shout-out to Police and PRCR for teaming up with Duck Donuts for a "Cops on Top" fundraiser for Special Olympics NC. Chief Godwin and Sgt. Burgin camped out on the roof of the donut show while families enjoyed face painting, basketball and other activities. The event aimed to increase public awareness and unify athletes with and without intellectual disabilities. The Town's Inclusion Program Assistant was on-site to promote the Town's specialized recreation programs. In total, the event raised $2,700 for Special Olympics NC.
Emails From Citizens
Emails from citizens this week included:
Concerns about construction fencing around the downtown park.
A request for a crosswalk.
A request for a 100% clean energy program.
Several emails supporting and opposing a rezoning on Trimble.
A question about the future of TAC.
A question about intersection improvements.
A question about the homeless in Cary.
A complaint that we should be spending more money for potholes (BTW, Cary will fix any pothole inside the town limits upon request).
Next week's activities include a Teacher Appreciation event, a Mayors Association meeting, a Capital Area Metropolitan Planning Organization meeting, a town hall meeting with Representative Adcock, and the Fest in the West event.
Get In Touch
Well, that is all for this week. My next post will be on Sunday, May 21st.  Although I have Facebook and Twitter accounts those are not the best means of communications with me. Please send all Town of Cary questions or comments to Harold.Weinbrecht@townofcary.org and email personal comments to augustanat@mindspring.com.
---
From the blog of Cary Mayor Harold Weinbrecht. Photos courtesy of Harold Weinbrecht.
https://carycitizenarchive.com/wp-content/uploads/2017/05/HaroldBlog-May15-Featured.jpg
550
800
Harold Weinbrecht
https://carycitizenarchive.com/wp-content/uploads/2020/03/cc-archive-logo-450-v3.png
Harold Weinbrecht
2017-05-15 10:14:22
2017-05-15 10:15:53
Harold's Blog: School of Government, Town Council Meeting and More