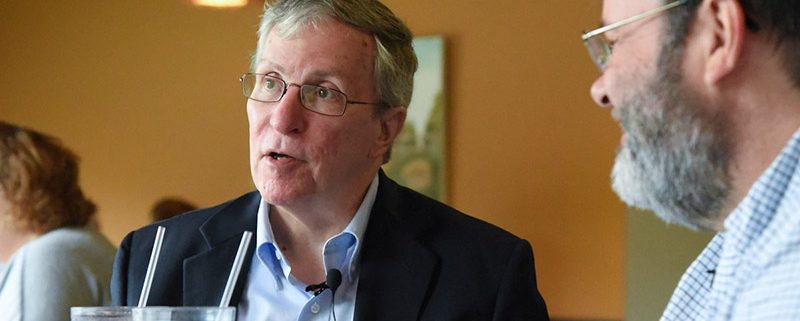 Cary, NC – In the third installment of History for Breakfast, we sat down with Cary history experts Ed Yerha and Brent Miller at Famous Toastery to talk about a wide array of Cary's history, from the significance of downtown to the Page family and more.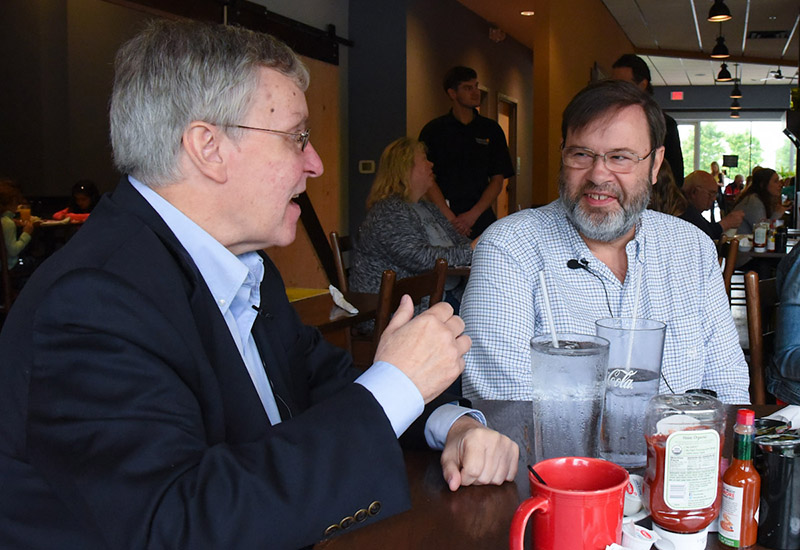 You can also listen to the full conversation on Soundcloud.
Key to any discussion about history is its importance and Yerha said understanding how Cary started helps explain where the town is now.
"Cary was founded by an entrepreneur. A lot of towns were founded in different ways but ours was founded by an entrepreneur," Yerha said. "I think that has a lot to do with Cary's entrepreneurial spirit over the years."
Cary's emphasis on education also comes from this founding entrepreneur, Francis "Frank" Page. Or more specifically, it comes from his wife Kate, whom Miller said was highly educated for the time.
"They valued education and we continue to value education. I think that's an important aspect as well," Miller said.
Page's influence on Cary is vast, from founding it to being its first mayor to building the historic Page-Walker Hotel and more. In fact, before its founding, Miller said the town was referred to as "Page's Depot" or "Page's Station" and sometimes just "Page's."
But the eventual name of Cary came from Samuel Cary, a preacher who shared Frank Page's temperance beliefs. While Miller said it was unlikely Cary himself ever visited the area, he gave a talk in Raleigh in early April and six weeks later, the town was established and named after him.
Cary, who was from Ohio, fought as a Union officer in the American Civil War, which Yerha said gives the town the distinction of being a Southern town named after a Union soldier.
"A lot of people talk about Cary as 'containment area for relocated yankees.' Well actually, Cary was named after a Yankee," Yerha said.
But Yerha and Miller also said the Page family was not interested in the Southern side of the Civil War, trying to keep Cary out of the fighting as much as possible. If you've ever wondered why Cary does not have any memorials or historic sites from the war, that's why.
This also ties in with Page's son Walter Hines Page and his belief that Cary could represent "the New South."
"I still think we think of Cary as somewhat new, innovative, a little more sophisticated," Yerha said. "Unlike a lot of other towns – although it had its problems same as everyone, especially in the South – was kind of a step ahead of everyone else in race relations."
And like entrepreneurship and education, this piece of Cary's past carries over to the present, with the town's emphasis on diversity.
"We have all kinds of festivals in the area for all kinds of diverse cultures," Miller said.
It was Walter Hines Page, with a push from his educated mother Kate, who made education and public education in particular a priority in Cary. Eventually, he would take this cause state-wide.
"Walter believed in a very free public education without barriers, considering race or religion or place of origin or economic status," Yerha said. "Which is one of the things that worked toward the creation of North Carolina State University."
While Walter Hines Page traveled around the United States and Europe, getting a classical education in Greek and Shakespeare, he wanted the state university to focus, as Yerha called it, "practical" subjects such as agriculture and building.
And agriculture connects to the other important piece of Cary's beginnings. As you may have noticed, many of Cary's historic sites and buildings are either farms or connected to farming in some way. Miller said Cary started out as a very agriculture-focused area, which continued into the middle of the 20th Century.
"If you look at two of our landmarks: the Carpenter farm supply building and the Carpenter feed store right across from it, they are also there to serve farmers," Miller said. "In Cary, things grew up around the railroad and things grew up around agriculture."
Cary's history of agriculture has continued into the present, with the AM Howard Farm now becoming the Good Hope Farm to lease land to people just starting out farming.
"There's a park across the street where they intend to do agricultural education as well," Miller said.
If you're interested in learning more about Cary history, Miller has put together a presentation with the Friends of the Page-Walker on Tuesday, May 23, 2017 called "What Have We Got To Lose" at the Page-Walker Arts and History Center at 7:30 PM.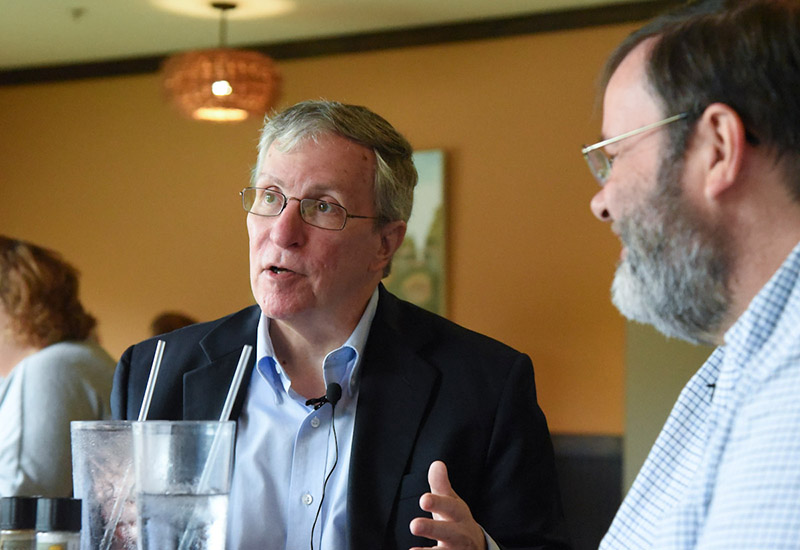 Audio: Hear the Whole Conversation
Listen to our whole History for Breakfast conversation with Ed Yerha and Brent Miller:
---
Story by Michael Papich. Photos by Hal Goodtree.The History for Breakfast series is sponsored by Famous Toastery in Waverly Place.
https://carycitizenarchive.com/wp-content/uploads/2017/05/YerhaMiller3.jpg
550
800
Michael Papich
https://carycitizenarchive.com/wp-content/uploads/2020/03/cc-archive-logo-450-v3.png
Michael Papich
2017-05-15 13:05:33
2020-03-07 17:47:43
History for Breakfast: Ed Yerha and Brent Miller