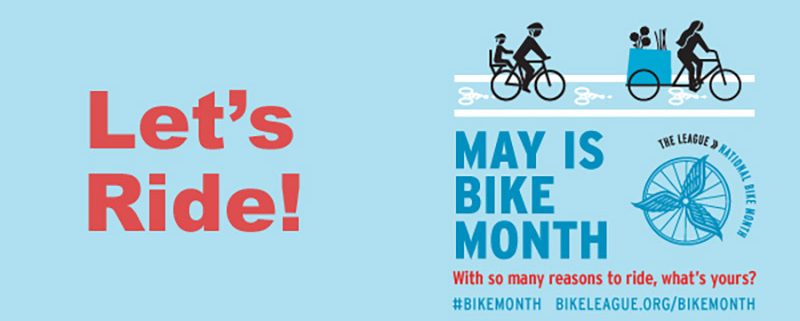 Cary, NC – "I want to ride my bicycle, I want to ride my bike."
See if you can get that earworm outta your head NOW.
I'll wait…
It's National Bicycle Month – what does that actually mean, and why should you care?
I'm glad you asked.
Because this month there are so many ways for you to not only get out and see Cary and our community on your bike, but you will also notice that lots of folks are already doing so – and we all want to be safe out there.

My Bike History  (a short tale, like me)
I'm kinda a bike nerd.  I didn't start that way. I took easy rides with the family and enjoyed just getting out there with the kids.
My family – many years ago
Then, I had this friend, Wayne, who first got me on a road bike.  (Let's all blame him. OK?)  I started taking my hybrid on the road, but I found it so very heavy to do longer rides.  I moved up to a road bike, so much lighter and easier to maneuver.  But I was scared – mostly about all the spandex that folks wear, but also about the vulnerability of being on the road, next to vehicles that could easily bump or hit me.  I know that I'm no threat to a car – but I also know how easily it is to be distracted as a driver, and miss seeing a cyclist. It's something I think about all the time when I'm on the road.  
I started my first rides with the goal of eventually riding a Century (100 miles – yes, in a day) at the Multiple Sclerosis BikeMS ride.
I began with short rides – 5, 10 miles, then another at 20.  I was motivated by the safety of some of the fundraising rides, with a pack of cyclists, roads that are closed and flanked by police officers – and also the lure of ice cream at the end of the best rides.  My first long ride was a metric century with my friend Donna – who coaxed and cajoled me when I didn't have the energy to keep going.  She's also the one who got me over the finish line of my first 100 mile ride —- singing horrible songs to keep me going the last 10 miles.  Yes, I was trying to bike away from that. You would too if you heard her.
Eventually I brought in my mom and daughter into the biking family.  We even did the BikeMS ride together – not a lot of 3 generations out there in Spandex.  Trust me on that one.  (And yes, I'm still scared of Spandex.)  And yes, my daughter DID beat me over the finish line at 75 miles that day.
75 mi BikeMS ride with my amazing daughter
And now, I'm a fan of my Elf. I wrote about it before, here, but it gives me a commuter and errand vehicle, that's safer, more visible, and easy to use for those types of trips.
(Yes, I take it to Town Hall, and to the grocery store and for coffee.)  All of my bikes have a purpose and use, and I'm a fan of each one of them.
National Bike Month
Enough about me.  This is about May being National Bike Month.
I wanted to share my experience because biking has really changed my world view in so many ways.
– It's given me a new way to get exercise while commuting and running errands.
– I've connected to a whole new group of people in the community.
– I found ways to combine my passion for finding an end to MS, with my love of cycling through MS Rides.
– I feel like I help the environment everytime I choose NOT to drive, and to ride my bike instead
– I've found new ways to connect with my family through cycling – it's an activity for all ages (ask my 70+ year old mom, she's out there riding all the time!)
Biking does more than help you stay fit, connect with the community, and help the environment, it can help reduce traffic, stress and slow you down.  A recent CNNTech article says that bikes will eventually rule the roads.
Bike Interest Grows
Interest in cycling is growing.  Raleigh has a new BikeShare program. Wake County is looking at the possibility of a Cycling center at RDU. And I've talked about finding ways to make cycling safer – such as separate biking lanes for the future.
Cary is Committed to Bike and Ped Safety
The Town of Cary continues to prioritize bicycling as a major mode of transportation and has finalized the implementation of transportation bond bicycle improvements. These improvements include the installation of 14 miles of bicycle pavement markings, the installation of 4 bike lockers at the downtown Cary Depot, installation of bicycle and pedestrian counting devices, development of a Bike/Hike mobile application and the construction of the New Hope Road and Reedy Creek Road Trailheads.
C'mon Out and Bike
There are a number of events and activities to celebrate Bike Month.
Check out Cary's Bike Month page, and Raleigh's and Durham's.
– Bike to School Day – Wed, May 10th
– Bike to Work Week – May 15-19th
– Bike to Work Day – May 19th
– Ride of Silence – May 17th – a silent bike ride to honor those who have been injured or killed while bicycling on public roads to raise awareness.
Be Safe
Let's face it – we've had it tough in Cary over the last year when it comes to cycling accidents in the news.  My heart is heavy with the impact that these events have had on two of my co-workers and their families – one from the Town and one at Cisco.  Nothing can mend the pain we feel when something so tragic happens, we need to look at what we can all do to be safe, moving forward.
Just remember, that a bicycle is a vehicle, and NC traffic laws treat cyclists as drivers of a vehicle. Because of that, a bicyclist is allowed to travel on all public roadways except fully controlled access highways (freeways) such as interstates. And follow the rules of the road – obey all traffic signs, signals and lane markings.
NC law requires that any person under the age of 16 riding a bicyle as an operator OR passenger, must wear a Helmet.
Vehicles must provide at least 4 feet of space while passing a bicyclist or completely enter the left lane like they would for any other vehicle.
Go with the traffic flow – not against it.
But there is more that we can do.
I'd like to see Town Council add a Bicycle and Pedestrian Commission in place, similar to Raleigh and Durham. I suggested it over a year ago, and will bring it up again as we continue to review our boards and commissions. I believe that we could leverage the amazing intellectual capital and experience of the cycling community and the walking fans, to give us THEIR TAKE on what we need to be doing.
With 80 miles of greenways – and access to the American Tobacco Trail in our back yard, there's no reason not to jump on a bike and explore.  Be safe, and I hope to see you out there!
---
From the blog of Cary Councilmember-At-Large Lori Bush. Photos courtesy of Lori Bush.
https://carycitizenarchive.com/wp-content/uploads/2017/05/letsride.jpg
348
800
Lori Bush
https://carycitizenarchive.com/wp-content/uploads/2020/03/cc-archive-logo-450-v3.png
Lori Bush
2017-05-16 10:30:15
2020-03-07 17:47:45
Lori's Blog: Let's Go Ride A Bike