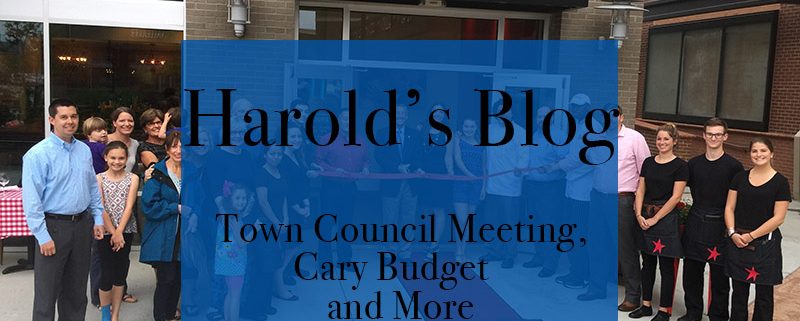 Cary, NC – This was my last week before the yearly family vacation.
Monday – Planning the Week
Monday I traveled to Augusta, Georgia so Mayor Pro-Tem Yerha called council members to hear any concerns and questions about the Thursday regularly scheduled meeting agenda. There were no questions and the meeting was very short.
Tuesday – Cary Budget
Tuesday I was back in Cary and the council held its first work session on the budget. The work session was spent on the Capital Budget and Improvement plan. Notes from the meeting included:
With our current tax base one cent on the tax rate equals roughly $2.5 million.
There is $240.5 million budgeted in our five year general capital programming.
Parks programmed through 2022 included:

Neighborhood park at Green Level Church Road and McCrimmon Parkway
Neighborhood park at Carpenter Fire Station Road and Highcroft Drive
Future phases of the downtown park
Mills park community center
Improvements at WakeMed Soccer Park
Improvements at Cary Tennis Park
Historic town facility preservation
Improving and expanding our greenways

Transportation programmed through 2022 included:

General street improvements
Intersection improvements
Carpenter Fire Station Road/CSX Rail Grade Separation
Carpenter Fire Station Road Widening from NC 55 to Cameron Pond
Green Level Church Road from McCrimmon Parkway to O'Kelly Chapel Road
Reedy Creek Road Widening from NE Maynard to North Harrison Avenue

There were also significant Transit improvements, sidewalk improvements, utility improvements and upgrades, facility improvements, downtown improvements, and affordable housing.
Our next budget work session will be on June 6th and will include:
Discussion on comments made at the budget public hearing
Follow-up on the capital budget
The operating budget presentation
Wednesday – Restaurant Opening
Wednesday I had the pleasure of cutting the ribbon for the new Stellino's Italiano restaurant at Parkside Commons which is located next to the movie theater. I was joined by Mayor Pro-Tem Yerha. We were treated to a dinner of tasting many of the dishes they serve. There was not one appetizer, entrée, or desert I didn't love and I am a picky eater. Our dinner companions were the owners Chef Corbett Monica and his wife Julie and several key people involved in the restaurant. The food was amazing! This is an absolute must try if you like Italian food. I can't wait to go back. I wish them much success in the years to come.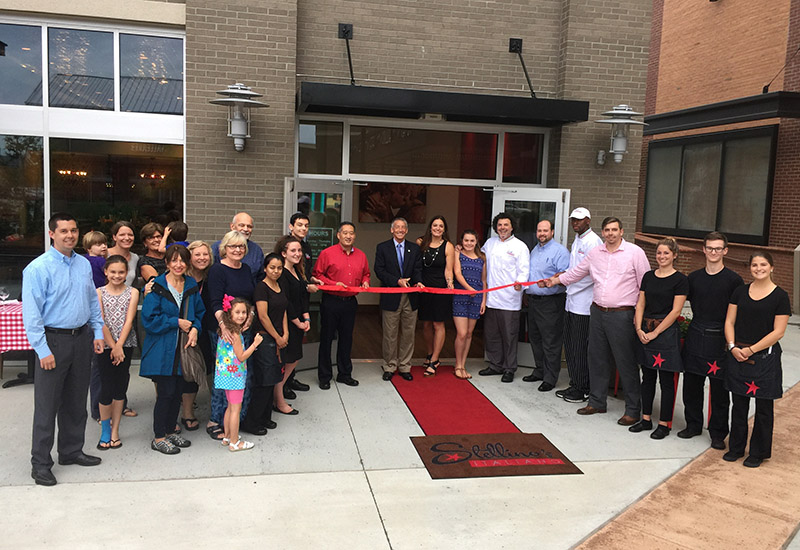 Thursday – Town Council Meeting
Thursday the council held its second regularly scheduled meeting of the month. There were three presentations, nine consent items, three public hearings, two discussion items, and a closed session. The meeting lasted about an hour and forty five minutes. The town was recognized twice at this meeting. First we were recognized with the silver designation for a walkable community. What a great honor especially as we continue to work on becoming a more walkable community. Hopefully, they will be back in the future awarding us with a gold designation. The second recognition was from the North Carolina Government Finance Officers Association Award of Excellence. It was the 32nd consecutive year Cary has had this recognition. What a great finance and budget staff we have. The third presentation of the night was the town recognizing 60 years of support from the Cary Lions Club. Over 50 years ago I played on a baseball field they built. We look forward to continuing our partnership with the Lions Club of Cary.
The budget public hearing that had the most speakers. Speakers from non-profits gave thanks for past and future support. There were also speakers requesting the town to budget money to buy open space. Under discussion items the council unanimously approved the bid award for the White Oak Greenway project.  Once this section of greenway is completed you should be able to go from north Raleigh, through Cary, to the American Tobacco trail, and to Durham. This is a big milestone for our greenway system.
Town Manager's Report
The town manager's report this week included the following:
Budget Process Continues

On Tuesday we had a productive first work session on the budget framework and the Capital Budget Improvement Plan. We'll continue at the work session on June 6 focusing on the Operating Budget. And don't forget, the Question Board remains open throughout the process, so if you have questions or are looking for additional information, please let us know.

Siemens USA Small Business Supplier Awards Ceremony

Mayor Pro-Tem Ed Yerha and Council Member Ken George attended a Siemens USA Small Business Supplier Awards ceremony on May 23. Siemens is Cary's fourth largest employer. Mr. Yerha welcomed the attendees and presented Cary's history through the lens of small business and entrepreneurship. NC Economic Development Partnership Vice President John Loyack also spoke to the group which came to Cary for this event from all over the United States. Executives from each of Siemens USA's eleven divisions presented a small business supplier with an award related to their innovation, collaboration and service. Also attending were Harry Swendsen, Regional Industry Manager at the Economic Development Partnership of NC and Lana Hygh.

April Development Reports

The Planning, Zoning and Development Report and Construction Activity Report for April 2017 are now available. The Interactive development ESRI map also illustrates active, in review and approved development projects. In addition, the current list of development projects in review and the approved development projects list as of May 2017 are also available.

Ongoing Sunshine Trainings

In an effort to celebrate Sunshine Week all year long, the Town Clerk's Office is hosting quarterly trainings on Sunshine related topics for employees. The first quarter training, on Thursday, provided information about records management, public records and open meetings. Also, Technology Services provided an overview of searching text messages on phones and how to provide the messages if requested.

National Public Works Appreciation Week

The team at Public Works marked national Public Works Appreciation Week on Wednesday. The theme this year was "Public Works Connects Us," and the day was complete with competitions including cornhole, basketball and an excavator pin game. Davis Reynolds, Cecil Sheppard, Ben Jones and Stephen Miles prepared a barbeque feast, and staff from other departments served the crews. Doug McRainey was on-hand to deliver thanks and appreciation to the significant part Public Works played in earning the Town the Gold Medal Award. And, as always, Scott Hecht's love and admiration for his Ops Center family was on full display.

Sister Cities Event

On Monday, Council Members Smith and George attended the Sister Cities event, "Sounds from the Heartstrings of Motherland." This event, hosted at the Cary Arts Center, celebrated the 2017 Asian Pacific American Heritage Month and Taiwanese Heritage Week.

Recognitions

A recognition to the good sports and great public servants in the Fire and Police Departments. At this year's Public Safety Day competition, the Fire Department swept all three events of the competition against Police.

Chad Stephenson took the bench press event
AJ Leighton captured the dead lift competition
Kevin Moody conquered the push-up event

As for the Tug-of-War competition…some might say it was Fire Department domination. Thanks to everyone who participated!
 Emails From Citizens
Emails from citizens this week included:
Comments for and against the Trimble rezoning
Comments about sprucing up the Veterans Park before Memorial Day
An email campaign from several people wanting the council to budget money for open space purchase
Comments against a proposed rezoning at Evans and Cary Parkway
Next week I will be on our annual family vacation out of state.
Get In Touch
Well, that is all for this week. Because of my vacation my next post will be on Sunday, June 11th.  Although I have Facebook and Twitter accounts those are not the best means of communications with me. Please send all Town of Cary questions or comments to Harold.Weinbrecht@townofcary.org and email personal comments to augustanat@mindspring.com.
---
From the blog of Cary Mayor Harold Weinbrecht. Photos courtesy of Harold Weinbrecht.
https://carycitizenarchive.com/wp-content/uploads/2017/05/HaroldsBlog-May30-Featured.jpg
550
800
Harold Weinbrecht
https://carycitizenarchive.com/wp-content/uploads/2020/03/cc-archive-logo-450-v3.png
Harold Weinbrecht
2017-05-30 10:25:18
2017-05-30 10:02:01
Harold's Blog: Town Council Meeting, Cary's Budget and More