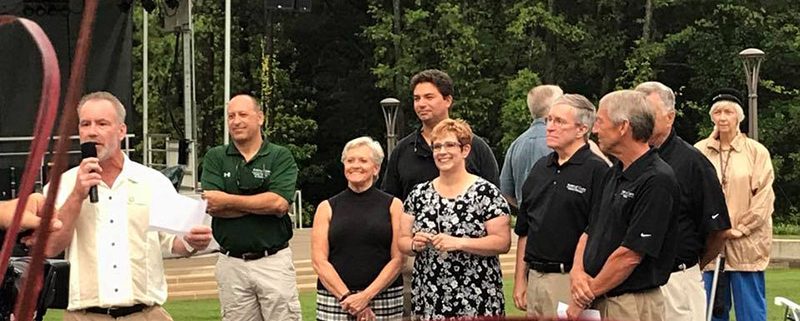 Cary, NC – At our meeting this past Thursday the council approved the fiscal year 2018 Budget. The budget totals roughly $311 million with $242 million for operations and $68 million for capital projects. The FY18 budget is 2.9% LESS than the FY17 budget.
Budget highlights include:
Cary's tax rate remains unchanged at 35 cents
Solid waste fee remains unchanged at $16 per month
Funds a new Police Detective Position to help address the growing opioid crisis
$3 million for a grade separated crossing at Carpenter Firestation Road and the CSX Railroad
$1 million for historic preservation initiatives
Funds the design of the new Cameron Pond Park
Reedy Creek Road Widening Project (more on this later!)
This will be our first budget year shifting away from an annual budget event to one that more closely resembles the corporate model where our town staff will present quarterly updates to council using rolling forecasts of both revenues and expenditures. Should we discover during the quarterly update process that our revenue forecast is beating budget, we might be able to fund another project before the next budget cycle. Should we discover that our revenue forecast is lower than budgeted, we could decide to put a project on hold. This will provide for greater flexibility and responsiveness to our community's needs.
The completion of the Higgins Greenway project for example is one that could be considered at the next update as we are waiting for more information regarding Parks and Rec payment-in-lieu funds. The Higgins Greenway project would provide a greenway connection to downtown for a number of area neighborhoods and is something that both Mayor Pro Tem Yerha and I have been trying to get completed for years.
I can't thank our town staff – especially the fine folks in budget and finance – enough for their amazing work in helping us craft a fiscally responsible budget that meets our community's goals, advances the policies and vision set forth in the new Cary Community Plan and keeps taxes low – the lowest of any municipality in Wake County btw ;-)
Downtown Park Dedication
This past Saturday we FINALLY dedicated the new downtown square and fountain. About time right? This was a wonderful event despite the fact that somebody forgot to tell Mother Nature it wouldn't be a good time for a severe thunderstorm. I was completely blown away at how many folks chose to weather the storm in nearby businesses and CAME BACK once the rain stopped. The place was packed before and after the storm!
Both Mayor Weinbrecht and myself spoke prior to the ceremonial coin flip and fountain light show.
My remarks were brief (I know, surprise right?) and can be summarized as follows: 1) Heck yeah this is awesome and 2) You ain't seen nothing yet!
The downtown square and fountain (phase 1 of the downtown park) is but one acre of what will be a seven acre park in downtown Cary. We still have six acres to go. So if this is what one acre of the downtown park looks like, I can't wait to see how the remaining six acres turns out! You can read more about the plans for phase 2 of the downtown park here.
We were also thrilled that NC House Representative and former Town Council Member, Gale Adcock could join us for the festivities. Gale was on the council when we approved the park and was also a big part of making this happen. While we greatly appreciate everything she is doing for us in Raleigh, we still miss having her on the council – oh boy do we ever.
Great things are happening in and around our downtown and with your continued support we intend to keep it that way!
On a related note – Cary's Downtown Manager, Ted Boyd will be giving his third "Ted Talk" at The Cary Theater on July 19th. He will be updated folks on current and future projects downtown to be followed by a question and answer session at the end. You can learn more about the event here.
Reedy Creek Road Widening
At our meeting this past Thursday the council approved the Execution of the Locally Administered Project Agreement for the Reedy Creek Road Widening Project with NCDOT.
The Reedy Creek Road Widening Project will:
Widen Reedy Creek Road between Harrison Ave. and Maynard Road to a consistent three lane cross-section
Provide sidewalks for pedestrians
Provide bike lanes for cyclists
Provide a 12' landscaped median where turning lanes are not required
Include roundabouts at both the entrance to the Middle and Elementary Schools as well as the intersection of Reedy Creek Road and Dynasty/Electra Drive to reduce vehicle speeds and better protect pedestrians – especially school children.
Improving Reedy Creek Road has been a priority of mine and the surrounding community for a long time. I can't tell you how pleased I am to finally see this project move towards construction. Thanks so much to the fine folks in Cary's Transportation and Engineering Departments for all of their hard work, the surrounding community for all your input and NCDOT. This has truly been a team effort.
Well that's all for now. As always, thanks for reading!
---
From the blog of Cary Councilmember Don Frantz. Photos courtesy of Don Frantz.
https://carycitizenarchive.com/wp-content/uploads/2017/06/DonBlog-Jun27-1.jpg
550
800
Don Frantz
https://carycitizenarchive.com/wp-content/uploads/2020/03/cc-archive-logo-450-v3.png
Don Frantz
2017-06-27 09:30:14
2017-06-27 15:43:45
Don's Blog: FY18 Budget, Downtown Park Phase 1 Dedication and Reedy Creek Road Widening