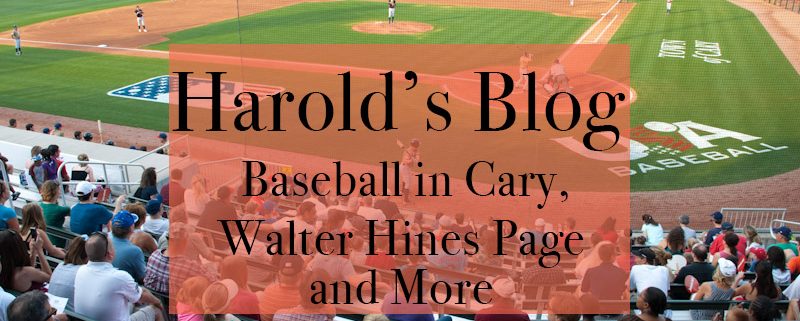 Cary, NC – This week was much slower than previous weeks as things finally slow down a little for the summer. 
Monday – Walter Hines Page
Monday I met with a group representing the Women's club that is interested in naming something after Walter Hines Page who is the son of Cary founder Frank Page. One of the group members is writing a book about Walter Hines Page. Here is an excerpt from what they gave me:
… Walter Hines Page (1855-1917) was as his highway history marker indicates a multi-dimensional man of three celebrated careers: journalism, publishing and diplomacy.

His last career was Ambassador to the Court of Saint James, London, England during WWI. It was a political divisive time in our history; his service was personally challenging.

Walter Hines Page spent most of early working years as a man of letters, a journalist, a publisher/editor and mentor to building authors of North Carolina. He is held to be singularly responsible for saving one of the country's most influential literary magazines, The Atlantic Monthly – still in circulation today. Additionally, and for a short time he owned a newspaper in Raleigh (the State Chronicle) that evolved into the News and Observer. And his own news magazine, World's Work, published in New York City from 1900-1920, became a widely-circulated publication, respected and imitated for its introduction of photography into newsprint.

As a publishing partner at Doubleday, Page and Company, he mentored and published young authors like North Carolina's short-story master, Greensboro born O. Henry and Tar Heel novelist Thomas Dixon. He opened the publishing doors for black author Charles W. Chestnut, W.E.B. DuBois and Booker T. Washington whose Up From Slavery gave Doubleday, Page an early bestseller. Long is the complete list of authors published by Walter Hines Page. Here in Cary lived a lad whose future gifts to the world were nurtured by a mother who read to and with him every day of his young life, ensuring a lifelong thirst for the wonder within the pages of a bound volume. Thank you Catherine Frances Raboteau Page.

With such a passionate involvement in all things literary, it is no wonder that Walter Hines Page became a powerful spokesman/advocate for public education in the State. (Of course there is the small matter of his father's support and co-founding of the original Cary Academy that became the first publicly funded high school in the State and was constructed on the land across the street from the new library.) In a commencement speech in 1897 at the State Normal & Industrial College for Women – the forerunner of the Women's College and later UNCG – Walter Hines Page coined the catch-phrase and reformation rallying cry of "The Forgotten Man," to depict and proclaim the uneducated among us. Many of his words from that speech ring true today as the State faces another challenging discourse on the condition of public education in North Carolina. …
We talked about a center in the new library and how it could include information about this important person in Cary's history. They are also interested in naming the center after him. They will be asking the County Commissioners about the naming.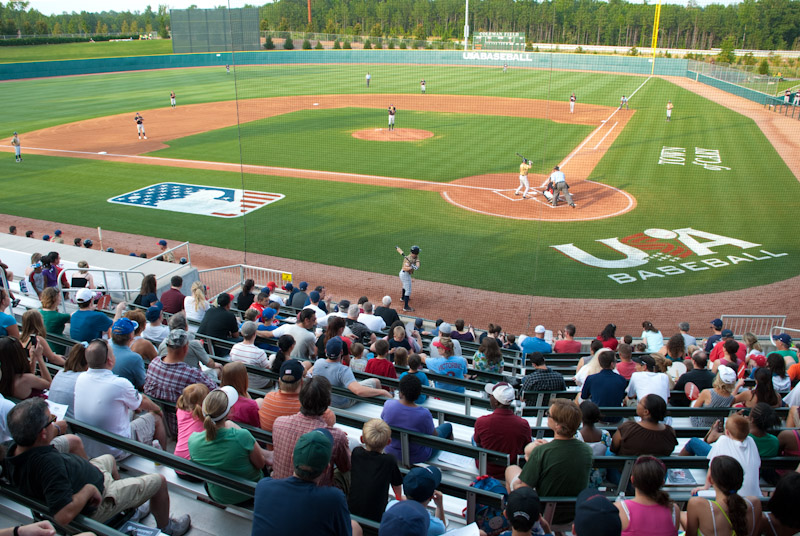 Tuesday – USA Baseball National Training Center
Tuesday I went to Cary's USA Baseball National Training Center to watch the USA Collegiate Nation Team take on Taipei. It was a pitcher's duel until the bottom of the 8th when the USA broke it open to take a 6-1 lead. But Taipei came back with 2 runs in the top of the ninth and had the bases loaded when the final out was made.
There were dozens of professional scouts in attendance. I had a great time along with my guests. It was special for me to visit one of Cary's sports gems and see an international game. If you haven't been to the USA Baseball National Training Center you should check it out.
Wednesday – Cary Budget
Wednesday I taped an episode of Cary Matters with council member Frantz. He is probably the best out of all of us on camera so we were able to tape the episode in one take. Our topic was the fiscal year 2018 budget.
It has become a tradition at the end of each episode for the two participants to pose for a picture that is used on the website. So let me know what you think about the pose we used next week.
Thursday – Mayors Meeting
Thursday I participated in a meeting of the Metro Mayors to get a legislative update. Items discussed included the override of the Governor's veto of the budget, bills on JDIG (Job Development Investment Grant), gang activity, the building inspection process, developer impact fees, wireless providers in right-of-ways, billboards, firefighters, electronic notices of public meetings, planning and development authority for municipalities, and a rural job creation fund. The meeting took about 45 minutes.
Town Manager's Report
The town manager's report for this week included:
Smart Cities Connect

This week I had the opportunity to join my Town colleagues, as well as our friends at SAS for the Smart Cities Connect conference in Austin. This conference convenes over 200 global city leaders that partner with innovative technology and service providers.

Dan Ault spoke on a panel, along with representatives from SAS, about how governments can transform operations with technology. A special thank you to Council Member Robinson for setting this up.
Reid Serozi participated on a panel discussion about connected cities and how they use technology to collect and analyze data to make better decisions that improve city infrastructure and services for our citizens.

This was a great opportunity to talk about everything Cary is doing in the realm of smart cities and learn from other leaders in the industry.

Eye Opener Presentation

On Wednesday morning, Doug McRainey presented at the Chamber Eye Opener about all things Parks, Recreation and Cultural Resources. The breakfast was well attended for the overview of what's happening now and in the future in Cary.

Legislative Updates

H581 Revisions to Outdoor Advertising Laws ("billboard bill"):

This bill was heard on the floor the House Monday night. After some amendments and discussion, the bill FAILED! This bill would have allowed billboards to be relocated, enlarged and digitized. A big thank you to Cary's representatives, all of whom voted to protect the views in North Carolina and allow cities to decide what they want their communities to look like.

H310 Wireless Communications Infrastructure Siting:

This bill passed the Senate and is now headed to the governor's office. The bill as a whole is not a win for Cary or other cities, and will have quite adverse impact as many tall poles may be added to our rights of way throughout town. On a positive note, Dan Ault spoke to a bill sponsor, Rep. Saine, about the idea of Smart Cities and municipal participation. While Rep. Saine declined to add anything to the current bill, he did express some interest in looking at this in the future.

S155 ABC Omnibus Legislation:

This bill passed and has been sent to the governor's office for signature. While it includes numerous changes to the ABC Laws, the most well-known provision is allowing alcohol sales beginning at 10 a.m. on Sundays, which is why it has received the moniker of "the brunch bill." Rather than allowing these sales outright, however, it allows local governments to allow these sales by ordinance. Assuming this bill is signed by the governor, Council can expect to see proposed ordinance language at an upcoming council meeting.

H243 Strengthen Opioid Misuse Prevention:

Governor Cooper signed this bill into law. Among other provisions, this bill strengthens the controlled substances reporting system in North Carolina.

Field-trip to Caterpillar Plant

On Tuesday, Public Works construction staff visited Caterpillar's Building Construction Products Assembly Plant in Clayton, NC. Town staff got a tour of the plant, then got to meet with Caterpillar representatives to discuss available and emerging technology and equipment. Staff learned how the technology Caterpillar has can be used to help the Town with asset management and overall construction practices. Additionally, staff was able to get hands-on training on Caterpillar equipment already used by the Town as well as demo various kinds of new equipment and tools.

GoCary/GoTriangle Seek Grant for Electric Buses

As part of the Wake Transit Plan, the Town of Cary (GoCary) has partnered with GoTriangle, GoRaleigh, and Chapel Hill Transit on a federal grant application for electric buses. The proposed move towards regional electric bus implementation supports the Town's Energy Action Plan and Imagine Cary Community Plan goals and initiatives. The federal agency is expected to announce grant winners in September. If the Triangle agencies are successful, buses could be in the region beginning December 2018.

Fire Station 9 Relocation

The Town is currently in the design phase for the Fire Station No. 9 Relocation project. The proposed station will be located at 1427 Walnut Street. In early 2017, it was determined the existing buildings were not suitable for renovation and should be removed as soon as possible due to safety concerns. The required environmental reports have been completed and the Town has entered into a contract with Demolition and Asbestos Removal, Inc. to perform asbestos removal and demolition. Weather permitting, the demolition will begin July 10 and take approximately 10 weeks to complete. Construction of the new fire station is anticipated to begin in Summer 2018.

Cary Files Briefs in Support for IBT Certificate

On Monday, Cary and Apex, as well as the EMC and DWQ, filed their Briefs in Support of the State's Petition for Superior Court review of the administrative law judge's decision in the appeal brought by Fayetteville and its Public Works Commission, challenging our 2015 IBT Certificate. While the administrative law judge's decision upheld our IBT certificate, it added conditions that are unnecessary and could result in costly and disruptive capital improvements and increased operational burdens. A hearing before the appellate judge is scheduled for September 13-14.

Cary Named A Top City to Raise a Child

SafeWise has named Cary one of the 30 Safest Cities to Raise a Child (Cary listed at number 10). Their survey reviewed reported sex offender concentration, state graduation rates, overall school quality ranking, and FBI violent crime data as well as looked at parks and recreational opportunities in the community.

Arts & Economic Prosperity

The results of the economic study, Arts & Economic Prosperity 5, conducted by Americans for the Arts were released on June 23. This national study surveyed governmental arts agencies and non-profits to gauge their impact on the economy. The Town of Cary partnered with the City of Raleigh and the United Arts Council of Raleigh and Wake County to provide information for the study. The results showed:

Direct Economic Activity of the arts in Cary: $16,980,404
Full-time equivalent jobs: 628
Resident household income: $13,733,000
Local government revenue: $924,000
State government revenue: $977,000
Attendance: 608,168; 14.7% from outside of Wake Co.
Event related expenditures: $10,826,761

Data was collected from 69.8% of eligible Cary arts organizations.

Recognitions

Special recognition goes to the staff from the Cary/Apex Water Treatment Facility and the Public Works Operations Division for responding quickly and effectively to assist our neighbor, Durham, with an important water transfer operation. Earlier this week, Durham experienced a temporary interruption of service. During the water transfer operations, Cary conveyed approximately 4 million gallons of drinking water to support them during their repairs.

Recently, the Fire Department worked with a team from Duke University Hospital on a video titled Gratitude. Specifically, firefighters from Engine 8 were able to reenact an actual incident that the team responded to that illustrates how everyone works together as a team to serve the Cary community. The video, along with four others, was shown at over 23 sessions at the Duke All-Staff event over the past few weeks. It was also used at the Duke Health Leadership Summit, attended by over 150 of Duke Health's top leaders.
Emails from Citizens
In emails this week I was notified that in a recent study by SafeWise, a website that tracks information on home security systems and safety, Cary ranks the 30 safest to raise a child in the nation for 2017. Cary has twice ranked as the safest in the country according to the FBI's reports.
Emails from citizens this week included:
A complaint about downtown events
Concerns about the Keisler Drive rezoning proposal
A concern about a proposed group home
A concern about a developer abandoning a project (we do not have authority to make them finish their project)
Several thank you emails for those that support Habitat
A new email campaign for me to sign a protest against Trump about the Paris Climate agreement
Next week will be a light week due to the 4th of July holiday. My activities will include remarks at the 4th of July celebration, throwing out the first pitch at USA versus Cuba, and a meeting with the town manager.
Get In Touch
Well, that is all for this week. My next post will be on Sunday, July 9th.  Although I have Facebook and Twitter accounts those are not the best means of communications with me. Please send all Town of Cary questions or comments to Harold.Weinbrecht@townofcary.org and email personal comments to augustanat@mindspring.com.
---
From the blog of Cary Mayor Harold Weinbrecht. Photos by Hal Goodtree.
https://carycitizenarchive.com/wp-content/uploads/2017/07/HaroldBlog-July5-Featured.jpg
536
800
Harold Weinbrecht
https://carycitizenarchive.com/wp-content/uploads/2020/03/cc-archive-logo-450-v3.png
Harold Weinbrecht
2017-07-05 13:01:33
2017-07-05 13:02:34
Harold's Blog: Baseball in Cary, Walter Hines Page and More