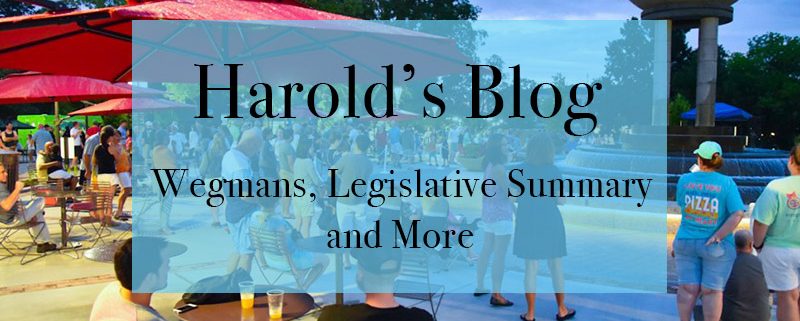 Cary, NC – This week was a light week with the exception of the quasi-judicial hearing.
Monday – Planning for the Week
Monday the town manager and I talked briefly in our weekly meeting. There are currently no hot issues which is nice. We did spend time talking about the town's relationship with SAS Institute who is the town's largest employer.
Tuesday – Legislative Session Summary
Tuesday I participated in an end-of-session legislative summary meeting of the Metro Mayors. The in-depth summary provided by the staff does a good job of capturing what happened and what is still possible. And since this week was a light week I thought I would include most of the summary in case you are interested:
Slow Start to Session

The first five months of the 2017 legislative long session proceeded a bit more slowly than usual, but the action was fast and furious in June. In fact, during the last two weeks of session more bills were considered than in the previous five months, and, on the last Wednesday of session, 100 bills were debated in the House and Senate.  Much of the early focus on Jones Street and in the Governor's mansion revolved around two highly-controversial issues: the ongoing power struggle between Governor Cooper and the Republican-dominated Legislature and the repeal of House Bill 2. Although the power struggle between Governor Cooper and Republican Legislators continues to make its way through the courts, the March repeal of House Bill 2 cleared the way for consideration of other legislative priorities such as the budget.  Accordingly, as of July 11, 90 or so bills have been enacted, and 108 bills await action by the Governor. If Gov. Cooper signs every bill left on his desk, the number of bills passed for the entire 2017 session would be less than half the average for long sessions in the same period.

Moving from Rural/Urban Divides to Bridges

This year the Metro Mayors Coalition demonstrated significant leadership in bridging the urban rural divide.  We jointly authored an op ed with The Rural Center at the beginning of session to call for an end to the divisive language pitting parts of our State against one another and instead talked of building bridges between urban and rural communities.  Your lobbying team met with every new legislator to introduce them to the Coalition and talk with them about our desire to support legislation that would help rural communities without hurting urban economies.  We spent a day in eastern North Carolina touring Greenville and Kinston to see for ourselves the successful economic development initiatives and assets the region enjoys and the challenges that remain.  Lastly, we began the Sister City in NC program adopting Kinston and Mayor BJ Murphy to seek ways to support one another.  We heard very positive feedback from state and legislative leaders on our efforts and would like to thank everyone for attending the eastern tour and sharing the message of regionalism in your own region.

We heard the talk of regionalism and building bridges between urban and rural economies echoed throughout the halls of the General Assembly especially by Rep. Susan Martin, chair of the House Commerce and Job Development Committee and Chair of the Joint Legislative Economic Development and Global Engagement Oversight Committee.  When Rep. Martin presented her economic development ideas before legislative committees she expressed a desire to draft a bill that helped the rural parts of our State without harming the urban parts of our State.  She noted that good economic development comes from local leaders working together in a region to determine its strategic advantage.  We met with Rep. Martin to exchange ideas on how the State could help create a climate for regions to work cooperatively to succeed in attracting jobs and look forward to continued dialogue in the future.

S126 was introduced to redistribute local option sales taxes based on the economic tiers and passed the Senate.  It is currently awaiting action in House Finance.   The Metro Mayors Coalition met with legislators throughout session to share our concerns about the bill and encourage the legislature to address rural challenges with State revenues rather than redistributing local tax dollars which creates winners and losers.

There were a number of bills to address economic development and the tier system this session. H795/S660/S223 moved throughout the session and through many versions. None passed both chambers but we expect the discussions between the chambers to continue on these subjects.

The legislature did extend the sunset on the JDIG program until 2021, expanded eligible projects in the JMAC program, and created a transformative project category in the budget bill (S257).

The General Assembly did many things to specifically bolster rural economies this session including appropriating significant funding for rural school construction, water infrastructure matching funds for rural communities, special assistance and funding for transportation project development for rural planning organizations and small metropolitan planning organizations, and creating the NC Ready Sites Program to assist local government units to fund improvements of public infrastructure and industrial sites to name just a few examples from the budget.

Investments in Transportation Enjoy Broad Support 

The General Assembly continues to make large investments in transportation including these items found in the budget bill (link to the bill text and link to the money report):

Powell Bill remains funded at previous levels of $147.5m each year and disallows the payment of PB funds for cities that fail to file the required related statement
Airports – $40m in the first year and $75m in the second recurring for commercial airports
MPO/RPOs (excluding CAMPO/CRTPO) – $750lk each year for help with the 20% federal matching requirement for State Planning and Research funds
Creation of a Mobility/Economic Development/Small Construction Fund – $50m each year – $24 equally to each division for high impact construction projects, $6m for the NCDOT Secretary for economic development projects, $20m for SPOT Mobility program for safety and mobility projects that reduce congestion
Bridges – $80m in the first year and $85m in the second recurring for a new Bridge Preservation Fund as well as $38m recurring for the bridge program
Roadside Environment – new Fund with $104m recurring for vegetation management, mowing, litter control, etc.
New Corridor Development Unit to help small MPOs and RPOs develop projects
STI – additional $139m in the first year and $180m in the second recurring
Requires cities to pay for required street improvements related to schools
Requires annual reporting on progress of bike/ped planning grant funds and related construction
Establishes time frame for reviewing and making decisions on traffic impact analyses

Continued Interest in Local Government Regulations and Fees

This session we continued to see interest in addressing regulations and fees at the local level.

H581, the Billboard Bill, would allow billboards condemned because of highway improvements to relocate to other industrial or commercial areas of a city, reducing local government control over the relocation of these billboards. Billboard companies could upgrade their signs from static ads to digital signs that flash more than one advertisement. Billboard owners would also be entitled to just compensation for signs that are unable to be relocated. H581 received significant pushback from many groups over the impact it could have on local government zoning authority. H581 was amended numerous times to try to reach consensus, but it failed by a wide 49-66 margin, with many Republicans voting against the bill claiming it would amount to "crony capitalism" and "corporate welfare."

H310, the Small Cell Wireless Bill, helps wireless providers upgrade to faster 5G service by enabling them to place small wireless facilities ("small cells") on city utility poles in public rights-of-way. The bill allows local governments to charge fees to wireless companies that want to install the technology on public streets and existing infrastructure that cities and towns control. However, the bill limits governments' ability to deny the permits, requiring them to cite one of several acceptable reasons for denial, such as spacing requirements and appearance standards. The bill received pushback from some who claim that the technology could create health issues. H310 overwhelmingly passed second and third readings in the Senate on June 28 and was presented to Governor Cooper on June 29. Governor Cooper has yet to take any action on the bill.

H436, the Impact Fee Bill, is the product of input from multiple stakeholders representing local government entities and homebuilders. The original version sought to eliminate impact fees, but a later version called for a one-year moratorium on new impact fees while also studying the fees. The final version of H436 grants uniform authority to units of local government to implement system development fees for public water and sewer systems. The amount that a local government can charge for a system development fee would be calculated based upon a professionally-prepared written analysis. H436 also sets the statute of limitations for lawsuits based on unlawfully collected impact fees to 3 years. On June 29, the House concurred with changes made by the Senate. H436 was ratified and sent to the Governor where no further action has been taken.

Two bills introduced this session, S145 and H113 would punish cities or counties for noncompliance with state and federal immigration laws. S145, Government Immigration Compliance, would penalize noncompliant cities by making them ineligible for appropriations from the State Highway Fund for road and street projects and distributions of certain beer and wine taxes, telecommunication taxes, natural gas taxes and other revenues that are distributed by the state to local governments. The bill also prohibits public universities from implementing policies or practices that would prevent law enforcement officers from gathering information on the immigration status of any person, places a ban on "community IDs" issued by nonprofit groups to illegal immigrants, and requires the state's Attorney General to investigate complaints that governments are in noncompliance. S145 passed the Senate and was sent to the House on April 27 where it was referred to Rules. No further action has been taken.

H113, Private Action Local Compliance/Immigration, would permit a person to bring an action against a city, county or local law enforcement agency for declaratory or injunctive relief based on noncompliance with certain state immigration laws. The bill would also impose a civil penalty of up to $10,000 per day on a city, county or law enforcement agency for failure to comply with any order issued as a result of the action. H113 passed the House and was received in the Senate on April 27 where it was referred to Rules, and no further action has been taken.

Quality of Life In Our Cities

The legislature passed S155, widely known as the "Brunch Bill," despite opposition.  Most notably the legislation allows the sale of alcohol on Sundays beginning at 10:00 a.m. – moved up from 12:00 p.m.  Local governments are required to "opt-in" to allow the sale before noon.  The legislation makes various additional changes to the State's alcohol laws.  For a more detailed analysis of the bill read the UNC School of Government analysis here.

The state budget provides for revitalization and economic development grants to many areas of the state.  This money includes $5,775,000 for grants-in-aid for downtown revitalization projects, $1,370,000 for grants-in-aid for projects in counties and municipalities, and $835,000 for grants-in-aid for community groups.

Bipartisan Efforts Fruitful

With the NC Department of Health and Human Services reporting that opioid-related deaths have increased in the State by 20 percent over the past year, there was strong bipartisan support to enact H243, Strengthen Opioid Abuse Misuse Prevention (STOP) Act, requires electronic prescriptions for controlled substances such as Oxycontin and morphine, painkillers that can be a gateway to heroin use. In addition, a pilot program to treat opiate overdoses was established and funded in Wilmington, and Governor Cooper recently released a forty-one page Opioid Action Plan.

Another issue with amazing bipartisan support this session was the successful effort to Raise the Age. Before passage of this legislation, North Carolina was the only state in the country to try all 16- and 17-year olds as adults.  Now, most of these cases will be handled in the State's juvenile court system, with the exception of violent felonies.  The 2017-19 budget included $500,000 to begin implementation of Raise the Age, $13.2 million for a new Youth Development Center in Rockingham County, and funding for additional assistant district attorneys to assist in these cases.

North Carolina's Strong Business Climate

Legislative leaders continue to tout balanced budgets, revenue surpluses and legal and regulatory reform for North Carolina's top-rated business climate.  And, just last week, the three major bond agencies reaffirmed the State's AAA bond rating.

Many credit the series of tax cuts this decade for our competitive business climate.  The 2017-19 State budget includes a reduction of the personal income tax rate from 5.499 percent to 5.25 percent, an increase in the standard tax deductions, and a reduction of the corporate tax rate from 3 percent to 2.5 percent.  These changes take effect in 2019, and the total savings amount to an estimated $530 million over the biennium.  It should be noted, however, that legislative staff has expressed concern that the additional tax cuts could amount to a $1 billion annual gap between revenues and expenses by 2020.

Governor's Vetoes

So far, the only bill that has been vetoed by Governor Cooper since adjournment of the General Assembly is H576, Allow Aerosolization of Leachate.  There are still 108 bills pending on the Governor's desk.  You can keep track of any bills the Governor vetoes and that the General Assembly may consider in the interim sessions here.

Upcoming Sessions

Typically, when the General Assembly adjourns the long session they do not return until the following year for "short session."  The adjournment resolution, SJR 686, directs the General Assembly to reconvene on Thursday, August 3 at noon.  During the August session, members will consider bills vetoed by the Governor, impeachment of state officials, conference committee reports and appointments bills.  The legislature will then return on Wednesday, September 6 to take up judicial redistricting as well as city and county redistricting.  Legislators may also consider additional veto overrides, constitutional amendments, appointment confirmations and bills related to litigation.  During the September session, the General Assembly could set a date to reconvene prior to November 15 to redraw and vote on new legislative district maps.  The 2018 short session is set to begin on Wednesday, May 16 at noon.  One of the main reasons we are seeing the legislature adjourning to dates certain, is having a Democratic Governor and Republican controlled legislature.  The legislature came back after adjourning in 2011 as well when Beverly Perdue was governor so they could take up any bills vetoed by the Governor.

What's Eligible and What's Not in 2017-2018?

A host of bills are eligible according to the rules and those that may be of interest to you are listed below:

H794 – NC Permitting Efficiency Act of 2017 – Currently in Senate Rules
H340 – Special Separation Allowance Firefighters – Currently in Senate Rules
H900 – Safe Infrastructure and Low Property Tax Act – Currently in House Rules
H843 – Municipal Election Schedule and Other Changes – Currently in House Rules
H56 – Amend Environmental Laws – Currently in Conference Committee
S434 – Amend Environmental Laws 2 – Currently in House Rules
H770 – Amend Environmental Laws 3 – Currently in Conference Committee
S469 – Amend Environmental Laws 4 – Currently in House Rules
S660 – Economic Development Incentives Modifications – Currently in House Finance
S126 – Change the LOST Adjustment Factor – Currently in House Finance

And according to the rules the two bills below, and their subject material, should be ineligible for consideration for the remainder of the biennium:

H581 – Revisions to Outdoor Advertising Laws
H110 – DOT/DMV Changes – Megaproject Funding

Interim Studies

There were several studies in the budget that will take place during the interim:

Study Solid Waste Disposal Tax – Section 13.5
Study Erosion and Sediment Control/NPDES Stormwater Merger – Section 13.6
Study Acquisition of Dedicated Dredging Capacity – Section 13.8
Study Rates and Transfers/Public Enterprises – Section 24.3
State Aid to Municipalities/No Funds if Municipality Fails to File Statement and Study How to Account for Seasonal Population Shifts – Section 34.17

Conference Reports

Conference reports are one of the items the legislature can take up when they return in August.  Below is a list of the conference reports to which conference committees have been appointed:

H56 – Amend Environmental Laws – The House version of the bill was 9 pages long while the Senate version was 14 pages and included a number of new provisions including one regarding riparian buffers. Section 15 of the version that passed the Senate would direct the Fiscal Research Division to estimate the value of property that is subject to State riparian buffer protection rules and that is being used as a riparian buffer for each county in a river basin to which the rules apply.
H90 NC Truth in Education
H162 Amend Administrative Procedure Laws
H403 Behavioral Health and Medicaid Modifications
H482 County Comm. Role in School Bldg Acquisition
H770 Amend Environmental Laws 3
S16 Business & Agency Reg. Reform Act of 2017
S99 Report Certain CTR Data/Auto Ins. Accuracy
S335 Study/Fair Treatment of College Athletes
S582 Agency Technical Corrections
S628 Various Changes to the Revenue Laws
S656 Electoral Freedom Act of 2017
Thursday – Wegmans in Cary
Thursday the Cary Town Council held its July quasi-judicial meeting with two scheduled items. The hearing for 204 multi-family units near the intersection of O'Kelly Chapel Road and N.C, Hawthorne at Parkside, was continued until August 3rd. The hearing for Twin Lakes Center sketch plan included retail development on Davis Drive at Airport Boulevard. The plan included a total floor area of 158,300 square feet in four buildings, one of which includes a drive through. There was much discussion about what was presented and if that was enforceable. There was also discussion about screening of the loading dock from Airport Boulevard. Eventually the council approved the plan 5-0 (Bush and Robinsons were out of town). According an applicant representative they have signed a contract for the large tenant to be a Wegmans which is the number one ranked grocery chain in the nation. It will be the first in Cary.
Town Manager's Report
The town manager's report this week included:
How the Cuban Missile Crisis, Baseball & Air Conditioning Can Help Us Think Different.

On Thursday, I had the opportunity to give another update and have a discussion with staff. I enjoyed being able to share some videos that help inspire and motivate me every day. I hope these videos and stories about the Cuban Missile Crisis, baseball and air conditioning helped better illustrate the need to think differently about our work. As you've heard me say before, given that people are bound by our experiences, we need people willing to question whether the things we have done in the past make sense in the future. I believe that a lot of what local governments do simply does not make sense any longer. And the earlier we recognize that, or at least question that, the better off we will be in the future.

All of that being said, this is a human endeavor and my primary purpose is to take care of people. Individual success can create collective successes. We have to create an organization that provides an amazing experience for people.

Drug Sergeant Position Filled

The new Drug Sergeant position in the FY 2018 budget has been filled effective July 9, 2017. The new Drug Unit Sergeant is Tom Spencer. He has been with the Town for 19 years. In addition, effective July 16, 2017 we will fill the vacant Pharmaceutical Diversion Detective in the same Drug Unit. The new Pharmaceutical Diversion Detective is Whitney Hall; she has been with the Town 2 years. Both Tom and Whitney were assigned to Patrol before their move to the Drug Unit.

Cities for Tomorrow Conference

On Tuesday, Allison Hutchins attended the Cities for Tomorrow conference in New York City. This conference brought together decision-makers who create vibrant urban centers – policy experts, developers, entrepreneurs, cultural leaders, architects, urban planners – to discuss how great cities succeed. There were several panels of particular relevance to Cary, such as the discussion of the opioid epidemic and reimagining public spaces through park projects.

Police District 3 Substation

The police department received a Certificate of Occupancy Permit this week for the new District-3 substation. The new substation is located in the Wellington Park Shopping Center at 6420 Tryon Road, near the intersection of Tryon and S.E. Cary Parkway. Though we are still working through some issues with internet connectivity, the move-in process is underway. Patrol teams have access to the facility and will be using the new office to conduct roll-call briefings and other activities. The new facility does not have staffed office hours, so the public is still encouraged to call 911 Communications Center for police service requests. A special thanks goes to Paul Kuhn, Glenn Sheppard, Ishani Padmaperuma, Clayton Mills and all those who have helped in the development of this facility.

Increasing Summer Water Demand 

Within the last week, the Cary/Apex Water Treatment Facility staffs have been working hard to supply increasing summer water demand to our utility service area. On July 8, the water system served by Cary/Apex Water Treatment Facility, which includes citizens and customers in Cary, Apex, Morrisville, Wake RTP and RDU Airport supplied a total daily demand of 25.17-MG, which is slightly higher than 2016's high demand day of 24.9-MG. On July 12, the water system experienced even greater demand of approximately 27.5-MG, which combined with a water transfer to Durham of approximately 0.85-MG, for a total day demand of 28.35-MG. During these higher demand days, water system operators experienced intermittent peak hour production conditions equivalent to a peak flow rate of 37-MGD.

Recognitions

I received an email this week, along with Chief Godwin and the Council, from a citizen about their interaction with Cary Police and wanted to share with all of you.

"Wanted to share an experience I had with one of your officers this past week. I was pulled for a burned-out taillight bulb on Maynard Rd. The two officers that spoke with me (and my 14 mo. old daughter) were highly respectful, courteous, and helpful. I couldn't tell you their names, as they simply let me off with a warning. I replaced the bulb that night… I'm glad to have interacted with members of your force. Whatever you're doing in training, keep it up. Grade-A officers."
Emails From Citizens
Emails from citizens this week included:
Requests to pass brunch bill (council will see this at our July 27th meeting or the meeting afterwards)
A request to support a group home.
A complaint about grass fields not having goals (staff removes these to discourage play to allow grass to grow. Constant play will kill this turf grass. Some fields have been replaced with artificial turf to allow more play time but this is an expensive change)
A request for the town to have silent fireworks.
A complaint about AT&T installation digging up someone's yard.
A request for a house to be demolished (this is a very complicated time consuming process that usually takes months).
A new email campaign for me to sign a protest against Trump's action on the Paris Climate agreement (it is our practice to avoid getting involved in state and national political matters. While climate is not a political matter, protesting Trump sure is).
A compliment about my journal.
A compliment about the latest Cary Matters episode.
A compliment on passing the budget.
A compliment for the job the Cary council is doing.
Next week will once again be a light week but will be a little busier. The main activity will be the annual Cary Chamber retreat in Wrightsville Beach. I look forward to spending a little time with our business leaders and hearing what their concerns may be.
Get In Touch
Well, that is all for this week. My next post will be on Sunday, July 23rd.  Although I have Facebook and Twitter accounts those are not the best means of communications with me. Please send all Town of Cary questions or comments to Harold.Weinbrecht@townofcary.org and email personal comments to augustanat@mindspring.com.
---
From the blog of Cary Mayor Harold Weinbrecht. Photo by Hal Goodtree.
https://carycitizenarchive.com/wp-content/uploads/2017/07/HaroldBlog-July17-Featured.jpg
550
800
Harold Weinbrecht
https://carycitizenarchive.com/wp-content/uploads/2020/03/cc-archive-logo-450-v3.png
Harold Weinbrecht
2017-07-17 10:22:16
2017-07-17 10:22:16
Harold's Blog: Wegmans, Legislature Summary and More