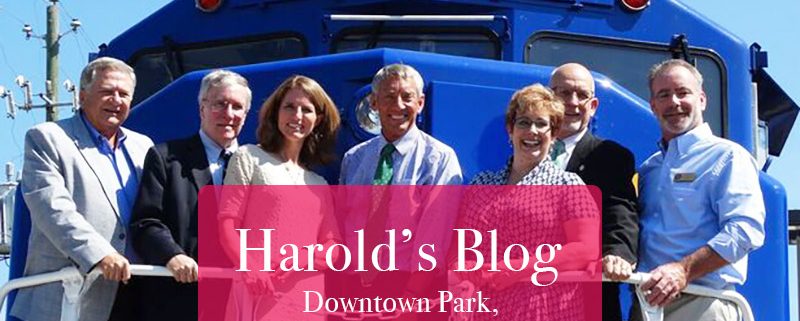 Cary, NC – This week was a typical week for summer with a regularly scheduled meeting and a few additional meetings.
Monday – Downtown Park
Monday I met with the town manager for our weekly one on one. We talked for about 45 minutes mostly on current development proposals. It is important to get staff updates on what applicants are doing especially if applicants are changing proposals.
Later Monday I joined council members and staff in an informal meeting of the first of four architectural design firms for the second phase of the downtown park. The purpose of this gathering was so they could hear various thoughts and ideas about what we think about our town and the second phase of the downtown park. This firm had three representatives that spent a couple of days in town touring parks and other areas.
Tuesday – More Downtown Park Plans
Tuesday I joined council members and staff for another informal meeting of the second of four architectural design firms. Like the day before, this firm had an impressive resume of projects. They spoke of how the park should project beyond its borders. I can't wait to see their pitch in a few weeks.
Wednesday – Cary Matters
Wednesday I wrote the next episode of Cary Matters. I based it on near term transportation improvements.
Thursday – Quasi-Judicial Meeting
Thursday the council held its monthly quasi-judicial meeting with three hearings. The first hearing was for Hawthorne at Parkside apartments near O'Kelly Chapel Road and Highway 55. The reason this matter was before the council was to consider a parking reduction and a change in street improvements from what is required. The discussion focused on the street improvements which required three lanes in front of the development. That would have had O'Kelly Chapel Road go from two lanes to one lane and then back to three. The developer proposed two lanes all the way through. Surprisingly some council members questioned that but in the end it passed.
Our next hearing was to consider a development plan for a six story office building across the lake from the amphitheater. Currently, there is a greenway around the lake and an earthen trail that leads part of the way to the proposed development.  The discussion at this hearing focused on the greenway connectivity. The developer did not want to make a hard connection because of liability. After a failed vote to require a hard surface from the development to the greenway, the council agreed on a hard surface from the development to the earthen path to the greenway.
Our final hearing was to waive required road improvements on Evans Road because of a proposal to cover the Silverton pool. The applicant argued that they are not generating additional traffic and a road widening would require mature trees to be removed. The council agreed and approved unanimously. The three hearings lasted about three hours.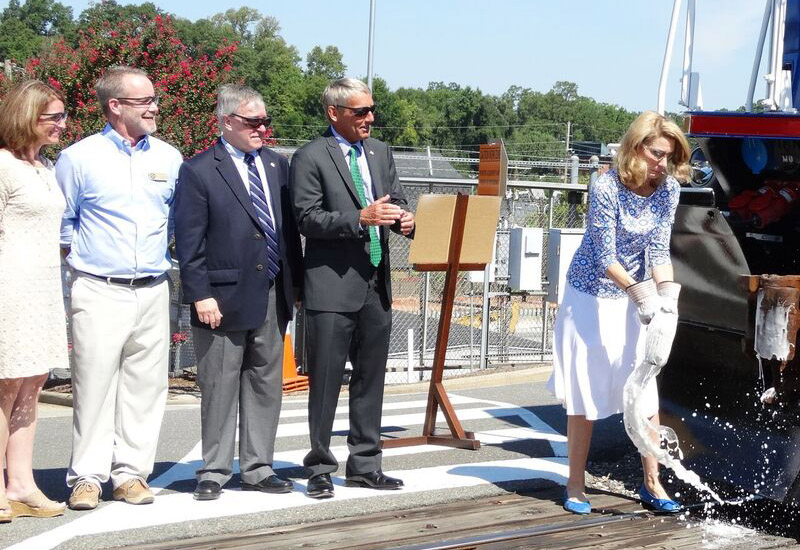 Town Manager's Report
The town manager's report for this week included:
Locomotive #1871 Dedication

Following close coordination with NCDOT, Town Council and staff had the pleasure of joining NCDOT Secretary Jim Trogdon and First Lady Kristin Cooper to christen the Cary-branded locomotive #1871. The locomotive's number corresponds to the incorporation or charter date of the city after which it is named; it's painted in the NCDOT Piedmont paint scheme, which incorporates the colors and symbols of North Carolina's state flag. It was christened alongside locomotive #1984, City of Kannapolis. Both will be used immediately in North Carolina's daily Piedmont passenger service.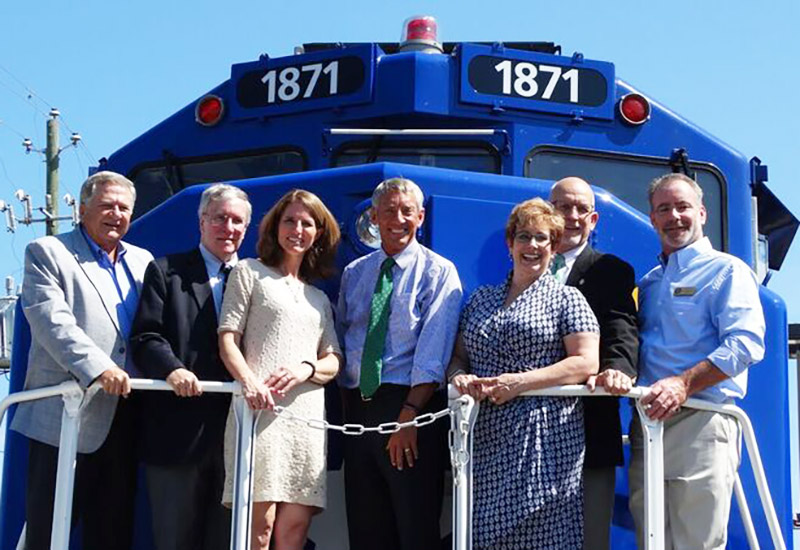 Downtown Park Consultants Visit Cary

Staff hosted national design firms Nelson Byrd Woltz and Hargreaves Associates, two of the four firms being considered to update the Downtown Park Master Plan, on Monday and Tuesday. The goal of each visit is to provide each firm with a greater understanding of the Cary Community, a focused examination of the scope of the project and the opportunity to interact with Town Council and staff. The two remaining firms, James Corner and The Office of James Burnett will have similar visits on August 14 and 17. Following the site visits, each firm will return to Cary to present to staff their approach/process for how they would go about updating the Downtown Park Master Plan.

Convenience Store Proposal in Amberly

To help ensure that citizens concerned about a development plan for a convenience store and gas station in Amberly are heard and have their questions answered, staff will be working with the group's leaders to schedule a neighborhood meeting to be held sometime over the next several weeks. As we do for all neighborhood meetings, we are asking citizens to let us know of any other concerns or observations they have about the area so that we can all work collaboratively to keep Cary great.

Vehicle to Infrastructure Technology Grant

NCDOT has selected Cary to implement the first Vehicle to Infrastructure Technology called SPaT, Signal Phasing and Timing. The project allows approaching cars to see the traffic signal timing on their dashboard. The pilot project will include installing advance equipment on 20 traffic signals along NC 55 and High House Road corridors. NCDOT will cover the total cost of $507,000 and the project is estimated to be complete in 18 weeks. Cary will be the first in NC and fifth in the nation to implement this new technology.

Savage Towing Challenge

Savage Towing on May 15 filed a challenge to the Town's new towing ordinance (which went into effect on June 1) and asked the court to prevent the enforcement of the ordinance (Preliminary Injunction') until Savage's complaint could be heard and decided upon. The court denied Savage's request for a Preliminary Injunction and Savage then turned to the Court of Appeals with a Motion for Temporary Stay and Petition for Writ of Supersedes (Motions'). The Court dismissed the Motions on technical grounds and Savage has refiled them. The Town filed its Response to the Motions on Monday.

New RTP CEO Announced

We received word this week that the Research Triangle Foundation has hired Scott Levitan as CEO. More information on this announcement and Mr. Levitan can be found here.

Utility Monthly Report

The monthly operating report for the Utilities Department indicates some key updates on a number of technology upgrades that are under development along with a spotlight on some of our maintenance activities.

June 2017 Development & Construction Reports

The Planning, Zoning and Development Report and Construction Activity Report for June 2017 are now available. The Interactive development ESRI map also illustrates active, in review and approved development projects. In addition, the current list of development projects in reviewand the approved development projects list as of July 2017 are also available. Please direct questions regarding the development projects to Scot Berry.

Recognitions – My First Year

Today marks my one-year anniversary with the Town. Thank You for making it a truly magical year. It has been a year of great learning yet I know that the learning never stops as we strive to continue growing. These last 12 months have been a privilege and I am thankful to have the guidance of a visionary Town Council, brilliant people at my side, and talented community partners working with me on this journey. There is still much to learn and even more to discover, but I am humbled and could not be prouder of our accomplishments this year. I look forward to continuing working together in our pursuit of keeping Cary great.

-Sean
Emails From Citizens
Emails from citizens this week include:
A compliment on our downtown activities.
A concern about public records.
A question about the name "Alston" and its association with Cary.
A compliment on downtown, the Downtown Park, and Cary.
A compliment to council on doing a great job in Cary.
A concern about global warming.
A request from a high school student to learn more about how we operate.
There were also numerous requests this week to attend future events.
Next week's activities will include a regularly scheduled council meeting, a quasi-judicial hearing, a taping of Cary Matters, the Cary Chamber's Leadership dinner, and the India Independence Day celebration event.
Get In Touch
Well, that is all for this week. My next post will be on Sunday, August 13th.  Although I have Facebook and Twitter accounts those are not the best means of communications with me. Please send all Town of Cary questions or comments to Harold.Weinbrecht@townofcary.org and email personal comments to augustanat@mindspring.com.
---
From the blog of Cary Mayor Harold Weinbrecht. Photos courtesy of Harold Weinbrecht.
https://carycitizenarchive.com/wp-content/uploads/2017/08/HaroldBlog-Aug7-Featured.jpg
550
800
Harold Weinbrecht
https://carycitizenarchive.com/wp-content/uploads/2020/03/cc-archive-logo-450-v3.png
Harold Weinbrecht
2017-08-07 10:30:40
2017-08-07 09:51:05
Harold's Blog: Downtown Park, Development Plans and More