Cary, NC – For the eighth year, CaryCitizen will produce The Cary Scavenger Hunt on Saturday September 16, 2017. We bill it as Cary's Biggest Adventure. This year, we have a phone app to make competing easier, cheating harder and verifying team answers a snap.
Phone App Encourages Fair Play
The idea for the phone app grew out of a desire to keep teams together throughout the day and increase the number of clues requiring teams to upload photos when they visit clue destinations. Believe it or not, in the early years of the event, all scoring was added up on calculators and competitors had to show us their phones to prove when they had a photo of a team destination. This took a lot of time.
Due to this time-consuming process, CaryCitizen had to limit the number of clues requiring photos, and increase the number of questions requiring items to be gathered, or answered to be written in a book to be later verified. All very time-intensive and prone to errors.
This time-consuming process also led to phone batteries dying and claims from some teams that other teams had separated to get to the most locations during the four hours of competition.
In the name of fair play, everyone wanted to see more clues requiring photos. We also wanted our judges to have a simple way to verify answers and have scoring tallied automatically.
Smart Use of Technology
Cary prides itself on being a "Smart City." Making use of technology in this signature event made a lot of sense.
Last year was the first year we contracted with an outside group to create a proprietary phone app which worked on both Android and iPhones. There were a couple glitches we identified so the app has been improved for 2017.
Don't Take a Sneak Peek
The app will be operative about two weeks before the event to test out any glitches well in advance of the big day.
Don't try to sneak ahead and grab clues in advance. The app is used solely for logging answers and all clue questions reside in the top secret old-fashioned printed 24-page clue book. The book is handed out to teams in-person at 9:30 AM at the event.
We don't like cheaters, so everyone gets the questions at the same time. Teams strategize to work out the results during the same four hour window.
What Does the App Do?
Teams will use the app to take and upload hilarious team photos to prove they visited each clue location. Some questions require answers be input into the app, and others ask for proof of collecting an item. At the finish area, our judges will be able to look up each team's answers and verify correctness and have scores automatically tallied. No more calculators!
Team Registration
Team Registration is currently open. Teams can be two-to-six people for families and two-to-four people for Adult teams and Corporate teams. Corporate teams compete for their company and wear shirts made special for them with business logo on the back and cost $100 for a team of four. Adult and Family Teams cost $12.50 per person and wear shirts like those pictured above.
What do you win? First place teams in each category win $250 cash and a large souvenir trophy. Second and third place will win trophies in each category.
Event Info
The 2017 Cary Scavenger Hunt
Saturday, September 16, 2017
Start 9:30 AM
Page-Walker Arts & History Center
119 Ambassador Loop, Downtown Cary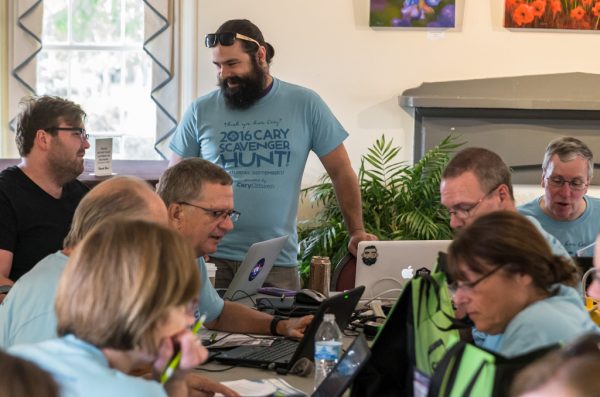 ---
The Cary Scavenger Hunt is a CaryCitizen event, hosted by the Town of Cary. Photos courtesy of Brooke Meyer Photography.
https://carycitizenarchive.com/wp-content/uploads/2017/07/the-app-and-book-shot-e1501181622457.jpg
750
600
Lindsey Chester
https://carycitizenarchive.com/wp-content/uploads/2020/03/cc-archive-logo-450-v3.png
Lindsey Chester
2017-08-10 14:40:53
2017-08-10 14:40:53
The Cary Scavenger Hunt has a Phone App