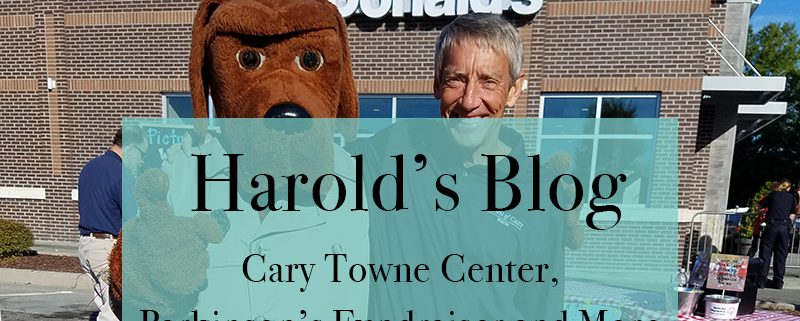 Cary, NC – This week was much slower than the last two weeks and consisted mostly of ceremonial duties.
Monday – Cary Towne Center Redevelopment
Monday I visited Weatherstone Elementary, a Wake County STEM school, to speak with the entire second grade class of over one hundred. I started by talking about Cary government, the different levels of government, and my role in the government. Afterwards I answered several questions. I even worked in a few mathematical questions and explained what a hex value was. It was a bright bunch of students and they had great questions. They surprised me by knowing that former Cary Mayor Bond was my uncle. And for the question of the day they asked me what he was like as a person. I told them that I did not know him as a politician but only as an uncle (he died before I was ever interested in running for office). Even though he was a forceful personality he was always fair and protective of his town staff. He was recognized nationally for representing flu cured tobacco but he was always humble and quiet around me. I truly admire him for all he has done for Cary and those who he touched during his life. He was a great man and a great mayor.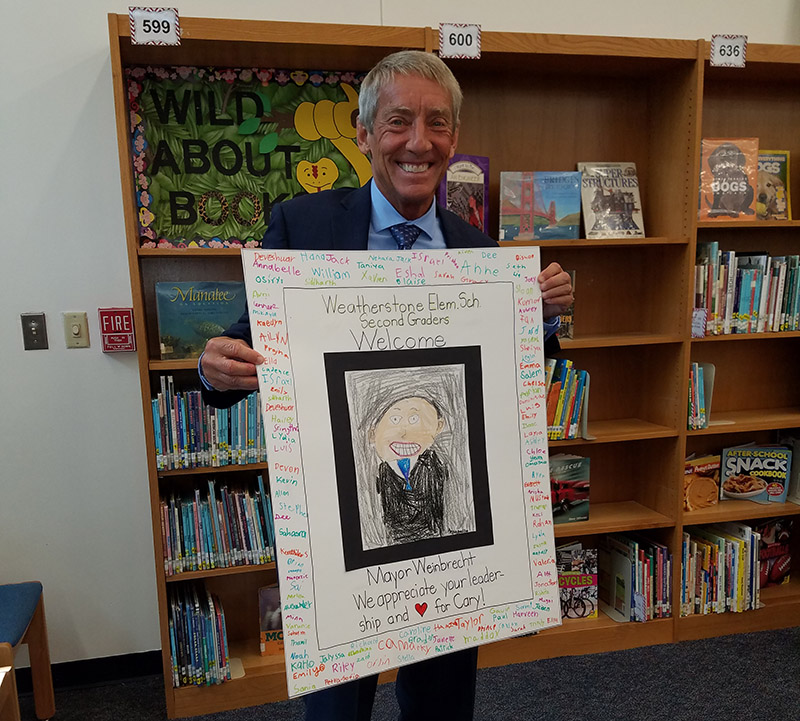 Monday afternoon I met with CBL representatives. They are the ones that own the mall and have IKEA going through the process. They presented sketches they are considering for the rest of the mall's redevelopment. From my discussions with them they plan to propose apartments next to IKEA that will wrap around a parking deck for the next phase. The rest of the site redevelopment will be in later phases and will include a mix of uses including office, retail, residential, and parking decks including one or two hotels. Initially they may be competing with Columbia development, on the state property across Cary Town Boulevard, for restaurants and retail. We'll see how that works out.
My last meeting Monday was with the town manager for our weekly one-on-one. Some of the topics we talked about included the Columbia and CBL proposals, the SAS Championship, our relationship with SAS, downtown businesses, the location of the staff-council retreat, branding, and the upcoming elections.
Tuesday – Students at Northwoods Elementary
Tuesday I had the joy of talking to more than eighty second graders at Northwoods Elementary. They had submitted questions in advance and had asked for pictures. So I used a PowerPoint created by our town clerk to talk about Cary, levels of government, and my duties as mayor. Afterwards I answered questions from the group. The questions ranged from my daughters and pets to whether or not I have met the President or Governor. So to answer those questions about the President and Governor: I met President Obama as a candidate in 2008 and talked with him for about 20 seconds. I also met Michelle Obama in 2012 and talked with her for a few minutes. I have met and talked with all governors since I have been mayor including Easley, Purdue, McCrory, and Cooper. Usually governors come to Cary for major job announcements. I also met at the Governor's mansion for lunch when we were trying to get the United States Tennis Association training center in Cary.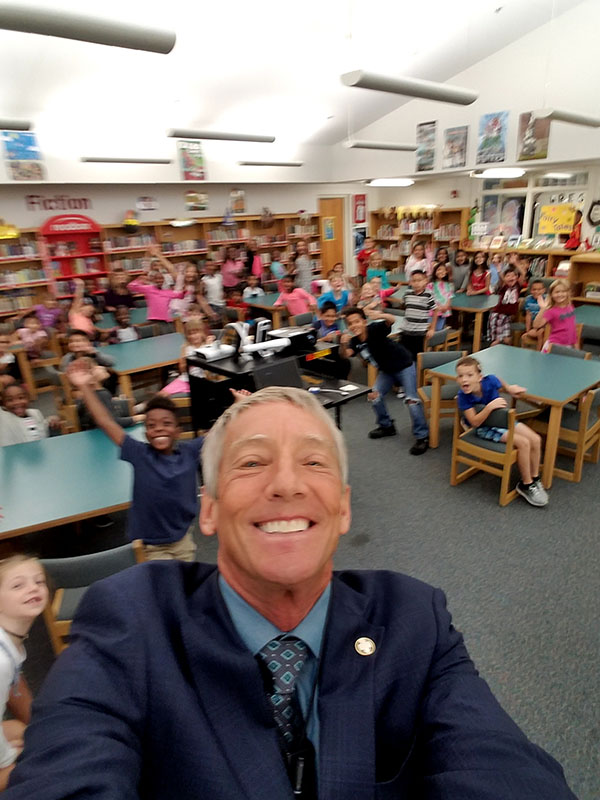 Wednesday – Bathukamma Message
Wednesday I made a quick YouTube taped message that was an invitation to join the Bathukamma celebrations (Indian festival) at Jordan Lake. Since I was already booked with activities I was unable to attend. It is great to see more multi-cultural events in Cary.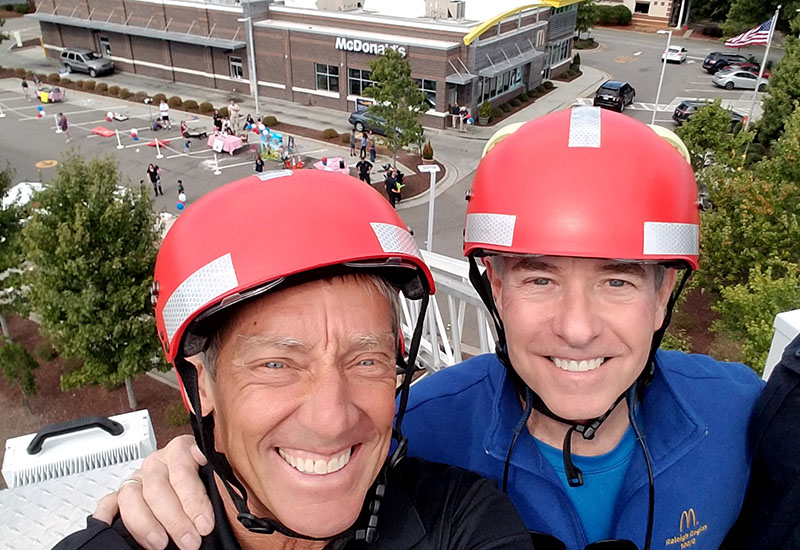 Saturday – Special Olympics Fundraiser and Marching Bands
Saturday I joined the Cary Police Department and local McDonald's owner Ric Richards at the Crossroads McDonalds to raise money for Special Olympics. There were fun and games for everyone and by lunch we had raised over $700. My participation included climbing the fire ladder truck about 50 to 70 feet up and greeting people. I was up in the air for a little over an hour. Next I was the target for the dunking booth. Man was the water cold! Thanks to all those that showed up and supported Special Olympics.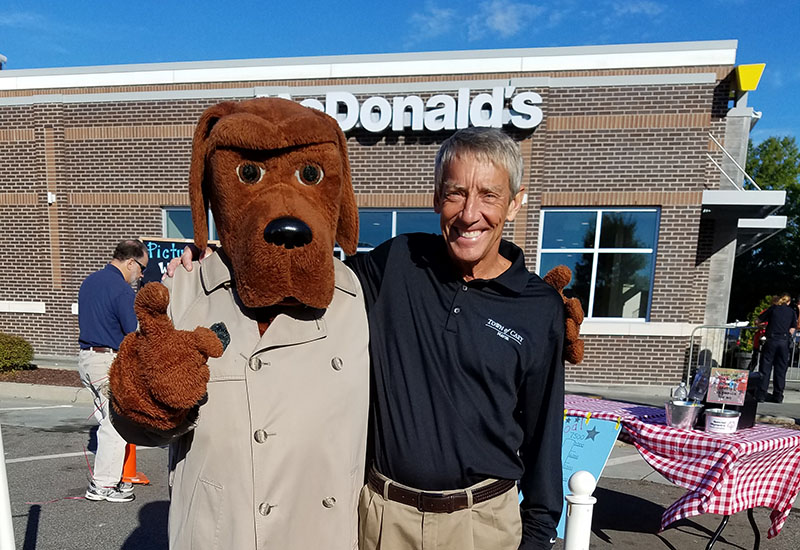 Saturday night I had the honor and privilege to attend the 10th annual Panther Creek Band competition. I attended the first competition as a new mayor ten years ago so it was nice to be present for this milestone. After watching performances by Apex Friendship High School, Cary High School, and Green Hope High School I was recognized with the sponsors on the field. Then Panther Creek High School performed an exhibition. This was the first competition for many of the high school bands in the area. Interestingly the last will be at Cary High school later in the year.
Sunday – Parkinson's Moving Day
Sunday I attended the fifth annual Moving Day put on by the Parkinson's Foundation. There were at least a thousand people in attendance for this time of awareness and support to fight Parkinson's disease. After giving welcoming remarks I joined the supporters in a walk around Symphony Lake at Booth Amphitheater. If you can find it in your heart please make a donation to help find a cure for this disease in our lifetimes.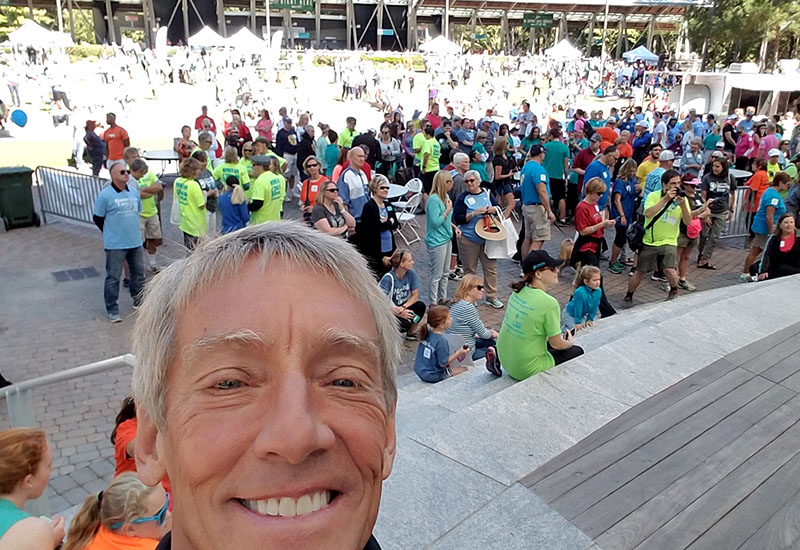 Later Sunday afternoon I joined other council members Yerha and George in a volunteer appreciation picnic for the Town of Cary volunteers. There were games, inflatables, raffle prizes, and other activities in addition to dinner. The weather was perfect and everyone seemed to have a wonderful time.
Town Manager's Report
The town manager's report for this week included:
Cary Joins What Works Cities

The Town of Cary was selected to join the What Works Cities' extensive learning network of local leaders and global experts actively sharing best practices for outcomes-focused government. Now partnering with 90 cities across the country, What Works Cities, a Bloomberg Philanthropies effort, is chartered to improve the effectiveness in local governments by enhancing their use of data and evidence.

Earlier this year, Council Members Bush and Robinson participated with staff on an all-day workshop to evaluate Cary's possible participation. Through the workshop and subsequent work, Cary's participation will focus on the research and development of a citizen content center by strengthening the collection and analysis of call data as well as develop an open data policy. Staff has started working directly with a consortium of leading organizations assembled by Bloomberg Philanthropies: the Center for Government Excellence at Johns Hopkins University, Results for America and the Sunlight Foundation. "Data is one of the best resources at cities' disposal for effectively solving challenges and driving progress," said Simone Brody, Executive Director of What Works Cities. "We're supporting city leaders to maximize the use of their data to make more informed decisions, develop stronger programs and services and better serve their communities."

Cary Hosts Area Realtors for Tour

On Tuesday, Cary hosted 25 members of the Realtors Association to tour and share an inside perspective into our community. After an introduction and overview at the Page-Walker by Council Member Robinson and Deputy Town Manager Russ Overton, participants boarded a GoCary bus for a two-hour tour of Cary. On-board, staff was available to talk about the many aspects important to home-buyers, such as permitting process, area amenities and planned transportation improvements.

The tour concluded at the Mayton Inn where the group was joined by Wake County School Board representatives to provide information about schools in Cary. The Realtors have expressed appreciation for organizing the tour and experience.

Successful Bond Sales

The Town held two successful bond sales on Tuesday.  Fourteen bids were received for the first sale and twelve bids for the second; the most this year for a bond sale conducted by the State Treasurer's office. The first sale for $33.4 million funded Fire, Parks and Transportation projects from the 2012 referendum. The bid was awarded to Wells Fargo Bank with a total interest cost of 2.47% for 20 years.

The second sale was to refinance existing debt. The sale resulted in savings of over $1.43 million over the next 11 years or an average of $119,000 per year. The original debt funded both general and utility projects, so the general fund will realize $757,386 in savings and the utility fund $676,242.  The bid was awarded to FTN Financial with a total interest cost of 1.77% for 11 years.

Cary Showcased at TJCOG Regional Summit

Council Members Robinson and George, along with several staff from different departments attended the Triangle J COG Regional Summit in Clayton on Thursday. The theme of the conference, "A Future Together: Connecting our Urban & Rural Communities," was explored through a number of topics such as economic development, transportation and water planning, as well as aging community issues. To kick-off the conference, TJCOG showcased stories of bridging the urban/rural divide, one of which was Cary. Lana Hygh and Fire Chief Cain talked about Cary's role in helping the town of Autryville after its fire station and engine had been destroyed in a tornado.

Other Cary presenters included Jeff Adkins, Terry Yates and Lisa Glover. Jeff participated on a panel titled, "Water Management Strategies for the Future," and Terry and Lisa participated in a session dedicated to small cell technology.

Utilities Monthly Report

The September operating report for the Utilities Department provides updates on budget and personnel, technology upgrades and developments, regulatory and enforcement news, as well as Jordan Lake updates.

FBI Crime Statistics Released

The latest crime statistics (for calendar year 2016) have been released by the FBI. Stats show that crime overall in Cary is down by nine percent. However, Part I Violent Crime in Cary is up by 86 percent; this is the data type typically used by various organizations to develop their "safest cities" rankings. Part I violent crimes include Murder, Rape, Robbery and Aggravated Assault. Murder decreased by 80 percent (from 5 in 2015 to 1 in 2016). The latter three are responsible for the increase.

We are dissecting the actual crimes involved in these Part I increases to better understand what is driving the numbers up. We will be able to discuss this more in depth once that analysis is complete.

Upcoming Water Transfers 

Durham is in the process of taking their Williams Water Treatment Plant offline to complete major construction upgrades. The Durham water treatment plant is expected to be offline through next April. During this time, Durham will utilize their second and larger water treatment facility combined with supplemental water supplied by the Town of Cary and OWASA. Town staff have been planning for the ongoing water transfers and are prepared to provide assistance to Durham on a recurring basis for the next several months. During this time, contingency plans are in place for Raleigh, Durham, and Cary to provide Mutual Aid assistance and to support each other through our network of interconnected water lines as needed during the offseason maintenance and construction operations.

Cary Ranks #2 Most Livable Mid-Sized Cities

In a new study, SmartAsset uncovered the most livable mid-sized cities nationwide and Cary ranks in the number two spot. According to the study, Cary ranks high in livability because of the low poverty rate. The data shows that only 4.5% of residents in Cary have an income putting them below the poverty line, which is the fourth-lowest rate in the study. The unemployment rate is similarly low at 3.5%. That's the third-lowest rate in the top 10.

Early Voting at Herb Young Begins Wednesday

Early voting will take place October 4-7 and again on Election Day, October 10, at Herb Young Community Center. The first two levels of the Town Hall Campus Parking Deck will be reserved for voter parking. Traffic will be managed with signs and barriers. Also, attendants will be in place to direct voters to curb side voting spots. Please let Virginia Johnson know if you have any questions.

Recognitions

Late last Saturday night extending through Sunday morning, a group of 12 staff from Cary/Apex Water Treatment Facility and Public Works Operations Division responded to address a critical water system repair at the Cary/Apex Water Treatment Facility.  The pipe break occurred in the finished water pump room and required the temporary shutdown of critical pumping facilities to complete the repair. Needless to say, time was very limited and staff responded quickly, efficiently, and effectively to make a critical water system repair in the middle of the night on a weekend. Since the repair involved the operation of finished water pumps, it was extremely important to the water system. It's very reassuring know that we have such a strong, experienced, and dedicated team in place to tackle these types of operations under the most difficult circumstances. Thank you to our team of hard working staff!

We are pleased to announce that Stacey Teachey will be our Budget Manager and lead the budget function in the Finance Department. Stacey has been involved in Cary's budget for 17 years. Through those years she has seen many changes and growth in the Town's services and population. Stacey's values for doing the right thing to serve our citizens run deep.
Emails from Citizens
Emails this week included notification that Cary was the second most livable mid-sized municipality in the nation according the analysis by SmartAsset. Their criteria included affordable home prices, low poverty conditions, unemployment rate, commute times and others. We are proud to once again receive a national accolade.
Emails from citizens this week include:
A complaint about a proposed rezoning at Old White Oak Road
A complaint about road construction cones on Davis Drive (NCDOT road)
A complaint about a Town of Morrisville proposal to connect Town Hall Drive and Crabtree Crossing (this is a consultant recommendation so far)
A complaint about a GoCary bus driver
A complaint about noise from the outdoor fundraiser for Interact next to the Mayton Inn
A request to continue to protect Hemlock Bluffs
Next week's activities include signing bonds, a walk to school day at Cary Elementary, a Cary update to the Heart of Cary Association, a Quasi-Judicial meeting, a meeting about the opiate epidemic, the tapping of the keg ceremony for Oktoberfest, the Tour de Cove event, and the 85th anniversary celebration of Swift Creek Elementary.
Get In Touch
Well, that is all for this week. My next post will be on Sunday, October 8th.  Although I have Facebook and Twitter accounts those are not the best means of communications with me. Please send all Town of Cary questions or comments to Harold.Weinbrecht@townofcary.org and email personal comments to augustanat@mindspring.com.
---
From the blog of Cary Mayor Harold Weinbrecht. Photos courtesy of Harold Weinbrecht.
https://carycitizenarchive.com/wp-content/uploads/2017/10/HaroldBlog-Oct2-Featured.jpg
550
800
Harold Weinbrecht
https://carycitizenarchive.com/wp-content/uploads/2020/03/cc-archive-logo-450-v3.png
Harold Weinbrecht
2017-10-02 13:01:30
2017-10-02 10:05:43
Harold's Blog: Cary Towne Center, Parkinson's Event and More