Cary, NC – Thoughts for November 2017 from Bill Fletcher, Member of the Wake County Board of Education.
Congratulations to our Davis Drive Middle School!
It was just announced that Davis Drive Middle School has been named a National Blue Ribbon School. Principal Rick Williams and Area Superintendent Mark Savage traveled to Washington, DC, this week to receive the award on behalf of students, parents and faculty. DDMS joins three other Cary area schools as National Blue Ribbon recipients – Morrisville, Briarcliff and Davis Drive elementary schools.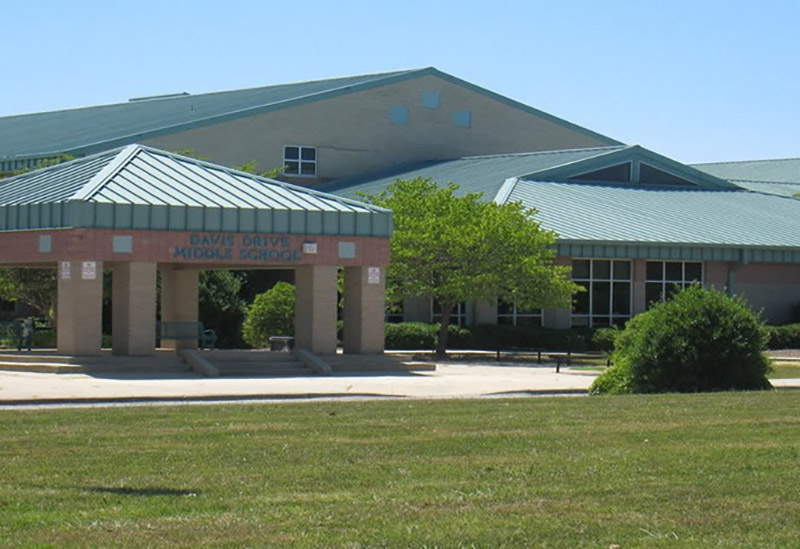 Walk Zone Safety
Two recent events involving student walkers and autos have raised town official's awareness of increased safety concerns for students walking to and from schools. Mayors and town traffic officials in Cary and Apex are brainstorming ways to provide better protections for walkers and alerts to motorists. Let's make certain school zone speed limits are observed and cross walks are protected and safe. Parents, make sure your kids use designated crosswalk areas.
Childhood Experiences Shape How We Participate in Life
Invest 90 minutes. Take a walk into the lives of children growing up in adverse conditions. Just what is an adverse condition? Come and see "Resilience, the Movie." Monday evening, November 20, 7PM at The Cary theater on Chatham street in Cary. Free tickets at Etix. http://bit.ly/2yf7dVd
Reduced Class Size Mandate Persists – Schools and Families Having to Adjust
Reduced classs sizes in kindergarten through third grade is still the law of the land. This year – a max of 20 students per classroom; next year – a max of 17 students per class. Efforts continue behind the scenes to inform legislators of the negative impact this mandate is having on students and school communities. Numerous community organizations are planning to welcome legislators back to town January 9. You can be involved, too. Contact: karen@wakeupwakecounty.org
The WCPSS Magnet Fair was held November 4th! Thousands of Wake families sampled some of the options available in our magnet program. Apply for:
  Early Colleges in December
  Magnet programs in January
  Multi-track / year round program in January
  Other parent choices in February
Opening New Schools Always Brings New Opportunities!
The school board is now reviewing Draft 3 of staff recommendations for filling three new schools – Lincoln Heights and Buckhorn Creek elementary and Apex Friendship Middle. Plan goals include balancing attendance zones to reduce over-crowding and aligning school calendars across K-8 grades. Public comment is welcome and needed. See draft 3, proposed revisions and public comment here.
Factoid #37
2016-17 SAT results have been released. The test has been revised to eliminate the essay portion and has a new max score of 1600. 54.9% of WCPSS juniors took the new test. The average score was 1130. Scores for North Carolina and the US were 1074 and 1044 respectively.
Parent chats (except on holidays)
1st Thursday – 1 PM
Cary Chamber, 315 N Academy St., Cary
3rd Monday – 11 AM
Caribou Coffee shop, 109 SW Maynard Rd., Cary
Bill Fletcher school info: BFletcher@wcpss.net || Voice Mail: 919-694-8843 || Mobile: 919-880-5301
---
Story by Bill Fletcher, Member Wake County Board of Education. Photos by the Wake County Public School System and Jessica Patrick.
https://carycitizenarchive.com/wp-content/uploads/2017/11/Fletcher-Nov9-Featured.jpg
550
800
Bill Fletcher
https://carycitizenarchive.com/wp-content/uploads/2020/03/cc-archive-logo-450-v3.png
Bill Fletcher
2017-11-10 09:06:31
2019-12-08 15:29:55
Education: Bill Fletcher 2017 November Newsletter