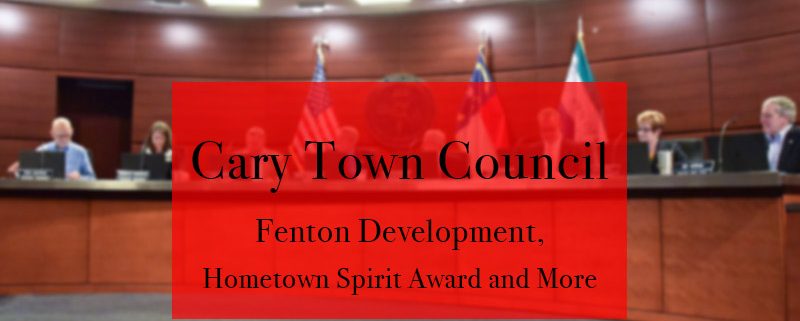 Cary, NC – The latest Cary Town Council meeting was very busy, with a second Public Hearing on the Fenton development in the Eastern Gateway, designating three Cary sites as historic landmarks, naming the 2017 Hometown Spirit Award winner, renaming a park after a much-heralded resident and much more.
Note: Councilmember Jack Smith was not present at this meeting.
Fenton Development
Because of the size and scope of the Fenton Mixed Use development, there were two Public Hearings on this rezoning, with the other one at the previous Town Council meeting. As a reminder, this would be a 92-acre site with a mix of retail, office and residential uses, all near an interstate interchange. The Town of Cary website also has a page devoted to just this project.
Five speakers came to this Public Hearing. Three of them were nearby residents who were supportive of the plan, although one speaker added he wants more public transit access in this mixed use center, wants less surface parking than what is shown in renderings and wants the traffic better studied with the right-of-way possibly shrunk.
Also speaking was Jason Barron representing CBL & Associates Properties, which owns the nearby Cary Towne Center. Barron said the amount of retail in the Fenton development and the time table for it coming in could negatively impact the redevelopment of Cary Towne Center.
A representative for Columbia Development, who are behind Fenton, said the retail is imperative to the site and will drive both the office and residential units.
Councilmember Don Frantz was the only councilmember to comment afterwards. He said he wants to better understanding the phases of Fenton's development and said it had a heavier focus on retail than was first expected. The proposal then went to the Planning and Zoning Board for their recommendation.
Historic Landmarks and Other Public Hearings
As part of both the 2010 Historic Preservation Master Plan and the 2017 Imagine Cary Community Plan, Cary's Historic Preservation Commission selected three Cary sites to designate as historic landmarks. Those sites are the Nathaniel Jones Cemetery, also known as the White Plains Cemetery, the Cary Arts Center and the Sams-Jones House.
That last one may be better known in Cary as the Jones House on Academy Street, across from the Cary Arts Center. But recent historic evidence has come out that the house was built by Andrew Fuller Sams and later sold to the Jones family, thus resulting in its new name.
Three speakers spoke in favor of this plan, representing the Friends of Page-Walker, the Cary Historical Society and a group of volunteers that clean and preserve the Nathaniel Jones Cemetery.
Before voting unanimously to approve, Councilmember At-Large Lori Bush asked what this designation would mean for the Sams-Jones House as a new restaurant is looking to open up there and add a refrigeration unit in the back. According to Anna Readling with Cary's Planning Department, any additions would need to go before the Historic Preservation Commission.
Also up for a Public Hearing was an annexation for a small piece of land in West Cary off of Maple Springs Drive. No speakers came out and it was sent to the Planning and Zoning Board for their recommendation.
White Oak Church Road
There were three Discussion Items originally on the meeting's agenda, not counting consistency statements. One of those Discussion Items dealt with amending the rezoning for the Silverton PDD, which was rezoned by Town Council at a Thursday, October 27, 2017 meeting. However, the applicant asked for the item to be tabled indefinitely and Town Council approved that, so it was not voted on at this meeting.
The only discussion items voted on were two items that were linked: a vote to annex part of Wake County off of White Oak Church Road and a vote to bring over the designated Cary zoning for that area: Residential 12 Conditional Use.
The land, 10.61 acres, would be limited to 2.25 dwelling units per acre and would have a community gathering space of 5,000 square feet, which is twice as much as what is required. New conditions would add in a second, smaller open gathering space and a metal fence running across the eastern boundary of the property.
The Planning and Zoning Board voted 4-2 in favor of this annexation and assemblage. The two no votes felt the fence should not be a condition and should be a private issue between residents. Town Council voted unanimously in favor of both items.
Local Recognitions
This year, the Cary Hometown Spirit Award went to Ralph and Daphne Ashworth, founders of Ashworth Pharmacy in Downtown Cary, first opening in 1957. The two also created Ashworth Village, where many downtown businesses and events are now held.
Nine people/pairs were nominated for this year's Cary Hometown Spirit Award, including CaryCitizen's Lindsey Chester.
Speaking of the Cary Hometown Spirit Award, previous winner Kay Struffolino was recognized for her work in Cary as Meeting Place Park at 601 Kildaire Farm Rd. is now renamed to Kay Struffolino Park.
"The world needs more Kay Struffolinos," said Councilmember Don Frantz.
The new sign for the park should go up by the end of the year.
Town Council also voted to approve the new Koka Booth Amphitheater budget. For the second year in a row, the Amphitheater has done better than the budget expected and there were three sell-out concerts. Lyman Collins, Cary's Cultural Arts Manager, said this year's budget is larger because they will be replacing the outdated and deteriorating lighting system. Town Council approved the budget unanimously.
---
Story by Michael Papich. Photos by Columbia Development, Google Maps and Hal Goodtree.
https://carycitizenarchive.com/wp-content/uploads/2017/11/TownCouncil-Nov17-Featured.jpg
483
800
Michael Papich
https://carycitizenarchive.com/wp-content/uploads/2020/03/cc-archive-logo-450-v3.png
Michael Papich
2017-11-17 13:05:30
2018-02-08 11:16:11
Cary Town Council: Fenton, Hometown Spirit Award and More