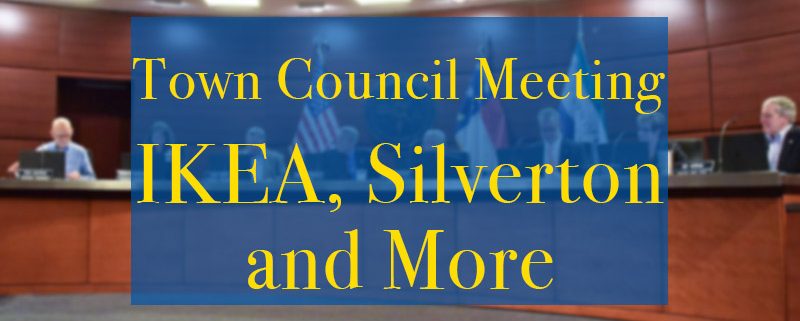 Cary, NC – After months of speculation and discussion, the Cary Town Council voted to approve the rezoning that will bring IKEA into Cary at their latest Town Council Meeting, as well as voted on other significant rezonings and annexations in town.
Cary Towne Center and IKEA
After the rezoning to create a 380,000 square foot building in Cary Towne Center passed the Planning and Zoning Board unanimously, the item went before the Cary Town Council at their Thursday, October 26, 2017 meeting for a final vote. While any rezoning deals with the type of land use allowed and not the applicant themselves, the conditions in this rezoning would not only require a retail building with a size that few companies besides IKEA could maintain, but it includes aesthetic conditions that are in line with IKEA's brand, namely the bright blue and yellow walls and sign.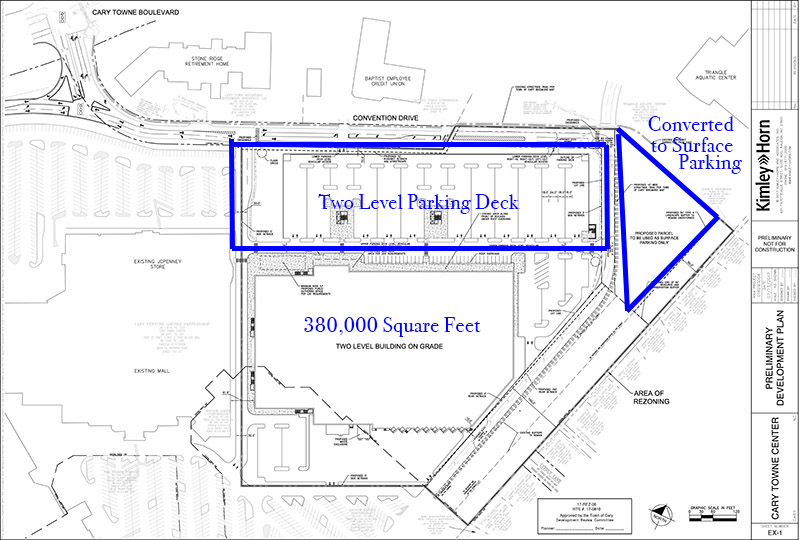 In their proposal, the applicant asked for a number of changes to Cary's land development ordinances, such as allowing for fewer parking spaces and increasing the height of their flag poles. Originally the applicant asked to change their compliance with ordinances related to putting plants around the buildings foundation and the height of their lighting but have since agreed to go along with Cary's ordinances.
Mark Evangelista, the Planning and Zoning Board's chair, said there were many changes in these ordinances but the applicant also agreed to many more traffic mitigations than they typically see.
"We both made reasonable concessions," Evangelista said.
Both Town Council and town staff said public feedback has been largely positive though they spoke to concerns about traffic. Debra Grannan with Cary's Planning Department said the roads in the area are "designed with the anticipation of growth" and also cited the traffic improvements the applicant has agreed to.
One resident at Public Speaks Out commented on the rezoning. He described himself as a representative of CaryForward, a pro-business local group, and said he and the organization supports the plan.
Town Council voted unanimously for the rezoning, though Councilmember Jennifer Robinson said she wanted the plan to be more pedestrian-friendly and said she was voting "with reluctance" but hoped she is proven wrong.
Silverton Development
Town Council also voted on a large development at the intersection of NW Cary Parkway and Evans Road. The plan would develop two parcels of land on opposite sides of Cary Parkway, one with 212-unit multi-family homes and one as a senior living community, with a plan to attach the Waltonwood brand.
Both town staff and the Planning and Zoning Board recommended against this plan, with the Planning and Zoning Board voting unanimously against it. The main reason given was that this would rezone land designated for office and industrial use and the concern was this would reduce the supply of office land, and at a major intersection. Also, the new housing coming in, particularly on that top 212-unit section dubbed "Parcel A," would not fit the surrounding character of the homes.
However, several councilmembers said they were leaning toward approving this project. Many said they liked the "Parcel I" plan for the senior living community, and Evangelista said the Planning and Zoning Board felt the same way, though both parcels had to be taken into consideration.
Discussions by councilmembers centered around this particular development sitting in a sort of limbo for a long time now, with multiple projects having been rejected by Town Council over the years and little interest in putting office space there.
"The reality is, the market has looked at this site and determined it's not a good office site or commercial site," Frantz said.
Two speakers at Public Speaks Out commented on this, both of whom identified themselves as nearby residents. Both said they oppose the plan and one speaker said he is a commercial developer who would like to work on Parcel A, possibly to bring in a grocery store.
But as the discussion went on, a majority of Town Council felt this plan would work well and be a good fit, though they admitted it was a narrow decision in their minds. The vote was 5-2, with Ed Yerha and Jennifer Robinson voting against it.
Other Discussion Items
There were several other discussion items in this long meeting. The first of which was a rezoning along Piney Plains Road to bring in multi-family homes. This property sits along a strip of homes town staff said will "age out" in the coming years so it is likely that these other adjacent properties will rezone as well, and that rezoning will be determined by the decision on these parcels. In other words, this is an infill case that will represent future infill cases.
Mayor Harold Weinbrecht said this area is already "saturated" with multi-family houses.
"Too much of one type of use gives me concerns," Weinbrecht said.
But Councilmember Jack Smith said he had the opposite takeaway: if all the coming houses in the area are going to be multi-family, this gives the town a chance to make sure the standard they are held to is high quality, as Smith feels this conditional rezoning is.
"If we're going to have the first domino, I want the domino to look like this," Smith said.
Town Council voted to approve unanimously.
The only other item was an annexation and rezoning of 22 acres in Wake County to become age-restricted housing. The main concern dealt with an old terra cotta tobacco barn on the property. Conditions were put in that, if the building is structurally sound, the applicants will preserve it before handing it off to the Home Owners Association (HOA). However, the barn is found to not be structurally sound and thus the applicants have no obligation.
Mayor Pro Tem Ed Yerha, who is known on Town Council for being a local history expert of sorts, spoke to this condition and does not want to see it used again.
"The condition is weak and somewhat useless when it comes to historic preservation," Yerha said.
As Yera put it, most 100+ year old buildings will not be structurally sound. And even if the barn was sound, it would then be passed off to the HOA and there would be no guarantee of its future. There is no determination that the barn will be torn down or not and discussions about it are ongoing.
Other than the terra cotta barn, both Yerha and the rest of Town Council said they were supportive of the project and voted unanimously for both the annexation and the rezoning.
Public Hearings
There were three Public Hearings on the agenda at this meeting but only one saw any discussion by the public or by Town Council. This was a rezoning of around eight acres at Lewey Drive, adjacent to NC-55. This would put in a maximum of 64 townhomes, which the applicant said would offer a transition from NC-55 to the single-use homes in the surrounding area.
Four speakers came to the Public Hearing, all identifying as nearby residents. The concerns stemmed from increased traffic, as the neighborhoods already have a lot of pass-thru traffic, as well as concerns over how well these townhomes would fit with the single family homes in the area.
Another concern was over the quality of Lewey Drive itself, which residents said is low-quality. This is a private road and town staff said it is not up to standards. Town Council talked at length about this road needed curb and gutter improvements, with Smith also saying he was under the impression Cary was phasing out private roads.
"Here we are stuck with a double standard again," Smith said.
The plan then went to the Planning and Zoning Board for their recommendation.
The two other Public Hearings saw no discussion. One was for a rezoning along Maple Springs Drive for more housing, near the intersection of White Oak Church Road and Green Level West Road. This plan then went to the Planning and Zoning Board for their recommendation.
Also before Town Council was a public hearing on the Economic Development Grant for Trilliant. This would give Trilliant, a metering and distribution company for energy and utilities providers that moved to Cary in April 2017, $19,000 in exchange for $1.8 million in capital investment and 130 new jobs. There were no speakers and Town Council voted to approve unanimously.
---
Story by Michael Papich. Photos by Hal Goodtree, the Town of Cary and Google Maps.
https://carycitizenarchive.com/wp-content/uploads/2017/10/TownCouncil-Oct27-2017-Featured.jpg
483
800
Michael Papich
https://carycitizenarchive.com/wp-content/uploads/2020/03/cc-archive-logo-450-v3.png
Michael Papich
2017-10-27 11:24:05
2020-03-07 17:47:54
Town Council Meeting: IKEA Rezoning, Silverton PDD and More